[UPDATE] While details for The Guild's return to San Diego Comic-Con are still scarce, they have shared that there will be a 10th Anniversary Panel at the convention center, and a 2-hour signing event. Their Facebook event lists it as Friday, July 21 – Saturday, July 22 — so presumably, the panel and signing will take place on one of those two dates.
[PREVIOUS] A big hit for years at San Diego Comic-Con is coming back for a 10th Anniversary celebration. The Guild, Felicia Day's online series about gamers, will be at Comic-Con in 2017. According to their tumblr, they'll be bringing back not only the entire cast, but have produced a special poster to be available only at SDCC and AwesomeCon.
"If you are at AwesomeCon or SDCC later this summer we have a special poster we've printed up! The whole cast will be both places too, so come by and get this limited edition celebration of our 10th anniversary!"
While there is no details on where they will be appearing, or where the poster will be available, Felicia Day, Sandeep Parikh, Jeff Lewis, Robin Thorsen, Amy Okuda, and Vincent Caso should be there. It is likely they will be appearing at the Geek & Sundry booth and/or their offsite event, which last year was Camp Conival.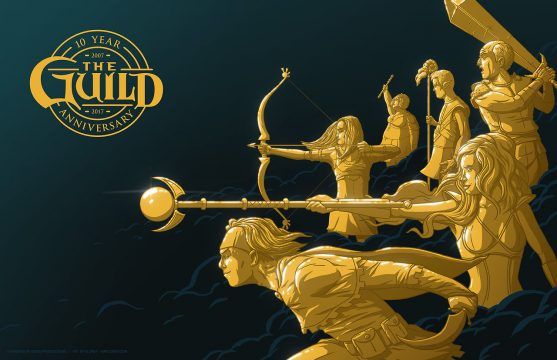 Are you looking forward to see The Guild return to Comic-Con? Let us know in the comments.