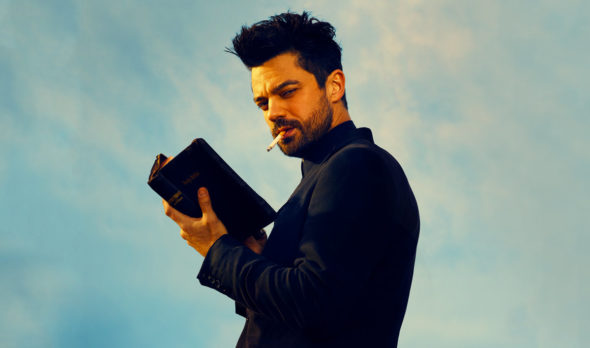 The Hollywood Reporter has unveiled their annual San Diego Comic-Con TV Panels Line-Up, and it includes several previously un-announced panels.
Syfy will be bringing at least two series this year, with 12 Monkeys and The Magicians. For the former, it's set for Thursday, July 20 from 7:15PM-8:15PM in Room 6BCF. For The Magicians, the panel will take place on Saturday, July 22 from 4PM-4:50PM in the Indigo Ballroom.
The biggest news, though, is that Preacher will be returning to Hall H – this time from 4PM-5PM on Friday in Hall H. Stars Dominic Cooper, Ruth Negga, Joe Gilgun, Graham McTavish, and Ian Colletti will join producers Seth Rogen and Garth Ennis.
[UPDATE] Several more Syfy series have been added to the list, including Van Helsing on Thursday, July 20 from 3PM-3:45PM in Indigo Ballroom. There are also several panels set for Saturday, July 22, including Wynonna Earp in Room 5AB from 2:30PM-3:30PM, The Expanse from 5PM-5:50PM in the Indigo Ballroom, and Ghost Wars from 5:30PM-6:30PM in Room 6DE.
[UPDATE #2] In what was (probably) not the Netflix panel news that you wanted — THR is reporting that Netflix's stop-motion series Buddy Thunderstruck will get a Friday panel at 12:30PM-1:30PM in Room 24ABC. The best part of this news, though, is that it confirms Netflix will be bringing panels. We expect more soon.
Also added was a American Dad/animation preview on Thursday from 7PM-8PM in Room 7AB, a Friday Robot Chicken panel from 2:15PM-3PM in Indigo Ballroom, and Robert Kirkman's Secret History of Comics on Saturday from 4:45PM-5:45PM in Room 6DE.