SDCC news is coming at us fast and furious now. With less than a month to go, announcements are being made by artists, authors, exhibitors, and publishers such as Alex Ross, Lion Forge, Chris Gugliotti, The Behemoth, and more. Read on and find some great SDCC news in our latest Under the Tents column. Oh, by the way, there's crochet.
Here's a look at what you might have missed:
#SDCC2017 is coming up in ONE month!!! I'll be in #ArtistAlley with new books, old books and a bunch of artwork! pic.twitter.com/G1oLjDOKJ1

— Joey (@JoeySpiotto) June 20, 2017
https://www.instagram.com/p/BVksIU8lLH8/
It wouldn't be SDCC 2017 without crochet. It seems to be everywhere this year. TurtleBunny Creations are getting ready for the Batman and Harley Quinn movie by bringing their own renderings of the unlikely duo. Find them at Small Press Table #N-13.
Going to the #Batman And #HarleyQuinn World Premiere at #SDCC? Stop by Small Press Table N13 for some #superbuddies to keep you company! pic.twitter.com/i8nRdx3WZS

— TurtleBunny Creations by Chrissy Callahan (@TB_Creations) June 20, 2017
If you ordered an SDCC commission from our good friend, Patrick Ballesteros, you'll be happy to know he's hard at work on them. In this one, it looks like he managed to find Waldo and Carmen San Diego. Who would have thought they'd be in San Diego?
https://www.instagram.com/p/BVkestOl-WU/
https://twitter.com/heyjenbartel/status/877259995217354753
Vault Comics announced their latest comic, Zojaqan #1, written by Collin Kelly and Jackson Lanzig with art by Nathan Gooden, will debut at SDCC 2017.
ZOJAQAN #1 debuts at #SDCC.@GailSimone says, "This is why I read comics, this book right here."

Preorder it at your #LCS: MAY171993 #NCBD pic.twitter.com/CMCs7vzpT6

— Vault Comics (@thevaultcomics) June 20, 2017
New #SpiderMan #32 cover #marvel @SDCCnews247 #SDCC pic.twitter.com/kX3Du3sNQP

— Alex Ross (@thealexrossart) June 20, 2017
Alex Ross also posted an image of the new Avengers cover he'll have at SDCC 2017.
#new #avengers cover #marvel #SDCC2017 pic.twitter.com/WZ99D7zJUl

— Alex Ross (@thealexrossart) June 20, 2017
Busted hand = Critter lineup cut short. 🙁 But that doesn't stop me from dropping art for YOU at SDCC! https://t.co/6kbRZwhIQD

— Geeky Hooker (@GeekyHooker) June 20, 2017
Making an open call for any artists who won't be going to #SDCC and want me to to be a drop mule for them!

— Geeky Hooker (@GeekyHooker) June 20, 2017
To be clear, this can be ANYTHING. Drawings, jewelry, stickers, etc. If you've got art you want to share, I'll drop it at #SDCC for you! https://t.co/ejXvr2q7jr

— Geeky Hooker (@GeekyHooker) June 21, 2017
Gaming company The Behemoth made their SDCC announcement a few weeks ago but didn't have details yet. Now, they've announced they'll be back at their usual Booth #229 in Exhibit Hall A, but this year, they're bringing friends (yes, they have friends). This year's "Behemoth + Friends" booth will include:

Nightmare Cops – Newgrounds
Oxygen Not Included – Klei
Salt & Sanctuary – Ska Studios
Totally Accurate Battle Simulator – Landfall Games
Rivals of Aether – Dan Fornace
Inversus – Hypersect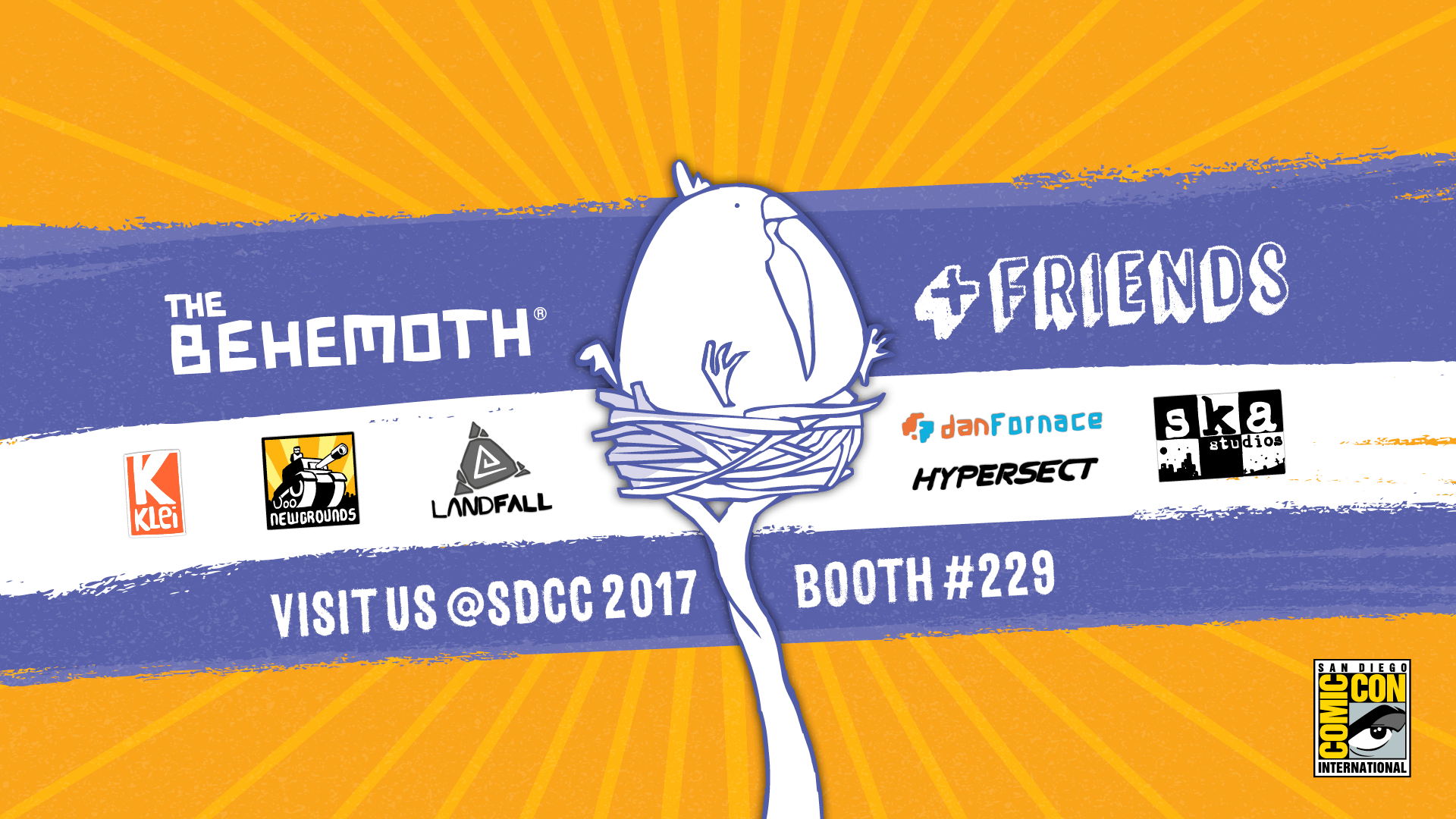 Bleeding Cool revealed two SDCC exclusive covers from Lion Forge. Both are from their Catalyst Prime universe and will be "virgin covers" – no logo, no UPC, just art.
These boots…will be available at SDCC at the Tired Girl Collective in small press, O-13. Start walking. #SDCC2017 #WonderWoman #TiredGirl pic.twitter.com/1ikoavedAx

— karen lucrece (@KarenLucrece) June 20, 2017
https://twitter.com/spacejunkees/status/877276913697300481
NSURGO announced their latest SDCC exclusive deck designed by artist Long Vo. Look for more details on this coming very soon.
https://www.instagram.com/p/BVk3CVpBCIk/
Publisher Storm King Comics announced they will be at SDCC this year to promote the release of John Carpenter's Tales of Science Fiction: Vault #1. They'll be giving a sneak preview of the book before its official release the week after the con.
Artist Rob "Potsy" Potchak posted an image of his SDCC exclusive cover for his latest issue of Immortal. He's very excited to have an exclusive in what he calls "the show of shows."
https://www.instagram.com/p/BVlDf1TD3Y_/
Artist Tony Paulson, aka TheTonus, is currently looking for a vendor to help sell his art during SDCC. If you are or know someone who is willing to help him out, you can get in touch with him via his Instagram.
https://www.instagram.com/p/BU5TNGVBVtN/
Anything we missed? Let us know in the comments, drop us a line or tweet us at @SD_Comic_Con.