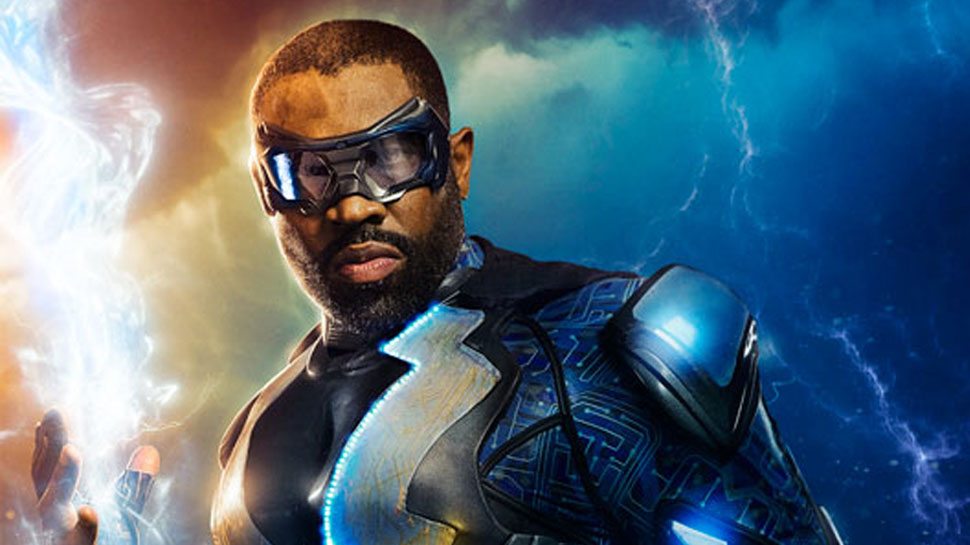 If there's any network that you can count on at San Diego Comic-con – it's Warner Bros. WB TV is heading back to the convention this year, with 22, if you include HBO's offerings.
Warner Bros. is bringing back The 100, Arrow, The Big Bang Theory, DC's Legends of Tomorrow, The Flash, Gotham, iZOMBIE, Lucifer, The Originals, Riverdale, Supergirl, Supernatural, Teen Titans Go!, and People of Earth.
But that's not all they're bringing. For new TV shows, there's the CW's Black Lightning, Syfy's Krypton, and the new series Deception. You can catch the pilots of all three of thos, plus an episode of Teen Titans Go! and the new LEGO Unikitty! series in Ballroom 20 on Wednesday night.
Here's a look at the full schedule:
SPECIAL SNEAK PEEK PILOT SCREENINGS
WEDNESDAY, JULY 19
6:00–10:00 p.m. Special Sneak Peek Screenings — Comic-Con and Warner Bros. Television Group proudly continue our annual Preview Night tradition with an exclusive pilot screening of the midseason thriller Deception, plus exclusive video presentations of some of the most highly anticipated series of the 2017–18 television season — Krypton and Black Lightning — as well as a brand-new hour-long episode of Teen Titans Go!, and special surprises. Ballroom 20
Deception: From Chuck co-creator Chris Fedak, the Blindspot creative team of Martin Gero, Greg Berlanti and Sarah Schechter, Emmy®-winning director David Nutter (Game of Thrones, The Flash) and renowned magician/puzzle creator David Kwong (Now You See Me, Blindspot), Deception is a thrilling crime drama that combines FBI counter-espionage with the mysterious world of magic and misdirection. When his career is ruined by scandal, superstar magician Cameron Black (Jack Cutmore-Scott) has only one place to turn to practice his art of deception, illusion and influence — the FBI. Using every trick in the book and inventing new ones, he will help the government catch the world's most elusive criminals while staging the biggest illusions of his career. Deception stars Jack Cutmore-Scott, Ilfenesh Hadera, Lenora Crichlow, Amaury Nolasco, Justin Chon, Laila Robins and Vinnie Jones.
Krypton: Set two generations before the destruction of the legendary Man of Steel's home planet, Krypton follows Superman's grandfather (Cameron Cuffe) — whose House of El was ostracized and shamed — as he fights to redeem his family's honor and save his beloved world from chaos. Based on DC characters, Krypton is from Warner Horizon Scripted Television and is executive produced by David S. Goyer (Man of Steel, Batman v Superman: Dawn of Justice, The Dark Knight trilogy) through his Phantom Four banner, along with Damian Kindler and Cameron Welsh.
Black Lightning: Jefferson Pierce (Cress Williams) is a man wrestling with a secret. As the father of two daughters and principal of a charter high school that also serves as a safe haven for young people in a neighborhood overrun by gang violence, he is a hero to his community. Nine years ago, Pierce was a hero of a different sort. Gifted with the superhuman power to harness and control electricity, he used those powers to keep his hometown streets safe as the masked vigilante Black Lightning. However, after too many nights with his life on the line, and seeing the effects of the damage and loss that his alter ego was inflicting on his family, he left his Super Hero days behind and settled into being a principal and a dad. Choosing to help his city without using his superpowers, he watched his daughters Anissa (Nafessa Williams) and Jennifer (China Anne McClain) grow into strong young women, even though his marriage to their mother, Lynn (Christine Adams), suffered. Almost a decade later, Pierce's crime-fighting days are long behind him…or so he thought. But with crime and corruption spreading like wildfire, and those he cares about in the crosshairs of the menacing local gang The One Hundred, Black Lightning returns — to save not only his family, but also the soul of his community.
Teen Titans Go!: The Teen Titans are back at it again, in Teen Titans Go!, with all new comedic adventures both in and out of Titans Tower, and we'll have you covered by screening a brand-new, hour-long episode. Based on characters from DC and produced by Warner Bros. Animation, Teen Titans Go! airs Fridays at 6/5c on Cartoon Network.
Unikitty!: Your favorite character from The LEGO® Movie now has her own show! Journey to a joyous kingdom full of sparkle matter, happy thoughts and the occasional rage-out in Unikitty!, an all-new animated series. As ruler of the kingdom, Unikitty has busy days full of royal responsibilities. Unikitty is most interested in making sure everyone is happy and ridding the kingdom of negativity, but don't misunderstand her optimism — she is one kitty not to be crossed. Produced by Warner Bros. Animation, Unikitty! is coming soon to Cartoon Network.
THURSDAY, JULY 20
10:00–11:00 a.m. Teen Titans Go! Special One-Hour Episode and Q&A — New episode! New episode!! New episode!!! The Titans are back at it again with another fun-filled panel to kick off your Comic-Con weekend. And did we mention that we'll be screening a brand-new episode? Join producers Michael Jelenic, Aaron Horvath, Pete Michail and members of the voice cast, including Greg Cipes, Tara Strong and Scott Menville, as they answer your questions and premiere a Titan-sized special one-hour episode. Produced by Warner Bros. Animation, Teen Titans Go! airs Fridays at 6/5c on Cartoon Network. Room 6A
11:15 a.m.–12:15 p.m. Unikitty! New Episode Premiere and Q&A — Your favorite character from The LEGO® Movie now has her own show! Journey to a joyous kingdom full of sparkle matter, happy thoughts and the occasional rage-out in Unikitty!, an all-new animated series. As ruler of the kingdom, Unikitty has busy days full of royal responsibilities. Unikitty is most interested in making sure everyone is happy and ridding the kingdom of negativity, but don't misunderstand her optimism — she is one kitty not to be crossed. While she may be full of boundless energy and creativity, Unikitty is a force to be reckoned with if anyone gets in the way of spreading her positive vibes, especially if anyone makes her little brother and best friend, Puppycorn, sad. Also living in the castle are Dr. Fox, the resident scientist, and Unikitty's trusty bodyguard, Hawkodile. Join producers Edward Skudder, Lynn Wang and members of the voice cast, including Eric Bauza, as they give a sneak peek of this new series and explain how Unikitty and her friends will make sure that every day is the happiest and most creative ever! Room 6A
12:30–1:30 p.m. Justice League Action Video Presentation and Q&A — Batman, Superman and Wonder Woman lead the DC Super Heroes against their most infamous foes in adventures packed with relentless thrills, fun and action in Justice League Action. Whether defending the Earth, facing invaders from space, or battling the bizarre forces of magic, the always-rotating team of Justice League heroes, are up to any challenge. Producers Jim Krieg and Butch Lukic will be joined by members of the voice cast, including Diedrich Bader, Jason J. Lewis, Rachel Kimsey, and voice director Wes Gleason to screen an all-new episode as well as participate in a Q&A. Room 6A
FRIDAY, JULY 21
10:00–11:00 a.m. The Big Bang Theory Special Video Presentation and Q&A — Join The Big Bang Theory as the show returns to San Diego to take you inside the biggest moments of season 10 and behind the scenes of TVs #1 comedy for a special 10th anniversary panel! From the introduction of Penny's family, to the baby, to that season finale moment that left fans hanging (What will Amy say?) — cast members Johnny Galecki, Kaley Cuoco, Kunal Nayyar, Mayim Bialik and Kevin Sussman will join producers and writers from the show for a lively discussion and special video presentation. Hall H‪
10:00–11:00 a.m. Young Justice Q&A — Young Justice is back! Do not miss the show's triumphant return to Comic-Con as series producers Greg Weisman, Brandon Viettiand key members of the creative team, including art director Phil Bourassa, will be on hand to answer your burning questions about the first two seasons of this beloved fan-favorite series and, if you're lucky, you might learn a thing or two about the highly anticipated Young Justice: Outsiders.  Room 6BCF
11:15 a.m.–12:15 p.m. iZOMBIE Special Video Presentation and Q&A — Everyone's favorite Zom-Com-Rom-Dram is back! After the heart-stopping events of the iZOMBIEseason finale, the secret is out: The public is no longer in the dark about the existence of zombies. With Seattle now under zombie control at the hands of Fillmore Graves, Ravi's search for a cure and vaccine for zombie-ism is now more dire than ever. Be among the first to get the scoop on what's in store for Liv and the gang in season four. Join us for a special video presentation followed by a Q&A with series stars Rose McIver, Malcolm Goodwin, Rahul Kohli, Robert Buckley, David Anders and Aly Michalka, as well as executive producers Rob Thomas and Diane Ruggiero-Wright (Veronica Mars). Ballroom 20
12:30–1:30 p.m. The 100 Special Video Presentation and Q&A — Following the surprising events of the season finale, join The 100 as the critically acclaimed series returns to San Diego for its annual appearance at Comic-Con. More than six years have passed since Praimfaya ravaged the planet, and killed most of the human race. As Clarke waits to hear from the group on the Ark, or in the bunker, a new mystery drops from the sky. Who is in the arriving ship, and are they friends or enemies? One thing is certain, Clarke is now the Grounder! Be among the first to find out what's in store for season five. Join us for a special video presentation followed by a Q&A with series stars Eliza Taylor, Bob Morley, Marie Avgeropoulos, Lindsey Morgan, Christopher Larkin, Richard Harmon and executive producer Jason Rothenberg. Ballroom 20
3:15–4:00 p.m. [adult swim]: Mike Tyson Mysteries — It was a unanimous victory last time, but Iron Mike Tyson is taking on Comic-Con again and this rematch is sure to live up to all the hype. Currently in its third season of solving mysteries, the Mike Tyson Mystery Team has all-new episodes airing on Adult Swim. Join Mike Tyson, fellow voice cast member Rachel Ramras (The Looney Tunes Show) and producer Hugh Davidson (The Looney Tunes Show) for an exclusive look at upcoming episodes.  Indigo Ballroom
6:00–7:00 p.m. People of Earth Premiere Episode Screening and Q&A — The TBS sci-fi comedy series People of Earth — from Emmy®-winning executive producers Conan O'Brien (Conan) and Greg Daniels (The Office), and creator David Jenkins — brings an all-new season of less-than-perfect aliens, botched abductions and extraterrestrial investigation as Ozzie (Wyatt Cenac) and the StarCrossed group of alien "experiencers" living in the small town of Beacon, N.Y. continue their journey for truth. Complicating matters this season — both above and on Earth — is the arrival of a new alien on the spaceship as well as a smart and dedicated FBI investigator (Nasim Pedrad) who heads to Beacon on a mission to track down fugitive CEO Jonathan Walsh (Michael Cassidy). Join cast members Ana Gasteyer, Oscar Nunez, Michael Cassidy, Ken Hall, Björn Gustafsson and Nasim Pedrad, along with series creator/executive producer David Jenkins for an exclusive screening of the season two premiere episode followed by a Q&A discussion covering what's next in this all-new season. Room 6A
SATURDAY, JULY 22
‪11:00–11:45 p.m. Riverdale Special Video Presentation and Q&A — Following the shocking first season finale, don't miss Riverdale when it returns to San Diego for its second appearance at Comic-Con! Join Archie and the gang as they dive into the secrets that continue to loom over what once looked like a quiet, sleepy town. The circumstances surrounding Fred's shooting kick off the mystery of season two. Based on the characters from Archie Comics and produced by Berlanti Productions (The Flash, Supergirl, Blindspot, Arrow, DC's Legends of Tomorrow) in association with Warner Bros. Television, this one-hour drama is a bold, subversive take on the surreality of small-town life. Join us for a special video presentation followed by a Q&A with series stars KJ Apa, Lili Reinhart, Camila Mendes, Cole Sprouse, Madelaine Petsch, Ashleigh Murray, Casey Cott, Haley Law, Asha Bromfield and producers Roberto Aguirre-Sacasa, Sarah Schechter and Jon Goldwater.  Ballroom 20
‪12:00–1:00 p.m. The Originals Special Video Presentation and Q&A — The Originals returns for a fifth season with more supernatural intrigue, romance and bloodshed in The Big Easy. Join executive producer Julie Plec and series stars Joseph Morgan, Daniel Gillies, Phoebe Tonkin, Charles Michael Davis, Yusuf Gatewood and Riley Voelkelfor a special video presentation followed by a Q&A. From Bonanza Productions Inc. in association with My So-Called Company, Alloy Entertainment, Warner Bros. Television and CBS Television Studios, The Originals will air midseason on The CW. The Originals: The Complete Fourth Season is available now on Digital and will be released on Blu-ray™ and DVD on August 29. Indigo Ballroom
‪1:15–1:45 p.m. Krypton Special Video Presentation and Q&A — Set two generations before the destruction of the legendary Man of Steel's home planet, Krypton follows Superman's grandfather (Cameron Cuffe) — whose House of El was ostracized and shamed — as he fights to redeem his family's honor and save his beloved world from chaos. Join series star Cameron Cuffe (The Halcyon, Florence Foster Jenkins) and executive producers Damian Kindler (Sleepy Hollow) and Cameron Welsh (Ash vs Evil Dead, Constantine) for a sneak peek at the upcoming series followed by an out-of-this-world Q&A. Based on DC characters, Krypton is from Warner Horizon Scripted Television and is executive produced by David S. Goyer (Man of Steel, Batman v Superman: Dawn of Justice, The Dark Knight trilogy) through his Phantom Four banner, along with Damian Kindler and Cameron Welsh. Krypton is based on characters created by Jerry Siegel and Joe Shuster, published by DC, and will debut in 2018 on SYFY.  Indigo Ballroom
1:50–2:50 p.m. Lucifer Special Video Presentation and Q&A — Lucifer returns to San Diego to heat things up. The climactic events of the season finale left us wondering, where in the world is Lucifer and how did he get his wings back? Join the series stars Tom Ellis, Lauren German, Rachael Harris, Kevin Alejandro, Aimee Garcia, Tricia Helferand executive producers Joe Henderson and Ildy Modrovich for a special video presentation and Q&A where they'll discuss the sizzling second season and what's in store for Lucifer in season three! From Jerry Bruckheimer Television in association with Warner Bros. Television and based upon characters created by Neal Gaiman, Sam Kieth and Mike Dringenberg for Vertigo from DC Entertainment, Lucifer returns for its third season on October 2, airing Mondays 8/7c on FOX. Lucifer: The Complete Second Season is available now on Digital and will be released on Blu-ray™ and DVD on August 22.  Indigo Ballroom
2:50–3:50 p.m. Gotham Special Video Presentation and Q&A — Gotham's origin story continues to unfold, and as the show enters its fourth season, the stakes will be higher than ever! With the Court of Owls decimated, the aftermath of the Tetch virus crippling the city, and every (surviving) villain in Gotham's underworld jockeying for power, Jim Gordon and the GCPD will have their hands full. And that's just the beginning! What threat does Ra's al Ghul pose, and will Penguin regain his title as the King of Gotham? What new villains are in store for season four, and what does Bruce Wayne's season finale reveal mean for Gotham City — and his ultimate destiny? Be among the first to see what's in store for season four as Gotham returns to Comic-Con for a special video presentation, followed by a Q&A with series stars and producers. From Warner Bros. Television, Gotham returns September 28 with all-new episodes on its new night, Thursdays at 8/7c on FOX.  Indigo Ballroom
3:30–4:10 p.m. Supergirl Special Video Presentation and Q&A — Ridding National City of Queen Rhea and her Daxamite army was a major win for Supergirl, but one that came at a significant cost, as Kara was forced to sacrifice her budding relationship with Mon-El. When season three returns with all-new supercharged adventures this fall on The CW, Kara and team will come up against a new threat in the form of DC Worldkiller, Reign. Want to know more about Reign and what she has in store for the Girl of Steel? Join the series' cast and creative team for a special video presentation, followed by a Q&A where they'll discuss this hot topic and more! From Berlanti Productions in association with Warner Bros. Television, Supergirl's third season will debut Monday, October 9, at 8/7c on The CW. Ballroom 20
4:10–4:50 p.m. DC's Legends of Tomorrow Special Video Presentation and Q&A — After crash landing the Waverider in a version of 2017 Los Angeles where dinosaurs roam the streets and the skyline is adorned with London's iconic Big Ben clock tower, the Legends were quick to realize that "we broke time." Last year, the loveable band of misfit heroes traveled throughout the timeline fixing a series of Aberrations. This year, they'll be turning the crazy up to 11, as a wave of Anachronisms turns History on its head, leaving the Legends responsible for piecing it back together. What is an Anachronism you ask? For the answer to that, and many other questions, join cast members Victor Garber, Brandon Routh, Dominic Purcell, Caity Lotz, Franz Drameh, Nick Zano, Maisie Richardson-Sellers and producers at their annual Comic-Con panel. From Berlanti Productions in association with Warner Bros. Television, DC's Legends of Tomorrow's season premiere airs Tuesday, October 10, at 9/8c on The CW. Ballroom 20
4:15–5:15 p.m. Westworld Panel and Q&A — HBO's Westworld concluded its critically acclaimed first season in December and is currently saddling up for season two. The series — created, executive produced and written by Jonathan Nolan and Lisa Joy — is a dark odyssey about the dawn of artificial consciousness and the evolution of sin. Cast panelists include (in alphabetical order) Ben Barnes as Logan, Ingrid Bolsø Berdal as Armistice, Ed Harris as the Man in Black, Luke Hemsworth as Stubbs, James Marsden as Teddy, Thandie Newton as Maeve, Simon Quarterman as Lee Sizemore, Rodrigo Santoro as Hector, Angela Sarafyan as Clementine, Jimmi Simpson as William, Tessa Thompson as Charlotte Hale, Evan Rachel Wood as Dolores, Shannon Woodward as Elsie and Jeffrey Wright as Bernard/Arnold. The panel will be moderated by internationally renowned vocal artist/beatboxer/musician and comedian Reggie Watts.  Hall H
4:50–5:10 p.m. Black Lightning Special Video Presentation and Q&A — Black Lightning makes its Comic-Con debut! Jefferson Pierce (Cress Williams) is a man wrestling with a secret. As the father of two daughters and principal of a charter high school that also serves as a safe haven for young people in a neighborhood overrun by gang violence, he is a hero to his community. Nine years ago, Pierce was a hero of a different sort. Gifted with the superhuman power to harness and control electricity, he used those powers to keep his hometown streets safe as the masked vigilante Black Lightning. However, after too many nights with his life on the line, and seeing the effects of the damage and loss that his alter ego was inflicting on his family, he left his Super Hero days behind and settled into being a principal and a dad. Choosing to help his city without using his superpowers, he watched his daughters Anissa (Nafessa Williams) and Jennifer (China Anne McClain) grow into strong young women, even though his marriage to their mother, Lynn (Christine Adams), suffered. Almost a decade later, Pierce's crime-fighting days are long behind him…or so he thought. But with crime and corruption spreading like wildfire, and those he cares about in the crosshairs of the menacing local gang The One Hundred, Black Lightning returns — to save not only his family, but also the soul of his community. Join series stars Cress Williams (Hart of Dixie, Friday Night Lights), Nafessa Williams (Twin Peaks), China Anne McClain (House of Payne) and Christine Adams (Marvel's Agents of S.H.I.E.L.D.), along with executive producers Salim Akil & Mara Brock Akil (Being Mary Jane, The Game, Jumping the Broom, Girlfriends) for an exclusive sneak peek at the upcoming series along with an electrifying Q&A session. Based on the characters from DC, Black Lightning is from Berlanti Productions and Akil Productions, in association with Warner Bros. Television, with executive producers Greg Berlanti (Arrow, DC's Legends of Tomorrow, The Flash, Supergirl), Salim & Mara Brock Akil, and Sarah Schechter (Arrow, DC's Legends of Tomorrow, The Flash, Supergirl). Black Lightning premieres midseason on The CW.  Ballroom 20
5:10–5:50 p.m. The Flash Special Video Presentation and Q&A — Running up against an evil time remnant version of yourself is something no one should ever have to do, but that's exactly what faced Barry Allen (aka The Flash) as he fought to save the life of fiancée Iris West from the God of Speed known as Savitar. Barry's victory was short-lived, however, as an unbalanced Speed Force began to wreak havoc on Central City, forcing Barry to sacrifice himself for the greater good. With The Fastest Man Alive now trapped inside an extra-dimensional energy, and unknown dangers lurking in the shadows, it will be up to Team Flash to free Barry from his own personal Hell. Join cast members Grant Gustin, Jesse L. Martin, Tom Cavanagh, Candice Patton, Danielle Panabaker, Carlos Valdes, Keiynan Lonsdale and producers of The CW's highest-rated series at their annual Comic-Con panel, and be among the first to find out where things will pick up when season four returns this fall. From Bonanza Productions Inc. in association with Berlanti Productions and Warner Bros. Television, The Flash season four premiere airs Tuesday, October 10, at 8/7c on The CW. The Flash: The Complete Third Season is available now on Digital and will be released on Blu-ray™ and DVD on September 5. Ballroom 20
5:50–6:30 p.m. Arrow Special Video Presentation and Q&A — With the future of the team left hanging in the balance, Arrow gave new definition to the phrase "blowing up the show." The emotional showdown between Oliver Queen and Adrian Chase was the perfect conclusion to a stellar fifth season of The CW's gritty DC Super Hero series. Now, the focus shifts to uncovering the fate of each and every member of Team Arrow. Could anyone have possibly survived an island-wide explosion, or has the book closed on them, as it has on Oliver's five-year flashback story? Returning to San Diego Comic-Con for a sixth consecutive year, cast members Stephen Amell, David Ramsey, Willa Holland, Emily Bett Rickards, Paul Blackthorne, Katie Cassidy, Echo Kellum, Juliana Harkavy, Rick Gonzalez and producers will be on-hand for an eye-opening conversation about the upcoming season. From Bonanza Productions Inc. in association with Berlanti Productions and Warner Bros. Television, Arrow's season six premiere moves to its new night on  Thursday, October 12, at 9/8c on The CW.  Ballroom 20
 SUNDAY, JULY 23
10:30 –11:30 a.m. Supernatural Special Video Presentation and Q&A — Join the series' stars and executive producers in Hall H to answer questions about the shocking events in last season's intense two-part finale, as well as what's in store for lucky season 13 of this exciting series! Fans will also be treated to an exclusive video presentation featuring series highlights of your favorite guys from Kansas, and maybe a surprise or two! The 13th season of Supernatural will return to Thursdays on October 12 in its new 8/7c time period on The CW. Hall H