For the second year in a row, the list FOX autographs has been announced through the Quick Guide.
The FOX Fanfare Booth #4229 will be host to a number of signings, including American Dad!, Archer, Bob's Burgers, The Exorcist, Family Guy, Ghosted, The Gifted, Gotham, Legion, Lucifer, The Orville, The Simpsons, The Strain, Teen Wolf, and… War for the Planet of the Apes?
War for the Planet of the Apes is in theatres as of today, so it doesn't seem likely for a Hall H appearance – but the fact that it's listed for a signing is, well, surprising.
As per usual, FOX hasn't announced the times for signings, but we do know the FX and Teen Wolf signing times:
Thursday, July 20
2:45pm – 3:00pm – THE STRAIN
3:15pm – 4:15pm – LEGION
Friday, July 21
10:00 am – 10:45 am – TEEN WOLF: Tyler Posey, Dylan Sprayberry, Shelley Hennig, Cody Christian, Khylin Rhambo, and executive producer Jeff Davis
12:15pm – 1:00pm – ARCHER 
And here's everything else going on: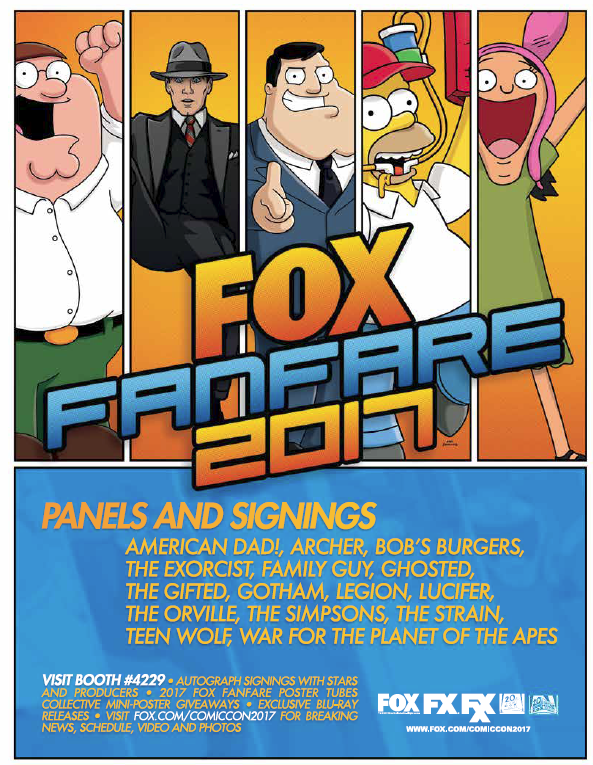 So, how do you make it into these signings? FOX does ticket draws upstairs in the Sails Pavilion — which you can read about in our Guide to Autograph Lotteries in Sails.