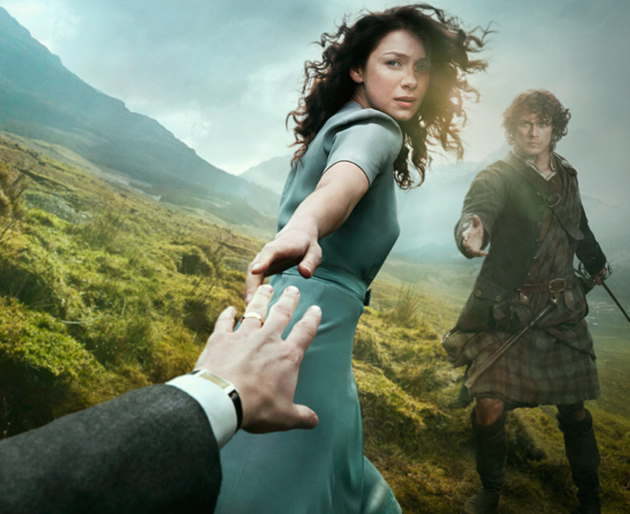 [UPDATE #2] Entertainment Weekly has confirmed the talent for this year's Outlander panel (set for Friday, July 21 at 5PM in Ballroom 20). Attendees can join series stars Sam Heughan (Jamie Fraser) and Caitriona Balfe, along with Tobias Menzies (Black Jack Randall/Frank Randall), Sophie Skelton (Brianna Randall), and Richard Rankin (Roger Wakefield), with executive producer Ronald D. Moore, executive producer Maril Davis and author Diana Gabaldon for a look at the series.
There will also be an autograph session held on Saturday, July 22, at Starz Booth #4029. To enter, simply stop by on Thursday and/or Friday to enter a raffle for a chance to win.
[UPDATE] According to The Hollywood Reporter, the Outlander panel is set for Friday, July 21 from 5PM-6PM in Ballroom 20.
[PREVIOUS] While you probably still don't know if you're attending San Diego Comic-Con this summer, we've got our first official confirmation of a TV show that will be in attendance.
Today, in a joint press release from Starz and Sony, Outlander was confirmed that its 13-episode third season will premiere in September – and that fans will first get a chance to get hyped for the upcoming season at San Diego Comic-Con 2017 where they'll be "offering fans a chance to experience more of this beloved series in person".
Outlander skipped out on last year's convention due to production schedules, so fans of the series should be excited to see the series return this year.
In 2015 – the last time the series appeared at San Diego Comic-Con – stars Caitriona Balfe and Sam Heughan were in attendance, as well as executive producers Ronald D. Moore and Maril Davis, and author Diana Gabaldon. While no further details are available yet for 2017, we'd expect a similar turnout – especially with Gabaldon already hinting on Twitter that she'll be there.
If they'd like me to be there, I probably can. <g> https://t.co/BKYvkzYJTS

— Diana Gabaldon (@Writer_DG) February 16, 2017
Are you excited that Outlander will be back at Comic-Con? What TV show are you hoping gets announced yet?