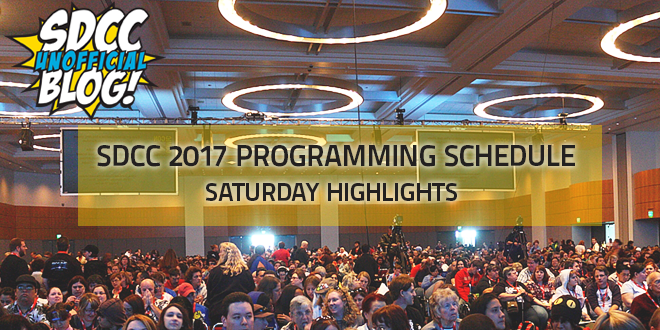 It's less than two weeks away from Comic-Con, and CCI is releasing the programming schedule for Comic-Con 2017 in its annual fashion. We'll be bringing you the highlights of each day as they're announced.
We'll also be discussing our thoughts on this year's lineup, including our top picks, in a special series of live podcasts this weekend. The first of which covered Preview Night, Thursday's and Friday's lineup, and the second segment — in which we break down Saturday and Sunday — will be on Sunday, July 9 at 3PM PT / 6PM ET.
With that said, let's dive right into Saturday.
Hall H looks, well, exactly like we thought it would with no surprises — but there's plenty to be excited about. Although the 11:30AM Warner Bros. Pictures panel doesn't list anything more than "a sneak peek at some of the studio's upcoming highly anticipated releases", we know that they will be featuring cast and footage from Ready Player One, Justice League, and Blade Runner 2049. This has huge potential to be the biggest thing that happens all week at Comic-Con — and also to be the biggest line.
Chugging right along in that room, there's also the previously announced, annual Entertainment Weekly's Women Who Kick Ass panel, which this year will be focused on actress Charlize Theron (so you can probably also expect some talk about the upcoming Atomic Blonde). Then there's Netflix's Stranger Things with at least David Harbour and Noah Schnapp (as well as presumably a lot more), followed by Westworld's Comic-Con debut. Then it's Marvel Studios from 5:30PM-7PM (30 minutes longer than normal!), and while the description is vague, you can expect Thor: Ragnarok and The Black Panther to both be represented in force.
Over in Ballroom 20, it's the annual Once Upon a Time panel, followed by Riverdale. The annual Fox Animation block is down to just a 12PM panel for The Simpsons and a 1PM split panel for Family Guy and American Dad!. Then there's your first look at the upcoming CBS All Access series Star Trek: Discovery, followed by the daytime equivalent of the former WB/DC TV block in Hall H, with back-to-back panels for Supergirl, DC's Legends of Tomorrow, new series Black Lightning, The Flash, and Arrow. In Indigo, it's another day of awesome TV, with Ben 10, The Originals, Krypton, Lucifer, Gotham, The Magicians, The Expanse, Broad City, and the 10th anniversary of The Guild (yay!). Elsewhere in the convention center, there's Wynonna Earp in 5AB at 2:30PM, SpongeBob SquarePants at 11:15AM in 6A, as well as Marvel Animation Presents panel to discuss Marvel's Spider-Man, Marvel's Avengers: Secret Wars and Marvel's Guardians of the Galaxy at 12:30PM in 6A. Journey into Hulu's new series Future Man with executive producer Seth Rogen and star Josh Hutcherson at 6:30PM in 6BCF, or catch a look at Seth MacFarlane's upcoming live-action, sci-fi comedy series The Orville in 6A at 4:15PM. We also recommend the screening of Midnight, Texas with cast at 4PM in 6BCF. Plus, there's always Blood Drive at the Horton Grand Theatre at 9:30PM. Bring your chrome.
While it's not an official panel for the revival of FOX's The X-Files, you can also join series star David Duchovny and the producer of the Audible original drama The X-Files: Cold Cases over at 6:45PM in 6A.
Plus, the team behind the new season of Mystery Science Theater 3000 (Joel Hodgson, Felicia Day, Jonah Ray, Hampton Yount, and Rebecca Hanson!) will be discussing the series at The Horton Grand Theatre at 3PM.
For lovers of comics, it's another amazing day. Celebrate Jack Kirby's 100th Birthday courtesy of IDW and an all-star tribute (Walter Simonson, Kevin Eastman, Scott Dunbier, and Dirk Wood) at 1PM in 25ABC, or join Mark Waid and special guests Marguerite Bennett, Tom King, Gail Simone, and Erica Henderson as they discuss making stories feel fresh at 4PM in Room 23ABC. Chief Creative Officer Joe Quesada's annual Marvel Cup O'Joe chat always features updates on all your favorite titles and heroes, and BOOM! Studios "Discover Yours" panel in 24ABC at 12:30PM is sure to introduce you to your new favorite title. For your Image Comics fix, join Ed Brubaker, Tini Howard, Donny Cates, Sina Grace, and Nicola Scott in 7AB at 1PM.
Did you know that will.i.am and (most) of the Black Eyed Peas will be at Comic-Con this year, discussing the making of their Masters of the Sun Marvel comic in 6A at 3PM? Well, now you know.
Kevin Eastman and Stan Sakai (as well as others) discuss IDW's summer Teenage Mutant Ninja Turtles releases at 11:30AM in 24ABC, Robert Kirkman and Todd McFarlane have a one-on-one chat in 6DE at 3:30PM about the industry and breaking new ground, and artists Arthur Adams and Joyce Chin join forces for a panel in Room 9 at 3PM for a spotlight where they interview each other about their lives' work. Disney lovers (and those looking for something kid-friendly) should check out the From Screen to Panel: Disney Comics Come to Life with New Series panel at 12PM in 25ABC. Kodansha Comics offers a look inside some of their hottest titles in Room 8 at 11:30AM, including Akira, Sailor Moon, and more — or you can get more of your Sailor Moon fix on at 1:30PM in the annual Viz anime panel for it in 5AB. Archie Comics will be talking about your favorite Archie titles and Riverdale over in Room 4 at 1PM (and while cast from the series aren't listed, it's not out of the question to hope for a surprise or two).
There are a few dozen other panels we could point you towards, including LEGO Marvel Super Heroes 2 at 1:45pM in 6A where you'll get a first look inside the upcoming game, "Avatar: The Last Airbender: Legend and Legacy" in 25ABC at 10AM which discusses the series' impact with voice actor Dante Basco, or "Diamond Select Toys: Minimates!" in Room 8 at 10:30AM (preview new toys! prizes!). Want to know what would really happen to a city if some superhero-sized battle actually took place there? Join San Diego City Councilmembers and California State Treasurers/Assembly Members are they discuss the fallout in Room 29AB at 11AM. TV writers and authors gather together in Room 26AB for a chat about why we love evil characters so much. We're also excited about the Marvel Studios Theatrical Prop Development panel in 25ABC at 11AM (actual props!), the Sonic Mania behind the scenes panel about the making of the upcoming video game in 24ABC at 7:30PM, and the fact that you can catch Elijah Wood in Room 23ABC discussing indie horror film.
We always recommend Mark Evanier's annual Quick Draw! panel (this year with guests Sergio Aragonés, Scott Shaw, and Maria Scrivan) at 11:45AM in 6BCF, as well as the 1PM panel for Cartoon Voice immediately after.
You can view the full Saturday programming schedule on the MySched website.
What will you be lining up for on Saturday of Comic-Con? Let us know in the comments.