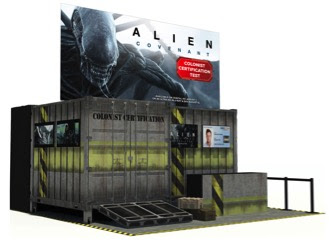 Do you think you have what it takes to be a member of the Covenant crew?
Find out at Twentieth Century Fox's Home Entertainment Booth #3529 at San Diego Comic-Con as they test your mettle in the Alien: Covenant Colonist Certification Test.
They're not just giving out free hugs for this test. You'll be required to handle stressful situations like the crew of the Covenant did. Dealing with xenomorphs is not something to be taken lightly, so bring your A-game to show the Weyland-Yutani corporation you've got what it takes.
Upon completion of your assessment, you'll be rewarded with your very own "Colonist Certification Badge" and a set of collectible pins from Weyland-Yutani and the Covenant. Additionally, you'll have a chance to pre-order your copy of Alien: Covenant on 4K Ultra HD, Blu-ray and DVD and receive one of 500 limited edition lithographs as a gift with purchase while supplies last. Fans can pre-order at the "Colonist Certification Test" Booth #3529 or at the main Fox booth #4229.
The fun isn't limited to inside the convention center. If you're downtown during SDCC, you'll have the opportunity to take photos with the "Secure Egg Transport" that will be traveling throughout the Gaslamp. Employees of Weyland-Yutani will attempt to guard these fragile but deadly eggs while you tempt fate with a selfie. Those that tweet using the hashtag #AlienSweepstakes during SDCC will be entered to win an authentic Alien: Covenant replica (we hope) facehugger. For complete rules visit: Alienuniverse.com/Sweeps.
Do you think you would make a good member of the Covenant crew? Let us know in the comments.