We've made it to Friday! We hope you have your spreadsheets and calendars ready for when CCI announces Friday's SDCC panels. In the meantime, you can catch up on some great SDCC news from Funko, On the Mic Podcast, Weta Workshop, and a lot more.
Here's a look at what you might have missed:
We'll share our #SDCC booth procedures tomorrow! https://t.co/L3tx1x8FuX

— Funko (@OriginalFunko) July 6, 2017
Funko does have some bad news in that they won't be offering signings at their booth this year, as they already have too much on their plate.
Not this year. There's already so much going on.

— Funko (@OriginalFunko) July 6, 2017
Tim Drake from On the Mic Podcast is excited to announce the two superstar guests for his SDCC panel at the San Diego Public Library on Thursday, July 20 at 4PM. The first is the awesome Todd Masters, the master behind your favorite SDCC 2017 Booth (#4429), toddland. The second started with a whisper when he grabbed his favorite axe and joined Neon Trees, guitarist Chris Allen.
https://www.instagram.com/p/BWOtFzwADWg/
Go go Power Rangers! Can't wait to show you our red Ranger suit at #SDCC2017 pic.twitter.com/pNBaQUJkQ7

— Wētā Workshop (@WetaWorkshop) July 5, 2017
Appearing at #SDCC – @WetaWorkshop with #PowerRangersMovie goodness! https://t.co/DAals1D38W
⚡️Discussion: https://t.co/stG0OcjZYl

— ⚡RangerBoard.com⚡ (@RangerBoard) July 4, 2017
A sneak peek at the Power Rangers armour we're bringing to @Comic_Con… #SDCC2017 pic.twitter.com/Add4eBR20q

— Wētā Workshop (@WetaWorkshop) July 4, 2017
Meet our collectibles artists Mauro & Jorgelina – both new Kiwis! Swing by the booth & congratulate them in person @ #SDCC2017 pic.twitter.com/KdLVq2c89P

— Wētā Workshop (@WetaWorkshop) June 29, 2017
BRING ME THE HALFLING! Double trouble heading to #SDCC2017… pic.twitter.com/FYO1GS5iYv

— Wētā Workshop (@WetaWorkshop) June 27, 2017
Artist Chandra Free announced her sketch details for SDCC. For $65, you can ask her to sketch something for you. Don't want to carry it around with you? She'll also ship it anywhere in the U.S. for free. Email her at

[email protected]

for more details and to order your sketches.
SDCC SKETCH SPECIAL: $65 for a pencil sketch for pick up at SDCC or FREE delivery to where ever in the USA. MSG: [email protected]

— Chandra Free (@spookychan) July 6, 2017
Pinky Pie is complete❤ My #axolotl painting is all done & ready for #SDCC & my Surreal Safari😄 Prints available too👉 https://t.co/zMDmSyYJBz pic.twitter.com/HEVCyaUM9M

— helmetgirl (@Helmetgirl) July 6, 2017
Ed Boon, creator of Injustice 2, announced the game would have a presence at SDCC. The Twitter thread is worth scrolling through for the GIFs alone.
San Diego ComicCon.

— Ed Boon (@noobde) July 6, 2017
If you're planning on stopping by Josh Warner's Small Press Table #L-09, here's a taste of what you'll find there.
Here's a sampling of artwork I'll have available at #SDCC Small Press table L-09 #SDCC2017 pic.twitter.com/UGEuVoAkRg

— J. Lynn Warner (@josh_L_warner) July 6, 2017
Off to comic con with your lucky lions paw. Han Cholo x SDCC 2017 x For Ages Cool and Up. pic.twitter.com/ZpPNGLkWcu

— Han Cholo (@HanCholoDesigns) July 6, 2017
https://www.instagram.com/p/BWMmRPnFllQ/
https://www.instagram.com/p/BWNXsOAj3XW/
https://www.instagram.com/p/BWMaz8kjxKP/
If you're dying to know who's on the Midnight, Texas panel at SDCC on Saturday, July 22, Deadline Hollywood gave some insight into who will be there: Executive producer Monica Owusu-Breen and cast François Arnaud, Dylan Bruce, Parisa Fitz-Henley, Arielle Kebbel, Sarah Ramos, Peter Mensah, Yul Vazquez and Jason Lewis are all expected.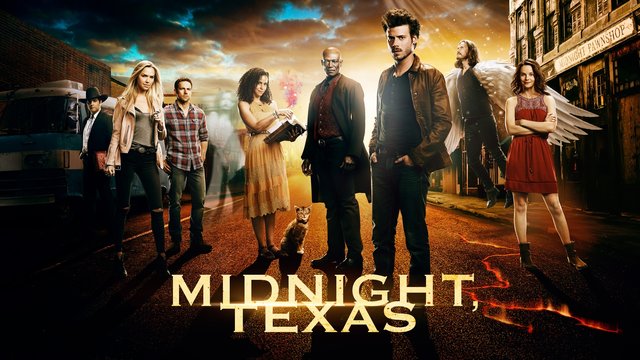 https://www.instagram.com/p/BWMKoQ6hA67/
https://www.instagram.com/p/BWMMYS5j593/
Ben Kaplan, from the film Slasher.com, will be at Table #AA30 in the Sails Pavilion signing autographs and selling Slasher.com exclusive merch.
https://www.instagram.com/p/BWOGkV7l9N1/
Sideshow Collectibles Booth #1929 is one of the most elaborate booths on the Exhibit Hall floor. With some of the most detailed sculptures, it's a frequent stop for photo ops. Project Manager Kevin Ellis shows a peek at just how much they're bringing to SDCC this year. What's in the box???
https://www.instagram.com/p/BWNp0ARHlnL/
Artist Scott C revealed his Dinosaur Day print he's debuting (along with his new shorts) at Gallery Nucleus Booth #2643.
https://www.instagram.com/p/BWNmhZDB3t3/
Because one of the best parts of SDCC is free swag, you'll want to head to Kathleen Glosan's Booth #2109 for all her great freebies.
SDCC freebies galore! Hand fans, temp tats, bumper sticker (free w purchase), bookmarks & gazillion dollar $$!! Stop by Booth 2109 daily! pic.twitter.com/VZmzj2wVlW

— kathleen glosan (@kathleenglosan) July 6, 2017
Lucas Turnbloom announced that he and Greg Grunberg will be signing copies of their new book, Dream Jumper, at SDCC.
we will!

— Lucas Turnbloom (@LucasTurnbloom) July 6, 2017
Anything we missed? Let us know in the comments, drop us a line, or tweet us at @SD_Comic_Con.