Is it too early for WonderCon news? We don't think so. The new year is off to a great start so far, with news about artists, and more at the March 23-25 convention. If you haven't already, don't forget that you can also now get your badge and hotel for WonderCon.
Here's a look at the news you might have missed:
Menh Voong of BeeFy & Co. needs our help. In trying to decide which Bulbapoo to make a WonderCon exclusive, he opened it up to a vote. Which will you choose: left or right?
https://www.instagram.com/p/BaW6e03j3Y7/
According to comic book writer/artist Dan Cooney, WonderCon is on his agenda for 2018 cons.
Just received confirmation email for a table from @ComicConHQ for #SDCC2018 add this to shows slated to exhibit for 2018: WonderCon, C2E2, and London. Fingers crossed for @bdangouleme in January!

— Dan Cooney on Patreon (@dcooneyart) November 15, 2017
Carl King tweeted that he will have a table at WonderCon Anaheim 2018. Hopefully, he'll have some juicy details about his new animated series, Oracle of Outer Space.
https://twitter.com/carlking/status/930145080656084992
The creator behind Epic Chaos!, Melissa McCommon, announced via Twitter that WonderCon Anaheim 2018 will be part of her busy schedule.
Got into WonderCon, applied for SakuraCon, and waiting for some other shows to get back to me.
Hoping 2018 will be a productively busy year :3

— Mel @TCAF 2023 ٩( ᐛ )و (@ArtbyMelissaM) November 10, 2017
Just saw our confirmation for my booth at WonderCon 2018! Yay! See some of you March 23-25

— Dawn Wolf (@artofdawn) November 8, 2017
https://twitter.com/naughty_bicycle/status/926415407304593408
Illustrator Caleb King, who has contributed to Lucasfilm, Marvel, Topps, and Upper Deck, is also confirmed for this year's WonderCon.
https://twitter.com/caleb_king/status/926305452404690944
Artist Kate Carleton announced via Twitter she will be in Artists Alley at WonderCon this year.
I'm in! See ya soon Anaheim! #keelhaulkate #katecarleton #illustration #anaheim #wondercon #wondercon2018 #wonderconartistalley #artistalle… pic.twitter.com/u7RCKuidUb

— Kate! (@KeelHaulKate) November 3, 2017
WonderCon 2018 confirmed!

— Scott Blair Art (@scottblairart) November 3, 2017
Club Cosplay will be holding their annual WonderCon After Party at the House of Blues Anaheim on March 23. You can purchase tickets for the event here.
https://www.instagram.com/p/BWIPyKkjftW/?tagged=wondercon2018
https://www.instagram.com/p/BcTdh1ChPKT/?taken-by=seanforneyart
Comic book writer/creator Christopher Reda had a great 2017 and wants to keep that energy going when he's back at WonderCon in 2018.
2017 was a great year and I got the chance to meet a lot of wonderful people! I hope everyone enjoyed my comic books that will continue in 2018!#bestnine2017 #bestnine
Find me and my #comicbooks next year at #sdcc2018 #wondercon #lbcc2018 #losangelescomiccon #comics #comicbook pic.twitter.com/iKTRHUekT5

— Christopher Reda (@Chris_Reda) December 12, 2017
Masquerade! Paper faces on parade! Hide your face, so the world will never find you. The 2018 WonderCon Anaheim Masquerade will be held on Saturday, March 24 at 8:30PM PT at the Anaheim Convention Center Arena. For more details and information on how to enter, visit CCI's Masquerade page.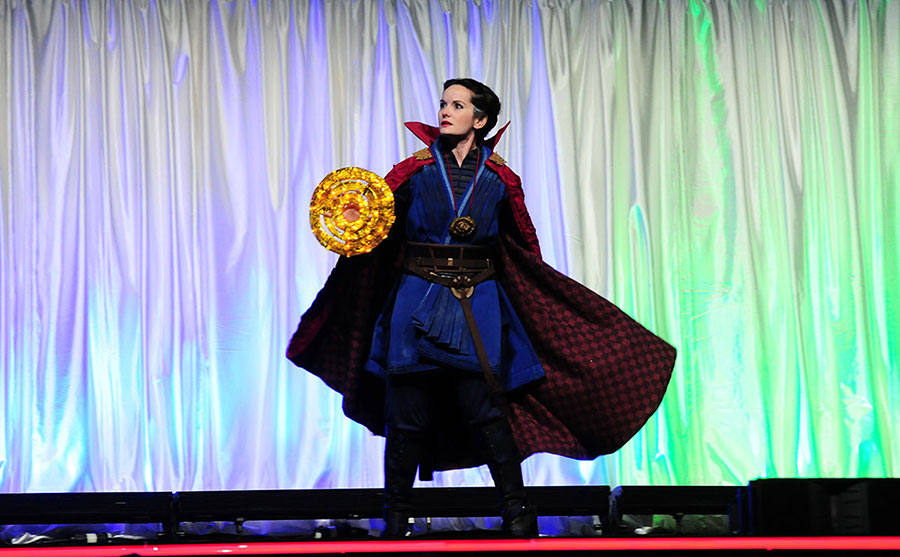 Anything we missed? Let us know in the comments, drop us a line, or tweet us at @SD_Comic_Con.