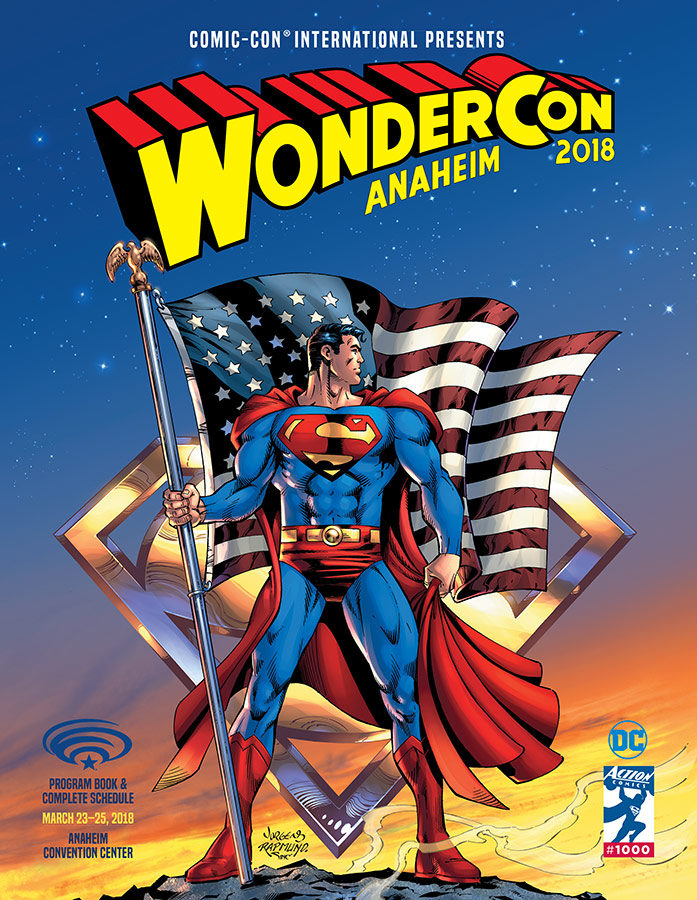 It's a bird, it's a plane – no, it's the WonderCon Anaheim 2018 Program Book design.
Comic-Con International is celebrating two very big anniversaries in 2018: The 80th anniversary of Superman, who debuted in 1938's Action Comics No. 1, as well as the release of the 1,000th issue of Action Comics. To celebrate, this year's WonderCon Anaheim 2018 Program Book is illustrated by WonderCon special guest Dan Jurgens, with ink by Norm Rapmund, color by Alex Sinclair, and lettering by Todd Klein. You can even get it signed by Jurgens, Rapmund, and Sinclair in Artist Alley.
You can score the WonderCon Anaheim Program Book for free at the event, which includes maps, schedules, and more.
And while there's no official word, the Program Book design is typically featured in a WonderCon shirt as well – so stay tuned for more updates on that.
Action No. 1000 will be released on March 18, just days before WonderCon, and will feature "some of the greatest creators who have ever touched the character," co-publisher Dan Didio said in a press release last fall. "The planning on this has been extensive," he teased, promising an issue that won't just touch on the fictional history of the hero, but also serve as commentary on the character's meaning in the real world, as well.
You can find more information on CCI's site.
Are you excited by this year's program book artwork? Let us know in the comments.