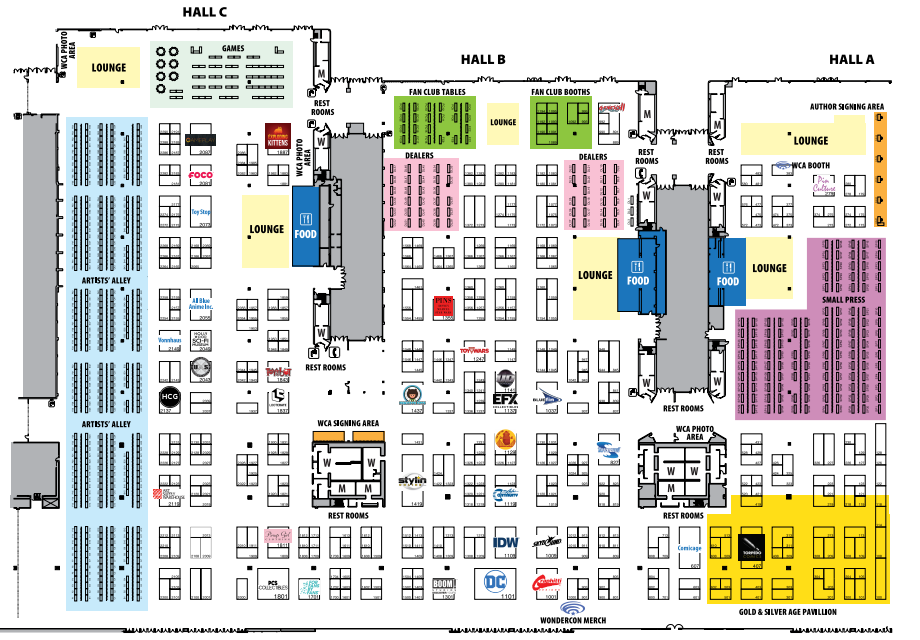 With WonderCon Anaheim 2018 less than four weeks away, CCI has released the official list of Exhibitors that will be attending this year's convention, along with information on fan tables, autograph, artist alley and small press areas — and the map of where you can find everyone.
There are over 450 exhibitors listed for WonderCon Anaheim 2018, covering comics, toys, merchandise, and more.
On the comics front, although Marvel and Dark Horse aren't returning again this year, DC Entertainment, BOOM! Studios, Skybound, Valiant, and IDW Publishing will all be representing. You can also swing by GoDaddy 's Comic Book Hideout, whatever that might be.
The movie side is looking very light – with no major movie studios on the show floor, and virtually no presence unless you count DC Entertainment (which will surely have something to represent the upcoming Aquaman). Also absent? Capcom, who held down last year's gaming representation.
Toy fans can stop by Fugitive Toys, UCC Distributing, Super7, Toynami, and Toy Wars to get their collectibles fix on. Powered by Funko, though, is off the grid for 2018 as it was in 2017 – and Kotobukiya also appears to be absent this year.
Many of our favorites, including Toddland, Hero Complex Gallery, Elhoffer Design, and The Ninjabot are must-stops when planning your exhibit floor plan.
Fans of Doctor Who and more will find something to like among the fan tables, with various fan clubs and cosplay groups among the list of Fan Tables. In addition, there are over 300 tables listed in Artists' Alley (including CLAUS Studios aka Justin Harder, Brianna Garcia, and more) and over 100 attending in the Small Press area. There's much to see at WonderCon Anaheim, and we haven't even seen the panel schedule yet.
But having said that, while there never seem to be many vacant booths at the convention, a lot of the big players – including Marvel, Image, Kotobukiya, Capcom, and more – seem to keep leaving WonderCon, without other, large companies to replace them. As more conventions spring up, it gets harder and harder for the big companies to hit them all, which is part of what makes San Diego Comic-Con so special – they're all there. There's a reason we often refer to WonderCon as "San Diego Comic-Con lite".
But that can also make WonderCon feel special as well. Rather than spending all of your time hitting "the big booths" to score all the latest exclusives, you can take your time, wander through Artist Alley and explore some amazing gems, and just focus on having fun rather than feeling like you missed out on whatever this year's hot item is.
Check out the Toucan Blog for links to all the areas above, as well as a map of the Exhibit Floor for you to start charting your course for March 23-25.
What are you looking forward to most? Let us know in the comments.