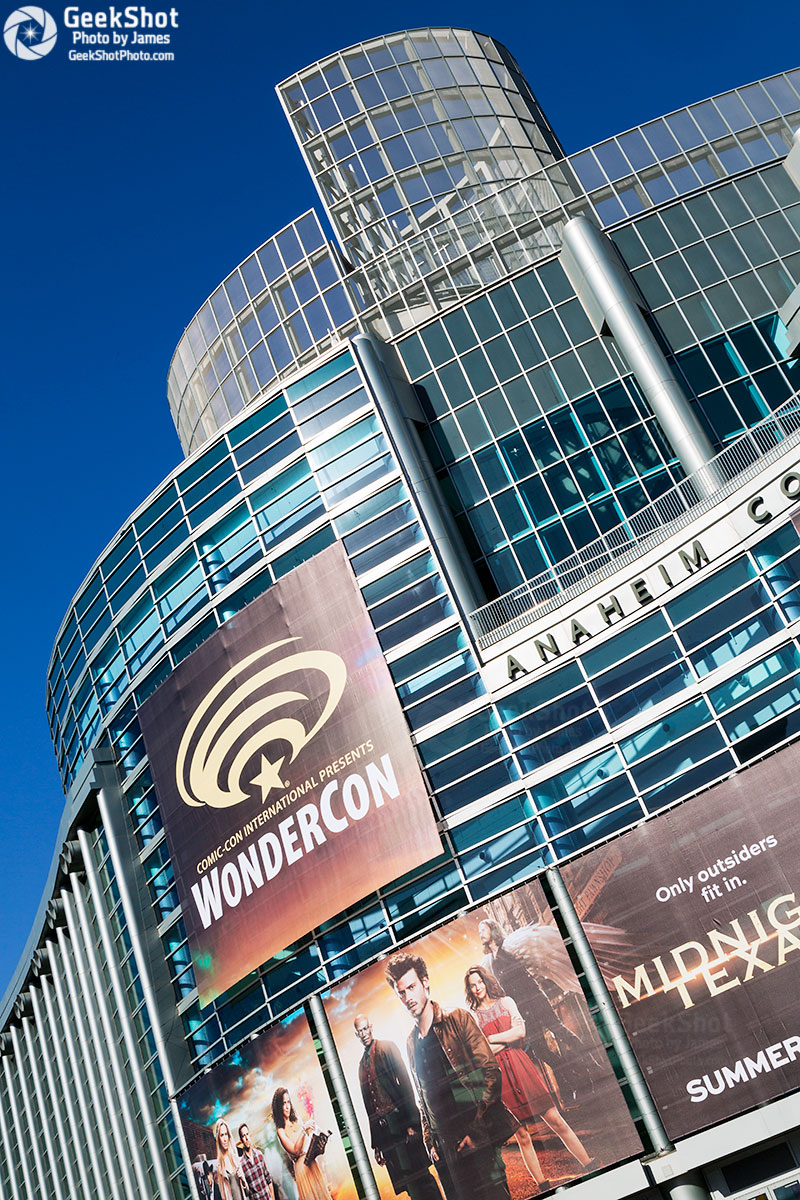 WonderCon Anaheim, Comic-Con International's sister show to San Diego Comic-Con, is just two short weeks away. Earlier today, we all got the whole 2018 convention schedule, and it's filled with fan-favorites from TV, comics, and… a little film. It's not the media-crazy event that is SDCC – some say it's more akin to what SDCC used to be – but there's more than enough interesting programming to fill most of the day and still get you time on the Exhibit Floor, and it's a marked improvement over last year (seriously).
We've combed the schedule for our favorite panels to help you plan your weekend. With that said, bring on the highlights!
Friday, March 23
WonderCon continues to be a great convention if TV is your preferred medium. All day Friday, you can catch panels like Unikitty and Teen Titans Go! in North 200B, The 100 in North 200A. and your first look at the new NBC series Reverie in North 200A with an exclusive sneak peek screening. You can also head to Room 300D at 2:30PM to hear writers from some of your favorite TV shows and films (including The Librarians, The Exorcist, Star Wars Rebels, The Flash, and more) discuss the TV shows that inspired these writers to get to where they are today.
Perhaps the most exciting thing on Friday for TV fans, though, is that you can check out a sneak peek of the upcoming Freeform series, Marvel's Cloak and Dagger, with "series stars and producers" – so head to North 200A at 4:45PM.
Comics fans have a lot to be excited about on Friday. Swing by North 200B at 4:30PM for a spotlight on the incomparable Jim Lee, and stay at 5:30PM to celebrate 80 years of Superman with DC Action Comics. Over in Room 209, you've got a double-header of awesome-ness with everyone's favorite Gail Simone at 3PM, followed by Mark Waid at 4PM.
We're also intrigued by the "Star Wars Mock Trial – Can R2-D2 and C-3PO Sue the Mos Eisley Cantina for Discrimination?" panel happening over in 300B at 5PM, where US Magistrate Judge Stacie Beckerman will hear arguments, complete with a droid expert (seriously, this sounds amazing).
Finally, there's two great ways to end your first day at WonderCon: At 7PM, Warner Bros. Home Entertainment presents their annual world premiere of an upcoming animated feature, this time with Suicide Squad: Hell to Pay. The screening will be followed by a Q&A with several voice actors from the film (which, while specific talent isn't confirmed yet, the film features the voices of Christian Slater, Billy Brown, Liam McIntyre, Kristin Bauer van Straten, Gideon Emery, Tara Strong, and Vanessa Williams – so that's a lot of amazing potential panelists). Or, if you're in the mood for something different, we also recommend checking out the #TimesUp discussion in Room 208 at 6:30PM.
Saturday, March 24
The biggest news on Saturday's panel is the Warner Bros. Pictures panel, scheduled from 12:25PM-1:10PM in the Arena. In a surprising move, they're filling that space with Ready Player One. While their wording is a little confusing, just one week ahead of its premiere. , it sounds like attendees will be treated to a panel with author Ernest Cline, along with cast members Tye Sheridan, Olivia Cooke, Lena Waithe, Win Morisaki, and Philip Zhao.
We're also excited for "Selling the Hit: What You Always Wanted to Know About the Stunt Industry", which features stuntmen and stuntwomen from Black Panther, Avengers: Infinity War, Jumanji, and more.
But really, on Saturday, it's all about TV – ranging from Netflix's Lost In Space (with cast members Toby Stephens, Molly Parker, Parker Posey, and more_ – in Netflix's first trip back to WonderCon since Hemlock Grove several years ago, and a good potential sign that they'll be back at San Diego Comic-Con this year as well) to Marvel's Agents of S.H.I.E.L.D. Catch the world premiere of the animated Constantine series at 10AM in North 200A; pencil in Into the Badlands at 10AM in Room 300B with series star and executive producer Daniel Wu, Nick Frost, and Lorraine Toussaint; dive into Freeform's upcoming mermaid drama Siren ahead of its March 29 premiere; get the scoop on how Marvel takes your favorite super heroes and translates them from the page to an animated screen at 12:30PM in Room 300D; celebrate the fan-fueled return of Timeless with cast members Abigail Spencer, Matt Lanter, Malcolm Barrett, Claudia Doumit, Paterson Joseph, and Goran VišnjiÄ in North 200A at 1PM; and get a peek at Syfy's Superman prequel series Krypton.
There's also Fear the Walking Dead at 3:30PM in the Arena, where you'll be treated to a panel (moderated by Talking Dead host Chris Hardwick) with cast members Kim Dickens, Colman Dimingo, Alycia Debnam-Carey, and Danay Garcia – along with newcomers Lennie James, Garret Dillahunt, Jenna Elfman, and Maggie Grace. You can also join Nathan Fillion for an advanced screening of A Series of Unfortunate Events' second season premiere at 7PM in Norh 200A, which is sure to be an extraordinary time.
For fans of comics, you won't want to miss Jim Lee and Dan DiDio as they discuss everything DC at 10AM in North 156 – or the spotlight on Scott Snyder at 1:30PM in Room 300D. If you're new to the Valiant universe, a perfect starting place is Valiant 101 at 12PM in Room 211. IDW will tell you all about their "big changes" and "scintillating chat" at 11:30PM in Room 208. Empower a girl in your life by bringing her along to the DC Super Hero Girls panel at 5PM in Room 210, where she'll learn about iconic DC super heroes from the people who create them.
It's sure to be a party in Room 200B at 11:30AM as the always-entertaining Patrick Rothfuss shares stories and promises "potential impromptu singing". Later, you can also hit up Quick Draw, which is possibly our favorite annual panel that Mark Evanier hosts (and let's be honest, he hosts a lot of amazing panels) as he gathers cartoonists like Sergio Aragonés and Scott Shaw to battle-it-out, animation style.
And although it's not on the schedule, the Masquerade will be at 8:30PM in the Arena.
Sunday, March 25
The weekend wraps up with Sunday, which – like every day – is still focused on TV. WBTV is bringing along an all-new episode of Black Lightning to screen for attendees, with series star Matt Ryan in tow for a Q&A, as well as Lucifer, with stars Cameron Cuffe, Georgina Campbell, and Shaun Sipos.
Everyone's favorite Critical Role will also be in attendance, as the cast (including Matthew Mercer, Marisha Ray, Laura Bailey, Travis Willingham, Sam Riegel, Liam O'Brien, and Raliesin Jaffe) discuss their campaigns and answers all of your questions.
Sunday is also Kid's Day, so it's a great day to get your child into comics, with panels like the DC Art Academy at 10:30AM or IDW's "Hey, Kids! (of All Ages") at 11:30AM.
Get your child excited about animation by taking them (or, y'know, yourself) to The Iron Giant – The Making of an Animation Masterpiece as supervising animator Stephan Franck takes you behind the series of the beloved classic. While your young ones might be too young to remember it, you can re-live your own childhood with the 25th Anniversary panel for X-Men: The Animated Series at 1PM in North 200A.
As always, the convention will close with the WonderCon Talk Back, a sort of town hall meeting where attendees can discuss anything they feel should be addressed with Comic-Con International staff.
Of course, there are tons more awesome panels at WonderCon we couldn't list, so be sure to check out the entire programming schedule. And sign up for MySched, mark your favorite panels and see which ones your friends are going to.
Which panels are you looking forward to most? Let us know in the comments.