WonderCon is this week, and if you aren't already, you need to start getting excited. I mean, just look at all of the amazing food you're going to be eating at the food trucks (in two locations this year!). And then, on top of that, we've got all kinds of wonder-ful news about the convention for you today, including lots of retro prints (TailSpin! The Muppet Show!), a special screening for WonderCon attendees, DC signings, and so much more.
Here's a look at the news you might have missed:
Oheeay! Oheeoh! Oh My Disney has the details on the latest piece from Cyclops Print Works, a WonderCon exclusive TailSpin print by Glen Brogan. The 20″x30″, hand-numbered, piece is limited to just 150 pieces, and will retail for $65 – and you can score yours by stopping by the Cyclops Print Booth #1408.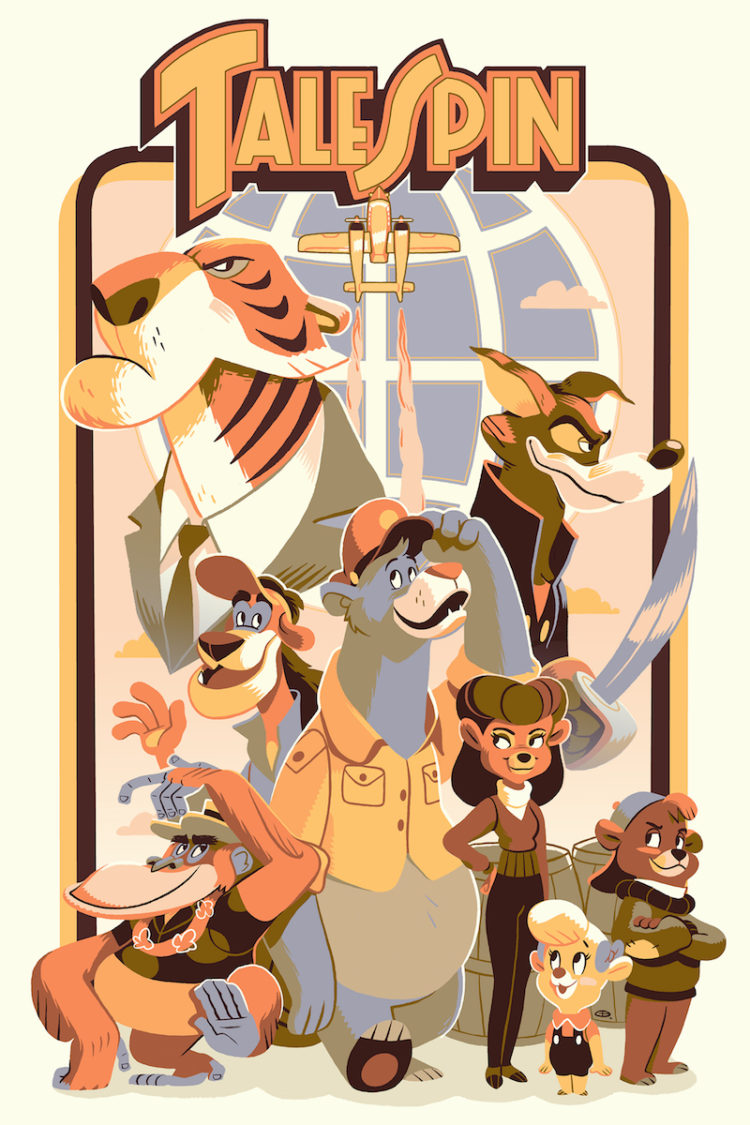 ICYMI, Our #wondercon schedule this week! pic.twitter.com/Lpaho7Zvy3

— Shawna Benson (@shawnabenson) March 19, 2018
Gabby Zapata, Senior Visual Development Artist at Disney Digital Network (and all around maker of adorable things), showed off a sneak peek of three 13″x19″ Mermaid prints she'll be bringing with her to WonderCon this weekend (at Artist Alley C-33).
✨A peek into these 3 large 13×19 Mermie prints to come to #wondercon and then Etsy later! 🐠🐟🐡💕✨ pic.twitter.com/6PKNCWyy2b

— Gabby Zapata (@gabbyzapata) March 15, 2018
When you finish an arts and it just makes you go "Awwwww~"
Will have this one original for #Wondercon! Come stop by and see me at Small Press Table SP-118 #Reylo #Porg pic.twitter.com/fqr9MR5wif

— Valvalchu 💖 (@kickgirl) March 17, 2018
Cosplayer and model Ivy Doomkitty will be signing autographs at Pinup Girl Clothing (Booth #1811) all weekend at WonderCon. You'll need to stop by the booth from 10AM-11AM each morning to pick up a signing ticket, and then return on Friday at 5PM, Saturday at 12PM, or Sunday at 11AM.
https://www.instagram.com/p/BgeY-mUhEuN/
Musician Wednesday 13 will also be signing autographs at the convention, for Nuclear Blast USA (Booth #1126). You can swing by on Saturday from 2PM-3PM to score an exclusive limited edition print, and get it signed.
.@officialwed13 will be signing in the @nuclearblastusa booth #1126 at @WonderCon 2018 this Saturday from 2PM – 3PM!

Come by & get an exclusive limited edition print!

Hope to see you all this weekend in Anaheim! WonderCon details at https://t.co/UOu0iSQXsM pic.twitter.com/aYti1iZmZW

— Nuclear Blast Records (@nuclearblast) March 19, 2018
ATTENTION WONDERCON ANAHEIM ATTENDEES! @ParamountPics, will be hosting a special screening of a secret, upcoming film this Friday night for #WCA2018 Friday & 3-Day Badgeholders. Want more info? Stay Tuned! https://t.co/8RG73TDhE4 pic.twitter.com/dvL1B0PvF4

— WonderCon (@WonderCon) March 20, 2018
They're good dogs, Brent. So many people were so excited about Elsa Chang's peek at a painting of some good doggos that she announced while she won't be selling the original "pupper painting", she did create a digital version which will be available at WonderCon, at C-37 in Artist Alley.
A piece I did a while ago pic.twitter.com/Wmxai5gO8q

— Elsa Chang (@ElsaSketch) March 15, 2018
Gosh so many people liked this pupper painting. I won't be selling this one exactly but I made a digital version of it that I will be selling at WonderCon next weekend!

— Elsa Chang (@ElsaSketch) March 18, 2018
Visual artist and designer Hai-Na-Nu Saulque (aka Nooligan) showed off a limited edition Batman Beyond print which will be a limited edition of just 100 pieces – and which you can find at WonderCon first.
Debuting @wondercon this weekend #terryswildyears / limited stock #limitededition of 100 ct – available online soon <3 #nooligan – #dccomics #batmanbeyond #terrymcginnis https://t.co/T2LTU3Kv9N pic.twitter.com/rex9nIjXCk

— Hai-Na-Nu Saulque (@nooligan) March 19, 2018
Fun fact: I had the theme song for the Muppet Show stuck in my head the entire time I inked and colored this. Pick this fresh print up at Wondercon at table AA B40! pic.twitter.com/solbHNd06G

— Rose Feduk 🍔 (@feduckie) March 19, 2018
Anything we missed? Let us know in the comments, drop us a line, or tweet us at @SD_Comic_Con.