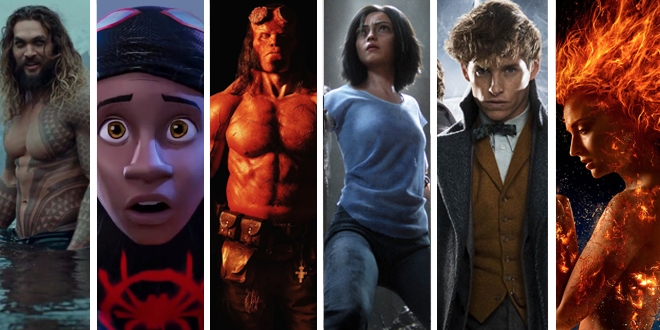 We all know San Diego Comic-Con is more than just comics. Yet despite all the great panels and events that happen throughout the convention, nothing gets quite the attention of a big Hollywood reveal on the stage of the Convention Center's Hall H. Tom Hiddleston as Loki? The cast of Star Wars appearing together on a stage, followed by that epic concert? Those moments and more might not be your personal favorites, but they're the moments everyone remembers and talks about for years (and in the case of the Star Wars concert, it's what our own James Riley is still talking about).
Every year, we take a gander at the theatrical release schedule and put down our best guesses as to which films might be filling up Hall H in July.
With that said, let's look at this year's possibilities:
1. Teen Titans Go! To the Movies (Warner Bros.)
Teen Titans has long been a Comic-Con mainstay — and with a release date set so close to San Diego Comic-Con (July 27, to be exact), we'd be shocked if WB didn't do something big to promote Teen Titans Go! To the Movies at the con. With the release being so close, though, would they use a Hall H spot? Well, they used an equally-close distribution date for Ready Player One at WonderCon, which makes it a bit more likely — but we suspect we'll get something a little different for this one. We'd put our money on a Sunday panel in a smaller room (or maybe even a panel in Indigo Ballroom), and an early screening of the film for fans. – Kerry Dixon
2. Fantastic Beasts: The Crimes of Grindelwald (Warner Bros.)
While the original Harry Potter films never got much love at San Diego Comic-Con, the first Fantastic Beasts was treated with a lot more fanfare at the convention, with a Hall H panel, booth activities, and more. We fully expect the sequel Fantastic Beasts: The Crimes of Grindelwald to be much the same, as it's probably the most anticipated film on WB's upcoming slate, and WB surely knows that. Eddie Redmayne, Katherine Waterston, Dan Fogler, Alison Sudol, Ezra Miller, and Johnny Depp all return — along with newcomer Jude Law, so expect some combination of the star-studded cast to be gracing the Hall H stage. – Kerry Dixon
3. Aquaman (Warner Bros.)
If there's a second most-anticipated movie from WB among the San Diego Comic-Con crowd, that crown definitely goes to Aquaman. Jason Momoa's pure energy stole the show last year as WB celebrated the then-upcoming Justice League film, and while there's currently no trailer for the film, many have been speculating for months that WB and DC are saving it for San Diego. All WB really needs to do is bring out Momoa, but the film also stars Amber Heard, Willem Dafoe, Dolph Lundgren, and Nicole Kidman — any of which would also make for a fun panel. – Kerry Dixon
4. Shazam! (Warner Bros.)
If WB is using San Diego Comic-Con to give Aquaman an extra push, why not also use some of that timeslot to promote their other upcoming WB/DC film: Shazam!? After all, it stars Nerd HQ's own Zachary Levi, who definitely knows his way around a Comic-Con crowd. WB already unveiled your first look at the new superhero flick at a Licensing Show at Las Vegas, but we have yet to see any footage — which they could be saving for Comic-Con as well. – Kerry Dixon
5. The Lego Movie 2: The Second Part (Warner Bros.)
All of the previous The Lego Movie iterations have been part of WB's Hall H presence, and there's no reason to think that The Lego Movie 2: The Second Part won't get the same treatment. It may not release until February 8, but we think WB will want to push it — especially with a voice cast that includes Chris Pratt, Elizabeth Banks, Will Arnett, Tiffany Haddish, Channing Tatum, and Jonah Hill. – Kerry Dixon
6. Smallfoot (Warner Bros.)
Warner Bros. has an incredibly full slate of genre films, but we think they'll use some of their Hall H time to discuss Smallfoot, an upcoming animated film about Migo, a Yeti who is convinced that the elusive creatures known as "Smallfeet" really do exist. It boasts a pretty stacked voice cast — including Channing Tatum, James Corden, Zendaya, Common, LeBron James, Gina Rodriguez, and Danny DeVito — and that alone should be plenty of hype for the San Diego Comic-Con crowd. The only potential stumbling block to its appearance is that WB also has The Lego Movie 2: The Second Part, and that may be a lot of animated movies for one panel, so it's possible they could choose one over the other. We'd give a very minor edge to The Lego Movie 2. – Kerry Dixon
7. Mowgli (Warner Bros.)
Yes, it's another rendition of The Jungle Book — but this one isn't coming from Disney. The Warner Bros. live-action film follows the adventures of Mowgli in the story you know and love, though director Andy Serkis (yes, that Andy Serkis) has said that this film will be "darker" and more "serious" in tone than previous adaptations. The live-action cast includes Matthew Rhys, while the motion capture and voice cast includes Christian Bale, Cate Blanchett, Benedict Cumerbatch, Naomie Harris, Serkis, Tom Hollander, and more. We think Warner Bros. will go big with Mowgli, as they're surely wanting to prove their adaptation is different enough to get ticket-goers into seats come October. – Kerry Dixon
https://www.youtube.com/watch?v=GpxCT36DxKg
8. Godzilla: King of the Monsters (Legendary Pictures/Warner Bros.)
Back in 2012, Legendary Pictures managed to sneak in a surprise for attendees: Their first look at the rebooted Godzilla. It's been six years since it took Hall H by storm (and five since that amazing offsite), but Godzilla: King of the Monsters still has potential to amaze attendees. Although it's a split film between Legendary Pictures and Warner Bros., so was Kong: Skull Island — and that didn't stop it from being part of WB's presentation back in 2016. We think of the two studios, WB would be the most likely to include it in their panel. The film sees very little returning cast from the first film, with Ken Watanabe reprising his role — but most of the cast is made up of new faces, including Vera Farmiga, Sally Hawkins, Kyle Chandler, Millie Bobby Brown, Bradley Whitform, Aisha Hinds, and more. Let's be honest, though: The real star of this franchise isn't the actors, but rather, Godzilla himself. WB doesn't need much to get fans excited. The only reason we think this wouldn't attend is that it doesn't come out until March, and WB has plenty of other options coming up first. – Kerry Dixon
9. The Darkest Minds (20th Century Fox)
With the Disney/20th Century Fox merger not yet final (and, indeed, maybe even hanging in the balance) — we don't think it's going to impact San Diego Comic-Con this year. Next summer, it may be a whole new story, but for now, we don't feel like they'd skip, especially with their line-up. The Darkest Minds comes out just two weeks after the con, which may put it as too late to promote at San Diego, but it could also probably use the extra push. The film is based on the 2012 novel of the same name, and follows teens who mysteriously develop powerful new abilities and are sent to detainment camp by the government. With a cast that includes Amandla Stenberg, Mandy Moore, Gwendoline Christie, and Bradley Whitford, it's got some Comic-Con star-power to its name. – Kara Dupree
10. The Predator (20th Century Fox)
We expect to see 20th Century Fox put some of its biggest weight at the convention behind The Predator. It's release date has been shifted several times, but it's scheduled right now for September 14, which puts Comic-Con squarely in a prime promotion timeline. The new film centers on a young boy who accidentally triggers the universe's most lethal hunters return to earth, and a group of of ex-soldiers and a science teacher who must save the human race. Expect some combination of stars Olivia Munn, Yvonne Strahovski, Sterling K. Brown, Boyd Holbrook, and Jacob Tremblay in attendance. – Kara Dupree
11. Alita: Battle Angel (20th Century Fox)
Alita: Battle Angel has a Comic-Con pedigree unlike anything else coming out in the next few months. It hails from director Robert Rodriguez, based on Yukito Kishiro's manga Gunmu, and is produced by James Cameron and Jon Landau. The original manga was set in a post-apocalyptic future and focused on Alita, a cyborg who had lost all memories and is found in a garbage heap by a cybernetics doctor who rebuilds and takes care of her. She eventually becomes a player in the brutal sport of Motorball, which awakens memories of her earlier life on Mars. It releases in December, which should make it early enough for San Diego Comic-Con — and with that kind of a background, we don't think there's any way it will skip. The cast, which includes Rosa Salazar, Christoph Waltz, Jennifer Connelly, Mahershala Ali, Ed Skrein, Michelle Rodriguez, and Jackie Earle Haley, should also be in attendance in some combination. – Kerry Dixon
12 – 13. X-Men: Dark Phoenix / (20th Century Fox)
The X-Men movies have been no stranger to Comic-Con in years past, and the studio normally goes all out for the films at the convention. They've got two upcoming X-Men films on their slate, starting with X-Men: Dark Phoenix on February 14, and then The New Mutants on August 2. Normally, we would say that the edge would go to Dark Phoenix — but given that Fox already released a trailer for New Mutants, it's possible that's the one they want to promote more. However, with no footage from Dark Phoenix yet, San Diego would be a great place to show it off. There's plenty of cast to choose from for both films, including Jennifer Lawrence, James McAvoy, Michael Fassbender, Jessica Chastain, and Nicholas Hoult for Dark Phoenix, and Anya Taylor-Joy, Maisie Williams, Charlie Heaton, Henry Zaga, Blu Hunt, and Alice Braga for The New Mutants. – Kara Dupree
14. Bad Times at El Royale (20th Century Fox)
Seven strangers, each with a secret to bury, meet at Lake Tahoe's El Royale, a rundown hotel with a dark past. That sounds interesting enough on its own, but when you know it comes from Drew Goddard — the mind behind The Cabin in the Woods (which he directed and co-wrote with Joss Whedon) and Cloverfield — it starts to get more interesting. And when you find out that the cast includes Chris Hemsworth, Dakota Johnson, Jon Hamm, Jeff Bridges, and Nick Offerman, well, you start to wonder why in the world Fox wouldn't bring Bad Times at El Royale to San Diego Comic-Con. – Kerry Dixon
15. Star Wars: Episode IX
The last time Marvel skipped in 2015, attendees were treated instead to Star Wars: The Force Awakens. Star Wars hasn't been back for the last two years, but with the news that Marvel won't be taking up its usual spot in Hall H, could Disney be looking to put a bigger spotlight on their other mega franchise with some news about the upcoming Star Wars: Episode IX? Production isn't slated to even begin until July of this year, and the film doesn't come out until December of 2019, which basically means they wouldn't have much of anything to show off — but they didn't really show off new footage the last time they attended either. Star Wars is big enough that Disney could easily use the show to make a few casting announcements, and still walk out of Comic-Con having essentially won the convention. This is very, very far from a sure bet, but with no Marvel in Hall H, we wouldn't be totally shocked if it happened either. – Kerry Dixon
16. Kin (Lionsgate)
Lionsgate hasn't held a panel since 2015, despite being in bed with Comic-Con International for the now-mostly-defunct Comic-Con HQ online streaming service. If they do decide to hold a full Hall H panel in 2018, though, they have a few options — starting with Kin, which follows an ex-con and his adopted teenage brother, who is armed with a mysterious weapon, as they're on the run from a vengeful criminal and a gang of otherworldly soldiers. It releases on August 31, which should put the film (which stars Myles Truitt, Jack Reynor, Zoë Kravitz, James Franco, Carrie Coon, and Dennis Quaid) far enough out for San Diego Comic-Con to make sense — if Lionsgate wants. But that's a big if at this point. We wouldn't be surprised if we got a film screening or booth appearance instead. – Kara Dupree
17. Hellboy (Lionsgate)
If Lionsgate does decide to hold a panel at Comic-Con, you can bet it's going to be because of one movie: Hellboy. The reboot, based on the character created by Mike Mignola, doesn't release until January 11, and very little is known about the film at this time. But, it wrapped filming back in December, so they'd definitely have footage to show off, and Comic-Con would be the place to show it. Plus, with a cast that includes David Harbour as Hellboy, as well as Milla Jovovich, Daniel Dae Kim, Sasha Lane, and Ian McShane — a few of those actors could easily be pulling double duty at the con, which saves on things like travel fare. – Kara Dupree
18. Chaos Walking (Lionsgate)
They've also got Chaos Walking, based on the Patrick Ness trilogy. The film is set in a near future, where Todd Hewitt (Tom Holland) has been brought up to believe that a viral germ has killed all the women and unleashed "Noise", the special ability to read people's and animal's minds — but he soon discovers a patch of silence and a young girl, Viola Eade (Daisy Ridley). That's a pretty stacked Comic-Con friendly cast already, and the film also stars Mads Mikkelsen, Kurt Sutter, and Nick Jonas — all of which makes it a pretty obvious choice if Lionsgate chooses to attend. – Kara Dupree
19. The Spy Who Dumped Me (Lionsgate)
Finally, Lionsgate also has The Spy Who Dumped Me, which comes out just two weeks after San Diego Comic-Con. It's likely too close for a Hall H appearance, but we wouldn't be surprised by a screening for the fans. This is, after all, the same studio that gave us a screening for Nerve a few years ago. Mila Kunis, Kate McKinnon, Sam Heughan, Justin Theroux, and Gillian Anderson star in a comedy about two best friends who find themselves embroiled in a major international conspiracy. – Kara Dupree
20. Venom (Sony)
Aside from a small panel in 2015 for Screen Gems and a panel in 2014 for Columbia Pictures held over in the Indigo Ballroom, Sony hasn't actually been at the convention properly since 2013 (yes, really). If they did decide to attend in 2018, though, the most obvious choice would be Venom. The film, which sees Tom Hardy as the iconic Marvel character, releases on October 5 — but fans know remarkably little about the film. A small teaser trailer didn't unveil much, a San Diego Comic-Con presence makes sense for a more in-depth look. The cast also stars Michelle Williams, Riz Ahmed, Jenny Slate, and Woody Harrelson — so it's not like they don't have enough cast to pull together a panel if they wanted. – Kerry Dixon
21. Spider-Man: Into the Spider-Verse (Sony)
Speaking of Sony and Marvel, they've also got the upcoming Spider-Man: Into the Spider-Verse animated film. Shameik Moore, Liev Schreiber, Mahershala Ali, Brian Tyree Henry, and Jake Johnson all lend their voices for the December 14 film, which sees Miles Morales juggling his high school life with his status as a superhero. Similar to Venom, it depends entirely on if Sony makes an appearance at the convention at all. – Kerry Dixon
22. Spider-Man: Homecoming 2 Untitled Film (Sony)
Unfortunately, even if Sony does come, it's going to be much too early to get any kind of real look at the upcoming Spider-Man sequel film, which doesn't start filming until July. But, if by some miracle Sony does decide to head to Hall H, it's not out of the question to think they'd bring Tom Holland out for a quick wave, and maybe a casting announcement or an official title, before shuffling him off backstage again. – Kerry Dixon
23. Men In Black (Sony)
It's probably also too early for the Men in Black reboot, starring Chris Hemsworth and Tessa Thompson. It's not slated to begin filming until sometime this summer, which means Sony likely wouldn't have much, if anything, to show off to attendees — and with a June 14, 2019 release date, that also means it will have come out before next year's San Diego Comic-Con. Similar to Spider-Man, though, if Sony does come, they could always use the time to make some announcements about the upcoming film. And if Hemsworth is already in town for Bad Times at El Royale, there's no reason to think he couldn't pull double-duty – Kerry Dixon
24. Goosebumps: Haunted Halloween (Columbia Pictures)
The first Goosebumps film in the franchise got a smaller panel over in Indigo Ballroom, so it's entirely possible to think that the sequel, Goosebumps: Haunted Halloween, could also get the same treatment. The sequel sees Jack Black return, along with cast members Chris Parnell and Ken Jeong, for an October release — meaning they'd have plenty of footage to show off to attendees if Columbia decided they wanted to. – Kerry Dixon
25. Holmes and Watson (Columbia Pictures)
And if Columbia Pictures wanted to, they could pair the Goosebumps sequel with Holmes and Watson, the upcoming comedic take on the famed literary characters. Holmes and Watson, which releases in December, sees Will Ferrell as Sherlock Holmes, and John C. Riley as John Watson, along with cast members Lauren Lapkus, Rob Brydon, Kelly Macdonald, Ralph Fiennes, and Hugh Laurie. It's not an exact fit, but neither was Pixels back in 2014. – Kerry Dixon
26. The Meg (Warner Bros.)
Of Warner Bros.' many, many, upcoming genre films, the one with the closest release date to San Diego Comic-Con is The Meg (set for August 10). It's a split-production with China, and based on the 1997 science fiction novel Meg: A Novel of Deep Terror, about a 75-foot-long prehistoric shark called a megalodon who rises from the depths of the ocean and attacks a research vessel 200 miles off the Chinese coast. It stars a mix of American and Chinese stars, including Jason Statham, Li Bingbing, Rainn Wilson, Ruby Rose, and Winston Chao. Of their films, it's one of the ones that could probably stand to make the most off some extra Comic-Con promotion — but WB has such a full slate that it could also be skipped over for some more obvious fare. – Kerry Dixon
27. The Nun (Warner Bros.)
We've gotten plenty of horror films in Hall H over the years, though similar to The Meg, we suspect Warner Bros. will go with some of their bigger titled films for San Diego. The upcoming horror film is set in 1952 in a Romanian monastery, where a nun, a Catholic priest, and a novice (no, this isn't a joke), are sent by the Vatican to investigate the mysterious suicidal death of a nun. Taissa Farmiga stars, but even with a release date pretty close to the convention (September 7), we just don't think it has enough star-power to be heading to the Hall H stage. – Kerry Dixon
28. Mission: Impossible – Fallout (Paramount)
Paramount is a hit or miss at the con, so they could potentially skip all together in 2018. However, if they do decide to attend, Mission Impossible – Fallout is a contender. It releases on July 27, just days after the convention, which probably puts it as too close to the convention to attend, but not impossible (we could potentially be looking at an offsite screening somewhere else instead). Still, we'd love to see stars Tom Cruise, Rebecca Ferguson, Henry Cavill, Vanessa Kirby, and Simon Pegg on the Hall H stage. – Kara Dupree
29. Bumblebee: The Movie (Paramount)
If Paramount does decide to hold a Hall H presentation, they've also got Bumblebee: The Movie. It follows Bumblebee, who seeks shelter in a junkyard in a California beach town where Charlie, an 18 year old girl, is trying to find her place in the world. When she tries to revive him she finds out he is no ordinary yellow Volkswagen. The film stars Hailee Steinfeld, John Cena, and Martin Short — but we think the odds are decently high that Paramount skips Hall H this year. – Kara Dupree
30. Ad Astra (20th Century Fox)
Brad Pitt has actually never been to San Diego Comic-Con (unless you count the cardboard cutout during the 2010 Megamind panel, which, well, you could). But could 2018 be the year that changes? 20th Century Fox is distributing Ad Astra next January, a film about a man named Roy McBride (Brad Pitt), who sets out 20 years after his father left on a one-way mission to Neptune in order to find signs of extraterrestrial life, to travel the solar system to find him and understand why his mission failed. It's certainly genre enough for San Diego Comic-Con, but the question is, would Pitt come? The rest of the cast, which also includes Tommy Lee Jones, Ruth Negga, and Donald Sutherland, might not be enough with just a cardboard cutout this time.  – Kerry Dixon
31. The Kid Who Would Be King (20th Century Fox)
Are you clamoring for another re-telling of King Arthur? 20th Century Fox is taking a different spin on the classic story with The Kid Who Would Be King. Alex (played by Andy Serkis' son Louis Serkis) finds that his everyday problems are dwarfed by his discovery of the mythical sword Excalibur, and he and his friends must thwart a medieval villain named Morgana who is hell-bent on destroying the world. It sounds like an 80's style pre-teen take on the classic tale, complete with Patrick Stewart as Merlin and Rebecca Ferguson as Morgana. But will it be at Comic-Con? It might be too British — and it also doesn't come out until March, when Fox has plenty of other earlier films they'd be likely to promote first. – Kerry Dixon
32. Slender Man (Screen Gems/Sony)
It's been a few years since Screen Gems had a panel of their own, but if Sony was looking to promote something through their Screen Gems banner, the most obvious fit would be Slender Man. Based on the urban legend, the upcoming film follows a group of teenage girls who attempt to investigate the mystery of the Slender Man after a friend goes missing. – Kerry Dixon
33. He's Out There (Screen Gems/Sony)
Sony's Screen Gems also has He's Out There, about a mother and her two young daughters who take a break at a house on the lake, only to find that they must deal with a man with evil intent. It stars Yvonne Strahovski, and has been pushed back a few times, which doesn't bode well for getting promotion at San Diego Comic-Con. – Kerry Dixon
34. Cadaver (Screen Gems/Sony)
Finally, Sony's Screen Gems also has Cadaver, a horror film about a cop coming out of rehab who takes the graveyard shift in a city hospital morgue, only to face a series of bizarre and violent events caused by an evil entity in one of the corpses. The film stars Shay Mitchell and Stana Katic, who each have a small following of their own — and it makes sense if Sony decides to give Screen Gems their own programming block. – Kerry Dixon
35. Bohemian Rhapsody (20th Century Fox)
Bohemian Rhapsody is the very definition of a longshot at San Diego Comic-Con, but hear us out on this one. It stars Mr. Robot's Rami Malek, as well as Aidan Gillen, Tom Hollander, and Ben Hardy. And while a biopic about Freddy Mercury definitely doesn't seem like the sort of genre fare you expect out of Comic-Con, it's buzzy, and maybe boasts just enough of a relationship with pop culture that it might make some sort of sense. For once, we wouldn't complain if something off the beaten path showed up. On the flip side, though, Fox has enough to bring this year that they don't really need something off the beaten path — but man, we kind of wish they'd bring it anyway. – Kerry Dixon
36 – 40. Christopher Robin / The Nutcracker and the Four Realms / Ralph Breaks the Internet: Wreck-It Ralph 2 / Mary Poppins Returns / Dumbo (Walt Disney Pictures)
Walt Disney proper hasn't been in Hall H since all the way back in 2012 — and unfortunately, that doesn't seem likely to change any time soon. Sure, we'll probably get a "The Art of Coco" or "The Art of The Incredibles 2" panel (which is nothing to turn your nose at!), but we definitely miss the House of Mouse taking center stage in Hall H. And it's not like they'd have a shortage of films to show off, with Christopher Robin, The Nutcracker and the Four Realms, Ralph Breaks the Internet: Wreck-It Ralph 2, and Mary Poppins Returns all hitting cinemas before the end of the year (plus, there's Tim Burton's version of Dumbo out in early 2019). But we just don't see it happening. Unfortunately. – Kerry Dixon
41. Captain Marvel, Avengers 4 (Marvel Studios)
That collective groan you heard earlier this year was Kevin Feige announcing that Marvel won't be in Hall H this year. That means that anyone who was hoping for some heavy promotion of Captain Marvel and/or Avengers 4 is going to be sorely disappointed. However, Feige did mention that there are plans for a Marvel Cinematic Universe 10th anniversary panel — but since he's already ruled out Hall H, the prospect of it being a star-studded affair seems slim. It's not impossible, though, that we'll still get some Captain Marvel actors signing at the Marvel booth this year, as it's happened before in other years when the studio has skipped Hall H. So be sure to keep your eyes peeled for more information about that. – Kerry Dixon
Which films are you most hoping to see in Hall H this summer? Let us know in the comments.