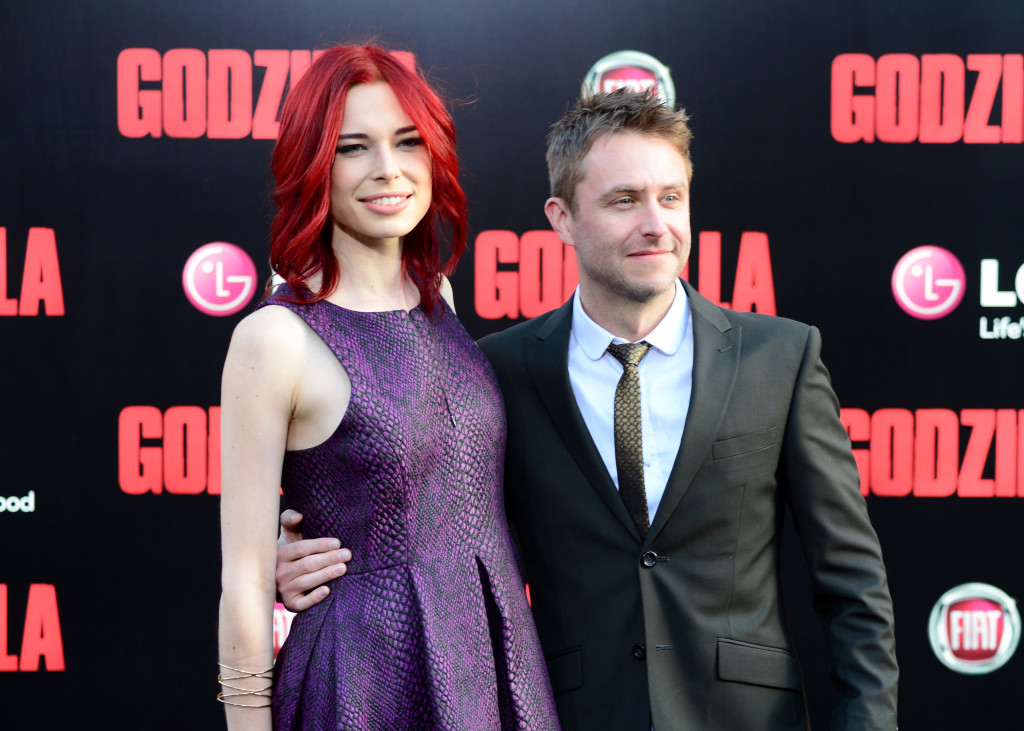 [UPDATE June 20] The Wrap reports that Chris Hardwick will also not return as a moderator for this year's Warner Bros. panel presentation, which so far we know includes Aquaman.
[UPDATE June 16 #2] AMC has issued a press release stating that Chris Hardwick will not be moderating any of their panels, including the BBC America's Doctor Who panel, until they "assess the situation". They also state they will not be airing Talking with Chris Hardwick at this time. Here is the statement in full:
"We have had a positive working relationship with Chris Hardwick for many years. We take the troubling allegations that surfaced yesterday very seriously. While we assess the situation, 'Talking with Chris Hardwick' will not air on AMC, and Chris has decided to step aside from moderating planned AMC and BBC America panels at Comic-Con International in San Diego next month."
[PREVIOUS] Actress Chloe Dykstra gave an account of the alleged sexual and emotional abuse she suffered for three years in a relationship with a now ex-boyfriend.  You can read her account in full on Medium.
She details her ex-boyfriend's controlling behavior, which included rules like not being able to speak in public places "as he believed that people recognized him and were listening to our conversations", not being able to drink alcohol because he was sober, and other rules. She also mentions attending San Diego Comic-Con with him, and being instructed not to leave the hotel room, while he went to parties and "got a famous actress's number with the intention to date her at the same time". She also discusses "let[ting] him sexually assault me. Regularly. I was expected to be ready for him when he came home from work."
While Dykstra does not mention the ex-boyfriend in question by name, many have speculated that the "successful podcaster" and "powerhouse CEO of his own company" is Chris Hardwick. Dykstra and Hardwick publicly dated for a period of time.
Hardwick has had a large San Diego Comic-Con presence in recent years, hosting Hall H panels, offsites, and appearing with his former company Nerdist. For San Diego Comic-Con this year, Hardwick had previously been announced as moderating the Doctor Who panel and having a Funko Pop! exclusive. In light of today's news, many on social media are calling for a change, but no announcements or statements have been made.
Nerdist, which is now owned by Legendary Entertainment, gave a statement today, saying, "Chris Hardwick had no operational involvement with Nerdist for the two years preceding the expiration of his contract in December 2017. He no longer has any affiliation with Legendary Digital Networks. The company has removed all reference to Mr. Hardwick even as the original Founder of Nerdist pending further investigation."
[UPDATE June 16] Late last night, Hardwick responded with a statement:
"These are very serious allegations and not to be taken lightly which is why I've taken the day to consider how to respond. I was heartbroken to read Chloe's post. Our three year relationship was not perfect—we were ultimately not a good match and argued—even shouted at each other—but I loved her, and did my best to uplift and support her as a partner and companion in any way and at no time did I sexually assault her.
When we were living together, I found out that Chloe had cheated on me, and I ended the relationship. For several weeks after we broke up, she asked to get back together with me and even told me she wanted to have kids with me, 'build a life' with me and told me that I was 'the one,' but I did not want to be with someone who was unfaithful. I'm devastated to read that she is now accusing me of conduct that did not occur. l was blindsided by her post and always wanted the best for her. As a husband, a son, and future father, I do not condone any kind of mistreatment of women."
Deadline reports that "there is [still] no word if Hardwick will still moderate the inaugural panel of first female Doctor Who Jodie Whittaker or the Hall H return of The Walking Dead."
I quietly posted an article today, unlisted on Medium. It clearly made the rounds. I'm overwhelmed and I want to thank all of you for your support and kind words- they mean so much to me. I may take some time off the internet, please know your support means everything to me.

— Chloe Dykstra (@skydart) June 15, 2018
https://twitter.com/FunctionalNerd/status/1007718645596749824
As @hardwick has chosen to deny Chloe's account, I'll take the opportunity to say I have seen the proof myself, I have seen the evidence first hand, I've seen the people who have come forward to tell @skydart how Chris ordered her blacklisted, there isn't just one, there are many

— Rob Kazinsky (@RobertKazinsky) June 16, 2018
https://twitter.com/wilw/status/1007717478770753536?s=21
::thumbs up emoji, nerdist:: pic.twitter.com/yRmGLF6PXh

— Jill Pantozzi (@JillPantozzi) June 15, 2018
As of today I no longer write for @nerdist. The editorial staff is absolutely fantastic but I don't want my work or name affiliated in any way with Chris Hardwick. https://t.co/QJuZDo821T

— Scott Weinberg (@scottEmovienerd) June 15, 2018
Over the next four weeks or so, I suspect this will become the biggest news story surrounding SDCC and nerd fandoms, regarding one of Comic-Con's most ever-present – and wildly popular – personalities: Chris Hardwick. https://t.co/aGT6VrukTP

— An Englishman In San Diego (@EnglishmanSDCC) June 15, 2018
Hey every panel at #SDCC who was planning to have Hardwick as a moderator: replace him. Right now.
With a woman.

— Anne Kirn⁉️ (@house_of_darkly) June 15, 2018
We'll update as this story develops.