As almost any attendee will tell you, convention food is rarely appealing. It's often overpriced and not very appetizing. However, one of the best features of WonderCon Anaheim is the diversity of food offerings in the immediate area — including the food trucks located in the front plaza of the convention center as well as in the Arena Plaza, which will be returning for WonderCon this weekend.
Comic-Con International announced that 18 (yes, 18!) food trucks will be serving attendees (though all trucks are subject to change, as are any menus) for 2019, and we've rounded up what we think are some of the best offerings from each.
Let's get the one really bad news out of the way: There's no Chunk-n-Chip this year.
Now, onto the Grand Plaza:
Grand Plaza:
Barcelona OntheGo
The popular Latin eatery-on-wheels Barcelona OntheGo is back again this year. The food truck combines "wholesome, traditional Spanish recipes with Latin influences, modern cooking techniques, and local products" to create dishes like their USDA Prime Top Sirloin topped with chimichurri sauce and served with fries, shrimp tacos with chipotle aioli, and a breakfast burrito so good that our own Sarah Lacey hasn't stopped talking about for years.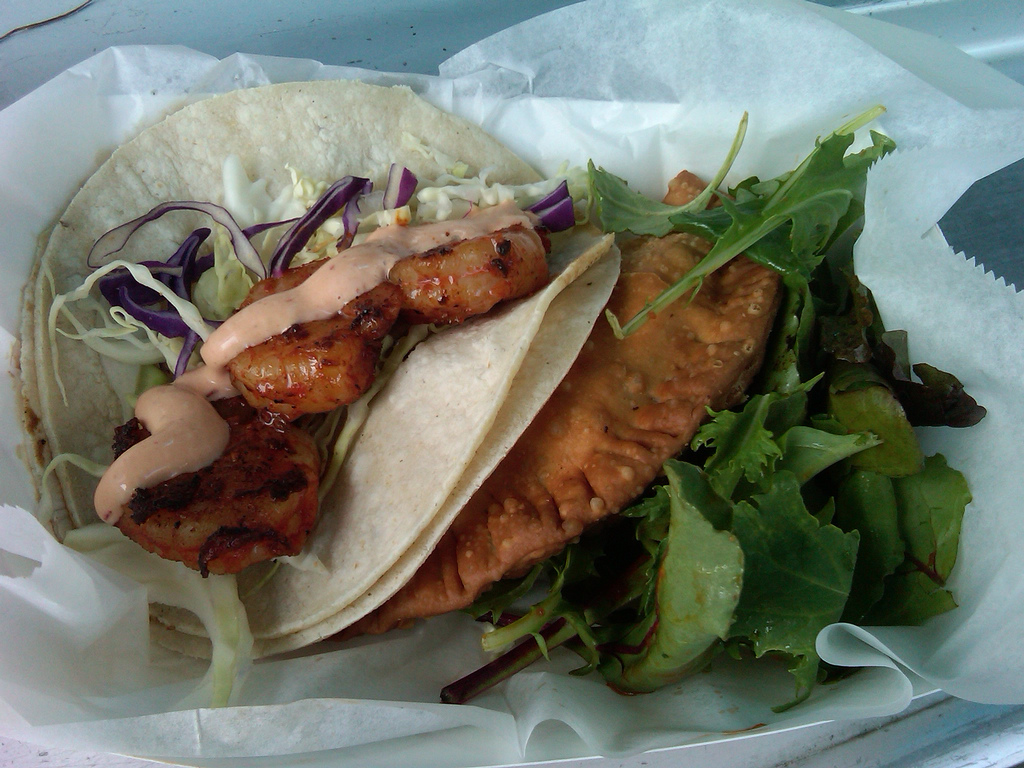 Burger Monster
Burger Monster is famous for, you guessed it, burgers. The menu rotates between a wide variety of burgers, including the American Werewolf (melted American cheese, lettuce, tomato, onion, and a sweet garlic sauce), a vegetarian Creature From the Black Lagoon (marinated portabella mushrooms, caramelized onions, tomatoes, avocado, roasted red peppers, and a roasted garlic herb sauce), and the Screaming Harpy (citrus-marinated chicken breast topped with mozzarella, lettuce, tomato, lemon aioli, and a basil pesto).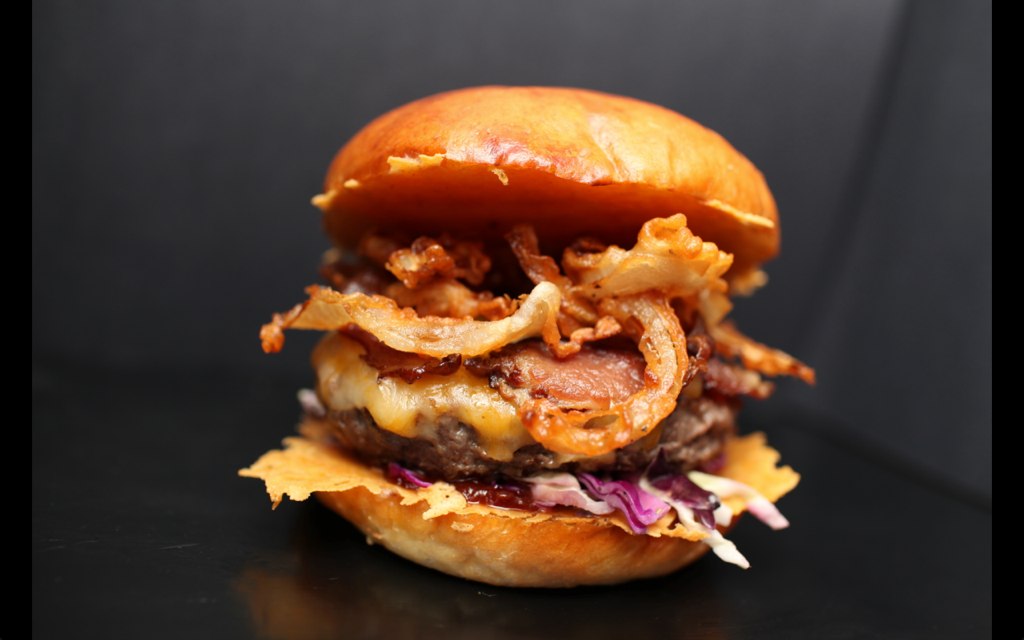 The Coconut Truck
If only some chili garlic wings or a coconut shrimp taco will hit the spot, then head to The Coconut Truck. This food truck serves up asian-inspired eats, including an Asian carnitas rice bowl served with a papaya salad (or other rice bowls, including lemongrass steak, sweet soy chicken, or coconut shrimp), and loaded fries (topped with braised pork, fried shallots, and tiger sauce). Um, yum.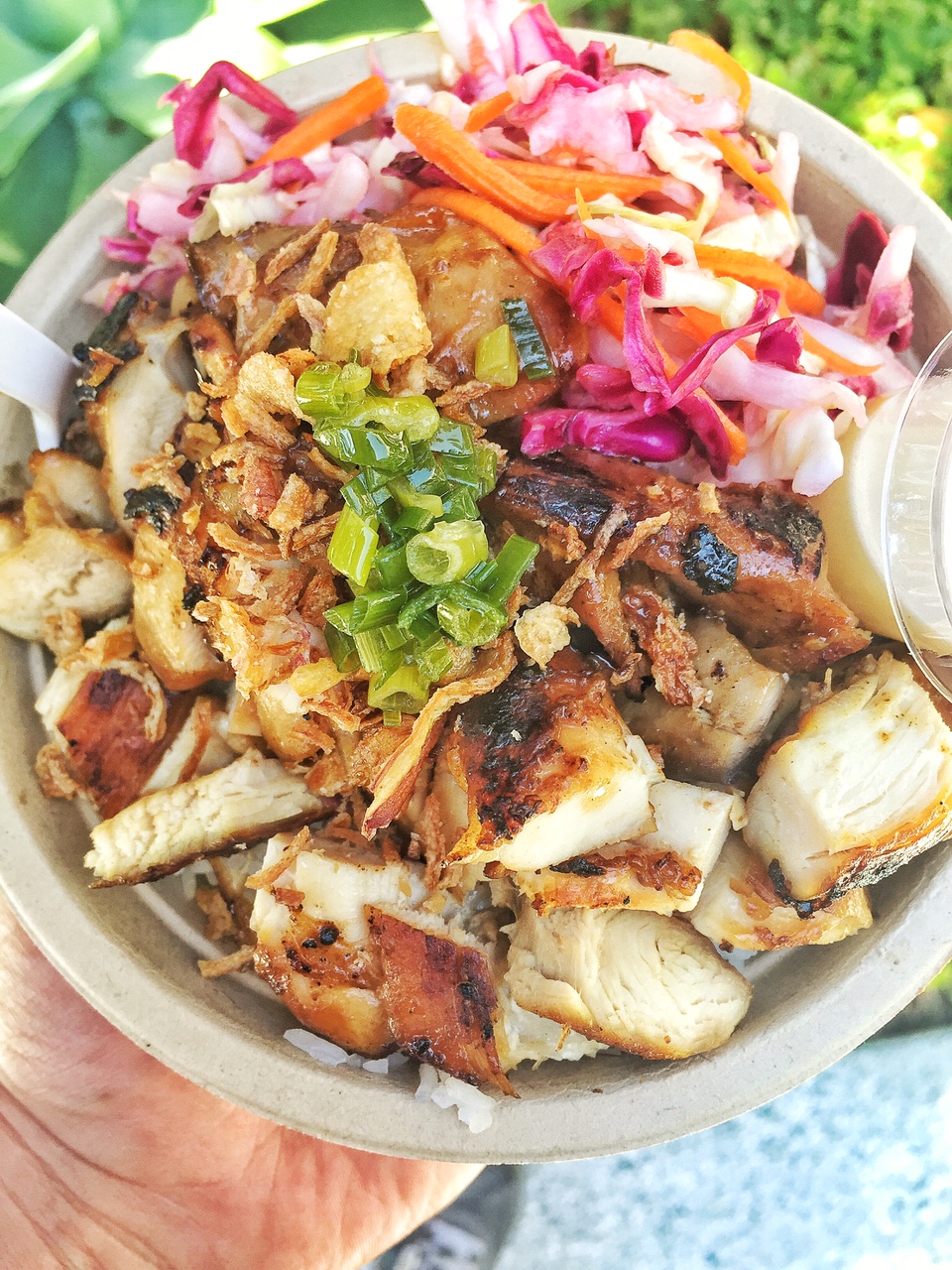 Drizzle
Who doesn't love a funnel cake? But they can be hard to eat – which is why the geniuses at Drizzle have shaped their funnel cakes like a cone, and filled them to the brim with ice cream, fresh fruits, and other toppings. Stop by for specialties like the Funfetti (vanilla ice cream, mochi, fruity pebbles, and sprinkles with a nutella drizzle, powdered sugar, and fresh whipped cream) or the Horchata (horchata ice cream with cinnamon sugar, graham crackers, and topped with a dulce de leche drizzle and fresh whipped cream).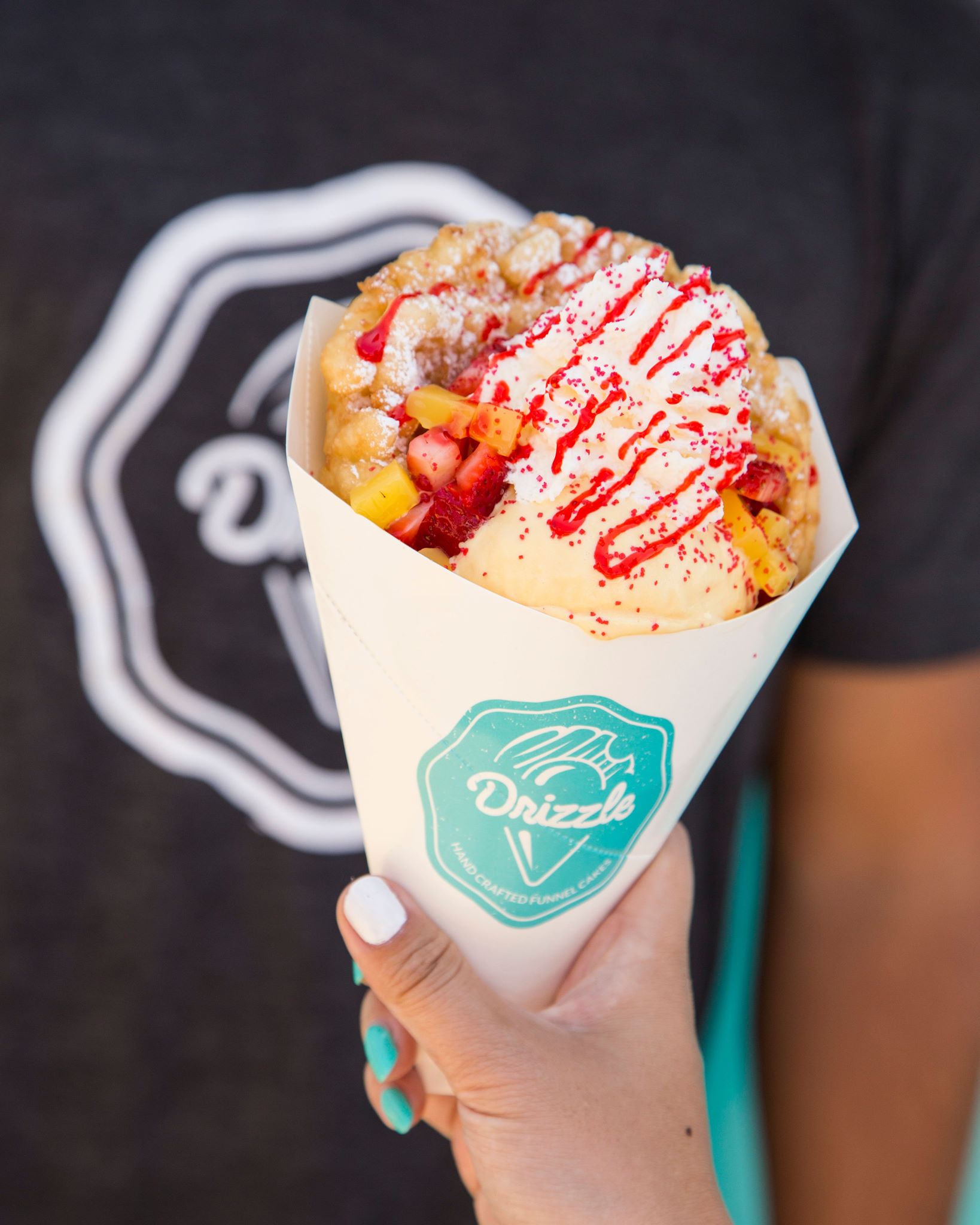 Falasophy
Modern Lebanese street food kitchen Falasophy combines Lebanese favorites with SoCal flavors, to offer up items like their New York Style Falafel Pita to Spicy Shwarma Tacos (24-hour marinated garlic chicken shawarma, garlic sauce, mediterranean slaw, and house-pickled jalapenos). Add an order of hummus or spicy garlic fries to any order for a meal that's truly worth your time.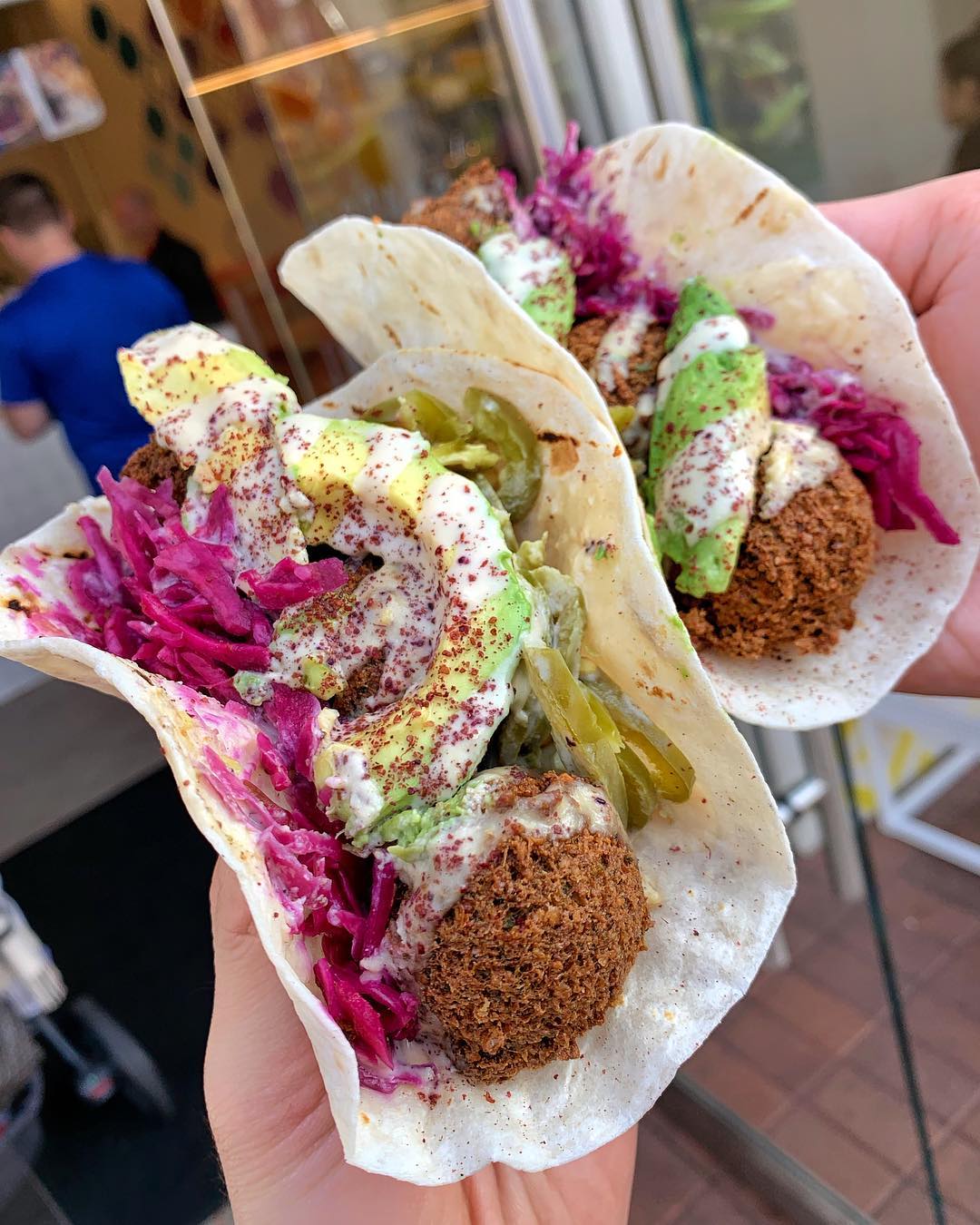 Kala
In the mood for some Mexican? Then Kala should be your first stop. This truck dishes up gourmet Mexican dishes, putting their own twist on traditional classics. Try offerings like Patron Tacos (tender steak marinated in Patron tequila and lime, then topped off with pico, guacamole, and queso fresco), Sweet Piggy Tacos (slow cooked pork shoulder with ancho chile, jicama slaw, pineapple, scallions, and tomatillo salsa), or a Raspberry-Chipotle Chicken Sandwich.

Mastiff Sausage Company
The Mastiff Sausage Company is a new addition to the usual WonderCon line-up for 2019, and they'll be dishing up delicious sausages all weekend like their Mastiff Classic Bratwurst or their Coconut Curry Chicken Sausage. You can get your sausage exactly how you like it with additional toppings of kraut, bacon crumble, caramelized onions, blue cheese, and roasted poblano peppers. They also serve up sausage tacos, salads, and fries.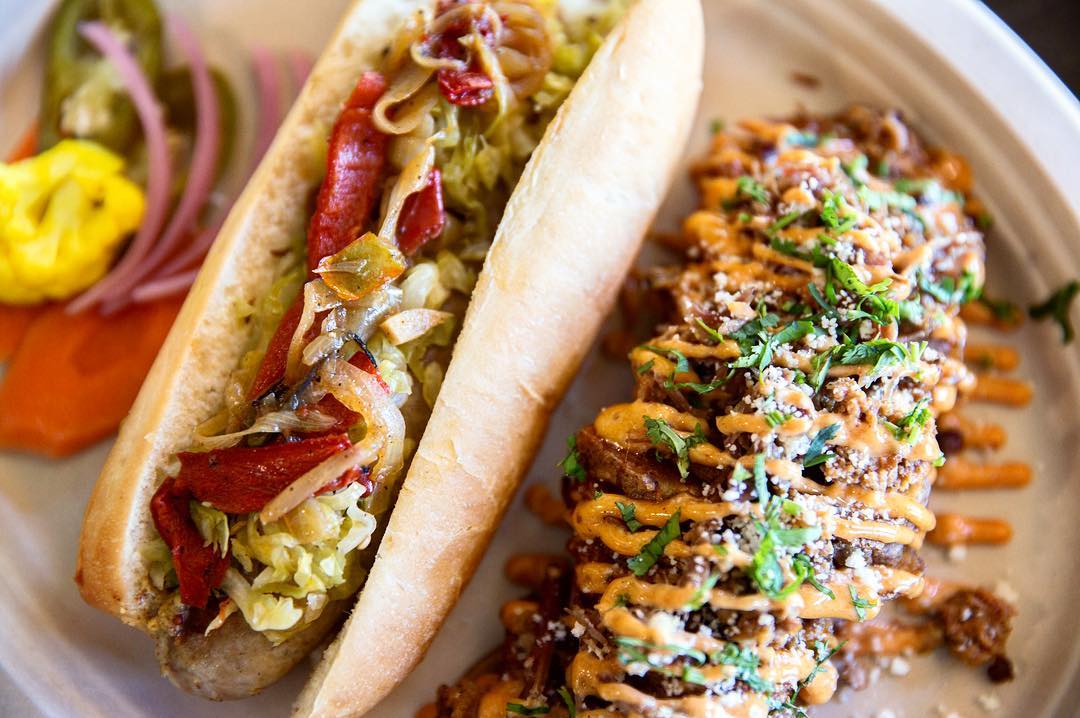 Mess Hall Canteen
Mess Hall Canteen won Food Network's series Food Truck Face Off, so you know it has to be good. Gather your troops and head for Mess Hall Canteen for favorites like the Drunken Sailor Tots (tator tots piled high with cheese sauce, masago aioli, mac-n-cheese, lobster, shrimp, and bacon). They also serve up grilled cheese sandwiches (like the War Pig, which comes with pulled pork, bacon, spicy napalm sauce, ranch, and bleu cheese crumbles).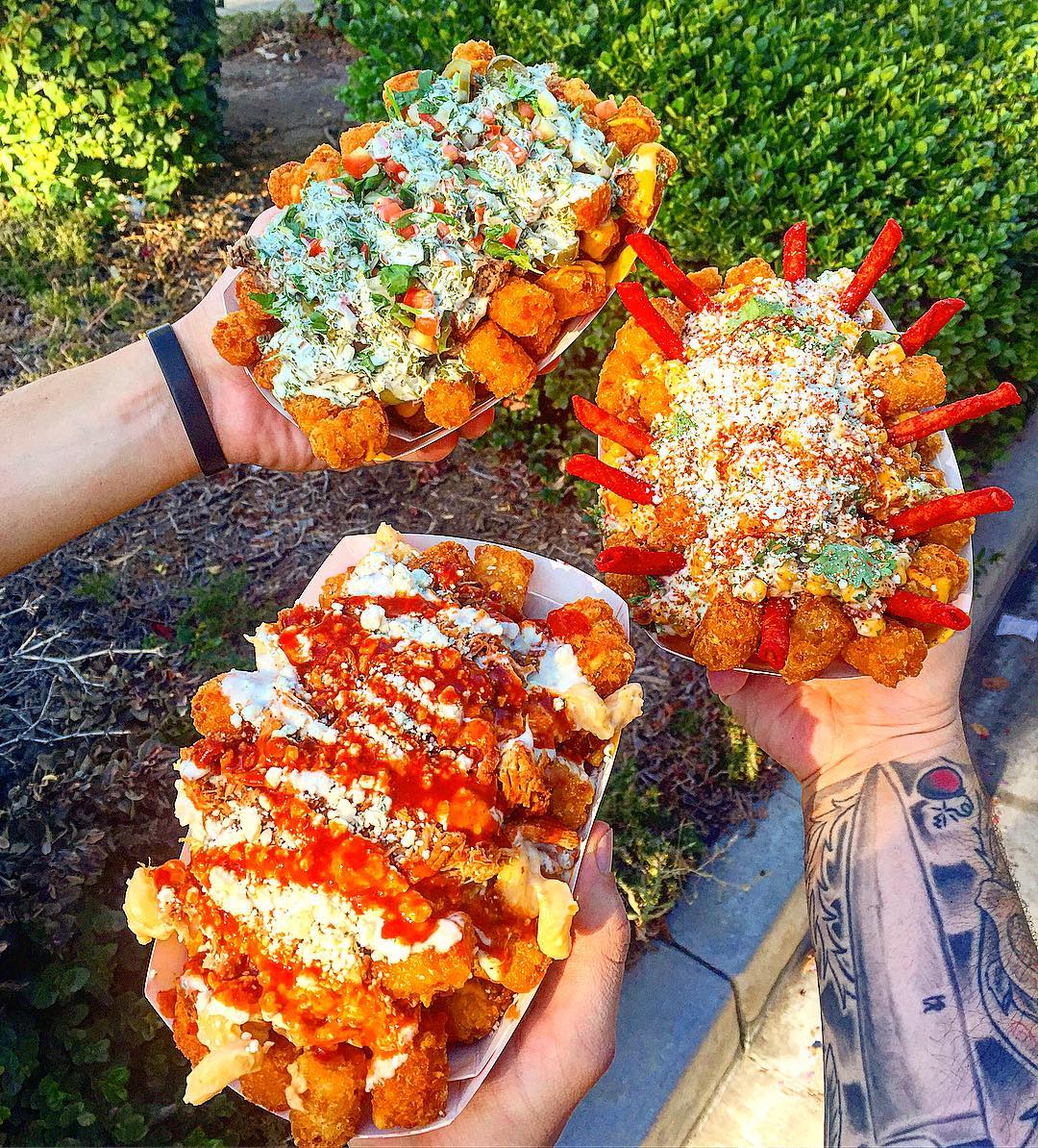 My Delight Cupcakery
The mother and daughter team at My Delight Cupcakery will be busy at WonderCon slinging delicious cupcakes all weekend, like their award-winning Southern Red Velvet, vegan Cookies n' Cream, Snicker Doodle, Churro, and more.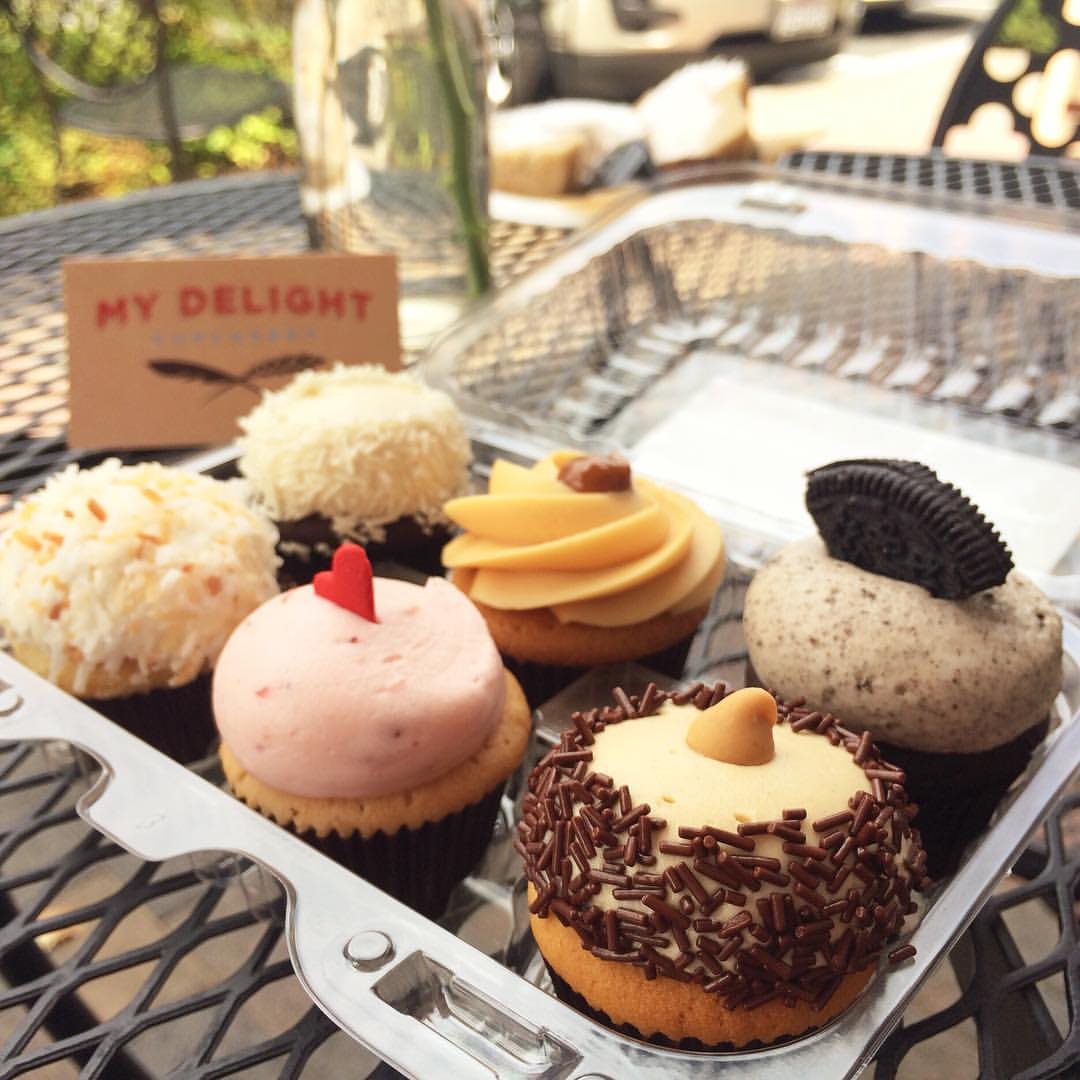 Nostimo Greek
Sometimes, only Greek will do. In that case, head to Nostimo – which will have options like pork belly over basmati rice, grilled chicken pitas, Greek salads, and garlic feta fries. Make sure to try the specials as well, including top sirloin beef skewers, stuffed grape leaves, and a roasted lamb gyro.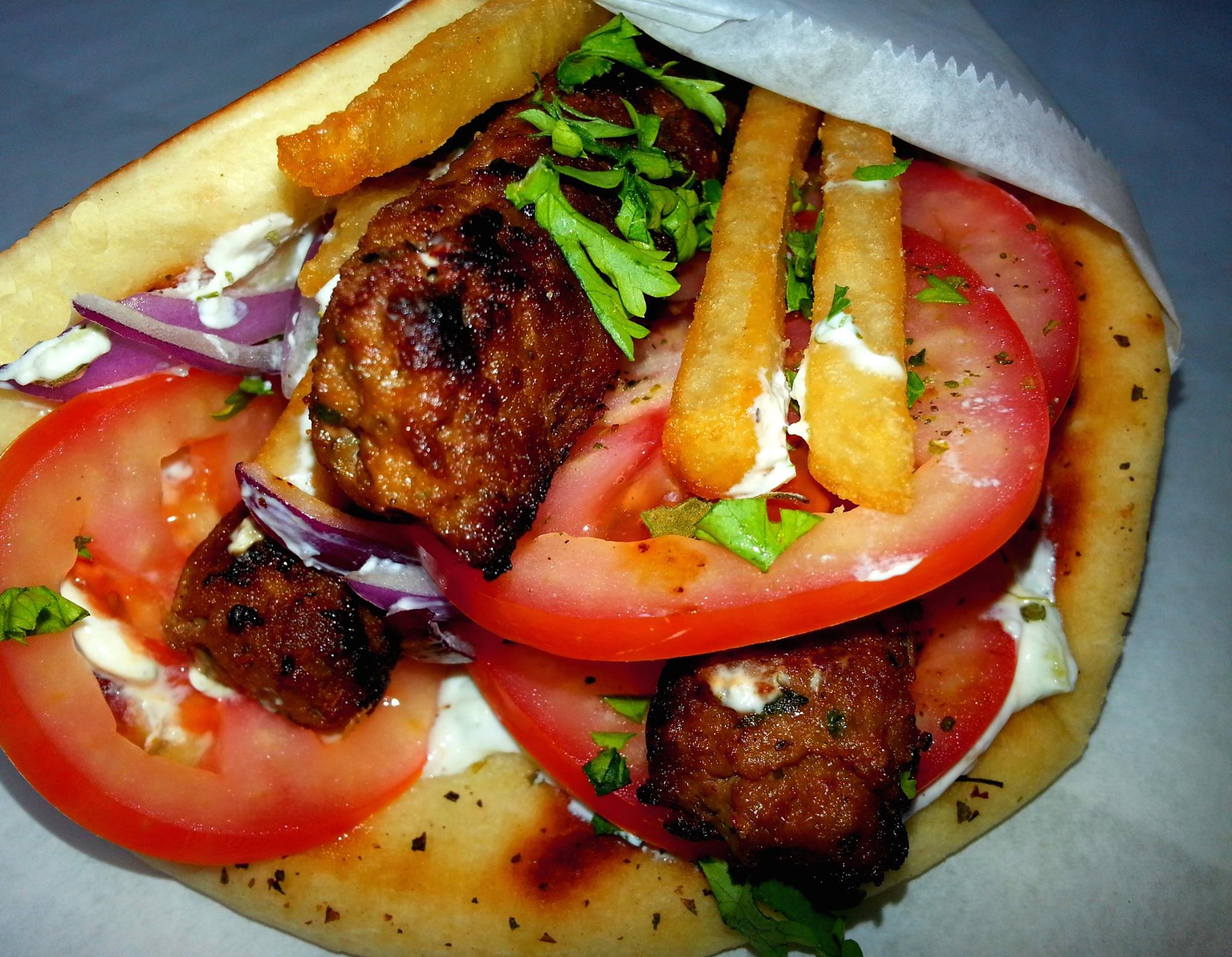 Spudrunners
If you think the ultimate American comfort foods are potatoes and cheese, then Spudrunners might just be your new favorite digs during WonderCon. Fresh ingredients and unique sauces help showcase the potato and grilled cheese sandwiches in all their glory with the Spudrunners' menu, which includes eats like Irish Fries (Applewood bacon, cheddar cheese, green onion, and dipping sauce), the Santa Fe Baker baked potato (grilled lime cilantro chicken, cheddar, tomato, fire roasted green chile, red onion, cilantro, and chipotle ranch), and the Pesto Chicken Grilled Cheese. If you order fries, be sure to check out their wide range of dipping sauces, like Ranch, Pesto Aioli, Lime Cilantro, Baconaise, Wasabi Ranch, and Jalapeno Cheese.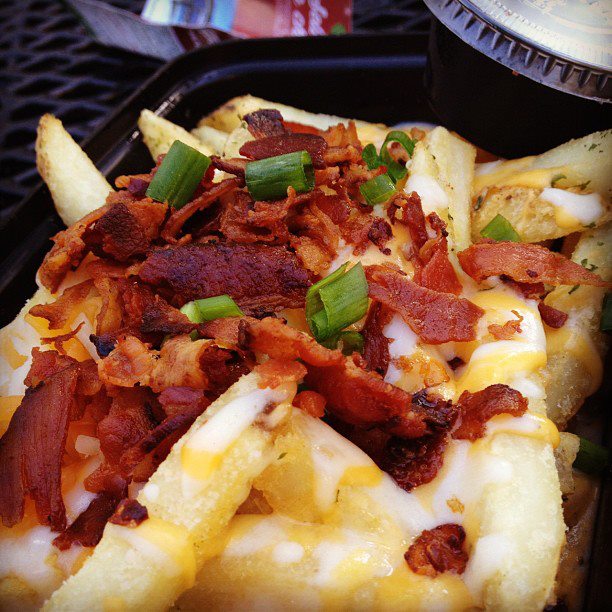 TJ's Woodfire Pizza
Be treated to the smells and sights of traditional wood-fired cooking with TJ's Woodfire Pizza. The menu rotates, but popular options include the Margherita, Quattro Formaggi with mozzerella, asiago, ricotta, parmigiano, and tomato sauce (yes please), and the Big Al (Italian sausage, pepperoni, and tomato sauce). The menu also boasts salads, garlic knots, bruschetta, and desserts.

The Viking Truck

Vikings may not be returning to WonderCon this year, but you can still get a taste of the old world with The Viking Truck. Start off with some Dragon Eggs — delicious tater tats with dark ale chili, cheddar, crema, sriracha and viking ketchup — before devouring options like a Loki (Hot Polish sausage with bacon, cheese, jalapeno relish, sriracha, brown mustard, and viking ketchup), an Odin (sausage dog with smoked bratwurst, Danish red cabbage, sauerkraut, bacon, beer cheese sauce, brown mustard and viking ketchup) and a Nemesis (a hand-dipped corn dog).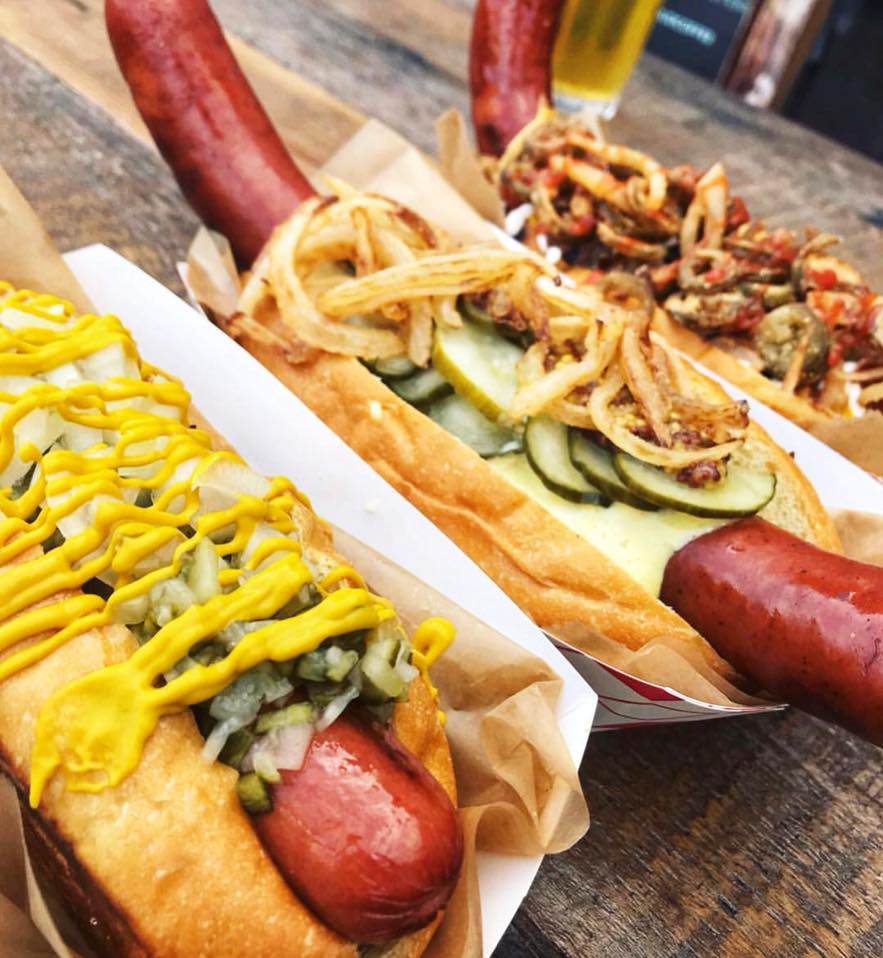 Waffles de Liege
Every time is a good time for waffles. Waffles de Liege offers up Belgium waffles all day long, like the Turtle Waffle (with pecans, whipped cream, chocolate, and caramel) and the Blueberry Crunch (with fresh blueberries and fresh whipped cream, served with granola and honey).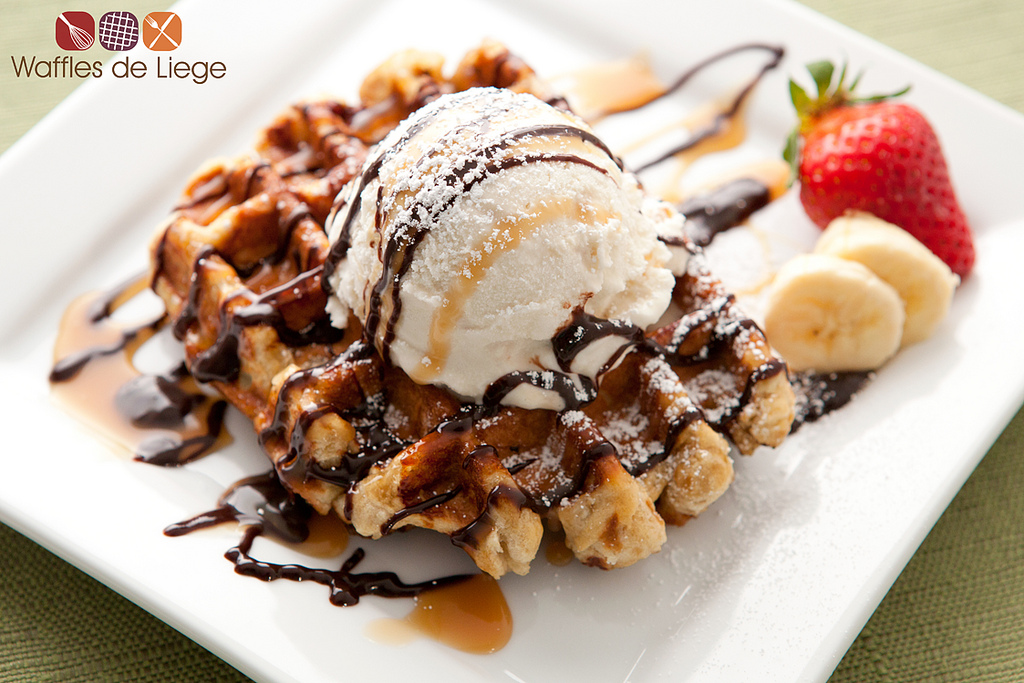 Arena Plaza:
Broken Rice
Broken Rice offers a pretty simplified Vietnamese menu – but don't let that simplicity fool you, because they pack a big flavor punch. You'll choose your rice, house-marinated protein (including beef, chicken, or tofu), vegetables, and then your hand-crafted sauce (sriracha BBQ, miso curry, peanut sesame, or cilantro lime) for a meal that's sure to satisfy — available as tacos, rice bowls, and more.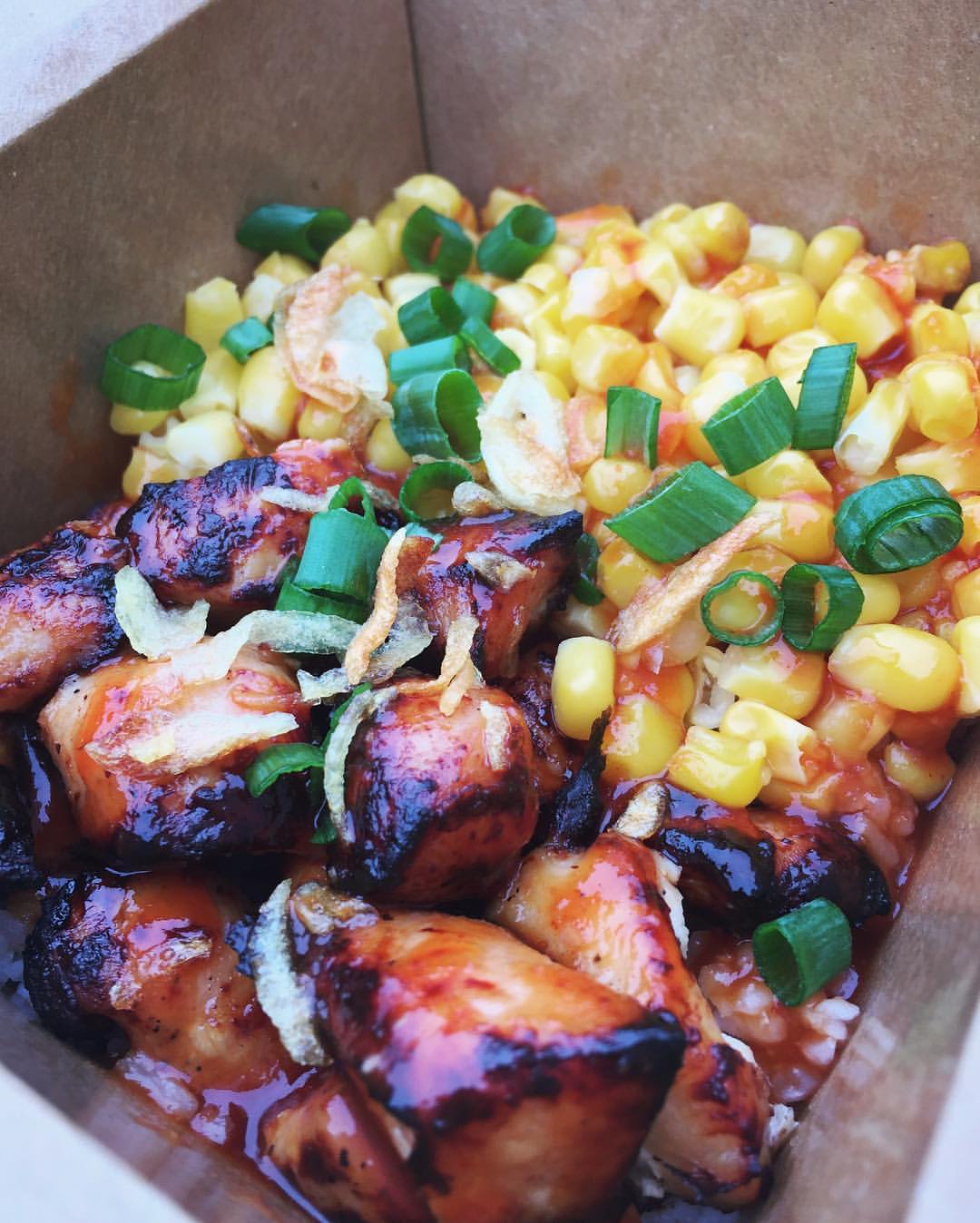 Sana's Curry Bowl
Up the spice level at WonderCon with Sana's Curry Bowl, which serves up authentic Indian-Pakistani cuisine. Start your meal off with an order of samosas or masala fries, and then get to the main course: a Chicken Tikka Masala Bowl, a Vegetarian Curry Bowl (a mix of fresh vegetables cooked in a special tomato curry sauce), or a Chicken Biryani Bowl.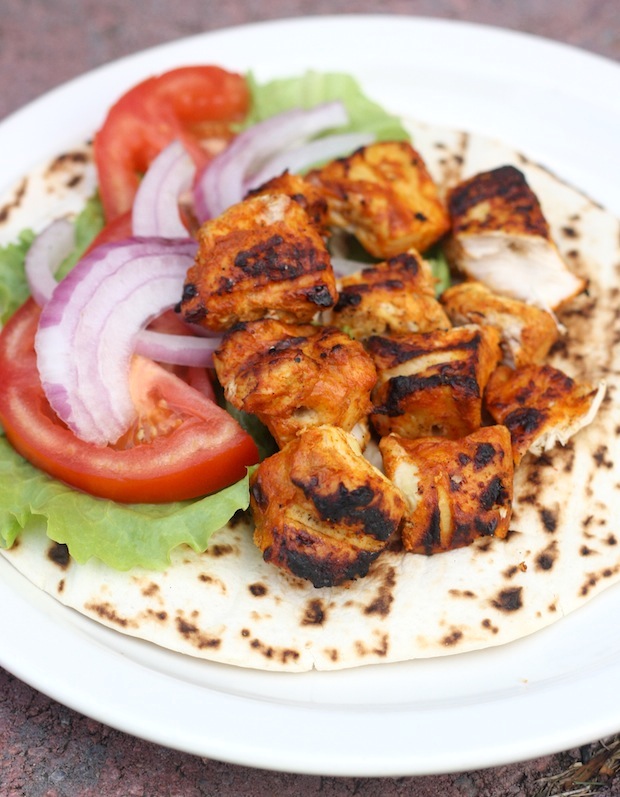 Sol Agave
Get a taste of Mexico with The Shed From Sol-Agave, with options like fish tacos, grilled fajitas (choose from prime skirt steak, chicken, or wild Mexican prawns), a Sol Agave Salad (your choice of meat in a mix of baby greens with jicama pico, avocado, queso, and grilled vegetables), burritos, burgers, short rib taquitos, and more.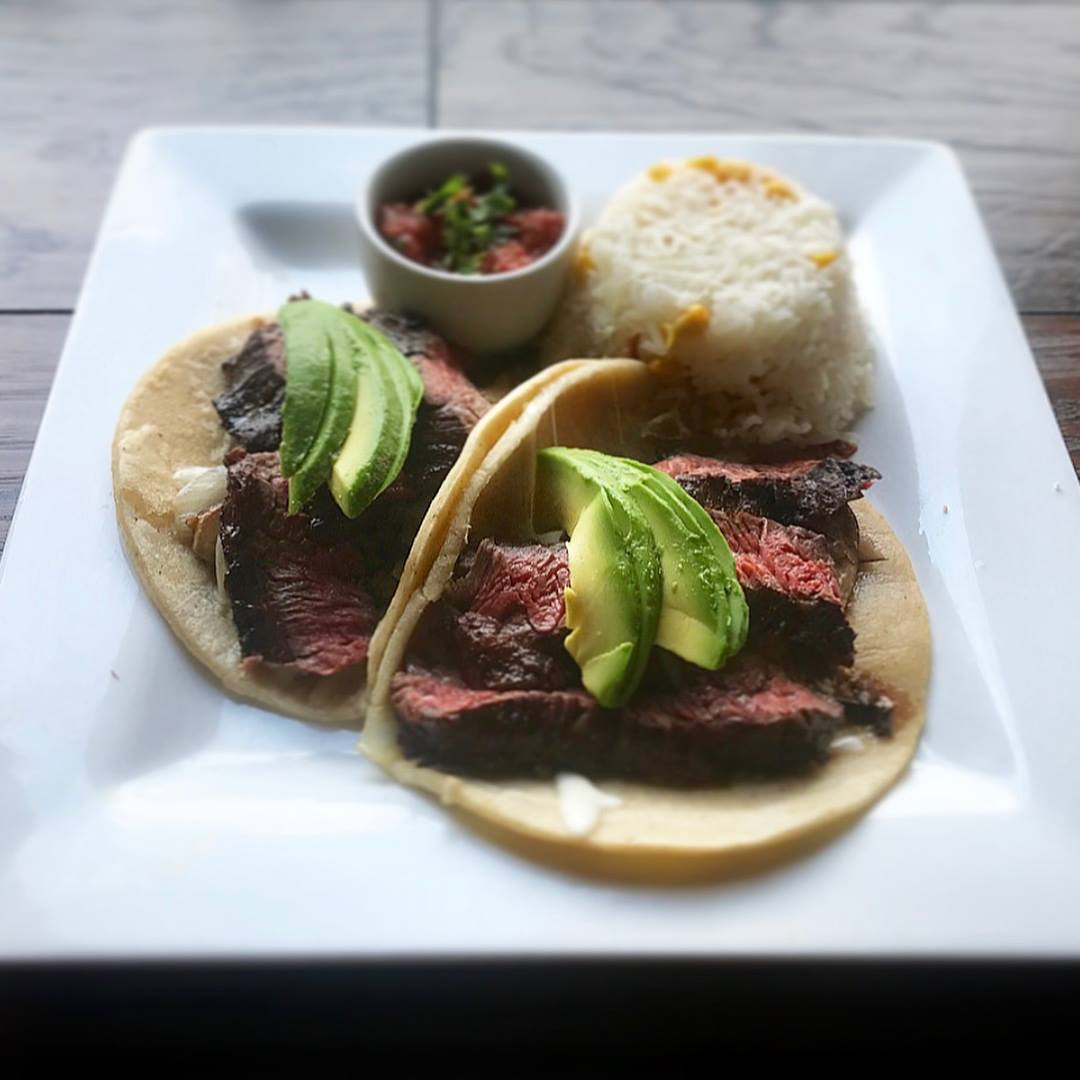 Tasting Spoon
Tasting Spoon offers a taste above your normal food truck fare, with gourmet offerings like a lobster and crab panini, a bacon and cheese stuffed slider served with a tomato-sweet onion marmalade and onion fritters, rice balls, salads, pastas, and more.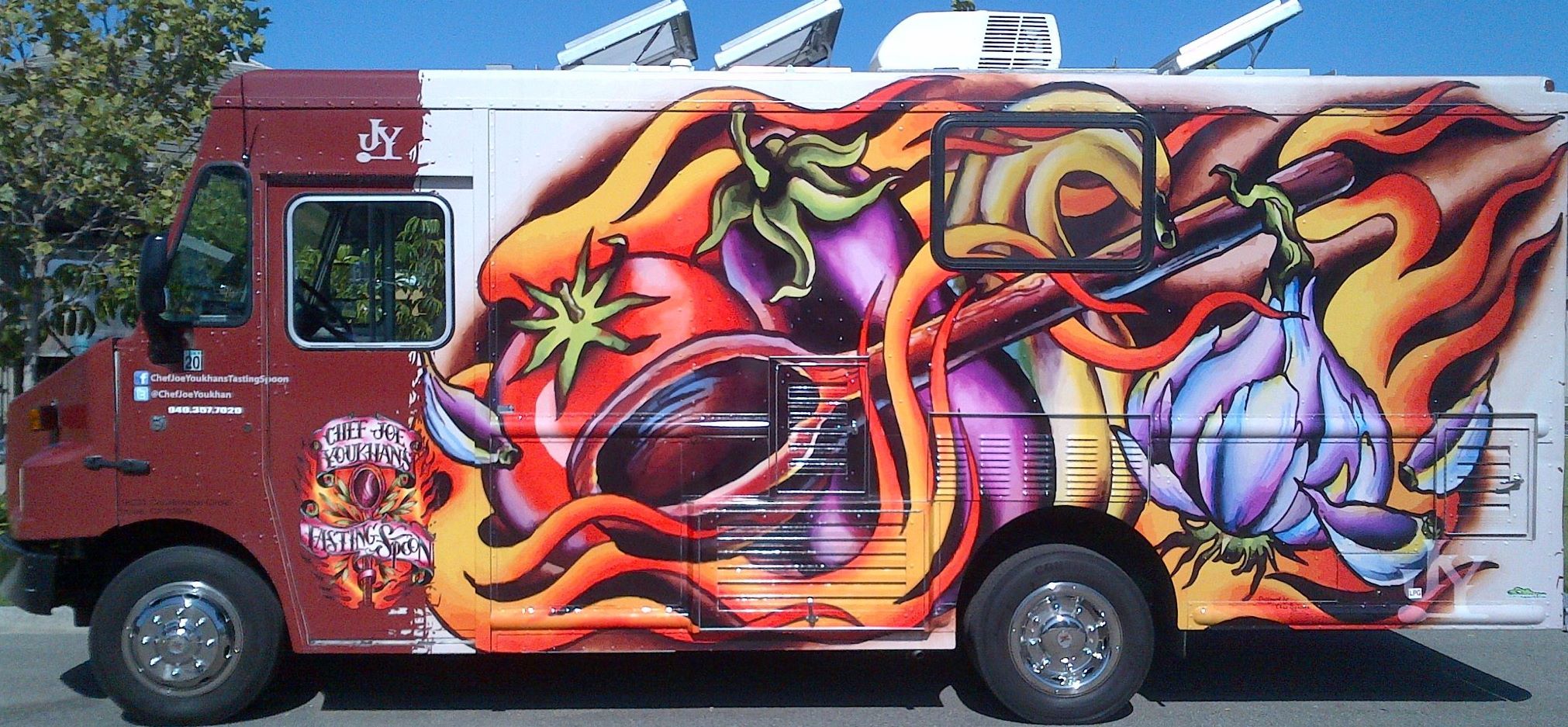 Which WonderCon food trucks are on your must-visit list? Let us know in the comments below.