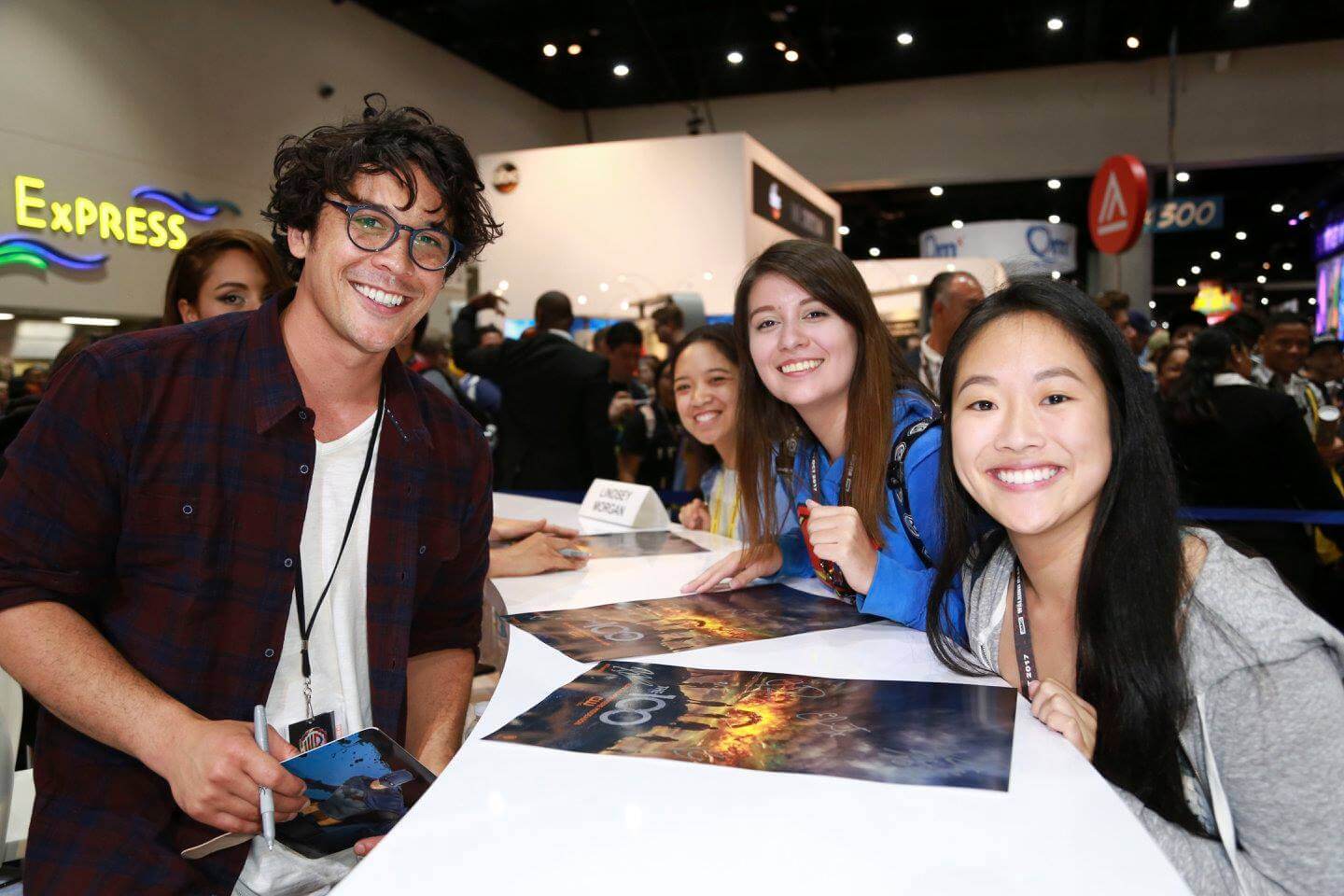 As Marvel revealed last week, Comic-Con International's autograph lottery portal system is back for 2019.
You can now sign up for a chance to score autographs from some of your favorite TV shows and individuals, including Marvel's Cloak & Dagger, Marvel's Agents of S.H.I.E.L.D., Dark Phoenix, The Curse of La Llorona, an unspecific Warner Bros. slot (which is likely Shazam!), The 100, Jim Lee, Scott Snyder and Greg Capullo, and more.
Just like last year, gone are the days where you'll need to line up at an insane hour to score an autograph with your favorite stars of WB and Marvel TV shows (as well as a few others). Instead, in order to get autographs with stars of those series – and other "exclusive signings" – you simply need to log into your Member ID and click the "Exclusives" tab. You will only see this option if you have a WonderCon badge.
New for 2019, however, Comic-Con International has heard your pleas, and given eligible attendees an "allotment of credits" for the day(s) that you have a badge for. Available and used credits are displayed under the plus icon in the top left corner of the Exclusives Portal. You can choose to use all of your allotments on a single signing, or you can divide them up between multiple signings. You can also add/remove available signings to/from your interest list.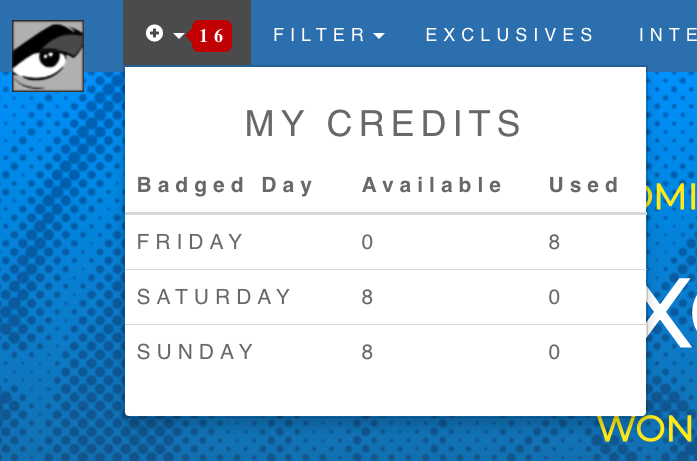 Once you're in the portal, you can view all available signings. You are eligible to enter the lottery for any signing on a day which you have a WonderCon badge (so, if you don't have a Sunday badge, you can't enter Sunday's autograph lotteries). You can enter starting right now through March 19, 2019 at 12PM PT. Attendees will be randomly selected "shortly after", and then notified if they are a winner.
For those who are lucky enough to win entrance to a signing, you'll need to bring a printed copy of your selection confirmation, and a photo ID to Hall D of the Anaheim Convention Center on the morning of the signing, to exchange it for your signing wristband. And in case you were planning on selling your wristband – don't. It's strictly prohibited and non-transferable, much like badges.
Here's an overview of the process:
Log into your Member ID and select the "Exclusives" tab.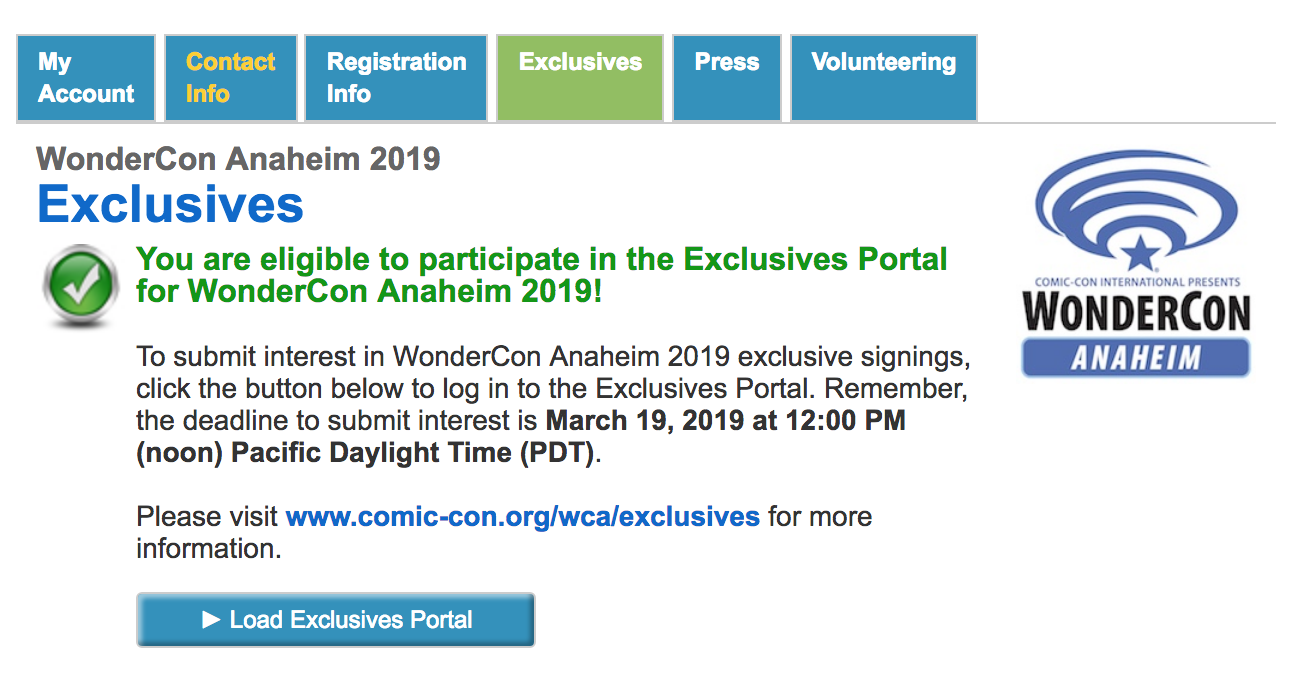 Once you've found the autograph signing you want, you'll click on the "ADD TO CART" button.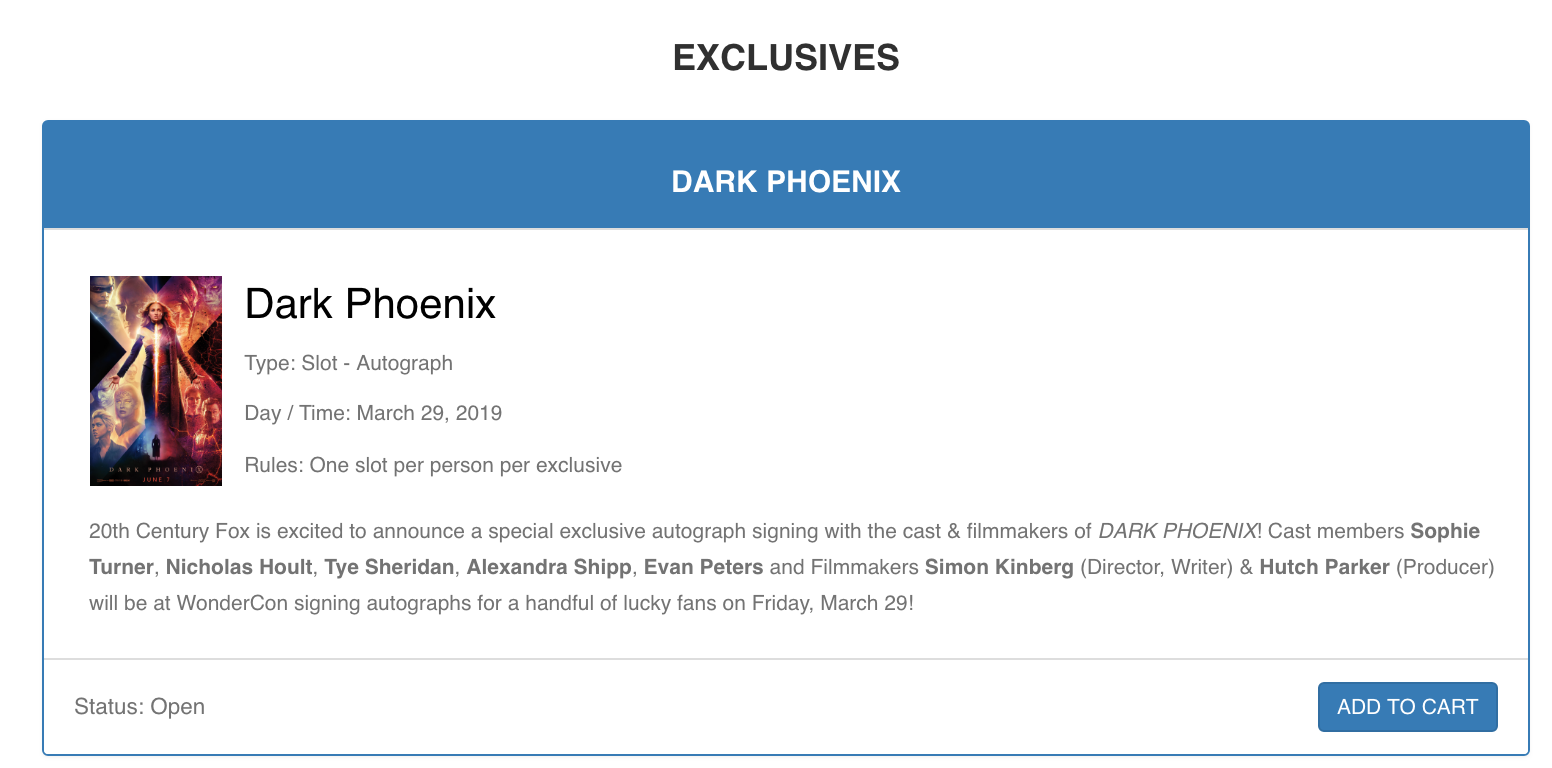 That will bring up a cart icon. Click on that.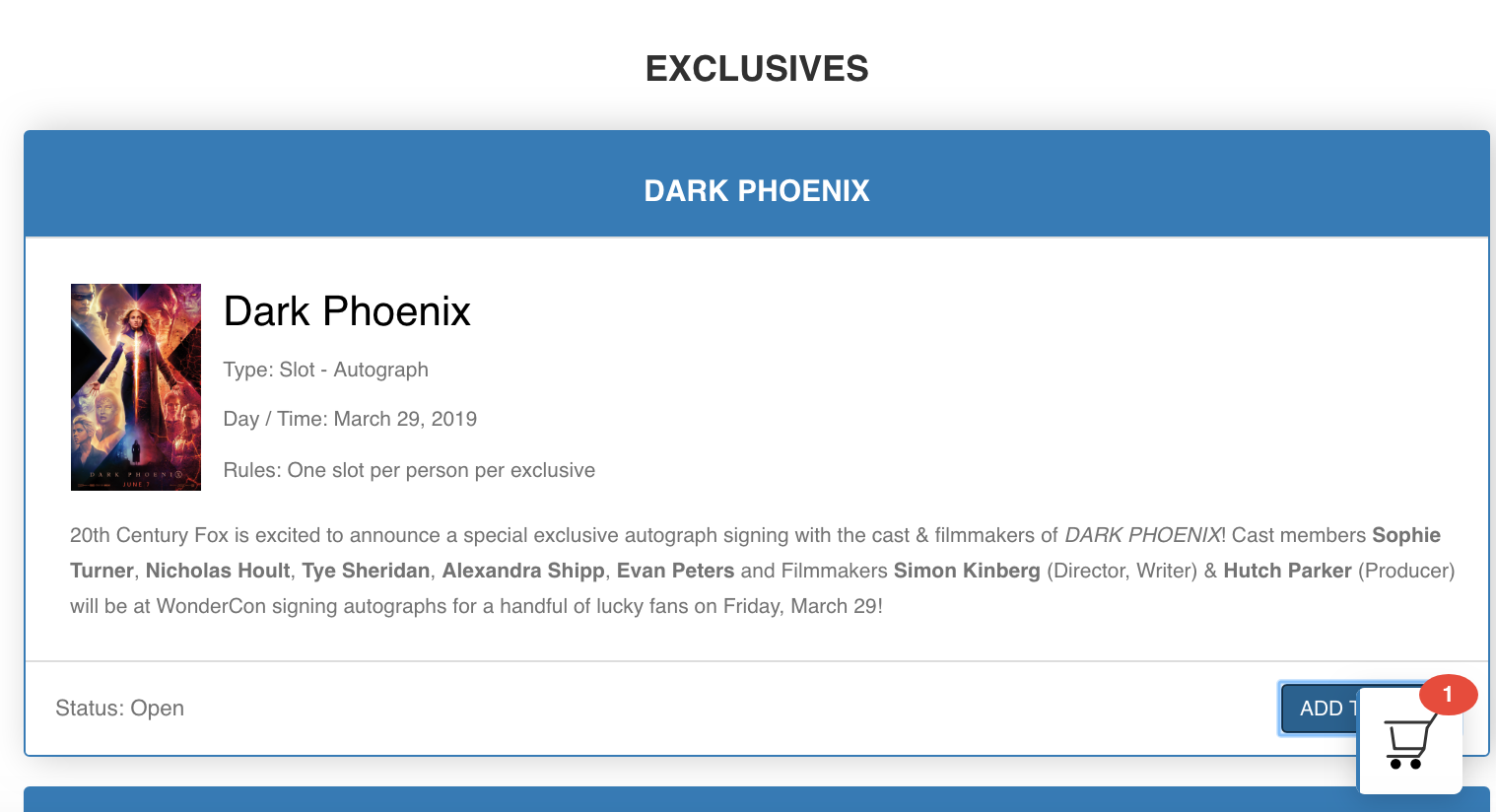 That will bring up a pop-up box, which is where you will choose the quantity you would like to submit for. Which you must click "CLICK HERE FIRST TO AGREE TO THE TERMS & CONDITIONS".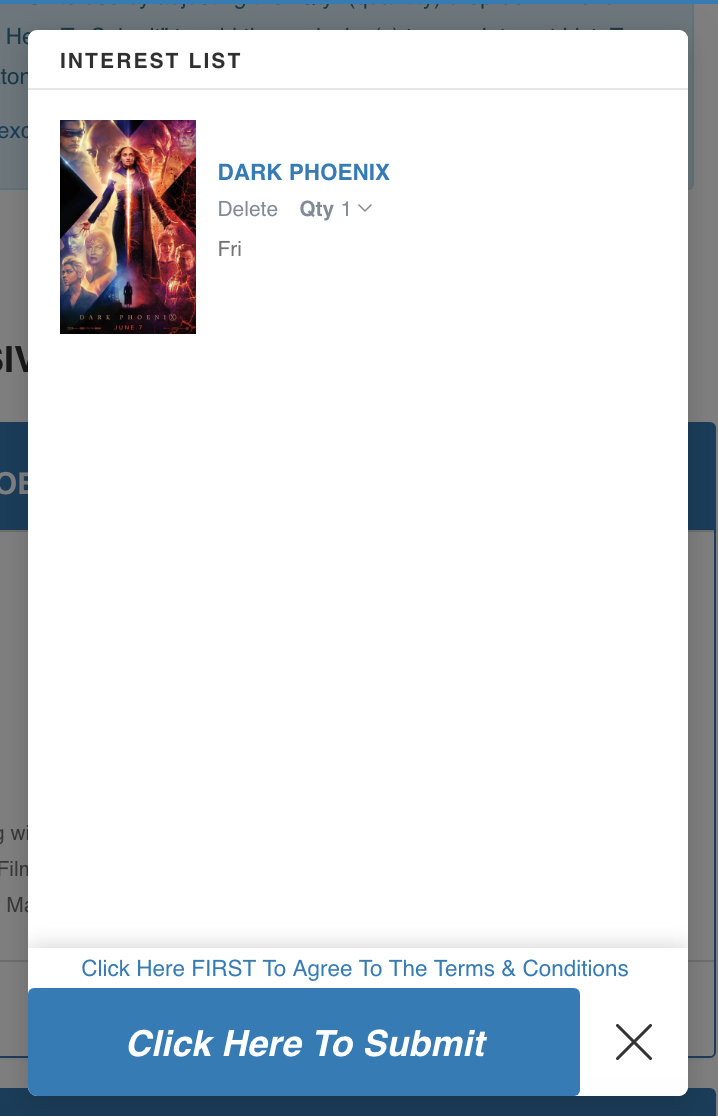 You'll then click the "I AGREE" button.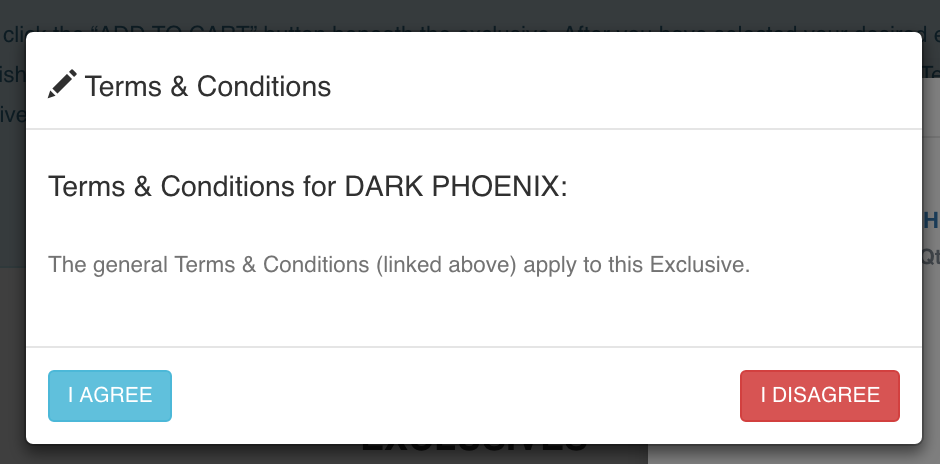 Finally, you should be greeted by a screen that confirms your submitted exclusive signings.
You can read more about the process, including common FAQ's, on Comic-Con International's site.
While nothing is official, this is a VERY strong sign that the system will be returning to San Diego Comic-Con 2019 as well.
Which autograph lotteries are you signing up for? Let us know in the comments.