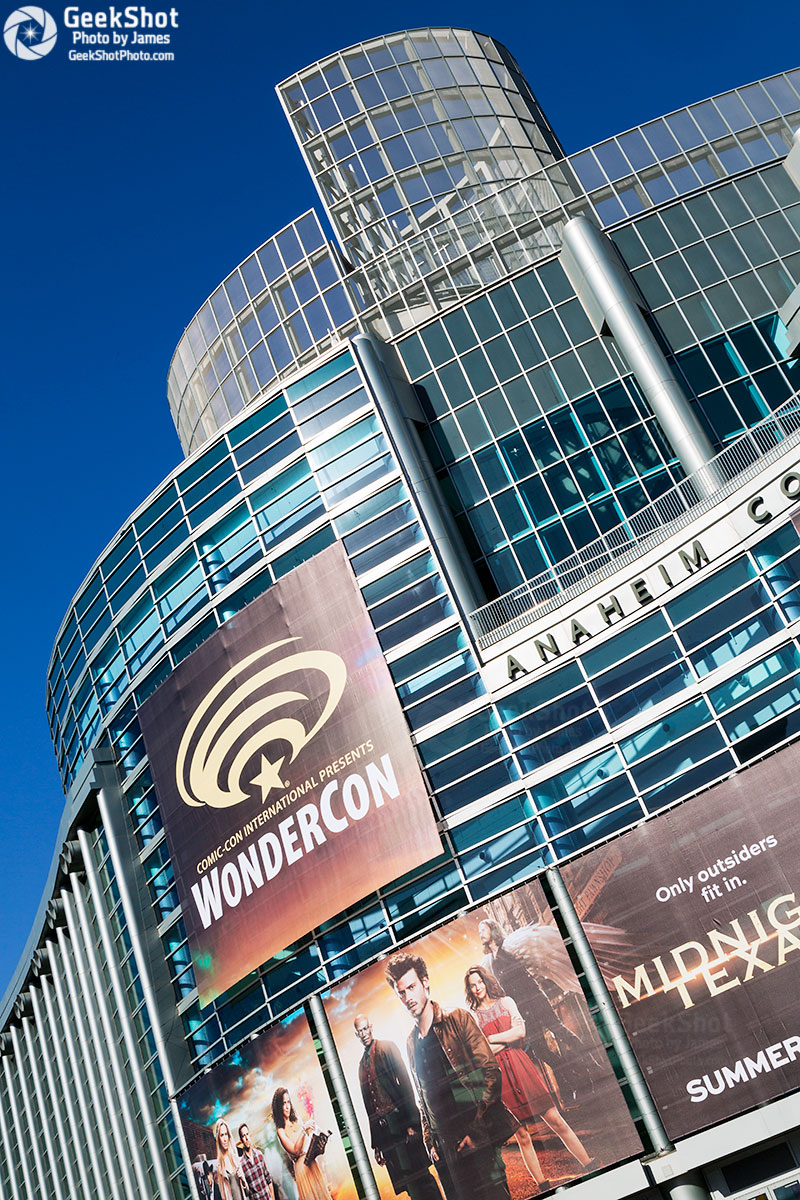 WonderCon Anaheim, Comic-Con International's sister show to San Diego Comic-Con, is just three short weeks away, and SURPRISE! Comic-Con International dropped the 2019 convention schedule a week early. And, dare we say it, it's the best schedule they've had in years.
We've combed the schedule for our favorite panels to help you plan your weekend, but with so much awesomeness this year, there's plenty of other gems to be found on the schedule. With that said, bring on the highlights!
Friday, March 29
The biggest news for WonderCon this year is that the movie front is finally, finally, something worthy of being excited about. While there's usually exactly one film to be excited about each year, 2019 sees several — starting with Twentieth Century Fox's Dark Phoenix over in the Arena at 3:15PM. There's no cast listed yet, but it stars Sophie Turner, James McAvoy, Michael Fassbender, Jennifer Lawrence, Nicholas Hoult, Jessica Chastain, and a whole lot of other talent — so there's a lot of potential here. You can probably count at least Hoult in for sure, as he's on another panel.
And which panel is that, you might ask? Well, it's the biopic of J.R.R. Tolkein, and you can catch an early look at the film in the Arena at 4:30PM with Hoult and director Dome Karukoski, as well as "additional cast".
Then at 7PM in the Arena is the annual world premiere of the latest Warner Bros. Home Entertainment animated film, with this year's offering being Justice League vs. The Fatal Five. It's always a good time, with a fun voice cast (including Kevin Conroy), so make this your Friday night destination.
WonderCon continues to be a great convention if TV is your preferred medium. All day Friday, you can catch panels like AMC's Into the Badlands, FX's Legion, (with a STACKED cast list!), Marvel's Cloak & Dagger, and Amazon Prime's new series Hanna in North 200A, or Cartoon Network's Transformers: Cyberverse over in Room 300B.
Comics fans have a lot to be excited about on Friday. Swing by Room 209 at 2PM for a 20th Anniversary Celebration with IDW, join Joëlle Jones for an intimate conversation in Room 208 at 2:30PM about all her latest works, head to Room 200B at 4:30PM for a spotlight on the one and only Jim Lee, or get an introduction to the world of manga in Room 213AB at 6:30PM. You can also get a state of the union of Valiant's big 2019 plans in Room 209 at 1PM.
We're also intrigued by "No Tow Trucks Beyond Mars", with JPL and NASA scientists discussing the adventures of real-life solar system exploration at 5PM in Room 207, and "Hollywood Dream Machines: Vehicles of Science Fiction and Fantasy" in Room 207 at 4PM.
Saturday, March 30
The biggest news on Saturday's panel is the Warner Bros./New Line panel, scheduled from 5PM-6PM in the Arena. Currently, that's listed as the dreaded "TBA", but we'd put very good money on it being Shazam!, The Curse of La Llorona, or both.
There's plenty of other options for film lovers throughout the day though. Get an inside look at the new LAIKA stop-motion film Missing Link with director Chris Butler in North 200B, or head next door to North 200A for a sneak peek at Child's Play with Aubrey Plaza, Gabriel Bateman, and Brian Tyree Henry. You can also join Sony Animation Visual Development artists from Spider-Man: Into the Spider-Verse to examine what made the film so amazing in Room 207 at 10AM.
But really, on Saturday, it's all about TV – ranging from an exclusive screening of AMC's new supernatural horror series NOS4A2 with Zachary Quinto and Ashleigh Cummings (11:15AM in the Arena), to a panel with DreamWorks and Netflix's animated series She-Ra and the Princesses of Power (10AM in the Arena), to your last chance to say goodbye to The Big Bang Theory with a panel full of writers from the series (and probably a few special guests – 3:30PM in the Arena). SPOON! Catch unlisted cast and EP Ben Edlund talking about the second season of The Tick over in North 200A at 1PM, or go undercover with Marvel's Agents of S.H.I.E.L.D. with Clark Gregg, Ming-Na Wen, Chloe Bennet, Elizabeth Henstridge, Iain De Caestecker, Henry Simmons, Natalia Cordova-Buckley, and Jeff Ward (and Jeph Loeb, sorry kids) at 1:45PM in the Arena. Get an inside look at the second season of Cobra Kai in North 200A at 2PM. Learn about the special effects that power Star Trek Discovery in North 200A at 3PM. Love Deadly Class? So do we! Head to North 200B at 7:30PM to learn more.
Geek & Sundry is also represented with a few panels throughout the week, but our pick goes to Relics and Rarities with Deborah Ann Woll, Tommy Walker, Julia Dennis, Xander Jeanneret, Jake Michaels, T.J. Rotell, and Denise Pantoja in Room 300B at 2PM.
Want to learn more about the new The Twilight Zone series from Jordan Peele? Head to a dimension as vast as space and as timeless as infinity – otherwise known as Room 200A at 4PM. They promise "series producers and creative minds", so who knows, Peele himself might just turn up.
Saturday is the actual 80th birthday of Batman, which means DC is celebrating with "Happy Birthday, Batman!", an "all-star" celebration of 80 years of the Caped Crusader in North 200B.
Fans of comics also won't want to miss the spotlight on Julie and Shawna Benson in Room 207 as they talk writing Batgirl, The Birds of Prey, and TV. Legendary Comics is offering an inside look at the Monsterverse, both in comics and on the screen, and even giving away 200 exclusive Godzilla giveaways at 2PM in Room 211. Our favorite artist of whales in top-hats and creator of Nothing Special, Katie cook, has her spotlight at 2PM in Room 209.
If you're an aspiring designer or simply love fashion, Ashley Eckstein's annual WonderCon Her Universe Fashion Show panel is a must-see in Room 204C. This year, she's offering a three-hour session for those aged 6-17 for a crash-course in junior fashion design.
Toy and collectibles lovers should get excited about Kotobukiya's spring update in Room 213AB at 1:30PM. We're also excited about artist Alex Sinclair's panel at 5PM in Room 209; Mark Evanier, Sergio Aragones, and Scott Shaw's annual laugh-fest Quick Draw! in North 200B at 4:30PM; and Marvel Studios' Head of Visual Development Ryan Meinerding's spotlight at 4:30PM in Room 213AB. Oh, and our James Riley wants you to know that Man from Atlantis was great, and you should join our friends Matt Patterson and D.W. Ferranti at a look back at the series in Room 300D at 12:30PM.
And although it's not on the schedule, the Masquerade will be at 8PM in the Arena.
Sunday, March 31
The weekend wraps up with Sunday, which – like every day – is still focused on TV. Join WB for the world premiere of season six of The 100 in the Arena at 11AM with cast and producers Eliza Taylor, Bob Morley, Marie Avgeropoulos, Richard Harmon, Tasya Teles, Shannon Kook, JR Bourne, and Jason Rothenberg, or watch a screening for the first episode of the new series A Discovery of Witches at 10:30AM in Room 300D.
Fans of Fear the Walking Dead should shamble on over to the Arena at 12:30PM, for a panel with cast members Lennie James, Alycia Debnam-Carey, Colman Domingo, Danay Garcia, Maggie Grace, Garret Dillahunt, and Jenna Elfman. Proceed to the Danger Zone with an advanced screening of Archer: 1999, followed by a Q&A with voice cast H. Jon Benjamin, Aisha Tyler, Jessica Walter, Judy Greer, Chris Parnell, Amber Nash, and Lucky Yates at 2PM in North 200A.
There's also some very funny people (Felicia Day, Colton Dunn, Janet Varney, Steve Berg, and more) discussing their new series Voyage to the Stars in Room 300D at 3:30PM.
The new animated film Batman vs. Teenage Mutant Ninja Turtles takes over the Arena at 1:45PM, though voice cast in attendance isn't listed.
Sunday is also Kid's Day, so it's a great day to get your child into comics, with panels like "Lumberjanes: Celebrating Five Years of Friendship!" at 11AM in Room 211, "Magical Comics for Kids" in Room 208 at 12:30PM, or IDW's Kids comics at 10AM in Room 211.
Get your child excited about animation by taking them (or, y'know, yourself) to Marvel Rising: Heart of Iron, where you'll be treated to the world premiere and a Q&A with voice cast including Milana Vayntrub, Kathreen Khavari, Tyler Posey, and Ming-Na Wen.
Learn more about the new Comic-Con Museum with some of the museum staff in Room 209 at 4PM, or join Mark Evanier for the annual Jack Kirby Tribute in Room 211 at 3PM. If you love Jen Bartel's work as much as we do, you won't want to miss her spotlight at 11:30AM in Room 208 (or catch her again with Greg Capullo, Tim Sale, and Mark Evanier to discuss creating comics cover art in Room 300B at 1PM). WonderCon special guest Tom King will have his own spotlight in Room 300D at 12:30PM.
You can also pay tribute to Stan Lee with fellow fans in North 200A at 10:45AM.
As always, the convention will close with the WonderCon Talk Back, a sort of town hall meeting where attendees can discuss anything they feel should be addressed with Comic-Con International staff.
Of course, there are tons more awesome panels at WonderCon we couldn't list, so be sure to check out the entire programming schedule. And sign up for MySched, mark your favorite panels and see which ones your friends are going to.
Which panels are you looking forward to most? Let us know in the comments.