It's technically WonderCon Wednesday, but let's be honest – we've had WonderCon news just about every day lately, so let's just call it WonderCon month. In today's WonderPost, we've got lots of updates for you, including lots of pre-convention commissions lists, an art print bundle that benefits autism research, exclusives, prints, and so much more.
Here's a look at the news you might have missed:
Looking for some awesome original art to commission for WonderCon? Bob Q, best known for his work on Ms. Marvel and James Bond, has you covered, as he's now opened his WonderCon pre-convention commissions list. Grab your spot today — you won't regret it.
Oh also: if you're going to #wondercon I'm taking pre-show commissions.

Maybe you want one?

— Bob Q! (@RobotJQ) March 20, 2019
Also: if you're not sure if you want a pre-show commission from ol' Bob… allow me to tantalize you with ones from ECCC. pic.twitter.com/RLdm9ToWK7

— Bob Q! (@RobotJQ) March 20, 2019
Illustrator Jenna Gray also opened her pre-convention list for WonderCon, and she's offering slots for pieces with up to five characters in either marker and pen or pencil on Bristol Board. Contact her on tumblr to get on her list.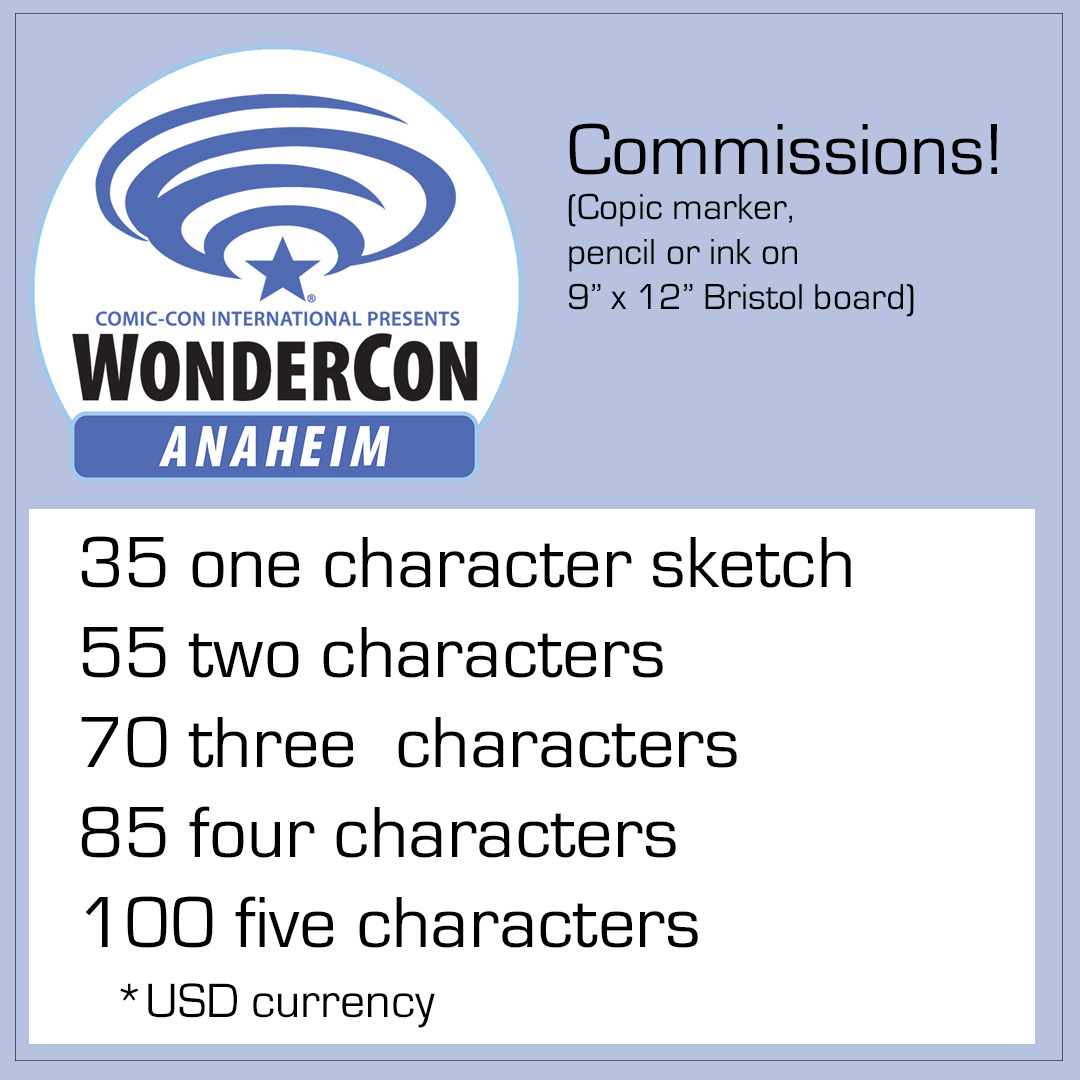 WonderCon is all about the art (and rightfully so) – so we love how many artists offer pre-commissions lists. Artist Chandler Ford is also opening her pre-commission list, with prices starting at $80. Find more information on her Instagram.
https://www.instagram.com/p/BvMuBv-FdX_/
https://www.instagram.com/p/BvI4QG4H1kF/
Neang is bringing along a few more mini originals to the convention, including this "New Moon" piece and "Lay Down Sleven".
https://www.instagram.com/p/BvLfdBInCcQ/
https://www.instagram.com/p/BvN2JUuHJli/
This year, artist Paola Olivares has created a very special WonderCon exclusive. You can stop by Artist Alley B-36 to pick up "Little Genius", a limited edition 4×6 print bundle featuring influential figures throughout history, with art works from 15 artists. For every print bundle sold, all proceeds will go to the charity Organization for Autism Research. So stop by and support a great cause!
https://www.instagram.com/p/BvKGzhOFeC5/
https://www.instagram.com/p/BvIapnXBb7i/
https://www.instagram.com/p/BvI21gph2tJ/
Artist Ethan Castillo showed off a custom cover for The Amazing Spider-Man he'll have on hand at WonderCon.
Still need to figure out a background for this Spidey cover for @WonderCon. I referenced the @insomniacgames #SpiderManPS4 game. Colored with @copicmarker. #SpiderMan #Copic #CopicMarkers pic.twitter.com/wDjiDvVrtM

— Ethan Castillo (@EthanCastillo05) March 18, 2019
Richard Garcia revealed some fabulous secrets, the day he held his sword aloft and… No, wait, that's not right. But he will have this beautiful She-Ra: Princess of Power print available at WonderCon, which you can pick up at Artist Alley E-32.
https://www.instagram.com/p/BvHvTeQBxmf/
https://www.instagram.com/p/BvAkZIKB3Tv/
Everyone needs more stickers in their life – and artist Nicholas Burman is here to deliver, with what he promises is "stickers aplenty" at the convention.
https://www.instagram.com/p/BvF16mSHuoU/
Artist Megan Porch will be representing Netflix's The Dragon Prince at her booth (Artist Alley D-53) with new buttons.
https://www.instagram.com/p/BvIG3YqDyvZ/
Artist Kurtis Rykovish has been busy working on something new for WonderCon this year. While it's a rough sketch, Rykovich showed off a preview of the piece, which you can check out in its final form at Artist Alley A-59.
https://www.instagram.com/p/BvFu8ymBiWw/
Bloglovin' is excited to bring a fan favorite design to life at WonderCon this year with their "Super Boba Bot" t-shirt. They only plan to sell it at Table #DL7 at the con but will bring any leftovers with them to future cons. If you can't make it to WonderCon, they're giving one t-shirt away, so visit their site to find out how you can win.
Are you obsessed with Canadian Prog-Rock? Do you believe Neil Peart to be the best drummer who ever lived? If so, you'll want to head to Table #2210 where Fantoons will debut brand new Rush products.
https://www.instagram.com/p/BvMUhcAhpdD/
VICIOUSKILL collaborated with Little Devils Club and came up with this design for their t-shirt they'll debut at Booth #1803 at WonderCon this year.
https://www.instagram.com/p/BvLFvIVBFui/
Artist David Henry Lantz is bringing a screenprint of his poster for The Shape of Water with him to WonderCon.
https://www.instagram.com/p/BvLIWSTFa3G/
Don't you hate it when you're at WonderCon and something in your cosplay is damaged? Call Sgt. SwiftStitch Cosplay Repair, and she'll do the best she can to fix it for free.
https://www.instagram.com/p/BuxFlKnjL_d/
https://www.instagram.com/p/BvKJCoyl4cn/
VThey say one person's trash is another person's treasure. Stop by Table #F-49 in Artists' Alley for this particular treasure from artist Lauren Sassen.
https://twitter.com/LoSassen/status/1108067110222102530
Artist Jessica Madorran is bringing a few limited edition prints to WonderCon this year (split only with ECCC), including her "Rainbow Dreams Tree Lady", which is limited to only 40 pieces total, and only 20 for the show. Stop by Artists Alley E-12 to grab yours.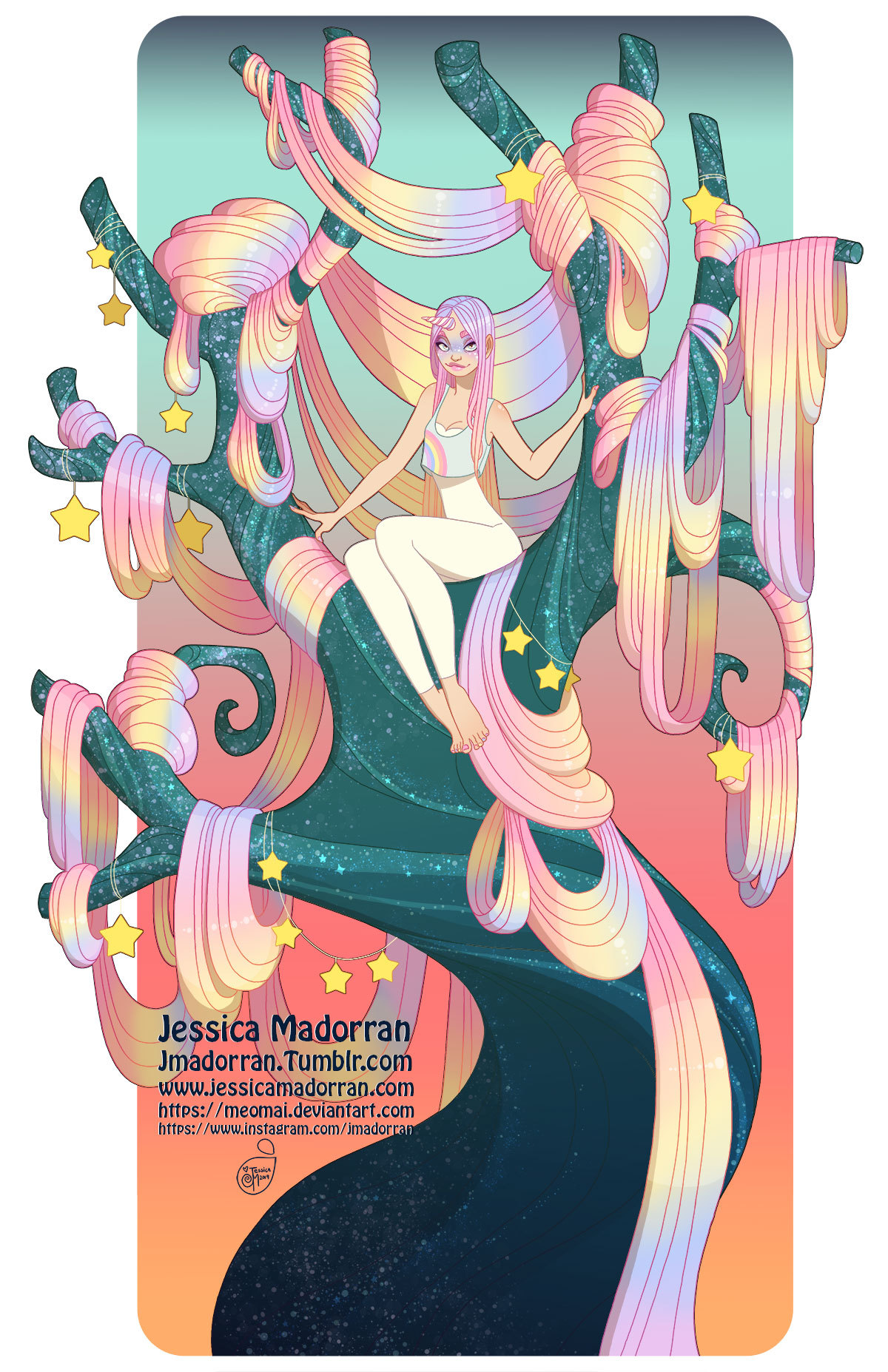 As if you needed more reason to attend WonderCon Special Guest Liam Sharp's Spotlight panel – he'll also be giving away a selection of free prints during the Sunday panel.
Going to be giving away a selection of free prints at my Artist's Spotlight panel at @WonderCon next week, hosted by the great @geoffboucher! Come join us! pic.twitter.com/cWsngJNhZb

— Doc Sharpy (@LiamRSharp) March 19, 2019
Which announcement excited you the most? Anything we missed? Let us know in the comments, drop us a line, or tweet us at @SD_Comic_Con.