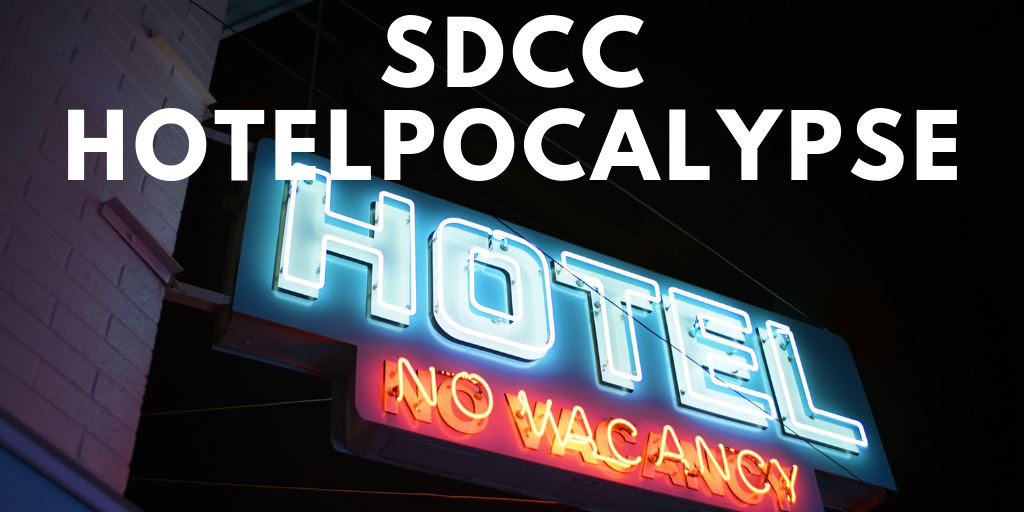 Hello darkness, my old friend…
Last Tuesday, a few thousand San Diego Comic-Con attendees received their hotel placements — and for most, it was great news. Those who didn't hear back on on April 16, though, had a long wait ahead of them, as round two e-mails were not set to go out until today, Tuesday, April 23.
Round One
Round one e-mails went out bright and early around 9:27AM PT, with almost everyone reporting back that they received one of their ranked hotel placements. For those who wound up in Mission Valley, it was mostly because they requested to be placed there.
@SD_Comic_Con just got an email confirming the marquis and marina!

— brian (@brianminhphan) April 16, 2019
Just got hard rock! Got in pretty much immediately

— Eric Tsang (@ericjtsang) April 16, 2019
Just got my e-mail (10:39 PST) and got Westin Gaslamp (my 6th choice). Got access to the form at 9:01:13 PST.

— 𝙰𝚗𝚗𝚒𝚔𝚊 𝙰. (@AhmedA01) April 16, 2019
Husband just got an email. Got in around 9:01-9:02, got 4 rooms at Marriott Gaslamp, which was his second choice!

— Emily Gallarno (@emgallarno) April 16, 2019
Got access 9:02, email received at 9:58 – got my first choice of Hard Rock!!

— Jennnnnnnnnnnn 🤦🏻‍♀️🦋 (@assuesco) April 16, 2019
In around 9:02/9:03, out by 9:04. Just got confirmed for Hilton Bayfront. For the first time in 11 years of sdcc hotel bookings

— Sean Takaki of podcast fame. (@jedichefsean) April 16, 2019
There were, of course, some who got placed further out.
https://twitter.com/TVWatchtower/status/1118209382162911232
Got in at 9:01 got none of my 6 choices. Got the Intercontinental.

— Cinema Collection (@CinemaCollectio) April 17, 2019
Round Two
Round two e-mails didn't kick off until a later 11:12AM PT. During that time, attendees hung in a sort of Schrödinger's Cat state. They potentially had an amazing hotel reservation waiting for them — or they potentially wound up with nothing. But until that fateful e-mail would come, they still had hope.
Finally, when e-mails did go out, it was great news for a select few. Some in round two did still receive downtown hotels, just like last year — despite some in round one getting Mission Valley hotels. While onPeak states that hotels are assigned on timestamp, our speculation has always been that these kind of placements in round two are likely returned inventory from round one, which would explain why they didn't go to those with earlier time stamps in the first round.
Just got my #SDCC #hotelpocalypse e-mail. Got a room in my second choice hotel: Manchester Grand Hyatt. Was in on the form within the first minute. @SD_Comic_Con

— Katie (@RDlenix) April 23, 2019
Got in at 9:01. Got the Indigo four night minimum, one of my choices!

— @andeesings (on all socials) (@andeesings) April 23, 2019
For many, getting a hotel at all was cause for celebration, regardless of location.
Got an email for the first time in 11 years. I got booked at the Hilton Airport, which isn't bad compared to other outside downtown ones for shuttle time. #SDCC #Hotelpocalypse

— 𝐌𝐚𝐮𝐫𝐞𝐞𝐧✨❄️𝐌𝐢𝐬𝐬𝐢𝐧𝐠 𝐂𝐨𝐬𝐩𝐥𝐚𝐲! (@Concelialiss) April 23, 2019
Just heard! Got in around 9:03, got first choice non-downtown #hotelpocalypse

— Emily Longeretta (@emilylongeretta) April 23, 2019
Others were less happy winding up in Mission Valley or by the airport.
In at 9:05. Not the Hilton I was looking for… pic.twitter.com/SKDV7wmlm1

— Brandon Rowe (@Brandonrowe14) April 23, 2019
In at 9:03 and got Hotel Circle. Requested only downtown hotels and did not check to put me in closest, but did ask to be on the waitlist. Sigh.

— el boyens (@elboyens) April 23, 2019
And then, of course, there were the truly poor souls — the waitlisted (though as we say constantly, THERE ARE ALWAYS HOTELS ON THE WAITLIST! GOOD HOTELS TOO!):
9:01. I'll be staying in (checks notes) "Waitlist"…

— Mark Alvarado (@FineHijinx) April 24, 2019
Of Timestamps, Placements, The Great Randomizer, and onPeak
What you may be noticing right now, though, is that there seems to be a lot of inconsistency with the timestamp and placement. The way this sale is supposed to work, according to Comic-Con International, is that the "order in which requests are processed will be based on the time a guest was granted access to the form. No further randomization will take place throughout the process."
But why, then, are some who got access to the form at 9:01 not receiving any of their top 6 hotel choices, but someone like the below with a timestamp of 9:04 reporting getting the Hard Rock?
This really has to be random…3 people from my group got in at 9:01,9:02 and 9:04 and we all scored the same hotel…the hard rock. No way it should have been available at 9:04

— stevie b (@bowen1975) April 19, 2019
There's a lot of factors at play here, and we'll be honest with you: The short answer is, no one but onPeak and possibly Comic-Con International actually have answers. However, since you're not e-mailed a recap e-mail with your selections or your timestamp, human error on the part of attendees definitely could be at play here. The day of the General Hotel Sale is generally chaos, and remembering to manually glance at a clock to see your timestamp (assuming your clock is even accurate) just doesn't seem like the most important thing in the heat of the moment. So, many people could have a false sense of their timestamp. It's also entirely possible you entered in a hotel wrong on your placement list, and that's why you got placed further out than you wanted.
Then, of course, there's the question of selection. Every year, we get asked if there are any factors which can help you get a room. Does asking for a hotel for Wednesday – Sunday nights get you a better shot at receiving good placement than someone just staying Friday – Saturday nights? Does requesting multiple rooms give you a worse shot?
And again, the answer is: no one but onPeak and/or possibly Comic-Con International knows. We suspect, however, that in the end, it simply doesn't matter. Every year, some people who requested multiple rooms still wind up with good placements, just like those who only requested one room wind up with good placements. Every year, those who request different amounts of days wind up with placements — both good, bad, and in-between on all sides. So does it make a difference? If it does, it seems to be a minuscule one, and not truly worth worrying over.
Take for instance, these two polls — which, while not complete at the moment, do have a decent sample size. At the time of posting, people who requested less than 3 nights of reservations had rooms, as did those with 4+ nights of reservations, and everything in between. Obviously, there's a smaller percentage of those who received reservations with less than 3 nights — but there's also probably a much smaller percentage of people actually requesting that few of nights. Most attendees stay if not the full week, then close to it.
A popular "theory" on the interwebs is that those who request fewer nights may be hurting themselves in the long run, as maybe those who request longer stays get preferential treatment, regardless of timestamp. To those individuals, let us draw your attention to this poll (which again, is not complete at the time of posting, but has a decent sample size):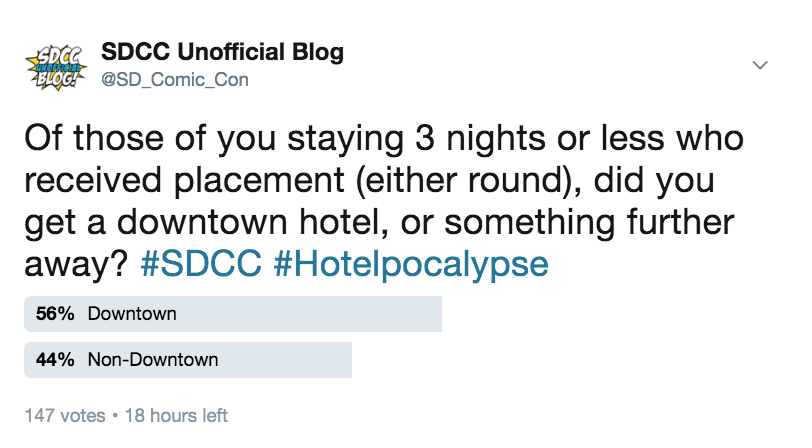 Those with less than 3 nights reported getting more downtown hotels than non-downtown hotels. Not exactly a sob story, right?
Basically, we just don't think any of these variables really matter that much. The more likely answer, for us at least, is that it's a combination of several things — including inventory, and the onPeak of it all.
First, we simply have no way to know what the inventory process looked like. There are so many factors that go into determining what kind of room and hotel you need — you select everything from dates, to room types, to actual preferred hotels — that maybe someone else with a slightly worse timestamp got the hotel you wanted because it was a different room type, or different dates. There's no way to see what the inventory actually looked like when the onPeak representative assigned your hotel.
And then, of course, there's the human issue on the other side of the equation. It's onPeak representatives (no, not the phone reps — be nice to them!) and/or an onPeak program helping to assign hotels. While theoretically, the system should be processing exactly in order of timestamp, there are also probably hundreds with the exact timestamp as you, so there's likely a lot more randomness in the order of processing going on in there. There's the fact that whoever — or whatever — is assigning your hotel room may be making human errors, clicking the wrong things, or processing things a bit further out of order, or honestly maybe they're just throwing darts at a wall 10% of the time. It is onPeak after all, and it makes more sense than some theories.
But you have no control over any of that. Do we wish the process was different? YEP! (and more on that below). But it's not, it's the system we've got — and it's still a whole lot better than the system we had (don't believe us? You either didn't live through Hotelpocalyse 2015: A Tale of Two Forms, or you've repressed that horror-story from your mind because it was so. freaking. terrible.).
Great, But WHAT DOES IT MEAN?!?!
While very far from official, we did some quick Twitter polls to see the break-out of how people fared in the hotel sale. After Round 1, 19% percent said that they didn't participate in Hotelpocalypse at all — and only 23% reported that they received a hotel in Round 1. Those aren't great numbers, but considering the scarcity of Comic-Con hotel rooms (and more on that later), it sounds about right.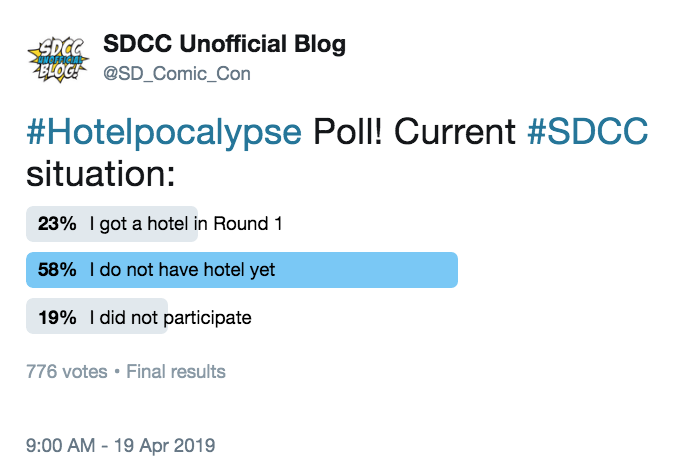 For the 58% who were still waiting on placement at the start of Round 2, things got slightly better. The number without a hotel dropped to just 51% in our very informal poll — and slightly more individuals reported getting their hotel in Round 2 rather than Round 1:
So, what does all of this mean? First of all — what many hoped and considered to be a "good" timestamp (9:04-9:05), often wound up not receiving anything this year. 9:03-9:05 in years past has been around the cutoff time, so it's not that far off. As we state every year, while that can feel like an abnormally small amount of people received hotels, it's simply a numbers game. There are around 130,000 attendees, compared to a total possible 19,703 hotel rooms. There is no possible system that is going to give everyone the hotel that they want, or even to give everyone a hotel through this system. That is why most attendees "partner up" and add roommates.
So how DO you solve a problem like Hotelpocalypse? We made some suggestions back in 2017 which we feel are still valid suggestions.
But as frustrating as this system is, about 90% of the time, there's usually some sort of logic to how it all pans out. It's just the 10% of the time when it feels like onPeak is sitting around a conference room, throwing darts at a wall to see which hotel you wind up with, that leaves us scratching our heads every year.
For those who were lucky enough to receive room requests today, remember that your deposit must be paid by Friday, April 26, before 11:59PM PT. For those of you who didn't score a hotel yet? You still have lots of options — including the waitlist, trading hotels, finding roommates, and much more. You can check out our I Didn't Get a Hotel Room — Now What? guide over here.
Did you receive a hotel today? Let us know in the comments.