Artist Patrick Ballesteros is all about making you remember your inner child – with kid-ified takes on everything from retro classics like Indiana Jones and 16 Candles, to more modern favorites like Game of Thrones and Guardians of the Galaxy.
Even though we may not have new Game of Thrones episodes to look forward to (or to rage about), you can still keep your love flame going for the series with his first San Diego Comic-Con exclusive of 2019, "Dany & Dragons". The new 25 Center Wonder exclusive features Daenerys with a myriad of dragons, including Toothless from How to Train Your Dragon, Figment of Disney fame, Ghidora from Godzilla, Falkor from The Neverending Story, and more. Can you name them all?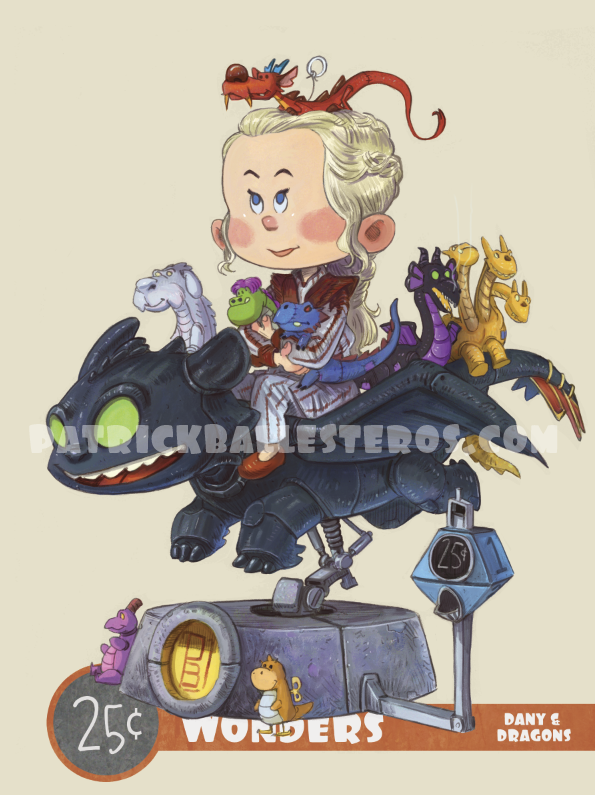 The 6″x8″ print on pearl linen fine art paper is limited to just 100 pieces for San Diego Comic-Con, and will be released on an unspecified day during the con. Ballesteros will have at least one different print exclusive per day — so be sure to stop by Artist Alley DD-08 to snap up this print.
In addition, he's bringing 100 mini-originals to the convention, as well as his regular prints and "Can You Hear Me Now?" tin can series. And for those wanting one of his other awesome Game of Thrones season eight prints — don't worry. He's said he'll be bringing lots of inventory.