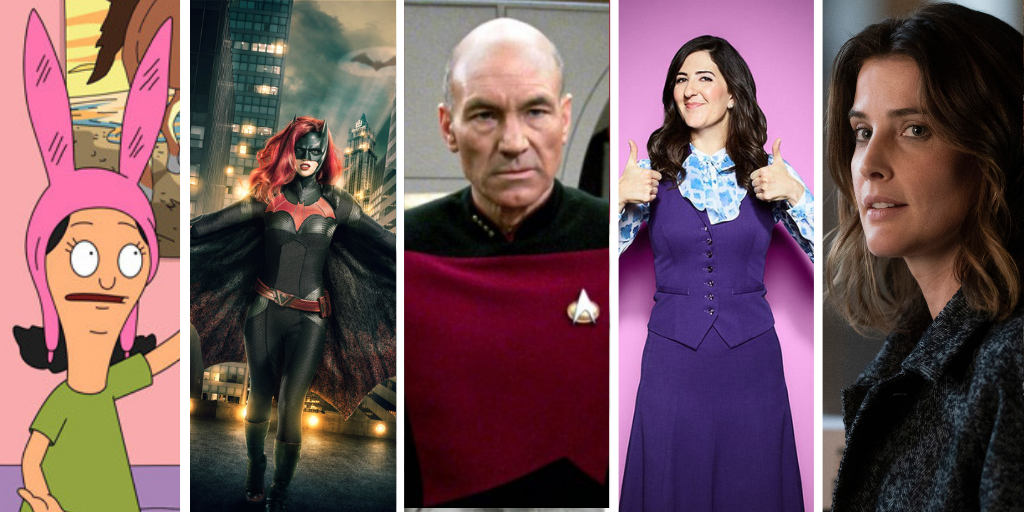 Television series comprise a huge chunk of the schedule for San Diego Comic-Con — and every year it seems like they become a larger and larger piece of the pie. The lines for Ballroom 20 often rival even those of Hall H, and they won't be getting any shorter any time soon.
As the anticipation builds for the official announcements from networks and CCI as to which television shows will be on the panel schedule, we like to take time out earlier in the year to speculate which shows have the best chances of appearing at SDCC. We'll be breaking this into three segments, including the Cable Networks (coming Wednesday!) and the Family Networks (coming Friday!), but we're kicking things off today with the main five basic broadcast channels — ABC, CBS, CW, FOX, and NBC.
It's important to note that while we've broken out the schedule by which network a series airs on, these aren't necessarily the entities that physically own the shows, and thus bring them to Comic-Con. So, for instance, Arrow is actually a Warner Bros. production, that merely airs on The CW, so Warner Bros. is the one who brings it to the convention.Confusing? We know. That's why we've laid it out like this — but don't panic if your favorite shows aren't on any announcements the networks and studios make in the next two months.
So what do we think you'll be seeing at Comic-Con this summer? Let's take a look:
ABC
ABC changed up their usual routine last summer — opting for some amazing exclusives and signings with cast from a wide variety of their shows, rather than holding traditional panels. We think it's entirely possible that's a trend they'll continue into 2019, but unlike last year, they have at least one pure genre series on their fall schedule they may want to promote, which could tip them back over the edge into panels. Emergence, which stars Allison Tolman, Clancy Brown, and Donald Faison, follows a local sheriff (Tolman) who takes in a young girl after she finds her near the site of a mysterious accident, with no memory of what has happened. Strange, sci-fi-esque things start happening, and there's a larger conspiracy at the center of it all — meaning it seems ripe for Comic-Con audiences. At the very least, we'd say expect this to get a spot on Petco's annual ABC wraps.
Then they've got Stumptown, which on its head looks much like another unapologetic-female-investigator story, but it's got several things going for it. Namely, that it's based on the Oni Press graphic novel by Greg Rucka and Matthew Southworth, which gives it some definite nerd cred. It also stars fan favorite Cobie Smulders, so ABC may see enough potential to bring this along.
Unfortunately, Agents of S.H.I.E.L.D. has skipped having panels the last two years (though we did get virtually the entire cast signing last summer) — and with the current season likely ending before Comic-Con, it seems pretty unlikely for a panel. We'd also count out The Rookie, which, while it got billboard placement in 2018 largely thanks to its star Nathan Fillion, likely isn't enough to earn it a panel.
Hey, ABC, if you're listening, why not bring panels, exclusives, AND signings? We're just sayin'.
https://www.youtube.com/watch?v=aAD2deAqxCE
https://www.youtube.com/watch?v=HwynrxEPSQk
CBS
Star Trek fans can start getting excited right now, because there's no way CBS doesn't go all-in again on their most popular nerd franchise at this year's San Diego Comic-Con, with two series now to promote. We say expect big things for Star Trek: Discovery, and even though the third season isn't expected until sometime in early-to-mid 2020, that hasn't stopped CBS from pushing it hard at Comic-Con in the past. They start filming just a few weeks before SDCC this year, but that's still time to put together a small sizzle reel. But expect most of the CBS Star Trek love to go to the upcoming CBS All Access series, Picard. Even more so than Discovery, this is going to blow the roof off Comic-Con. Star Patrick Stewart is beloved on his own, but he's returning to one of fandom's favorite characters of all time — and with only a title graphic revealed, and months of filming underway, CBS will have plenty to get fans excited. This is gonna be big.
Speaking of CBS All Access, they've got three other series we think are likely for the convention. We think Evil, from Robert and Michelle King, is likely a lock — the series follows a skeptical psychologist who allies with a priest and a contractor to investigate purported supernatural incidents. It stars Manhattan's Katja Herbers, Marvel's Luke Cage's Mike Colter, and Lost's Michael Emerson, so there's plenty of name recognition on the show alone.
For repeat performers, Tell Me a Story definitely didn't get the buzz of Star Trek or the next series on our list, but the psychological thriller which puts a dark spin on classic fairy tales starring James Wolk, Billy Magnussen, Paul Wesley, and Dania Ramirez attended last year — and with a season renewal late last year, we don't see why they wouldn't bring it back again in 2019. Fellow CBS All Access series The Twilight Zone got a freaking Super Bowl commercial, so clearly CBS is all in on the Jordan Peele EP'd remake. While the current season will have finished ahead of San Diego, with an early season two renewal and the fact that they brought it last year so far ahead of its release, we think we'll definitely get some sort of presence.
Then, there's everything on the regular CBS. WB, which normally brings all of their series (so long as they're not midseason, as of last year), opted to skip out on God Friended Me last year. They could reverse course on that, but we think it's likely a no-show. With The Big Bang Theory having ended its legacy (whatever legacy you think that might be) and rein, some might hope for an appearance from spin-off/prequel Young Sheldon. But given that it's never made the leap to the con before, we think it's very unlikely.
Magnum P.I. has much better odds, given that there's no other "weird, but maybe makes sense if you squint" series on CBS' fall schedule to take its place, and it attended last year with star Jay Hernandez. Never change, CBS.
Make it so. #StarTrekPicard is coming to @CBSAllAccess. pic.twitter.com/CozpNKLxpQ

— Star Trek on Paramount+ (@StarTrekOnPPlus) May 15, 2019
The CW
If there's any network that boasts a truly Comic-Con friendly programming schedule, it's The CW. Expect guaranteed panels from Riverdale, Black Lighting, The Flash, Legacies, and Supergirl, as parent studio Warner Bros. always brings along the vast majority of their series. You can also expect a final send off for both Arrow and the long-lasting Supernatural.  We also suspect Charmed will be back as well, but since CBS would be the ones to bring that series rather than Warner Bros., it's slightly less of a guarantee.
As for new series the network could decide to bring, the most likely is Batwoman, the upcoming superhero show about, well, you guessed it: Batwoman. The show centers on Kate Kane (Batwoman), who is armed with passion for social justice but before she can take over Gotham when Batman disappears, she will first have to overcome her own demons. It stars Ruby Rose, Dougray Scott, Meagan Tandy, Rachel Skarsten, Nicole Kang, and Camrus Johnson, and we'd be shocked if it didn't receive both a regular panel with cast and for it to be part of the annual Wednesday night pilot screenings up in Ballroom 20.
There's also Nancy Drew, which centers around the titular character as she plans to leave her hometown for college, but is drawn instead to a supernatural murder mystery. The series also comes from parent studio CBS, which means they'd be making the call on whether or not to bring it — but considering they brought along The CW's Charmed last year, we think it's likely.
If you're currently wondering why some of your favorite series aren't on this list yet — namely, Legends of Tomorrow, The 100, Roswell, New Mexico, and the upcoming Riverdale spinoff Katy Keene — there's a reason. Each of those series aren't set to premiere until midseason, and as of last year, Warner Bros. decided not to bring any of their midseason shows to SDCC. We suspect this will be the case again in 2019 — and there's signs to back that statement up. With that being said, we do think The 100 and possibly Katy Keene have a tiny possibility of being part of the Wednesday night screenings. – Kara Dupree
https://www.youtube.com/watch?v=vrIiPcv4_iY
https://www.youtube.com/watch?v=omiogm9JBvo
https://www.youtube.com/watch?v=_ryc9o-10ZQ
FOX
We expect Saturday's annual animation domination will be back this year with back-to-back panels for The Simpsons, Family Guy, Bob's Burgers, and American Dad (which technically airs on another network these days, but it's our blog, and we'll do what we want!). While not a part of animation domination, you can also expect fan favorite The Orville to return to San Diego Comic-Con as well.
As for new series, expect FOX to push their upcoming animated fare hard (as they always do). First up is Bless the Hearts, about broke southerners who struggle for status and wealth, but what they don't realize is that they already have all they need. It features one of the best voice casts on TV right now in Kristen Wiig, Maya Rudolph, Jillian Bell, and Ike Barinholtz — and FOX has rarely met an animated series it didn't want to bring to Comic-Con. They've also got Duncanville, about an average kid named Duncan who dreams of making it big without having to wear a suit and tie in order to do so. This one sounds like the most con-friendly show of the bunch, with Amy Poehler, Ty Burrell, Rashida Jones, and Wiz Khalifa rounding out the voice cast — but it doesn't air until midseason. Finally, there's The Great North from Bob's Burgers creator Loren Bouchard, about an adventurous single dad and his weird Alaskan Family. Given the Bob's love at the convention, we wouldn't be surprised if The Great North also got some attention, hopefully with some of its voice cast which includes Jenny Slate, Nick Offerman, Will Forte, Megan Mullally, and Paul Rust.
On the scripted side, we think Prodigal Son actually has a chance at a panel. The series follows Malcolm Bright, one of the best criminal psychologists around, who uses his twisted genius to help the NYPD solve crimes. It stars Tom Payne from The Walking Dead, as well as Michael Sheen, Bellamy Young, and Lou Diamond Phillips. It isn't strictly genre, but it hails from Warner Bros., so it may get a pilot screening at the very least.
FOX also has neXT, which centers on former tech CEO who joins a Homeland Cybersecurity Agent to stop the emergence of a rogue artificial intelligence. John Slattery, Michael Mosley, and Eve Harlow star. It's not set to air until midseason, but it may be con-friendly enough that FOX decides to push it this summer.
And lastly, for a bit of a curveball, FOX also has the return of Beverly Hills 90210 with the upcoming BH90210, which is more of a revival than a reboot. The new series is set to premiere shortly after the convention ends on August 7, and sees sees virtually all of the original cast returning. Now, you might be thinking why would we think this would come to SDCC? It hails from CBS, which has a long history of bringing along shows to the convention that play to your nostalgia of TV yesteryears — so in a weird way, this just might make sense.
https://www.youtube.com/watch?v=C5TB39yx7hE
https://www.youtube.com/watch?v=26C6JqBdb20
https://www.youtube.com/watch?v=rRAoNVJcgms
https://www.youtube.com/watch?v=Ja8K614WkpA
NBC
Hey, NBC — you kind of won Comic-Con in our eyes last year.
Whoever at NBC decided last year to focus on truly great TV instead of the genre-show-of-the-year, let us know, because we want to send them a thank you gift. Critical darlings and fan favorites The Good Place and Brooklyn Nine-Nine rocked the house (and in the case of the former, Tin Fish as well) at SDCC last year, with long lines and some very excited fans — and we're very hopeful for a repeat performance in 2019.
There's a few new series on NBC's schedule which could make sense for the convention, but we wouldn't call any of them locks. Of the bunch, we think Zoey's Extraordinary Playlist has the most potential. The new series follows a smart but socially awkward girl (Castle Rock and Suburgatory's Jane Levy) who can suddenly hear the innermost thoughts of people around her as songs and big musical numbers. It sounds like it shares a lot of DNA with Crazy Ex-Girlfriend, which did well at the convention last year, but it also took four years for CEG to get a spot at Comic-Con. Also standing in the way of an appearance is that it's a midseason series and it's produced by Lionsgate, which is an inconsistent Comic-Con performer at best. NBC also has Lincoln, based on the Bone Collector book series, about a criminologist and a young beat cop trying to track down a serial killer. It's also midseason, and much less genre.
We think attendees probably won't be getting Manifest again this year, as even though it's renewed, it's benched until midseason. As of last year, co-parent studio Warner Bros. stopped bringing their midseason series, and there's a few indications that's going to be a policy which sticks around. But as it's co-produced with Universal Television, it may still stand a chance. Blindspot skipped last year, and with the new season being announced as its last, we also think it's likely a no-show.
So maybe NBC will go all-in on comedy this year, considering how well it did for them last summer. We think they should just bring most of their Thursday night comedy line-up. They've also got Superstore, which is well-liked by both critics and fans, and might do well at the con. They've also got the upcoming comedy Sunnyside, which follows a character played by Kal Penn as he finds his calling helping immigrants in need of his help and in search of the American Dream. The Good Place creator Mike Schur is an EP on the series, and Kal Penn is no stranger to Comic-Con — so there's a universe in which this could work. Is this going to happen? Probably not. But we can dream.
https://www.youtube.com/watch?v=I3q56hWlvVw
TV Graveyard
We'd also like to take a moment to reflect back upon our dearly departed shows that won't be gracing the stages at San Diego Comic-Con this summer, either because they were canceled, or simply ended their run. Here are the broadcast shows that you won't be seeing at SDCC again, at least until that ten year reunion (or until Hulu, Netflix, or some streaming service that hasn't been invented yet inevitably picks it up):
The Big Bang Theory (CBS)
Crazy Ex-Girlfriend (The CW)
Elementary (CBS)
The Gifted (FOX)
Gotham (FOX)
iZombie (The CW)
Lethal Weapon (FOX)
Midnight Texas (NBC)
The Passage (FOX)
Salvation (CBS)