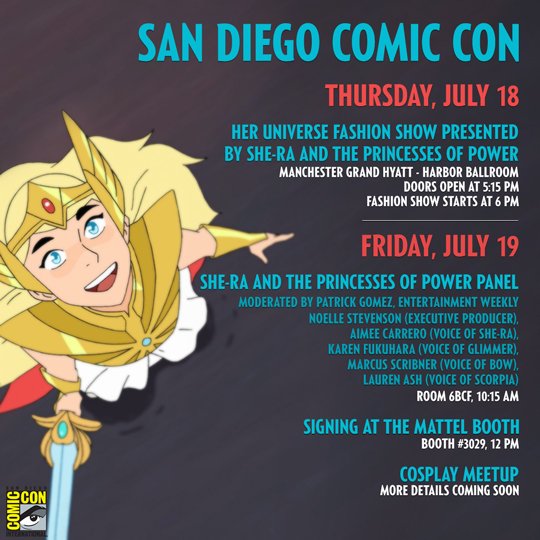 Dreamwork's She-Ra and the Princesses of Power have revealed their exciting plans for San Diego Comic-Con, including a panel, a signing, promises of a meet-up, and more.
Hosted by Entertainment Weekly's Patrick Gomez, the panel will be on Friday, July 18 from 10:15AM-11:15AM in Room 6BCF. Gomez will be joined by Executive Producer Noelle Stevenson, as well as voice of She-Ra Aimee Carrero, voice of Glimmer Karen Fukuhara, voice of Bow Marcus Scribner and voice of Scorpia Lauren Ash.
Also on Friday, July 18, there will be a She-Ra and the Princesses of Power signing at the Mattel booth #3029 from 12PM-1PM with Stevenson and the voice cast. You can also stop by the Mattel booth all week long for fun activities, including an interactive She-Ra photo-op. You'll also be able to scope the full 2019 She-Ra doll line, and collect giveaways including crowns, swords, pins, posters, and more. If you snag the SDCC exclusive She-Ra vs. Shadow Weather doll set at the con, you'll also get a free poster from Scholastic.
A cosplay meet-up is also in the planning stages, we will update with that information as it becomes available.