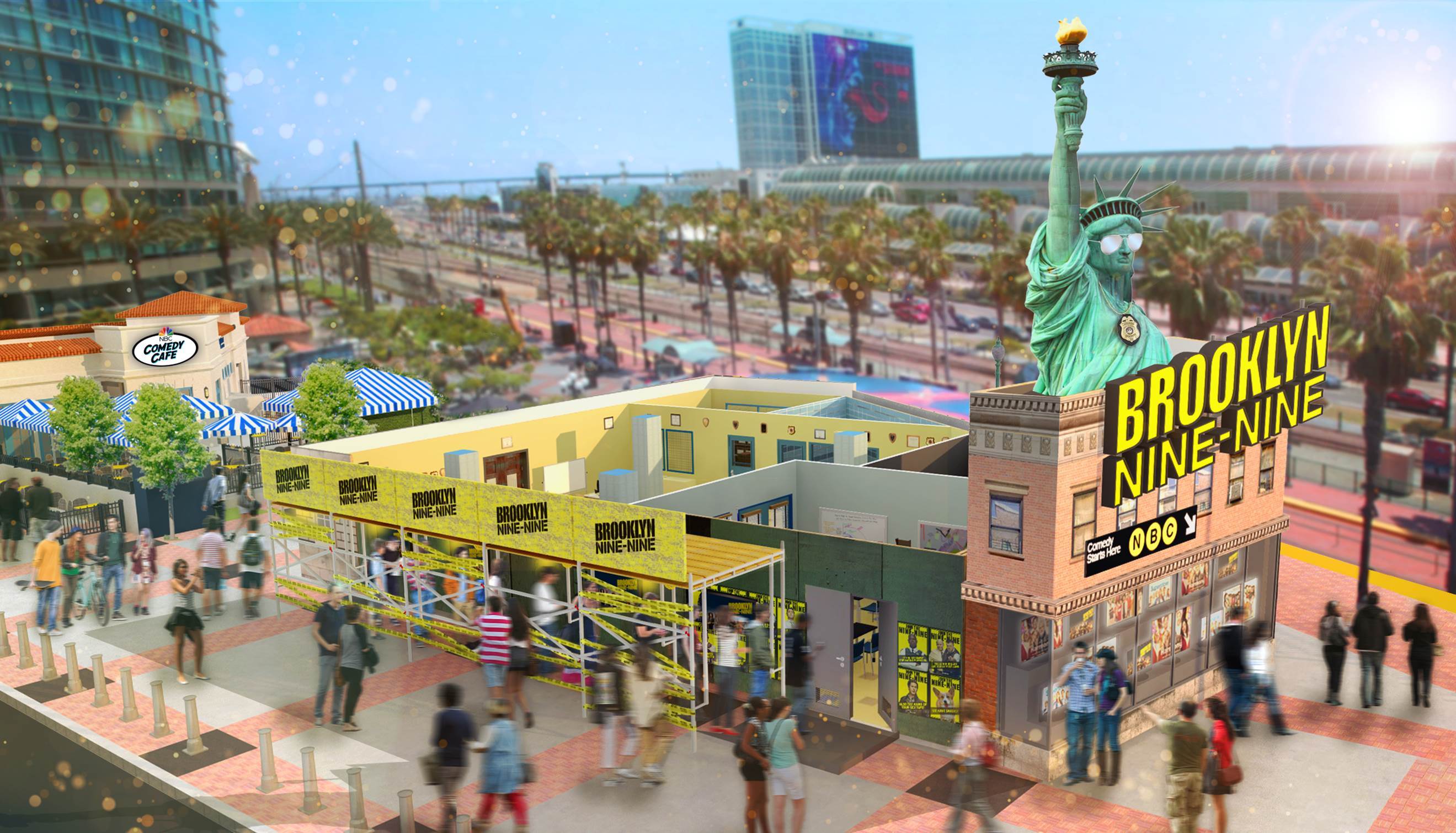 After fans of good comedy — and good TV in general — rejoiced at last year's NBC Comic-Con slate of The Good Place and Brooklyn Nine-Nine, the network is back again in 2019 with even more comedy offerings, and there's a lot to be excited about.
First off, NBC critical darling Superstore is heading to Comic-Con for the very first time, where it's sure to get a lot of fanfare at the panel set for Thusday, July 18. Then this really IS the The Good Place, as the series returns for a panel set for Saturday, July 20, with another panel later in the day for fan favorite Brooklyn Nine-Nine.
But NBC has a whole lot more than just panels planned this year. This year, they're transforming the Tin Fish area into an all-immersive experience for Brooklyn Nine-Nine's famous 99th Precinct, open Thursday-Sunday of Comic-Con. Here, you're a new recruit, ready to test your skills for a chance to join the Nine-Nine. You'll take part in a series of "hilarious and unforgettable tasks" in order to make the squad, plus you'll enjoy exclusive content, giveaways, photo ops, and more. You'll be able to pre-register for the NBC Comedy experience beginning Wednesday, July 10 on the NBC SDCC Site. Each attendee will receive a customized profile and wristband with RFID technology, to make the most of your experience.
After you're done taking a spin through there, you can stop at the Tin Fish Restaurant for a bite to eat at the transformed NBC's Comedy Café, celebrating some of the network's favorite comedies with branded menus, custom content and more.
Superstore is getting its own pop-up, with the inside the Hard Rock Hotel main lobby set to be transformed into the Superstore Cloud 9. There will be exclusive content, a custom photo op, and a "customer service" desk which will host exclusive NBC comedy TV series giveaways, while supplies last.
If you loved last year's The Good Plates Tin Fish takeover, then you're going to really love "The Good Place" Diner – The Interdimensional Hole of Pancakes, which will be taking over maryjane's at the Hard Rock Hotel, open Thursday – Sunday. The portal is open to the Interdimensional Hole of Pancakes for Comic-Con only, where you'll enjoy a themed meal, experience a mind-blowing Time-Knife, and feel what it's like for Michael to be truly powerless.
Here's a look at the panel schedule:
Thursday, July 18
"Superstore"
5:30-6:30 p.m. | Room: Indigo Ballroom, Hilton San Diego Bayfront
Join your fellow Cloud 9 employees for a Q&A session with the cast and producers: America Ferrera, Ben Feldman, Mark McKinney, Lauren Ash, Colton Dunn, Nico Santos, Nichole Bloom, Kaliko Kauahi, and executive producers Justin Spitzer, Gabe Miller and Jonathan Green.
Saturday, July 20
"The Good Place"
12:00-12:50 p.m. | Room: Indigo Ballroom, Hilton San Diego Bayfront
Join stars Ted Danson, Kristen Bell, William Jackson Harper, D'Arcy Carden, Manny Jacinto and executive producers Michael Schur and Drew Goddard for a forking great conversation moderated by Marc Evan Jackson.
"Brooklyn Nine-Nine
7:45-8:45 p.m. | Room: 6BCF, San Diego Convention Center
Join the Nine-Nine for a Q&A session with the cast and producers: Andy Samberg, Terry Crews, Melissa Fumero, Joe Lo Truglio, Dirk Blocker, Joel McKinnon Miller and executive producers Dan Goor and Luke Del Tredici.