The Comic-Con Gods have done their great randomizing, and deemed you either a winner or a loser (and if you are Club Loser, fear not — you're in good company with this three time lotto loser over here!). But no matter which way the Online Exclusives Portal pendulum swung, we know you have questions, so we're going to try to answer.
I Won For An Exclusives Company!
If you won for any of the exclusives companies in the portal — which includes SDCC x Funko, Funko (they are different!), Hasbro, LEGO, UCC Distributing, and/or Bluefin Distribution/Tamashii Nations — your first question might be, "Great! Remind me what they have again?"
SDCC x Funko: This booth will ONLY be selling the Toucan Pop! and Pez, and the Batman with a Comic-Con bag (hint: they're at the very bottom of this page). It's a limit of one per item per person. For anything else Funko related, you need to have won access to…
Funko: This is literally everything else Funko is bringing to the convention — from their Sith Trooper to the Wynonna Earp Pop!, to The Big Bang Theory Pop!s, and more. The only thing this booth WON'T have is the aforementioned three items being sold at the SDCC x Funko booth. It's a limit of one per item per person.
Hasbro: For your Star Wars Black Series, Magic the Gathering, Power Rangers, Amy Mebberson The Little Mermaid set, Ghostbusters x Transformers Ectotron, My Little Pony, and even more — that's Hasbro. There will be a limit of two per item for most items, but the Magic set and possibly others will be a limit of one item per person.
LEGO: ONLY the sets will be available at the booth this year, and the line-up is Captain Marvel on Thursday, the Sith Trooper on both Friday and Sunday, and the Batman set on Saturday. You can only purchase one set, however last year, on Sunday, they did allow Sunday winners to also purchase one of the other two sets – but it's not a guarantee. The mini-figures are not part of the Online Exclusives Portal.
UCC Distributing: UCC has a plethora of licenses at San Diego Comic-Con this year, including My Hero Academia, Toy Story 4, Bob's Burgers, Rick & Morty, Harry Potter, and more. They make some of the most unique items on the floor, and you can score them all (except the 5 Surprise Mini Brands) while supplies last. There's a limit of two per item per person each day — except for the Funko Pop! Dragon Ball Z Majin Vegeta and the Hairdorables Comic Boo Queen Deluxe Doll Set, which are a limit of one per person per day.
Tamashii Nations: Only the Dragon Ball exclusives and the Metalbuild Gundam will be part of the Portal. It's unclear if lottery winners will be able to purchase other items at the Tamashii Nations booth when they purchase their DB items. There's a limit of two per item per person.
For all of these items, we recommend lining up earlier than the timeframe for which you have been allotted — but use your best judgement. For instance, a line will probably form the earliest for Funko, so you will need to line up earlier for that than, say, Tamashii Nations.
For any/all of these items, you are NOT guaranteed that anything is still in stock by the time you make it to the booth, even if you arrive during your time window.
I DIDN'T Win For An Exclusives Company 🙁
That's okay! Welcome to the Losers Club, we have bad luck, but we make excellent drinks. Here's how you can still try to score what you want, even if the great Comic-Con Gods has deemed you a loser.
SDCC x Funko and Funko
Only a handful of the items are ACTUALLY exclusive to the show — which include the Wynonna Earp Pop! and the Bloo Raspberry Otter Pop! Basically everything else is shared with various retailers, which you can see in the handy chart below. The Funko-Shop is Funko's online shop on their site, and if you don't know what Walmart is, we can't help you. These items will have a different sticker, but if a sticker means THAT much to you, there is eBay.
While traditionally these items have gone online on Wednesday night during the con, it sounds like this year it may happen sometime on Friday. Funko will likely share exact timetables early Comic-Con week.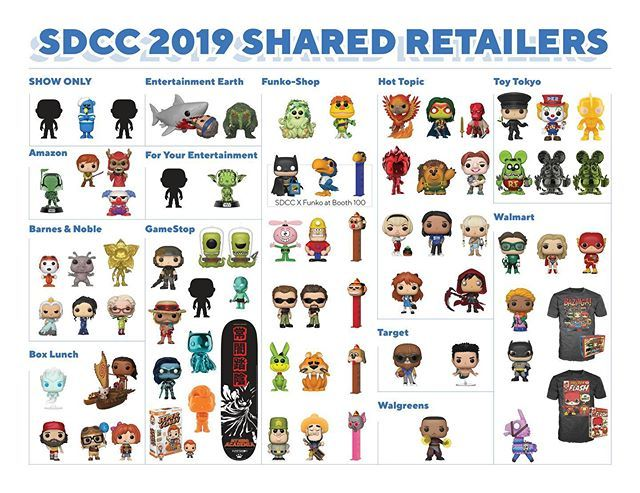 Hasbro
Good news! Hasbro's timeslots end at 4PM, and they offer portal slots at all on Saturday or Sunday — just like last year. That means you'll be able to just line-up/walk-up at the booth on Saturday/Sunday or late Thurs/Fri to get what you want. A few items will sell out, of course, but many will still be available.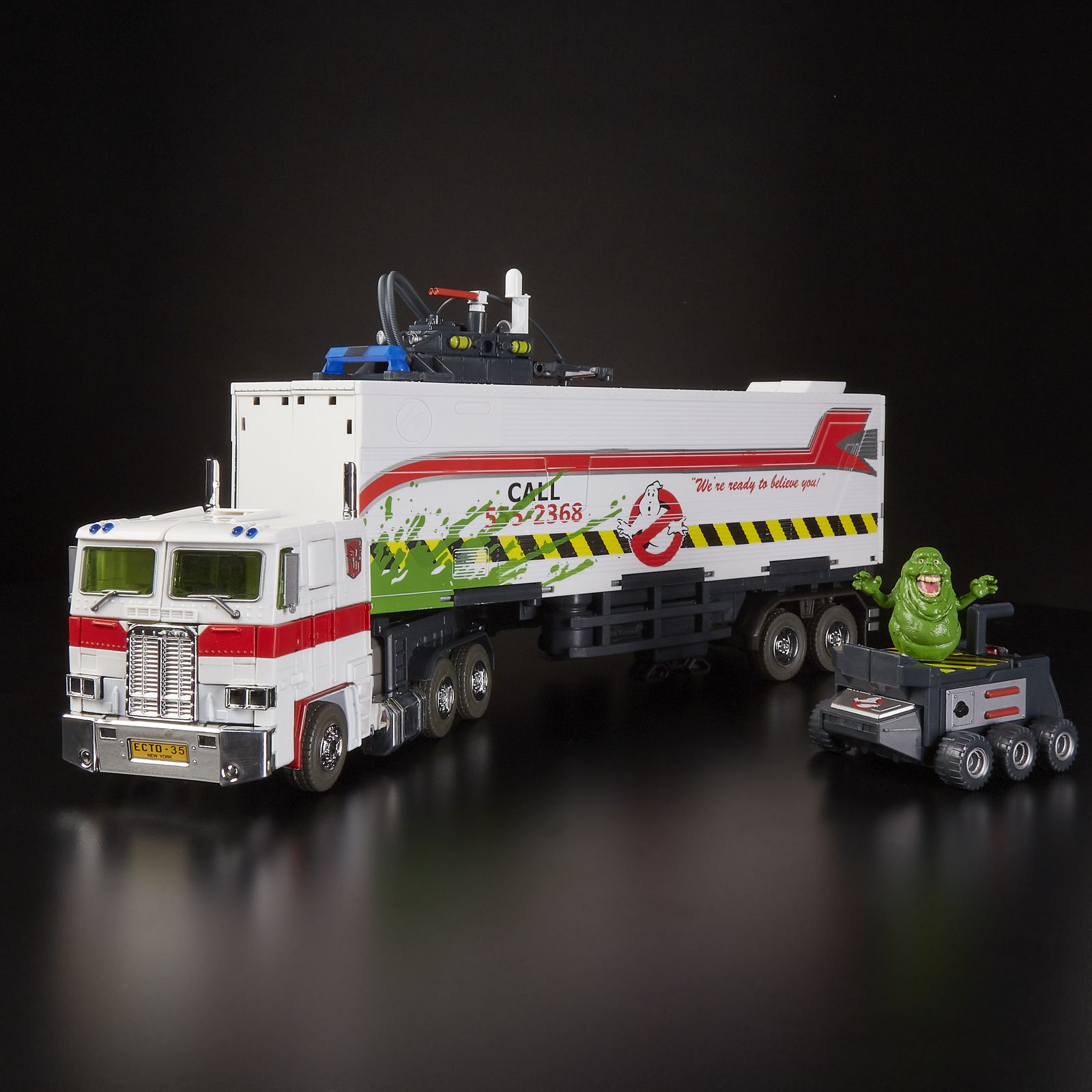 LEGO
You are probably out of luck as far as the sets go, though you can always swing by late on Sunday to see if they're possibly letting those without a lottery win in to buy remaining inventory. However, the free minifigs are a whole other story. Unlike last year, they are NOT part of the portal, and are instead a "randomized instant win". It remains to be seen if these will be on the Sails Pavilion like in pre-2018 years, but we'll know soon enough. This year's line-up includes PS4 Marvel's Spider-Man on Thursday, Barb from Stranger Things on Friday, Zebra Batman on Saturday, and TBA on Sunday.
UCC Distributing
If there's a UCC Distributing item that you're after, you're in luck. The main booth (#5610) not only typically filters in a walk-up line throughout the day, but they also have a second booth. The second location, booth #700, will have most of UCC Distributing's items, although some of their hottest items — like the Funko Pop! Dragon Ball Z Majin Vegeta and the Hairdorables Comic Boo Queen Deluxe Doll Set — will only be available at the main booth.
Tamashii Nations
Since this is the first year Tamashii Nations has been part of the portal, this may be a bit of trial/error. They've stated they will start letting in a walk-up line at a certain point during the day.
I Won An Autograph Signing!
Congrats on being one of the lucky few! To participate in the signing, on the morning of the signing, you'll head to the Sails Terrace just outside the Sails Pavilion. Here's a map: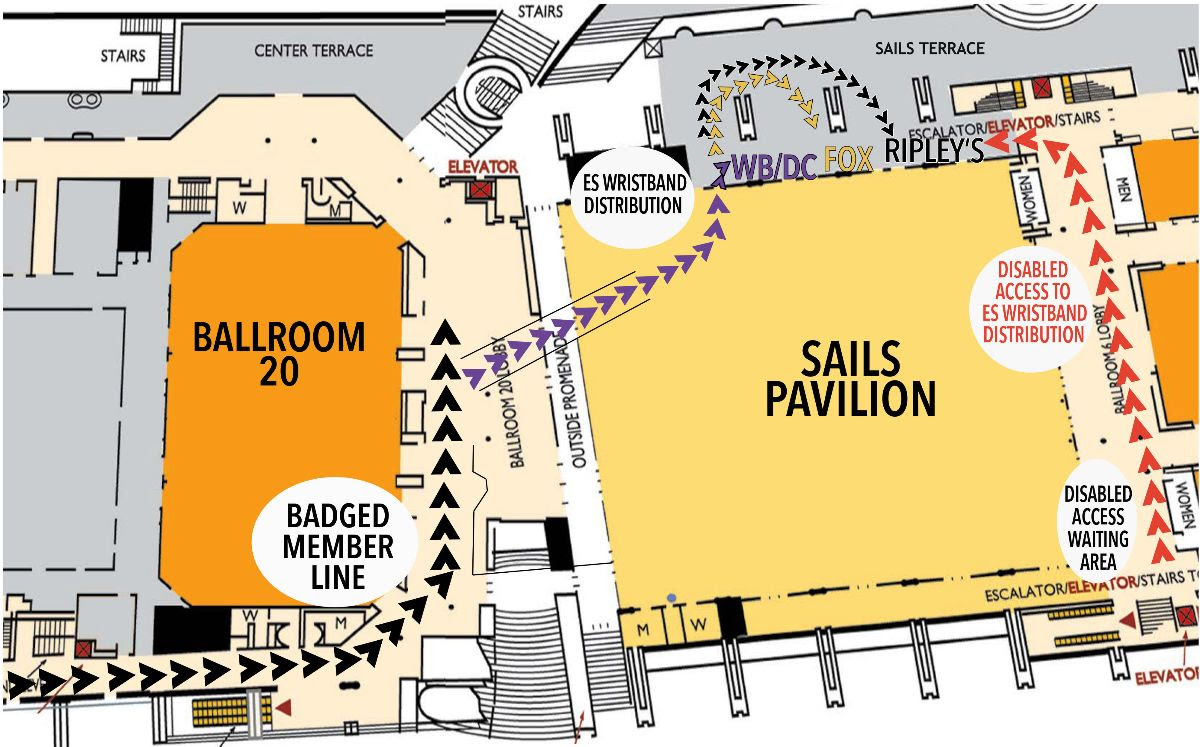 You'll need to have your confirmation as well as a valid photo ID. You'll get into the appropriate line, and then receive a wristband. Wristbands are non-transferable.
For some of the signings, you won't find out what time the signing actually is until you arrive to Sails. But once you do find out and receive your wristband, you'll head to the booth/area where your signing is taking place closer to the time of the signing, and follow booth and security instructions.
That's it! Enjoy your experience!
I DIDN'T Win An Autograph Signing 🙁
Unfortunately, for WB/FOX/any portal signings, you're pretty much out of luck now. However, there are a whole lot of other signings happening throughout the convention, which DON'T require a portal win — and you can find our compiled list here.