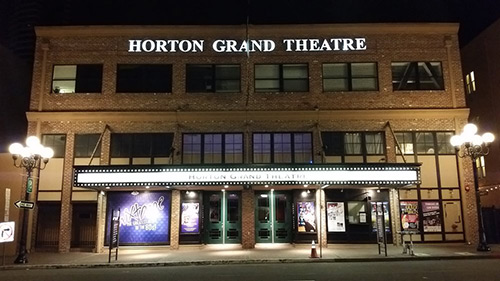 Just as in years past, Comic-Con International will be holding panels at the Horton Grand Theatre, a short walk from the convention center. Each of these panels is actually ticketed – meaning that on the morning of the panel you want to attend, you'll need to head upstairs to the Sails Pavilion for a drawing (in the past, they have stated these drawings start at 9AM, but could start much earlier than that) in the Autograph Area.
Each winner will receive entry for two – and any leftovers tickets will be available at the Horton Grand box office.
CCI also typically states that if you miss the initial drawing, you should check the ticket sign in the Autograph Area to see exactly how many standby tickets are still available at the Horton.
This year's line-up includes everything from the Impractical Jokers, the 10th anniversary of Parks and Recreation, Game of Thrones cast, Peppa Pig, Guillermo del Toro, and more.
Here's a look at the full schedule for The Horton Grand Theatre:
Thursday, July 18
12PM: Stories That Put Your Heart in Your Throat
1:30PM: Care and Nurturing of Someone Else's Universe
3PM: D&D: All Bards
4:30PM: The Art of Ghibli
6PM: SHAZAM! Documentary World Premiere
7:30PM: Impractical Jokers: From Hidden Camera to Worldwide Success
10PM: World Premire of The Banana Splits Movie
Friday, July 19
12PM: A Fan Celebration of Batman in Animation
1:30PM: Dark/Web: An Independent Sci-Fi Anthology Series
3PM: The Diversity of Star Wars
4:30PM: The 10th Anniversary of Parks and Recreation
6PM: Q&A with Nathan Fillion and Alexi Hawley
7:30PM: Game of Thrones: A Reflection and the Future
Saturday, July 20
11:30AM: Sesame Street Puppets Live!
1PM: Party with Peppa Pig and PJ Masks
2:30PM: Much Ado About Mean Girls
4PM: Scary Stories to Tell in the Dark: A Master Class with Guillermo del Toro, "The Making of a Monster"
5:30PM: From Lt. Jim Dangle to Ronan Boyle: A Discussion with Thomas Lennon
7PM: Studio Ghibli Kiki's Delivery Service Screening
You can read more about the process on Comic-Con International's website.