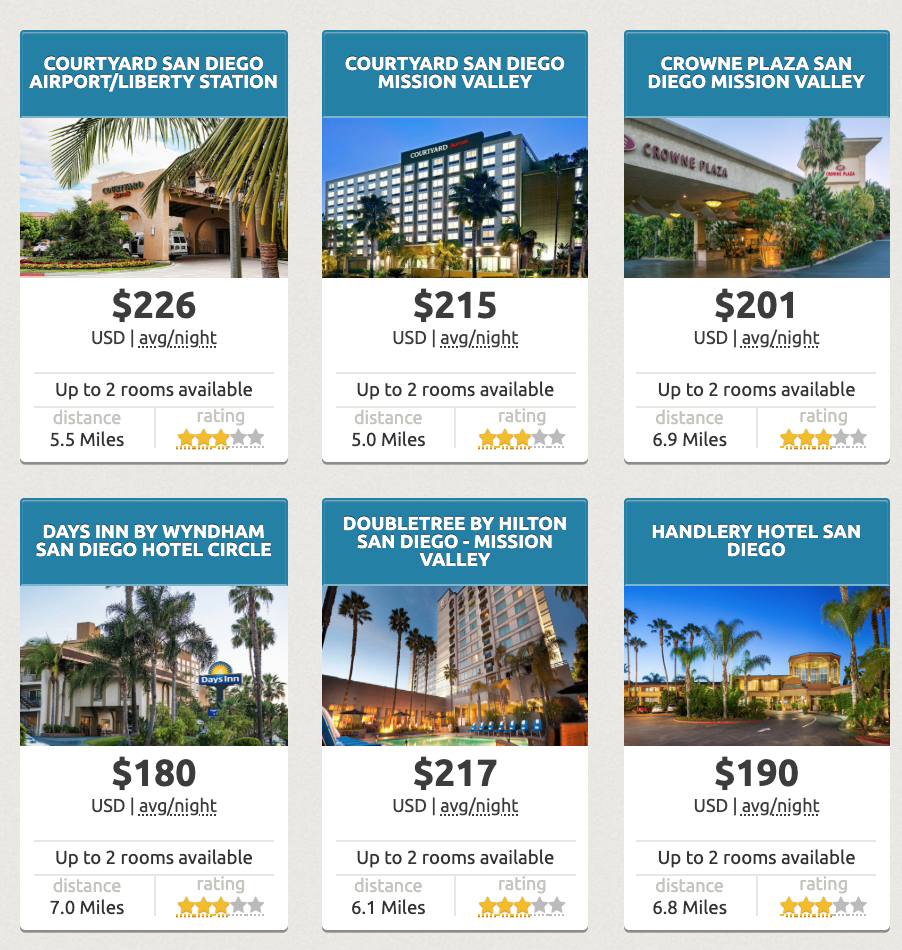 When are Early Bird Hotel Sales happening? The answer is right now.
The Early Bird Hotel Sale is back for 2020, with reservations now open through onPeak.
Just like in previous years, the Early Bird sale is not for downtown hotels, but rather for hotels in further-out areas, like Mission Valley or the airport. These hotels are typically a little cheaper (rates run from $190-$246 per night for a single occupancy room) than the downtown offerings available in the General Hotel Sale, but attendees have to use transportation in order to get downtown to the convention center. Also, remember: these hotels are non-refundable.
In recent years, this has become easier than ever, in part thanks to an improved Shuttle Service offered by CCI — though the shuttle service is continuing last year's trend of no longer running 24/7. Here are the reduced shuttle hours:
Wednesday, July 22 3PM-12AM
Thursday, July 23 5AM-1AM
Friday, July 24 5AM-1AM
Saturday, July 25 5AM-1AM
Sunday, July 26 5AM-7PM
Several of these hotels offer free parking though – so you may not have to pay for parking your entire Comic-Con week.
The Early Bird hotels sell out much slower than the regular hotel sale (which we dub Hotelpocalypse), but each room requires full prepayment at the time of booking, and there will be no refunds or exchanges on rooms – so for those even hoping for a downtown hotel room, this might not be the hotel sale for you. There's also a four-night minimum stay on each room, which for some hotels must include both Friday, July 24, and Saturday, July 25.
Name changes and adding nights to your stay will be accepted through onPeak up to April 20, 2020. In years past, that used to be a sign of the General Hotel Sale date – but last year, Early Bird rates were announced as also being available through April 25, with the General Hotel Sale taking place on April 11.
Hotel rates on their own are exorbitant, which is why one of the biggest sticking points for Comic-Con International to stay in San Diego continues to be the hotel block. These are locked-in, negotiated rates that CCI has secured for attendees, so that you aren't paying $1,000 per night. That's why we highly recommend booking within their system for the best rate, even if the General Sale is always a bit of a mess.
Want to know more about the difference between the Early Bird Hotel Sale and the General Hotel Sale? Check out our simplified comparison. For more information on the sale visit the CCI Early Bird page.
Will you be purchasing a hotel in the Early Bird sale? Let us know in the comments.