If you are chomping at the bit for news of WonderCon Anaheim 2020 panel news, we have a tiny tidbit of information — straight from Comic-Con International. CCI released a new video promoting WonderCon, and it included several TV studios/networks which will be hosting panels at the convention.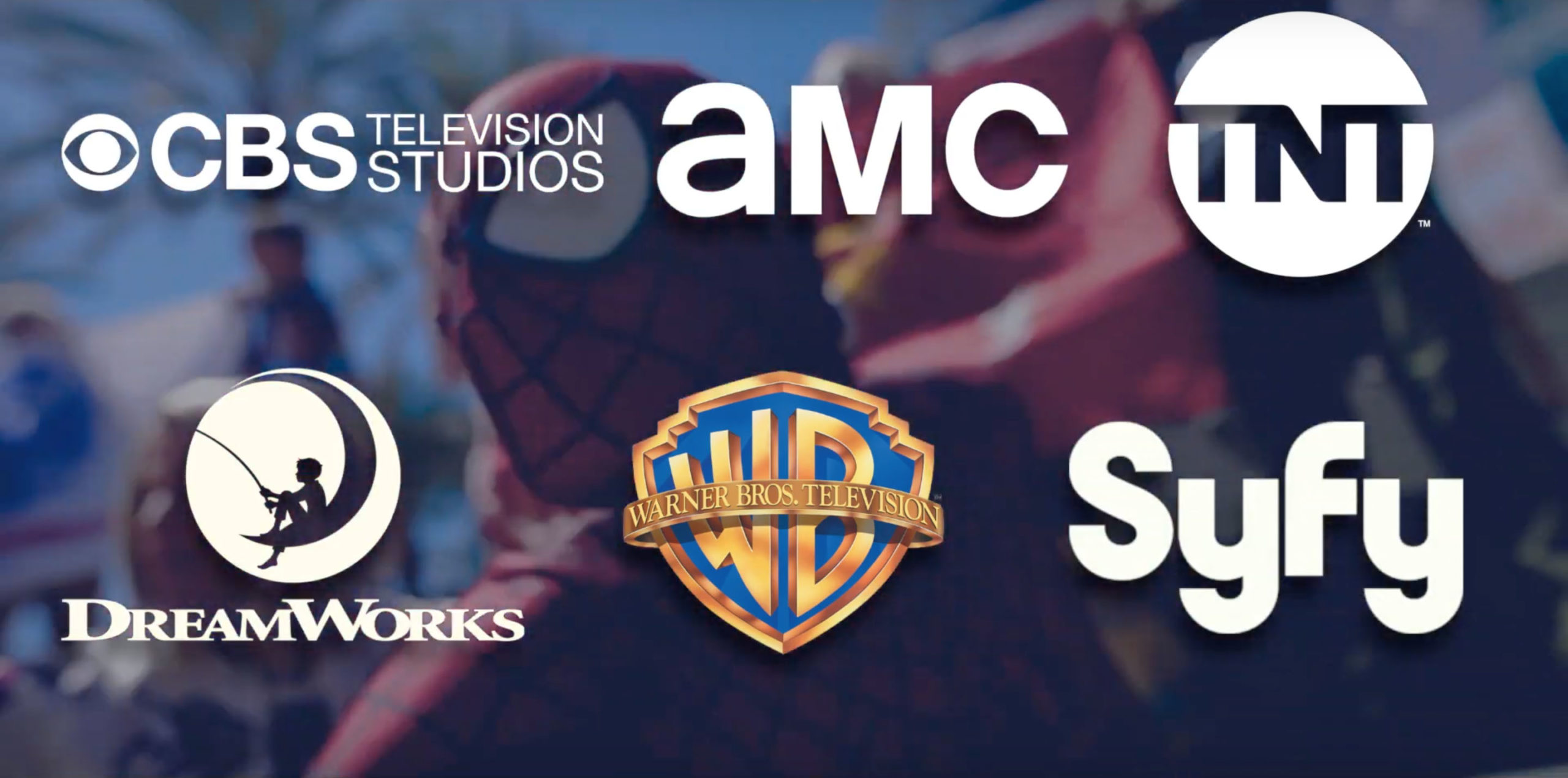 The line-up, as you can see from the photo above, includes CBS Television Studios, AMC, TNT, DreamWorks, Warner Bros. Television, and Syfy — among possibly more. While WonderCon programming is a lot more difficult to guess than San Diego Comic-Con, since networks bring considerably less of their overall programming, we're going to make our best guesses for what these six studios/networks might have in store for attendees over Easter weekend.
CBS Television Studios
CBS has taken a very different approach to WonderCon versus San Diego Comic-Con for the last two years, with a 2019 panel focusing on the new The Twilight Zone and a 2018 panel on the "Making of" Star Trek: Discovery featuring only executives, composers, writers, and SFX in attendance. That means probably don't expect a ton of star-studded panels from the studio in 2020 either, though they have a few options for series.
Although Star Trek: Picard will have finished its run shortly before the con, if they use the opportunity as more of a behind-the-scenes look as they did with Discovery, the timing shouldn't really matter. Or perhaps it's time for Star Trek: Discovery to return to the convention, this time with more of a sneak peek. The third season doesn't yet have a release date, but they wrapped filming this week, so they'd have plenty to show off.
The studio also has Nancy Drew, which has been a modest enough hit for the network to order a second season, and won't have finished its run prior to the con. The second season of The Twilight Zone doesn't yet have a release date either, but casting and episode titles have been announced, and it's set to release sometime in 2020 — so CBS could promote the series if they wanted. There's also CBS All Access newcomer The Stand, based on the Stephen King novel and starring James Marsden, Amber Heard, Greg Kinnear, Whoopi Goldberg, Daniel Sunjata, and more, which started filming in the fall, meaning they'd have footage. Depending on the release date though, that feels more like a SDCC tease to us.
AMC
If there is exactly one series in this list you can probably expect to be a lock, it's The Walking Dead: World Beyond. The spin-off series to The Walking Dead actually premieres on Sunday, April 12 — the last day of WonderCon — making some sort of premiere or marketing push at the convention a total no-brainer. The series stars Annet Mahendru, Nico Tortorella, Julia Ormond, and Alexa Mansour — and we wouldn't be surprised by an early screening and most, if not all, of the cast to be in attendance for this one.
They've also got the upcoming Dispatches from Elsewhere, which does boast some bigger names with Jason Segel, Andre Benjamin, Richard E. Grant, and Sally Field starring in the upcoming series about a group of people who stumble onto a puzzle hiding just beyond the veil of everyday life, and their eyes are opened to a world of possibility and magic. It both looks and sounds more whimsical than genre, and it will be mostly finished with its run before the con starts — meaning we think it's definitely not as likely, but not impossible, especially considering AMC tends to bring several series.
While Fear The Walking Dead made an appearance last year, the upcoming season doesn't yet have a release date, and we think AMC will want to push most of their The Walking Dead marketing efforts to World Beyond. NOS4A2 also seems unlikely to return, given that it was renewed for a second season, but we haven't heard much since. And the fate of The Terror is still up in the air, so it definitely won't be back in April.
https://www.youtube.com/watch?v=wvWqAedhzT8
TNT
If it feels like we've been talking about the TV adaption of Snowpiercer for years now, it's because we have. But the series, whose pilot was filmed all the way back in 2017 and has undergone a network change or two since then, is finally premiering in May of 2020. After all, Snowpiercer already got a panel at San Diego Comic-Con, and that was months ago — meaning it makes sense to do more promotion closer to the actual run date (plus, some guy named Bong Joon-ho just won a bunch of awards and directed the film on which the TV series is based, perhaps you've heard of him?). At Comic-Con, the panel included series stars Daveed Diggs and Jennifer Connelly, and if they can get both of them back for WonderCon, it will be a nice treat for fans.
Otherwise, the network also has Tell Me Your Secrets, starring Lily Rabe, Amy Brenneman, and Hamish Linklater, and Enrique Murciano, in an upcoming thriller series about characters with troubling and mysterious pasts. It's more of a stretch, and doesn't have a release date yet, but it's the only other thing from TNT that makes much sense to us.
DreamWorks
DreamWorks always has some fun animated series for fans at WonderCon, and we think Wizards: Tales of Arcadia has a shot this year. The final installment (the first two being Trollhunters and 3Below) in the series is set for sometime this summer, meaning April might be just the time to tease more of the Guillermo del Toro produced fantasy series. After all, Trollhunters held a panel back in 2017.
There's also the possibility of a return of She-Ra and the Princesses of Power, though there's been no word on timing for the release of the fifth season. 
Warner Bros. Television
Hear us out on this one. If The Big Bang Theory can get a final sendoff at WonderCon in 2019, then surely Supernatural deserves the same opportunity. The series will wrap up its fifteenth(!) and final season in May, meaning there's enough left to tease for fans, and WonderCon is also probably the last major convention the series could attend and get one final farewell. Stranger things (see The Big Bang Theory panel last year) have certainly happened.
Otherwise, they've got Roswell, New Mexico (a joint production with CBS TV) which starts its second season on March 16, meaning a WonderCon panel could make sense for the midseason series.
If the network wants to promote some of its newer series, they've also got Batwoman, Riverdale spinoff Katy Keene, The 100, or technically even Lucifer (though we feel like CCI would have promoted Netflix in their commercial if that were the case). WBTV has so many series that we wouldn't really be surprised by them bringing along anything.
Syfy
Over the years, Syfy has brought many of its new series to WonderCon — including The Magicians, Krypton, Deadly Class, and more. Of their upcoming slate, we think the two most likely contenders are either Vagrant Queen, Resident Alien, or possibly both. Vagrant Queen might have the edge, considering it starts shortly before the con (March 27), and is based on the Vault Comics' story of a child queen on a galactic run from revolutionary forces who want her dead. Resident Alien, meanwhile, doesn't have a release date yet — but that didn't stop Syfy from showcasing the upcoming Alan Tudyk series at New York Comic Con in the fall. In that series, based on the Dark Horse comic, Tudyk stars as an alien who crashes on Earth and assumes the identity of a deceased doctor in a small Colorado town. Either would make complete sense for the con, and might even get the big banner placement outside the convention center.
They could also throw in a wild card and bring Wynonna Earp, which began filming in January, and it tagged along to San Diego Comic-Con last July, so the same could happen in Anaheim. Van Helsing finished airing its new season back in December, and The Magicians should wrap up its fifth season just days before the con — meaning both are pretty unlikely.