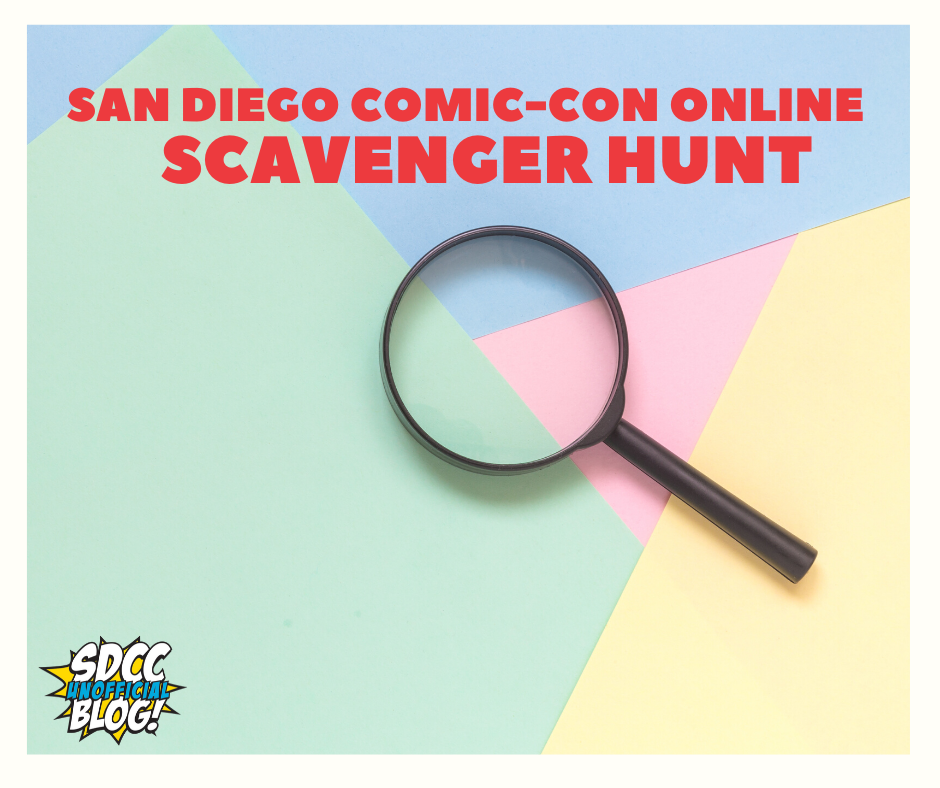 Prize Mule may not be heading to the San Diego Convention Center right about now… but we've got fun, games, and prizes for you anyway! We're kicking today off with an Online Scavenger Hunt, with lots of fun prizes!
To enter, simply head here and fill out the answers to all of the questions below! We'll be giving away prizes all day, including:
Prizes from PopMinded by Hallmark – including this year's SDCC 2021 exclusive Star Wars™ Boba Fett Hallmark Keepsake Ornament, Star Trek™ Klingon Bird of Prey Hallmark Keepsake Ornament, Ghostbusters™ Ecto-1 and RTV Hallmark Keepsake Ornament, Marvel Comics Spider-Ham itty bittys®, and Super Mario™ Gold Mario Hallmark Ornament
"Back to the Office" set from Fat Rabbit Farm, which includes an exclusive t-shirt, two stickers, a mouse pad, and a coffee mug
Prizes from Priscilla Wilson, aka Valor and Vellum – including bags and pins
SDCC Blog prize packs
Unfortunately, we cannot ship internationally. Non-USA folks are still welcome to play along but cannot win.
1. Shirin Rafie's commissions feature an example of a Harley Quinn commission. What 3 weapons are in this image
Website: https://drawmonsterdraw.bigcartel.com
Answer: Grenade, bat, brass knuckles/knuckle duster
Exact link
2. In Sam Grinberg's store you'll find a zine called "On A Hot Summer Night…" What characters are the two people holding on the cover to cool down?
Website: https://www.samgrinberg.com
Answer: Bart Simpson, SpongeBob SquarePants
Exact link
3. How many volumes of Mary Bellamy's Faux Facts graphic novel are available (including 2020)?
Website: http://www.marybellamy.com
Answer: 10
Exact link
4. Those piercing blue eyes, that iconic lock of hair… What is the official title of Nick Kremenek's 6″x6″ print of the Superman?
Website: https://www.etsy.com/shop/dreamforger
Answer: Kal-El, The Last Son of Krypton
Exact link
5. Icon Heroes offers enamel pins of Sabrina Spellmam and Archie Andews. Count the freckles on their faces and add them together.
Website: https://www.iconheroes.com
Answer: 11
Exact link
6. Vroom vroom! What race car number is Hello Kitty driving in Monogram's Tokyo Speed Deluxe Gift Set?
Website: http://monogram-store.com
Answer: 01 (or 1)
Exact link
7. Monkey Minion offers a print with a robot gifting a flower to a certain woodland creature. Name that animal.
Website: https://www.monkeyminionpress.com
Answer: Squirrel
Exact link
8. The Beavis and Butthead inspired "Cornholio" FiGPiN has a very fitting FiGPiN number, what is it?
Website: https://figpin.com
Answer: 666
Exact link
9. On July 30, 2021, Desert Wind Comics has a signing with what legendary comic creator?
Website: https://desertwindcomics.com
Answer: Tom Defalco
Exact link
10. Which character is sitting inside R2-D2 in this TV & Film pin from Yesterdays?
Website: https://www.yesterdays.com
Answer: Oscar the Grouch
Exact link
11. What fruit is depicted in this patriotic pin from Elhoffer Design in their Heroes and Villains apparel collection?
Website: https://elhofferdesign.com
Answer: Peach
Exact link
12. What is featured "in this issue" on the comic book packaging that comes with Peter Porker: Spider-Ham?
Website: https://www.hallmark.com/popminded
Answer: Honey Baked Heist
Exact link
13. Which "grumpy" breed of dog does Brittnee Braun Design offers a holiday skirt of?
Website: https://www.etsy.com/shop/Skirtybirt
Answer: Pug
Exact link
14. UDON's "Hip" Shantae t-shirt comes in what two colors?
Website: https://store.udonentertainment.com
Answer: Gray and teal
Exact link
15. This hermit crab in Priscilla Wilson's shop carries a sweet treat on its back. What color is the crab?
Website: https://www.etsy.com/shop/valorandvellum
Answer: Blue (also acceptable: Green, Teal, or anything in the Blue/Green family)
Exact link
16. In the tiki-tiki-tiki-tiki-tiki-shop that is The Shag Store, you can buy a set of Tiki Cocktails Highball Glasses. What sign is displayed on the volcano of the "Zombie" design?
Website: https://shagstore.com
Answer: Danger!
Exact link
17. "Knock knock"
"Who's there?"
"Orange"
"Orange Who?"
"Orange you glad you found the Clockwork cat drinking milk?"
What is the name of this print?
Website: https://www.chetart.com
Answer: Clockwork Orange Tabby
Exact link
18. In Harmony Gong's "Orientober" sketchbook, what animal is depicted on page 3?
Website: https://harmonygong.com
Answer: Tiger
Exact link
19. Cryptozoic released a set of COSMIC Cryptkins Unleashed exclusives for SDCC. They all have creepy crimson eyes but only one Cosmic Cryptkins is captivating in a chic couture tuxedo. What is their name?
Website: https://cryptozoic.com
Answer: Cosmic Bob
Exact link
20. EVERYONE loves pizza — especially this fuzzy little bee in Camilla d'Errico's shop. How many pepperoni are on its slice?
Website: https://www.etsy.com/shop/thecamillastore
Answer: Four
Exact link
21. On Scott Shaw's 2014 art print in his shop, what does Homer Simpson's apron say?
Website: https://www.shaw-cartoons.com
Answer: Kick the Cook
Exact link
22. What popular San Diego food item is Smart Hulk holding in Tony Poulson's Limited Edition Hand Over the Hero print?
Website: https://handoverthehero.com
Answer: Tacos
Exact link
23. From the water, it rises! This small original art sketch in artist Sean Forney's shop features "Bessie" — what color is she?
Website: https://seanforneyart.square.site
Answer: Green
Exact link
24. Martin Hsu has one very lucky sculpture in his shop. What breed of animal is depicted on it?
Website: https://martinhsu.bigcartel.com
Answer: Beagle
Exact link
25. Which H.P. Lovecraft demon does Wannabe Press have trouble spelling?
Website: https://www.wannabepress.com
Answer: Cthulhu
Exact link
26. This Cozy Cat pin in KikiDoodle's shop is dressed up as what insect?
Website: https://kikidoodle.com
Answer: Bumblebee or bee
Exact link
27. Idioms can be drawn? Yep, you'll believe a pig can fly. Find the title of the print that features this super common saying in Aaron Lopresti's store.
Website: http://www.aaronlopresti.com
Answer: Look, Up in the Sky…
Exact link
28. It's always "half and half" with Danny Haas. What shape is on Wade Wilson's boxers in the non-Deadpool half of his print?
Website: https://www.artofdanny.com
Answer: Hearts
Exact link
29. The force is strong with this one. Chris Maze has a popular print set of The Mandalorian teaching Baby Yoda about life. What color is The Child's safety helmet?
Website: https://shopchrismaze.square.site
Answer: Black
Exact link
30. Even Punching Pandas have rights. What is the panda protesting for in this art print?
Website: https://punchingpandas.com
Answer: Keep Bamboo Free
Exact link
BONUS QUESTIONS
Website: https://punchingpandas.com