The day when we can say, "Yes, WonderCon badges are on sale!" grows nearer — but that day is not today. However, while you wait, we've got plenty of news for you including panels, exhibitors, and more. You'll get a chance to win badges to WonderCon, and first looks at new prints on your favorite superheroes and their pets, a man who is totally not hugging an Eagle, and some rivals ready to take each other on.
Here's a look at the news you might have missed:
Want to attend WonderCon? At this exact moment, this contest from the San Diego Reader is your only option (at least until, y'know, badges go on sale soon). But you could win a pair of 3-day badges to the convention, for free, simply by entering on their website by Monday, March 21 at 1PM.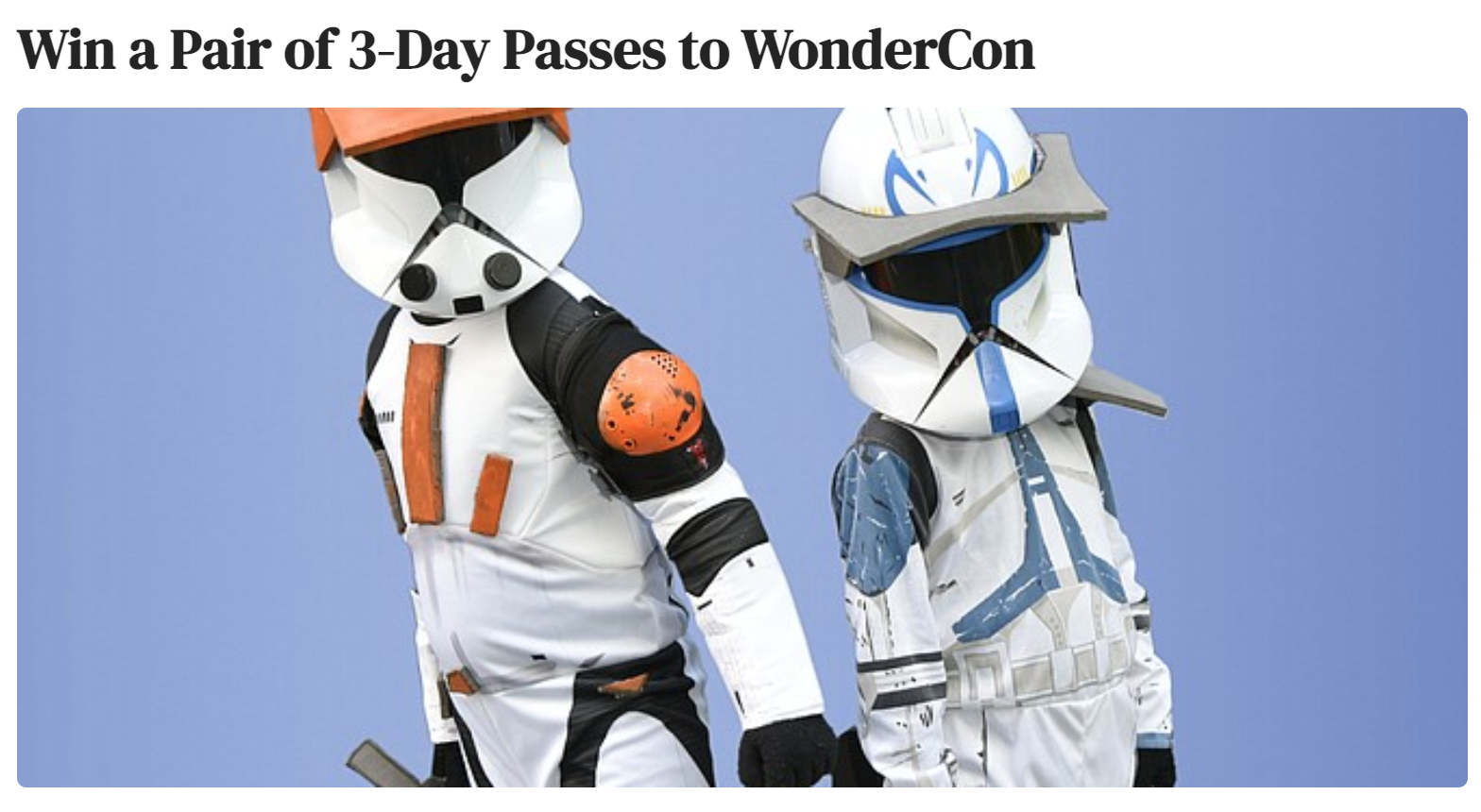 Do you really wanna, do you really wanna taste it? Break out your dance moves and get a taste of artist Patrick Ballesteros' Peacemaker print heading to WonderCon. We'll have the full look on our site closer to the con (but as someone who has seen the full thing, it is WORTH the wait).
Another preview of something new coming to Wondercon in April.

Trying to bring the 🔥!#peacemaker #johncena #eagly pic.twitter.com/SwBprsSb7h

— Patrick Ballesteros (@PatrickBallest) February 22, 2022
Even Dark Knights love their four-legged friends. Artist Jin Yung Kim, also known as JYK All Day, pays tribute to Batman Beyond's Bruce Wayne and his trusty dog Ace in a new sticker. It will be available in his online shop soon, but if you're at WonderCon, you can pick it up in person.
Old man Bruce and Ace! New sticker incoming and will be available soon'ish on the shop. Or come cop it at WonderCon in April! Yayuuuh, got the confirmation and I'll see you all there!
.#art #sticker #batmanbeyond #batman #brucewayne #digitalart #wonderc… https://t.co/1RNpvKlqLx pic.twitter.com/csvQHBw8ab

— JYK All Day (@JYK_AllDay) February 25, 2022
Get your game face on, because Ross Thompson, Head of Trade Marketing for Steamforged Games, revealed that he will have several tabletop panels at the con.
Excited to have a handful of tabletop panels approved for WonderCon 2022! Getting those all lined up. Always enjoy sharing about the tabletop industry at pop culture events.

— Ross Thompson (@AlmostKirk) February 22, 2022
Our friends at Monkey Minion Press are always dreaming up new artwork to take us to new galaxies, back in time to when dinosaurs roamed the earth, or even just to a world where birds are a bit more adorable. You can pick up some of their out-of-this-world-amazing art at several conventions in 2022, including WonderCon and San Diego Comic-Con.
View this post on Instagram
Filipino-American comics company Diwata Komiks' Co-Founder, Mark A.J. Nazal, will be featured on not one, but two panels at WonderCon this year. While there's no details on day/time, the panels will focus on diversity and celebrating BIPOC and LGBTQ+ voices.
Diwata Komiks Co-Founder Mark A.J. Nazal will be joining 2 exciting panels on Diversity and Celebrating BIPOC and LGBTQ+ voices at this year's @WonderCon! Stay tuned for more information soon.#WonderCon2022 pic.twitter.com/VeZjO6XMX2

— Diwata Komiks (@diwatakomiks) February 24, 2022
Is it even a WonderPost if we aren't showing you one of Jeff Pina's latest prints he'll be bringing to WonderCon? This time it's a the Punisher, ready for a fight (but when isn't he?) — and Daredevil ready to take him on. Then, Supergirl takes to the sky in another new print.
I made this for two reasons: 1, because a friend pointed out I had never done a Punisher! 2, to go with that Daredevil I made!#punisher #WonderCon #print #marvel #marvelcomics #mcu #netflix #disney #punish #chibi pic.twitter.com/mFz4auI4ty

— Jeff Pina Makes Comics (@JeffPina78) February 26, 2022
I've been wanting to do this Daredevil piece for AWHILE now! I love Daredevil! (More than Batman!)#dd #daredevil #mcu #netflix #hero #devil #disneyplus #disney #radar #WonderCon #print #anaheim #comiccon pic.twitter.com/g9610o0aVP

— Jeff Pina Makes Comics (@JeffPina78) February 26, 2022
I love Supergirl as a character, and I just love drawing her too!#supergirl #dc #cw #arrowverse #superman #krypton #dccomics #WonderCon #anaheim #print #art #digitalart pic.twitter.com/1Z2oTSHjNq

— Jeff Pina Makes Comics (@JeffPina78) February 26, 2022
Over in Artists Alley, you'll be able to find David Baron, creator/writer of Stained and Cobblestone Chronicles.
I have a secret to whisper into your ear… My hotel is booked for @WonderCon! Okay, it's not a secret, and I don't want to whisper. Nonetheless, I hope to see you there! pic.twitter.com/5CBlIQdK0j

— David Baron @WonderCon in Artist Alley (@MyZombies) February 23, 2022
ARG! Cartoon Animation shared that the animated short Taffy the Pink Hippopotamus will premiere at WonderCon on Saturday, April 2, as part of the Los Angeles International Children's Film Festival.
💕Tara Miller's "Taffy the Pink Hippopotamus" directed by @artieromero, will premiere at Wondercon in Anaheim on Sat., April 2!!
–Los Angeles International Children's Film Festival
🥳#animation #film #animated #fantasy #IMDb #Blender3D #Blender #CGI pic.twitter.com/SfL27q6dpj

— 📽️ ARG! Cartoon Animation studio (@cartoongifs) February 22, 2022
Did we miss anything? Let us know in the comments, drop us a line, or tweet us at @SD_Comic_Con.