WonderCon is very much a locals convention — which means a whole lot of you will be driving, carpooling, taxi-ing, etc. your way to the Anaheim Convention Center. Which leads to the age-old SoCal question: Where do I park?
Comic-Con International has updated this year's parking information, and it looks similar to previous years. Parking is available at the Anaheim Convention Center in Lots 1, 4, and 7 (see map below) on a first-come/first-serve basis for $16, with no in and out privileges (and no overnight parking). The lots will open at the following times:
Car Park 1: Opens 5:00 AM
Car Park 4: Opens 6:00 AM
Car Park 7: Opens 5:00 AM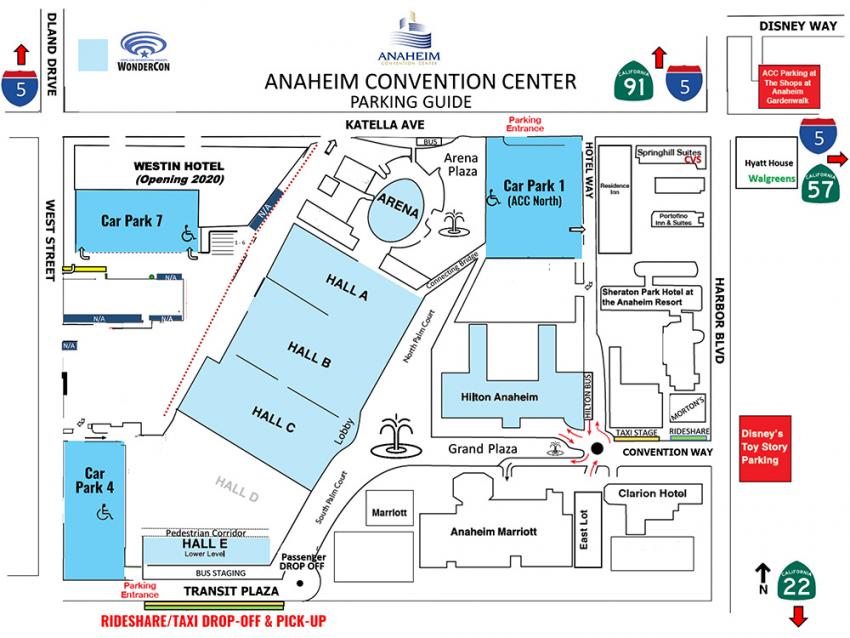 When those lots inevitably fill up (and they do fill up), you can park at the Angels Stadium for $14, then take the free shuttle bus from the Stadium to the Convention Center. This lot opens at 7AM, with the shuttle running from 7AM through 9:30PM on Friday, 1AM on Saturday, and 6:30PM on Sunday. There are other lots in the area as well.
If you're planning to taxi or use Uber or Lyft, you'll need to be picked up/dropped off at the Transit Plaza near Hall E (see bottom left of the map above).
You can find more information on Comic-Con International's site.