We all know that "SDCC" officially stands for "San Diego Comic-Con." Unofficially, it also stands for "Shatner Dominates Comic-Con."
That was apparent on Thursday, July 21, when fan-owned production company Legion M hosted a day of William Shatner events, including a Hall H panel moderated by Kevin Smith, a handprint ceremony, photo ops, and culminating with a rooftop party overlooking San Diego's Gaslamp Quarter.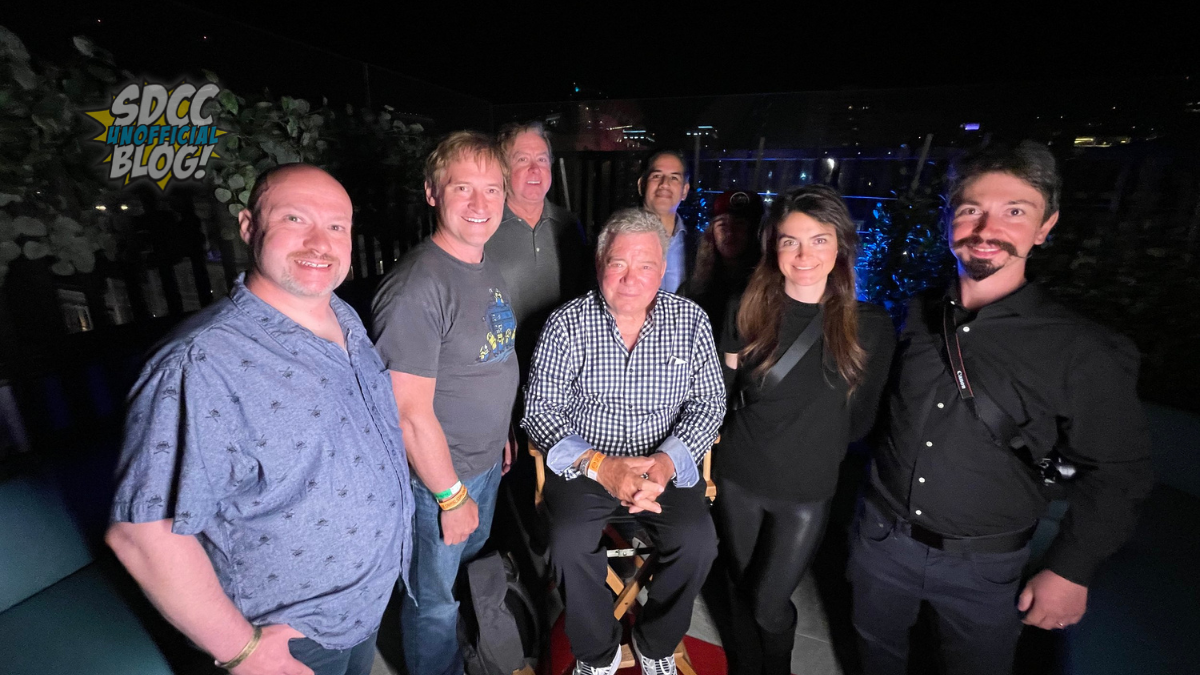 The Party
The party was a relatively small, intimate affair atop Theatre Box San Diego on the corner of 5th and G Streets in the heart of Downtown San Diego. There, fans and friends of Legion M were treated to finger foods/hors d'oeuvres and a well-stocked bar.
While party-goers met and mingled, Shatner conducted meet-and-greet sessions with smaller, private groups, where fans had a chance to chat with the original Captain James T. Kirk himself. Aside from a mildly awkward exchange with a shy 13-year-old who confessed he was only there because his mom made him, my group of about a half-dozen or so were able to have a lovely chat with the star and hear some of his insights.
The Performance
The meet-and-greets paused for Mr. Shatner to take the stage and give all of us some of his insights. He regaled his audience with stories of how scared he truly was to go into space, but he knew his fans would never let him live it down if he got out of the capsule.
The audience heard about how he met Ben Folds and brought his album Has Been to life. He also mused about how limited our time is before gracing us with a performance of one of his singles from his upcoming album, "I Want to Be a Tree." After about spending thirty minutes or so on stage, he went back to his meet-and-greets, and we went back to the party.
Some Miscommunication
Unfortunately, there were some setbacks, too. The first several VIPs to arrive were told by misinformed employees to "head on up" and check in on the roof. When we were told this was a mistake, we headed back downstairs to check in properly. Once that was completed, we were not allowed to return to the roof right away but were asked to wait in line to prevent overcrowding the elevator.
We were able to return to the roof in time for the meet-and-greets to start. The day prior to the party, we received an e-mail from Legion M letting us know what to expect. Included in the e-mail was the following:
"5) MEET & GREET: If you purchased a VIP Meet & Greet, your ticket includes a brief chat with the man himself (face mask must stay on), and the option of taking a selfie (with your own mobile device) if you'd like. Please Note: there will be no autograph signing during this time."
At the end of our meet-and-greet, we were informed that this was not accurate, and we were not allowed to take selfies. Further, we were informed that all meet-and-greet group shots had been taken while we were downstairs clearing up our check-in mix-ups. In other words, although we'd been promised some sort of photo op, we missed out.
Legion M CEOs Paul Scanlan and Jeff Annison did their utmost to make attendees happy. Fortunately, Mr. Shatner was willing to accommodate those of us who missed out on the photo op due to the check-in mix-up, and we were able to get a group shot. Considering he was at the tail end of a 14 hour-long day, I feel he was very generous to do so and appreciate his patience.
The Parting
SNAFUs aside, everyone enjoyed themselves. We were treated to a rare, intimate encounter with a Hollywood legend with an extensive career. My deepest thanks to Legion M for hosting this wonderful event and to William Shatner for being such a gracious performer. Chances like these come along once in a lifetime, and I'm grateful I got the chance to be a part of it.