To me, July 4th is the "Hump Day" of San Diego Comic-Con news season. Now that it's behind us, it's pretty much all downhill from here. We'll be receiving and passing along more and more news each day leading up to the main even on Preview Night, July 20. Today we have a delightful sketch from Camilla d'Errico, a Mondo tease from Attack Peter, mystery prints from Bob Draws Stuff, and so much more.
Let's take a look at the news you might have missed:
1First Comics will have comic creator Chris "Doc" Wyatt at their booth for a signing on Satuday, July 23 at 10am, where you'll also be able to get a copy of Wyatt's series Witchfinder General in a very special numbered artist's proof edition
 

 

View this post on Instagram

 
Fans of lino cut master Attack Peter have something to look forward to. According to his tweet, it appears that Mondo will have a new Toho print from Peter at San Diego Comic-Con. 
#SDCC 👀 pic.twitter.com/ne15qXW5fl

— ATTACK PETER (@AttackPeter) July 4, 2022
Martin Hsu spent his holiday customizing a couple of Tokidoki vinyl figures that he will be offering at San Diego Comic-Con. We look forward to seeing how Hsu puts his spin on Unicorno and Donutella.
How do we feel about @tokidoki ? Working on a couple of #SDCC exclusives today 🌸🌸 pic.twitter.com/ou13zHO9wo

— Martin Hsu 徐 👨🏻‍🎨 (@MartinHsu) July 4, 2022
We're always happy to see Alex Pardee! He'll be back in his usual spot at Comic-Con booth #5502 and #5503 with pal Dave Correia. Please don't mention his reptile body. Covid was hard on all of us.
ICYMI, after almost 3 years, I'm bringing my tiny arms and my bloody mouth back to San Diego Comic Con in 3 weeks! Come say hi! #SDCC @SD_Comic_Con pic.twitter.com/60eFrxyJuX

— Alex Pardee (@alexpardee) July 4, 2022
Robert McKeone of Bob Draws Stuff will be offering his "Sirens" artwork as 3 separate mini-prints which will only be available in "Mystery Print" sealed envelopes.  Pick one (or three!) up at his table in Artist Alley, DD-14.
 

 

View this post on Instagram

 
 

 

View this post on Instagram

 
Here's another crochet master that you'll want to turn on Twitter Notifications for in order to find their "critter drops." Gomigomigomiday has some very happy little avocados as well as a Grogu that they will be dropping during San Diego Comic-Con.
#critterdrop in the proximity of #sdcc2022 happening again @Comic_Con !
This year we will be hiding and dropping Baby Yodas and @CA_Avocados ! pic.twitter.com/5X9H28xNxf

— ユーザーネーム (@Gomigomigomiday) July 4, 2022
Camilla d'Errico will have original sketches, like this enchanting Wonder Woman, at her stocked booth at Comic-Con. You can see more of what d'Errico is brining in our dedicated post. 
Who's your fav superhero? 🕷👦Every year I create a small works gallery event at my booth where I debut NEW originals and paintings.
So watch out, because I'm going to bring it hard to booth #2743 for my first SDCC since 2019!! 😍#sdcc2022 #superhero #newart #camilladerrico pic.twitter.com/qy9AeiFJKN

— helmetgirl (@Helmetgirl) July 5, 2022
Recently announced on Popverse, the Three Worlds / Three Moons collective of Johnathan Hickman, Mike del Mundo and Mike Huddleston will be debuting the print version of the first comic from their universe, Foundations. Previously available digitally on Substack and in print only for their first 100 paid subscribers, you'll be able to get Foundations on July 24 at San Diego Comic-Con.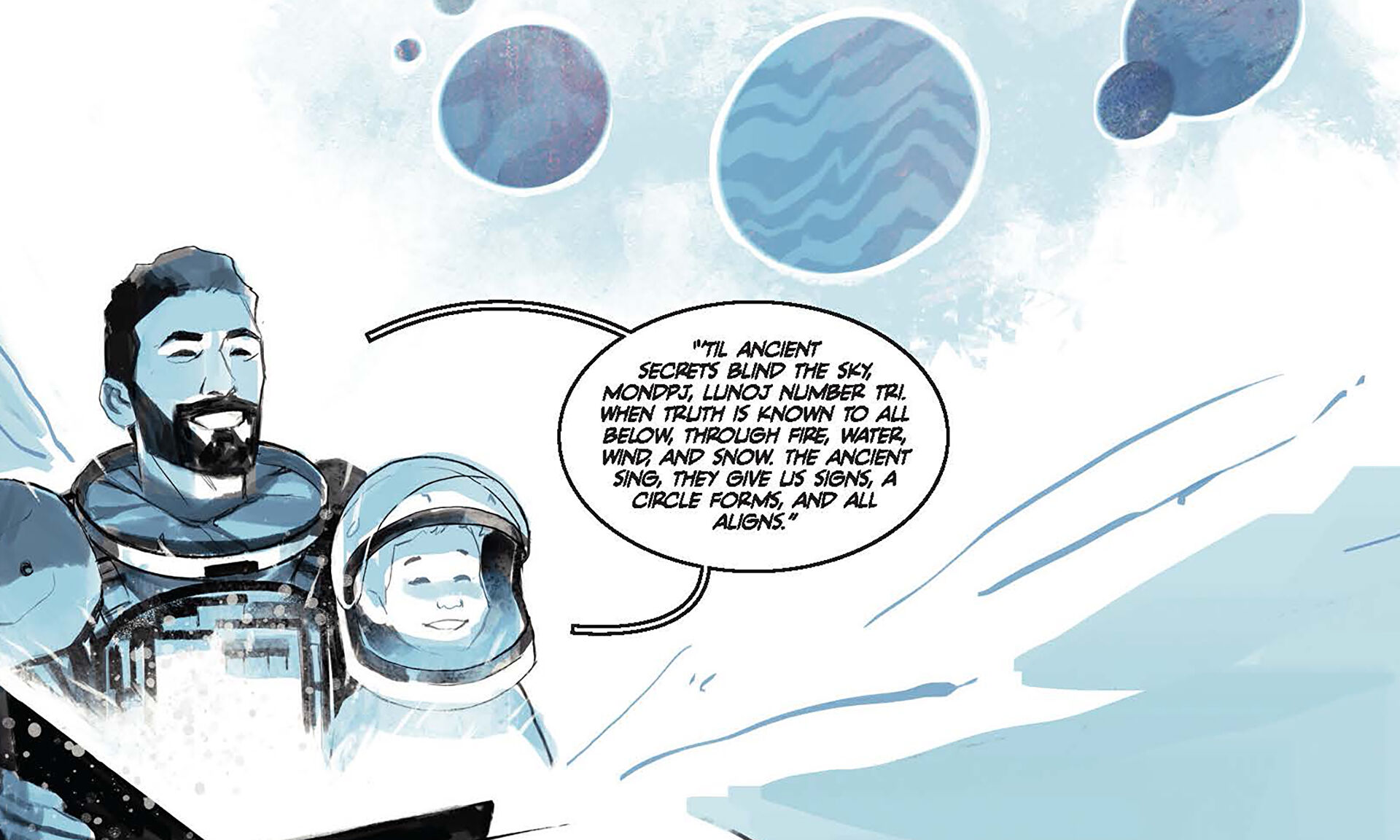 Fans of the 2022 Robert Egger film The Northman will have a chance to see the forthcoming Insight Editions companion book. Due out in September, stop by booth #2135 to check out The Northman: A Call to the Gods.
Anything we missed? Let us know in the comments, drop us a line, or tweet us at @SD_Comic_Con.
If you missed our previous Under the Tents 2022 posts, you can find them HERE.