We are coming down to the wire, folks; San Diego Comic-Con 2022 is in less than a week. Surely, you've started getting ready by now. This edition of Under the Tents has some epic SDCC news from heavy hitters like Phineas and Ferb co-creator Dan Povenmeyer, retailer Factory Entertainment, and so much beautiful art!
Here's a look at what you might have missed:
The Neopets team is heading to San Diego Comic-Con, where they'll be at Booth #929 with What's Your Passion Jewelry. You can swing by to snap a photo in front of the Neopets "Step and Repeat" banner (and if you take them on Instagram and use #NeopetsSDCC2022, you could win a set of Faerie Draik plushies); win giveaways like rainbow lanyards and matching paint brush pins as well as collectible stickers; and grab limited edition items. There will be four LE pins available for purchase, including two silver and two gold in Shoyru, Kacheek, Kougra, and JubJub designs. There will also be new jewelry designs and their plush lines on sale.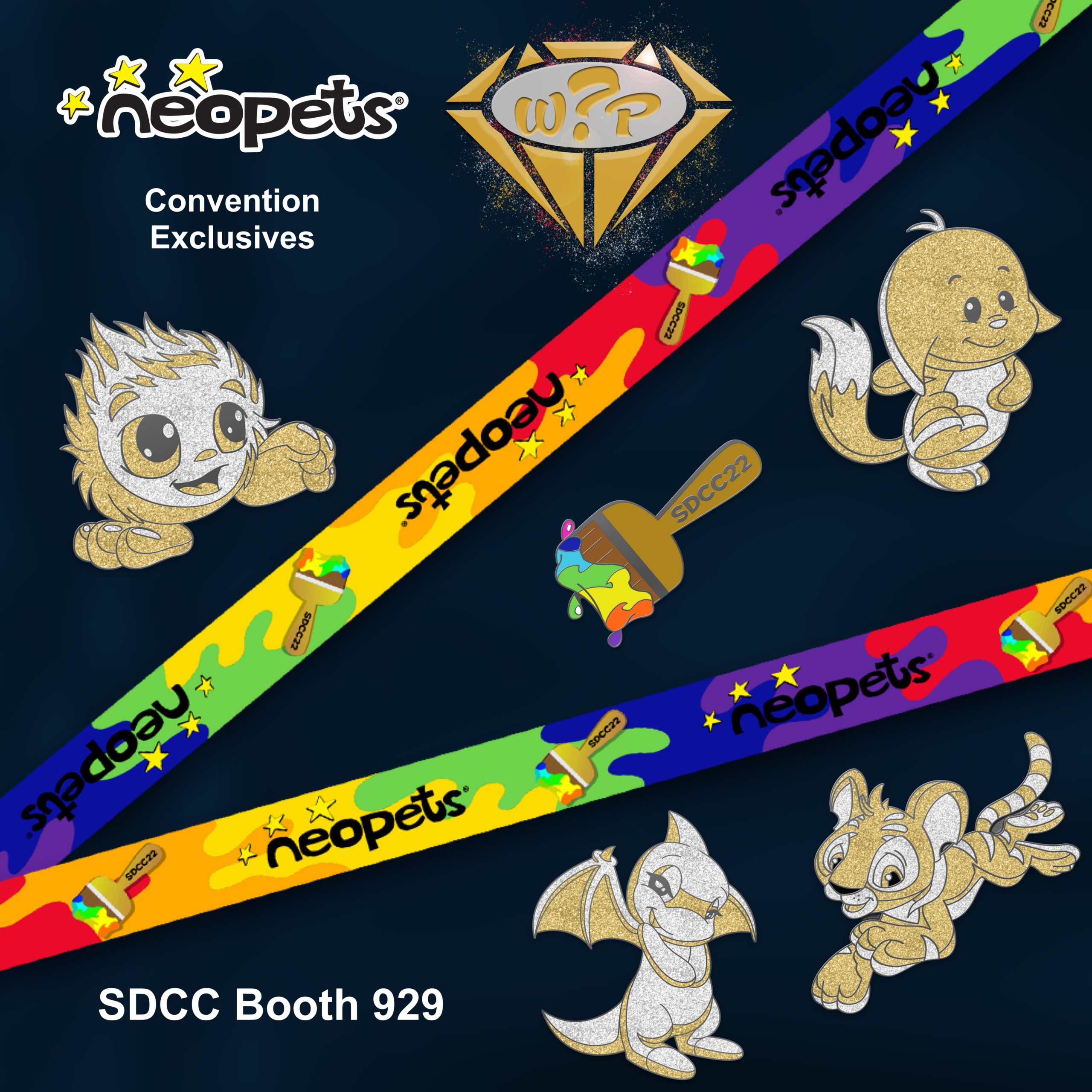 Do you love original art? Do you love sketch covers? "We've Got You Covered!" DCDcollects is bringing our stacked mystery run of original art on sketch covers to SDCC! Find them at our booth 1815! Check out some of the artists in the break! #SDCC2022 #SDCC @SD_Comic_Con #SDCC22 pic.twitter.com/9hD97yD1oY

— DCDcollects (@DCDCollects) July 14, 2022
Board game company CMON dropped a tease for something we'll find at Booth #329 when we swing by to demo some new games they're bringing. CMON, guys, tell us what it is!
Guess who's going to SDCC? Come see us at Booth 329 to demo Marvel United or Marvel United: X-Men, and get a free promo! Who do you think it could be? 🤔💭 pic.twitter.com/DArsMNrJCf

— CMON (@CMONGames) July 14, 2022
Wunderkindt artist Ethan Castillo heard his fans' desperate pleas to bring more Moon Knight sketches to SDCC Artists' Alley Table #AA-01, and he is more than happy to provide them. Cheers!
I heard the requests! Here's Moon Knight!!#ComicCon #SDCC #SDCC2022 #SanDiegoComicCon #MoonKnight #Marvel #OscarIsaac #SakuraofAmerica #PigmaMicron #GellyRoll pic.twitter.com/9fwvE8bPIw

— Ethan Castillo (@EthanCastillo05) July 14, 2022
Artist Pablo Leon will be bouncing around San Diego Comic-Con this year and promises not to be weird. Sir, if we can't be weird at SDCC, where can we be weird? Let that geek flag fly!
SDCC is next week, here's where I'll be, if you're around, come say hi! (pls mask up) Also if you're attending the Scholastic Party, I'll try to not be weird, but make zero promises. pic.twitter.com/ncEB8H4dlG

— Pablo Leon (@ArtsyPabster) July 14, 2022
Artist Brian Ewing collaborated with our friends over at Yesterdays for some "strange and unusual" enamel pins you'll find at Booth #4820.
 

 

View this post on Instagram

 
Nerd culture creators BB-CRE.8 will be hanging out at Punch It Chewie Press's Booth #1134 with a new SDCC exclusive Stormtrooper hexagon enamel pin set.
Another #SDCC22 exclusive announcement! Introducing the Evolution of the Stormtrooper Hexagon Collection in collaboration with our friends from @PunchitChewie77! #SDCC #comiccon2022 Only available at BOOTH 1134! @isabellaamidala @SD_Comic_Con pic.twitter.com/KFa2fA3zR7

— BB-CRE.8 (@bb_cre8) July 14, 2022
Retailer Factory Entertainment will have some amazing prop replicas on display at Booth #2743 at SDCC this year, including this Back to the Future Flux Capacitor. Plutonium and DeLorean sold separately (not really. It's just a prop, kids).
#SDCC is next week and we're going to have a TON of NEW prop replicas on display! Here's a tease of our #BTTF Flux Capacitor! Be sure to stop by our booth (2743) during the show to see them all!#backtothefuture #FluxCapacitor #PropReplica #SanDiegoComicCon pic.twitter.com/eJWkAiK2Zy

— FactoryEntertainment (@FactoryEnt) July 14, 2022
Phineas and Ferb co-creator Dan Povenmire is excited to be on a panel at SDCC for his latest series, Hamster and Gretel, and he's bringing some friends and family with him. Be sure to check our Panels post for all the details.
We're doing a panel! With @_michaelcimino_ @carolinaravassa @brocktocks @AlysonStoner @lizakoshy pic.twitter.com/ATGgqmHGtX

— Dan Povenmire (@DanPovenmire) July 14, 2022
Buttons, buttons, who's got the buttons?? The answer is @buttonsofsdcc on Instagram, who will be giving away nearly 200 buttons at the con. Follow along on Instagram!
Pro-wrestling fans will be thrilled to note that Matt Cardona, pro wrestler and host of Major Wrestling Figures podcast, is bringing friends Brian Myers, "Smart" Mark Sterling, and Michael Kanik for an SDCC panel at the San Diego Central Library.
We have a f'n panel at @Comic_Con!@majorwfpod is taking over #SDCC! pic.twitter.com/mNwFqIzRxU

— Matt Cardona (@TheMattCardona) July 14, 2022
If that's not enough pro wrestling for you, AEW Champion Chris Jericho will be debut his NFT-based comic at SDCC this year as well, according to Bleeding Cool.
Chris Jericho is the latest personality to jump on the NFT bandwagon with a graphic novel made entirely of NFTs, to debut at San Diego Comic-Con. #sdcc #cryptobronies #aew #wrestling #crypto #nfts #comics https://t.co/iXWNtwsuJJ

— Bleeding Cool (@bleedingcool) July 14, 2022
Thank you for being a friend, Patrick Ballesteros, and restocking these adorable pins and stickers. We never stopped believing in you. You won't need the Force to find them at Artists' Alley Table #DD-08 at SDCC this year.
Woohoo….I got the shipment just in time so "Believe" pins will be back in stock at SDCC!

Also, back are these Golden Gals, and a couple of newbie stickers that will surely get your feet moving!#SDCC2022 #SDCC pic.twitter.com/h3FcWP7eyo

— Patrick Ballesteros WONDERCON A-07 (@PatrickBallest) July 14, 2022
Online retailer ZeroStar is taking pre-orders for their SDCC exclusive Batman VS Joker Sculpt Master variant. Only 300 pieces are available for $349.99 each, and they won't be on the Exhibit Hall floor.
SDCC 2022 | Early Pre-Sale!
Limited to 300 units our Batman VS Joker Sculpt Master Variant will be available for pre-order online, with limited quantities.

Pre-Order link – https://t.co/LIdsNOSW8i pic.twitter.com/kWbP0VqfoK

— ZeroStar Online Retail (@__ZEROSTAR__) July 14, 2022
Retailer eVend.com will be on the SDCC Exhibit Hall floor at Booth #435 and are bringing their latest collaboration with Alliance Entertainment with them. Only 2,000 of the Black and White Dragon Ball Super Vegeta #863 will be available for $25 each.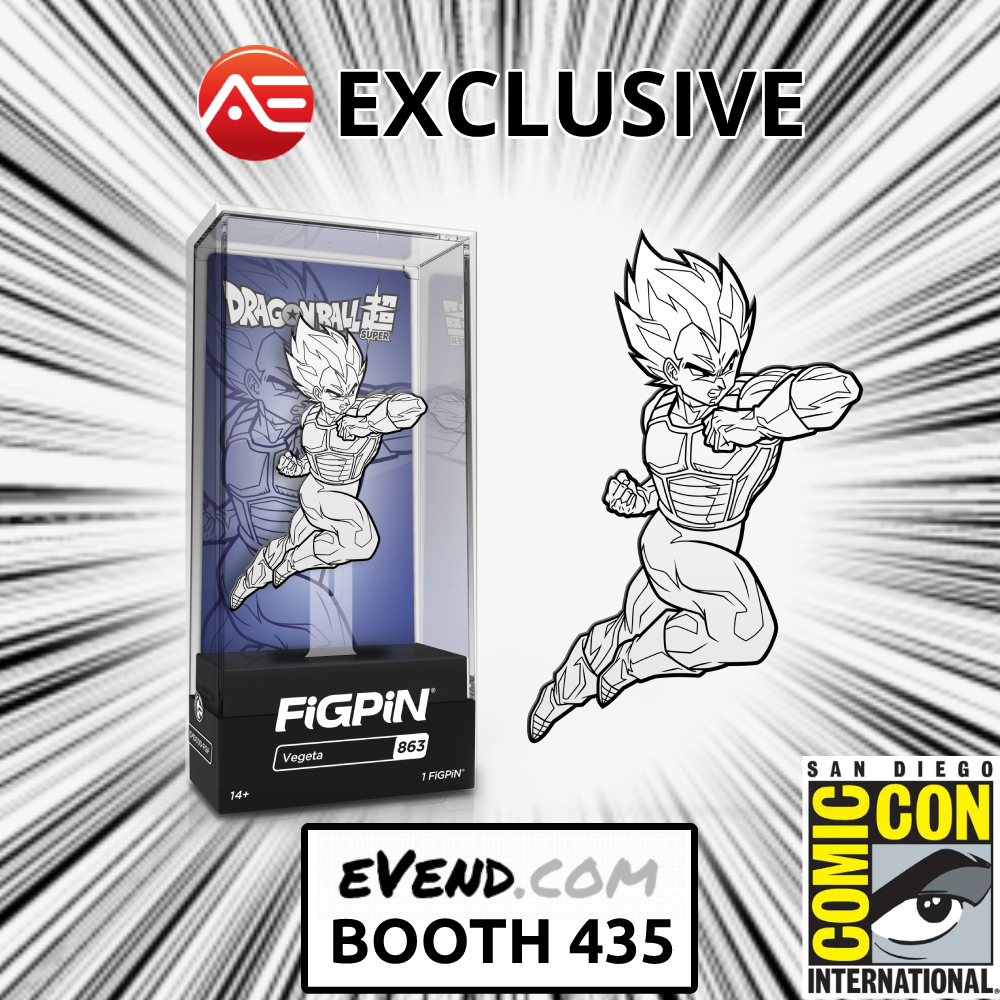 You can pick up a Silent Hill 3 SDCC exclusive t-shirt from Gecco at Booth #4932 for $45, available in sizs S-XL.
Anything we missed? Let us know in the comments, drop us a line, or tweet us at @SD_Comic_Con.
If you missed our previous Under the Tents 2022 posts, you can find them HERE.