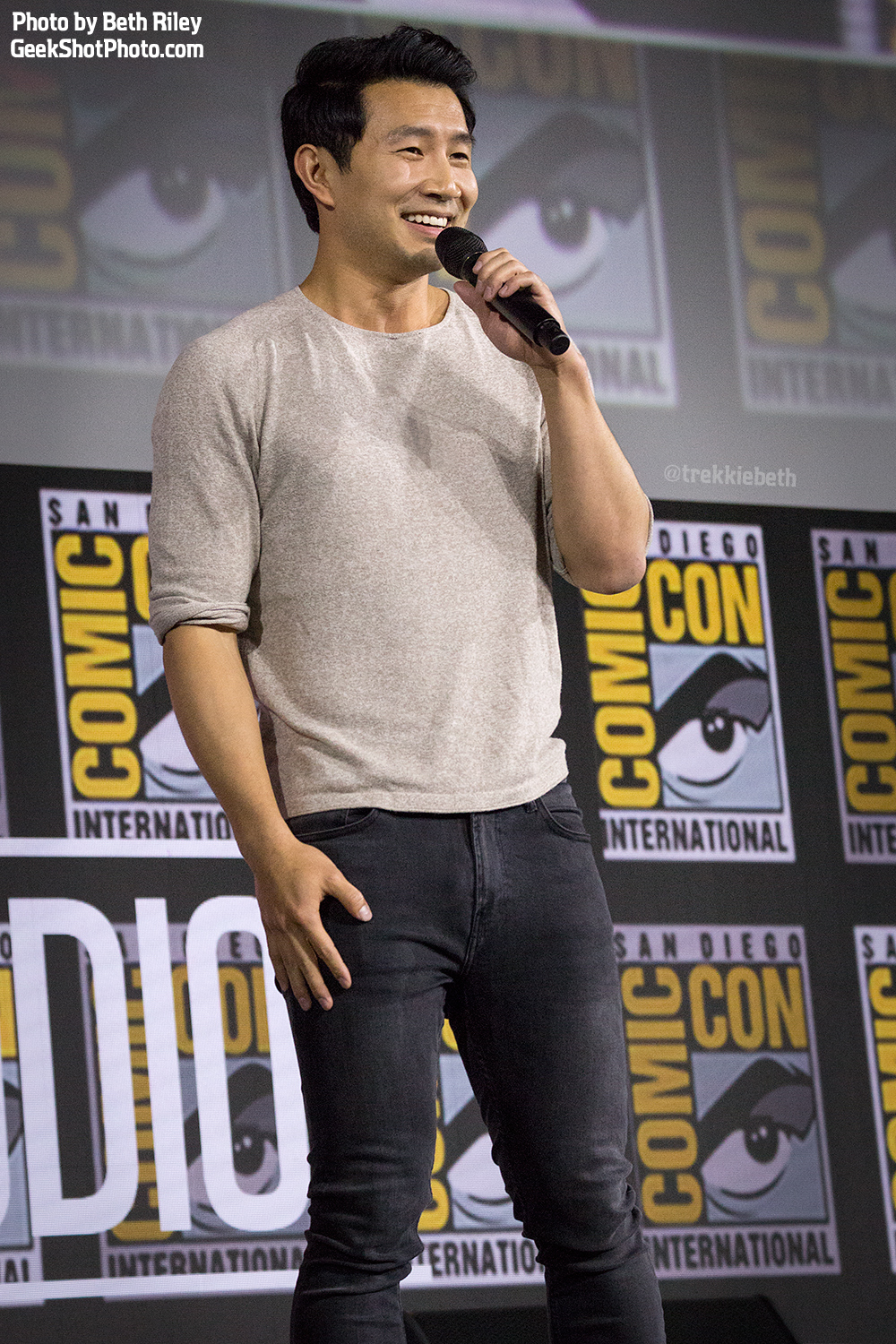 The official San Diego Comic-Con schedule is normally released exactly two weeks before the convention (which would put this year's release dates on July 7-10), but many properties reveal long before then that they'll be attending the convention. This is where you can find all of our compiled announcements in one handy master post.
We'll be updating this post all the way until the schedules are officially announced — and it's important to note that the schedule is never finalized until Comic-Con International or the various studios/entities reveal it. All schedules are subject to change.
1. Wednesday – Preview Night
2. Thursday – Movies, Television, Comics or Other Panels
3. Friday – Movies, Television, Comics, or Other Panels
4. Saturday – Movies, Television, Comics, or Other Panels
5. Sunday – Movies, Television, Comics, or Other Panels
6. No Date Announced Yet – Movies, Television, Comics, or Other Panels
Wednesday, Preview Night (July 20)
Thursday (July 21)

Dungeons & Dragons: Honor Among Thieves (12pm, Hall H). The film's "cast and filmmakers" will be on hand to give an exclusive sneak peek at the film, and attendees at the panel will also receive an exclusive, collectible poster.
Shatner on Shatner (4:30pm-5:30pm, Hall H). Join acclaimed actor, writer, spoken word artist and astronaut(!) William Shatner and moderator Kevin Smith as they discuss Bill's illustrious and amazing career, upcoming projects, and his new deep-dive documentary from Legion M by acclaimed pop culture documentarian Alexandre O. Philippe (The People vs George Lucas, 78/52: Hitchcock's Shower Scene, Memory: The Origins of Alien) that takes an up-close, intimate exploration of Shatner's personal journey over his nine decades on Earth.  Kevin and Bill will be joined by Philippe and producers from Legion M (Jay and Silent Bob Reboot, Mandy) and Exhibit A Pictures (The People vs George Lucas, 78/52: Hitchcock's Shower Scene) and will end the panel with what promises to be unforgettable Q&A with the audience.
Abbott Elementary – Class in Session (1:30pm-2:30pm, Indigo Ballroom). Star and executive producer Quinta Brunson, and stars Tyler James Williams, Janelle James, Chris Perfetti, Lisa Ann Walter, William Stanford Davis and Sheryl Lee Ralph join executive producers Justin Halpern and Patrick Schumacker for a LIVE virtual panel to discuss the freshman series breakout hit ahead of its season two return on ABC this fall. The Q&A session will be moderated by Marcus Jones (awards editor, TV & Film at IndieWire)
Koala Man (6pm-7pm, Room 6BCF). G'day mates! A brand-new animated comedy from the creators of "Rick and Morty" and "Pokémon Detective Pikachu" coming to Hulu, "Koala Man" makes its triumphant debut at San Diego Comic Con with creator, EP, and the Koala himself Michael Cusack, and EPs Justin Roiland, Dan Hernandez, and Benji Samit. Learn everything about what the suburban Aussie superhero is all about as the team unveils exclusive footage, breaking news, and more!
Marvel's Moon Girl and Devil Dinosaur (2:15pm-3:15pm, Room 6BCF). Join the cast and creative team of Disney Channel's highly anticipated animated series "Marvel's Moon Girl and Devil Dinosaur," based on Marvel's hit comic books, for a conversation about this innovative action-comedy series centered on African American teen girl Super Hero, Lunella Lafayette. Panelists include Diamond White ("The Bold and the Beautiful"), Libe Barer ("Sneaky Pete"), Fred Tatasciore ("Marvel's Hit-Monkey"), executive producer Steve Loter ("Kim Possible"), supervising producer Rodney Clouden ("Futurama") and producer Pilar Flynn ("Elena of Avalor") and will be moderated by Janine Rubenstein, editor-at-large, PEOPLE Magazine and host of PEOPLE Every Day.
[NEW] Masters of the Universe: 40 Years (3pm, Hall H). Kevin Smith interviews VIPs from MOTU's history.
Nathan Fillion and Niecy Nash-Betts Present ABC's "The Rookie" and "The Rookie: Feds" (10:45am-11:45am, Ballroom 20). Nathan Fillion ("Castle," "Firefly") and Niecy Nash-Betts ("Claws," "Reno 9-1-1") join executive producers Alexi Hawley and Terence Paul Winter to discuss how worlds will collide when "The Rookie" franchise expands with "The Rookie: Feds," coming to ABC this fall. The lively Q&A session will be moderated by Damian Holbrook (senior writer, TV Guide Magazine).
National Treasure: Edge of History (2:15pm-3:15pm, Ballroom 20). The cast and executive producers will share an exclusive behind-the-scenes look at the upcoming Disney+ Original series, which is an expansion of the hit film franchise. Series regulars Lisette Olivera, Jake Austin Walker, Antonio Cipriano, Jordan Rodrigues, Zuri Reed, Lyndon Smith and executive producers Cormac and Marianne Wibberley gather to discuss this upcoming action-adventure series, moderated by influencer Jenny Lorenzo.
Solar Opposites (7:15pm-8:15pm, Room 6BCF). "Solar Opposites" makes its triumphant return to San Diego Comic-Con! Join our panel for an out-of-this-world conversation with co-creators and EPs Justin Roiland and Mike McMahan and EP Josh Bycel who will discuss the newly released season three on Hulu and what the aliens are up to later this year, including exciting exclusive clips. Accompanied by cast members Thomas Middleditch, Sean Giambrone and Mary Mack, this Q&A and discussion is sure to be an otherworldly time.
[NEW] The Wheel of Time: Origins (4:15pm, Room 6A).
Live Art & Discussion Panel (Room 2). Expected to Appear: Todd Nauck.
Rick & Morty Comics (1pm-2pm, Room 25ABC). Expected to Appear: Alex Firer, Annie Griggs, Troy Little.
Art From the Holocaust (1:30pm, Room 4).
Cosplay: The Movement Inside the Costume (3:30pm-4:30pm, Room 29CD). Expected to Appear: Don McLeod, Adam Meir, Sandy Scheller.
Crowdfunding for Independent Artists. Expected to Appear: Rebecca Hicks (Luna Sea Studios), Laser (The Doubleclicks), Ashlie Hammond (Monkey Minion Press).
Crunchyroll Industry Panel (Room 6A). All the latest and greatest anime coming out of Crunchyroll straight from the source from Crunchyroll's own Tim Lyu and Lauren Moore.
From Fan Art to Franchise: The Future of UGC. User-generated content (UGC) is driving a creative renaissance, making it easier than ever for new voices to find an audience and make a living doing their art. Tech platforms are helping with algorithms and business models designed to scale fan-created work into big hits. Are you America's next top creative talent? Join YouTube sensation Steven He ("Emotional Damage!"), WEBTOON VP of Content David Lee, reality show producer Ken Mok (America's Next Top Model) and digital comic creator Kaitlyn Narvaza (aka "instantmiso"), moderated by Rob Salkowitz (Forbes).
Pop Culture and Menthal Health. Dr. Janina Scarlett (author of Dark Agents, Harry Potter Therapy), Chase Masterson (Star Trek, co-founder of the Pop Culture Hero Coalition), Chris Morrow (21 year Comic-Con & pop culture journalist, San Diego award winning filmmaker), Billy San Juan, PsyD (therapist, Psych Geeks author, freelance Magic: the Gathering writer), Dustin McGinnis (musician, co-host of Super-Hero Therapy Podcast), Attiba Royster (co-founder of Horrorgasm SD, co-host of Teebs & Kid Phoenix Vs. podcast) discuss how we consume pop culture and how it affects our mental health, especially during the era of COVID-19 and the subsequent quarantine period. The panel will be moderated by Vince Alvendia (comic artist, illustrator).
Real or Fake? Darren Shulman (co-host of the Shulbros Week in Review and Through the Lens podcasts) and Jon Kuang host a panel of stars playing Real or Fake?, the game show where contestants have to decide if a comic character or plot is … real or fake. Panelists include Shawn "Big Clutch" Kirkham (SVP, Skybound Entertainment), Terry Mayo (Comic Creator, The Wicked Righteous), Don Nguyen (Pablo the Gorilla, Upper Deck Marvel Anime), Christie Shinn (creator of Demon Bitch and Personal Monsters), Leonard Sultana (The Convention Collective), Alanah Tweedy (The Convention Collective) and Fawaz Qashat. Attendees who play along using Twitter will have a chance to win a Funko Pop.
The Science Behind Creating Board Games (7:30pm-8:30pm). Board Games have been around for centuries, and new ones are being developed every year. Join the Fleet Science Center, Board Game creators Ta-Te Wu and Matt "Fantastic" Loter, and local scientists as we explore the creative process behind board game development and will also look at the science behind it. From psychology to probability and statistics, many things must be considered when developing a board game that can engage people over multiple rounds.
Dragon Ball Super: Super Hero (Hall H). Just one month prior to the theatrical release of Dragon Ball Super: SUPER HERO, join us for a Q&A with talent and production members, including Toshio Furukawa (Japanese Voice of Piccolo), Christopher R. Sabat (English Voice of Piccolo), Akio Iyoku (Executive Producer) and Norihiro Hayashida (Producer) for stories and insights from the film – and of course, giveaways and an exclusive look at approximately the first 20 minutes of the film only for fans at SDCC!
Green Lantern: Beware My Power. Warner Bros. Home Entertainment continues its annual Comic-Con tradition of hosting debuts of original DC Universe Movies with the world premiere of Green Lantern: Beware My Power. The all-new intergalactic thriller features John Stewart's first adventure as a member of the Green Lantern corps. In the film, the initially reluctant Stewart (voiced by Aldis Hodge) — aided by Green Arrow (Jimmi Simpson), Adam Strange (Brian Bloom) and Hawkgirl (Jamie Gray Hyder) — must contend with a horde of interplanetary killers bent on eliminating every Green Lantern in the universe, while also journeying into the heart of a raging Rann/Thanagar war to somehow succeed where all other Green Lanterns have failed. After the screening, cast members and filmmakers will host an in-depth, entertaining panel discussion.
Simon Pegg is Nandor Fodor, Paranormal Investigator (5:15pm-6:15pm, Ballroom 20). In 1935, Hungarian-American para-psychologist Nandor Fodor began his investigation of a strange occurrence on the Isle of Man. An average British family, the Irvings, claimed to be haunted by a mysterious entity at their farm. Was it a demon? A ghost? No. It was a talking mongoose name 'Gef.' Join stars Christopher Lloyd (Back to the Future), Ruth Connell (Supernatural) – with special video messages from stars Simon Pegg (Mission Impossible) and Minnie Driver (Good Will Hunting), as Adam Sigal (Chariot) director of the upcoming dark comedy, associate producer Clare King (Legion M) and members from the film's creative team discuss how this wildly original story based on true and very strange events made its curious path to the screen and how fans can get involved. Moderated by Executive Producer David Baxter (Legion M).
Bob's Burgers (3pm-3:45pm, Indigo Ballroom). The Emmy® Award-winning animated FOX series "Bob's Burgers" makes its triumphant return to San Diego hot off the critically acclaimed release of "The Bob's Burgers Movie!" Creator and executive producer Loren Bouchard, executive producer Nora Smith and director/producer Bernard Derriman will break news about the upcoming season; and the always entertaining cast including H. Jon Benjamin, John Roberts, Kristen Schaal, Eugene Mirman, Dan Mintz and Larry Murphy will have you howling with laughter with never-before-seen footage followed by a lively panel discussion and audience Q&A.
FX's "Archer", Exclsuvie Season 13 Screening and Q&A (5pm-6pm, Indigo Ballroom). "Archer," the award-winning animated comedy series, returns to San Diego in celebration of its upcoming 13th season! This year, Archer and The Agency have been acquired by the spy conglomerate known as IIA and struggle to find their identity. Will they be able to maintain their independence, or will they succumb to their corporate overlords? Join us for a not-to-be-missed exclusive screening of the season 13 opener, followed by a spirited Q&A with H. Jon Benjamin, Aisha Tyler, Chris Parnell, Judy Greer, Amber Nash and Lucky Yates, plus executive producers Matt Thompson and Casey Willis.
FX's "Little Demon", Exclusive Pre-Series Premiere Sneak-Peak Screening and Q&A (4pm-4:45pm, Indigo Ballroom). It's been long prophesized that a malevolent force would alter the universe for the rest of time, and you can get a front-row seat! Join FXX in celebrating its newest animated comedy, "Little Demon," heading to the metaphysical realm of San Diego in advance of its August 25 series premiere. Thirteen years after being impregnated by Satan (Danny DeVito), reluctant mother Laura (Aubrey Plaza) and her Antichrist daughter, Chrissy (Lucy DeVito), attempt to live an ordinary life in Delaware but are constantly thwarted by monstrous forces, including Satan, who yearns for custody of his daughter's soul. Join Danny DeVito, Aubrey Plaza and Lucy DeVito, plus creators Darcy Fowler, Seth Kirschner and Kieran Valla, and executive producer Dan Harmon for a not-to-be-missed exclusive screening, followed by an other-worldly Q&A moderated by TV Guide Magazine's Damian Holbrook.
The Great North (7pm-8pm, Room 6BCF). Join the Tobin family for a hilarious conversation about their outrageous Alaskan adventures on FOX's hit animated series, "The Great North." Creators and executive producers Wendy Molyneux and Lizzie Molyneux-Logelin, executive producer Loren Bouchard and stars Dulcé Sloan, Paul Rust, Aparna Nancherla and Ron Funches discuss what's to come and preview the upcoming third season with exclusive clips, breaking news and special appearances from star Jenny Slate and more.
[NEW] The Lord of the Rings: The Rings of Power (10:30am, Hall H).
[NEW] Paper Girls (1:30pm, Ballroom 20).
The Proud Family: Louder and Prouder (1pm-2pm, Room 6A). ♪ The! Proud! Family! What? ♪ Creator and executive producer Bruce W. Smith, executive producer Ralph Farquhar, and series stars Kyla Pratt (Penny), Paula Jai Parker (Trudy), JoMarie Payton (Suga Mama), Soleil Moon Frye (Zoey) and Alisa Reyes (LaCienega) discuss the critically acclaimed Disney+ revival of the groundbreaking animated series "The Proud Family" and share a behind-the-scenes look at the first season, moderated by Janine Rubenstein, editor-at-large, PEOPLE Magazine and host of PEOPLE Every Day
Hermes Press: Storyboards: The Unseen Art of Hollywood (3pm-4pm, Room 32AB). Hermes Press presents the Comic-Con premiere of Storyboards: The Unseen Art of Hollywood, the first comprehensive book about the history of how storyboards are used to create films, written by one of Hollywood's most noted storyboard artists — Trevor Goring. The panel will begin with a video featuring numerous examples of film storyboards, ranging from Gone With the Wind,Spartacus, The Treasure of the Sierra Madre, The Magnificent Ambersons, To Kill a Mockingbird, Raiders of the Lost Ark and more, which will then lead into the panel. The panel will be moderated by Daniel Herman (Publisher of Hermes Press, Silver Age: The Second Generation of Comic Book Artists) and feature Trevor Goring(Storyboards: The Unseen Art of Hollywood, Independence Day); Gabriel Hardman (Storyboard artist — Logan, Interstellar ); Benton Jew (Storyboard artist — Wonder Woman, Dr Strange The Multiverse of Madness); Sandy McDaniel (Saul Bass Studio); Kandice Hartner (Senior graphic designer at Hermes Press or Program Lead, Creative Media Production, Westminster College); and Brian Peck(John Buscema: Michelangelo of Comics). The panel will have a Q and A session.
Horror in Comics (5pm-6pm, Room 32AB).
Importance of Comic Creators Owning Their Own IP (4:30pm-5:30pm, Room 26AB). Expected to Appear: Phil Jiminez, Amanda Conner, Jimmy Palmiotti.
Keenspot.
Not-So-Strange Bedfellows: The Relationship Between Comics & Professional Wrestling (2:30pm-3:30pm, Room 29CD). Expected to Appear: Joshua Waldrop.
Scribe Awards (2pm-3pm, 32AB).
Spotlight on Dan Slott (10am, Room 6DE).
The Turtles Keep Mutating!!! What's Ahead? (1:30pm-2:30pm, Room 29CD). Panelists: Kim Dawson (Producer – TMNT 1990), Bobby Herbeck (Writer – TMNT 1990), Randy Falk (NECA Toys), Sam Rocco (Director – The Fall of Casey Jones, and a new TMNT Documentary), and possibly some surprise Guests! Moderated by Chris Castaneda (host of The Old Turtle Den youtube page).
Mictlan: An Ancient Mythical Tale (From Codex to Console) (7:30p-8:30p, Room 29CD).
San Diego Festival of Books (4:30pm-5:30pm, Room 10). Expected to Appear: Kimberly Dwinell.
The Science Behind the Expanse (5pm-6pm). The Expanse series has everything a good space saga needs: murder, society at the brink of war/civil unrest, a conspiracy and dangerous alien technology that could wipe out everyone. Join the Fleet Science Center as we explore both the space science and social science stories in this panel.
Stranger Things Books (3:30pm). Expected to Appear: Suyi Davies Okungbowa.
Writing in Someone Else's Universe (10am). Expected to Appear: Suyi Davies Okungbowa.
Marvel Studios (Hall H)
AEW: Heroes & Villains (6:30pm, Room 6BCF). Join some of the biggest stars of TBS' AEW: Dynamite and TNT's AEW: Rampage as they take the San Diego Comic-Con stage for the first time to give a ringside view of the wildly popular wrestling promotion. The Q&A will feature a conversation with AEW stars CM Punk, Jade Cargill, Darby Allin, Orange Cassidy and Bryan Danielson, and will be moderated by AEW commentator Excalibur. This discussion will dig into the heroes, villains, and championship quests through the eyes of the biggest names in wrestling.
"American Dad!" and "Family Guy" (12:30pm-1:45pm, Ballroom 20). It's a Smith-family Funday with "Steve" (Scott Grimes), "Klaus" (Dee Bradley Baker) and "Jeff Fischer" (Jeff Fischer) plus executive producer & co-creator Matt Weitzman, executive producer Joe Chandler, co-executive producer Nicole Shabtai and moderated by "American Dad!" alum Jordan Blum who will treat "American Dad!" fans to a first look at scenes from all new episodes coming soon to TBS…plus a few other exciting announcements and surprises! THEN Join us for an exclusive, first look at "Family Guy's" Season 21 premiere episode and watch the full episode months before the rest of the world! After, you will get special sneak peek at all of the hilarity and hi-jinks that will be coming next fall!
[NEW] Critical Role (5pm, Ballroom 20). The cast mnius Sam Riegel will be on hand for a Q&A to answer your burning questions, as moderated by Christian Navarro.
The Ghost and Molly Mcee (10am-11am, Room 6A). Join Creators/Executive Producers Bill Motz and Bob Roth and Executive Producer Steve Loter for a joyful celebration of this Disney Channel original series. Cast and crew will talk about their favorite moments, songs, and behind-the-scenes stories from season one, along with some fan surprises and hints at what's to come in season two! The panel will be moderated by Doug Bensimon, executive director, Current Series, Disney Television Animation.
Hamster & Gretel (6:45pm-7:34pm, Room 6A). Join the cast and creative team behind Disney Channel's "Hamster & Gretel" as they present a first look at the hilarious new superhero series before it premieres. Renowned animation veteran and creator Dan Povenmire, co-creator of the hit series "Phineas and Ferb," will be joined by co-producer and story editor Joanna Hausmann, and select cast members (to be announced), for a discussion about the world and the characters of this new music-filled animated series, moderated by actress and comedian Liza Koshy.
"The Orville: New Horizons" (3pm-3:45pm, Ballroom 20). From Emmy Award-winning executive producer and creator Seth MacFarlane, "The Orville" is finally back for season three and on HULU! Join the full crew of the U.S.S. Orville: Penny Johnson Jerald, Scott Grimes, Peter Macon, Jessica Szohr, J Lee, Anne Winters, Mark Jackson and Chad L. Coleman, along with executive producers David A. Goodman and Brannon Braga and co-producer Tom Costantino to talk all things Orville and see an exclusive first look at an upcoming episode from New Horizons!
Resident Alien. Expected to Appear: Alan Tudyk.
The Resort (5:30pm, Indigo Ballroom). Attendees will be treated to a special advance screening of the first episode, followed by a panel discussion with creator Andy Siara and stars William Jackson Harper, Cristin Milioti, Luis Gerardo Méndez, and Nina Bloomgarden. The panel will be moderated by Variety TV editor Michael Schneider.
The Simpsons (11:30pm-12:15pm, Ballroom 20). Join "The Simpsons" writers, animators — and special guest moderator, "Gravity Falls" creator and "The Simpsons" superfan Alex Hirsch — as they reveal the adventures planned for "The Simpsons" in season 34 and beyond! Take a sneak peek at Treehouse of Horror XXXIII — and the never-before-attempted bonus Halloween episode! That's right — TWO HALLOWEENS IN 2022! Secrets will be revealed! Games will be played! And freebies — including original artwork — will be given away! Live in person for the first time since 2019! Come and be astounded at how we let ourselves go!
X-Men: The Animated Series 30th Anniversary (1pm). Expected to Appear: Series showrunner Eric Lewald, series writer Julia Lewald, series director/producer Larry Houston, series storyboard artist Dan Veesenmeyer, and voice actress Lenore Zann (Rogue). Moderated by: Dayspring & Michelle Waffle.
Aspen Comics (1pm-2pm, Room 4).
Can Mexico's Pop Culture Superheroes Save The World (5pm-6pm, Room 4). Expected to Appear: Psychosis, Jesse Hernandez.
Hemingway in Comics: The Exhibit panel (11:30am-12:30pm). Panelists include Robert K. Elder (Hemingway in Comics) Elliot S! Maggin (Superman, Action Comics), Zander Cannon (Kaijumax, Smax), Eric Peterson (Jesus Christ: In the Name of the Gun), Dr. Emily Schindler, director of education at the Comic-Con Museum, plus special guests.
Manga, Webcomes, and Anime: The New Formats and Fandoms Dominating Entertainment. Manga, webcomics, and anime were once a small slice of the North American entertainment market. But these categories have exploded in popularity in recent years, reaching new levels of mainstream success and Hollywood investment. Today, these categories are dominating screens and bookshelves everywhere, with massive growing fandoms and popularity for titles like Attack on Titan, All of Us are Dead, and Demonslayer. Hear from this panel of industry insiders about why manga, webcomics, and anime are bringing readers and viewers some of the most exciting entertainment on the planet, driving major viewership, box office success, and investment from the biggest names in entertainment. Panelists include Taylor Grant, Head of Global Animation, Wattpad WEBTOON Studios; Gita Rebbapragada, CMO, Crunchyroll; Michael Gombos, Sr. Director of Licensed Publications at Dark Horse; Borys Kit, The Hollywood Reporter (moderator).
NBA Players Are Anime Fans Too (5:15pm). Sacramento Kings point guard De'Aaron Fox will take part in a panel to discuss his fandom for anime, manga, and how it intertwines with his basketball career. Fox will be joined by his "Swipa The Fox" comic book creative team; together, they will discuss the fundamentals of writing comic books centered around basketball.
Party Like It's '97 (12pm-1pm, Room 28DE). Comic talent celebrate Oni's 25th anniversary. Expected to Appear: James Lucas Jones, Charlie Chu.
Spotlight on Willy Mendes (3pm-4pm, Room 4). Moderator Brian Doherty, (Dirty Picures…), will lead Mystic Comix artist Willy Mendes to expound on her intricate work from the Underground Comix era, (Gothic Blimp Works, It Ain't Me Babe, All Girl Thrills, Illuminations, etc) and very recent return to the field with the Queen of Cosmos Comix series from Red 5 Comics; with Trina Robbins, famed artist, (Wonder Woman) editor, (It Ain't Me Babe, Complete Wimmen's Comix) author and historian (numerous books!), Kim Munson, author (Comic Art in Museums) and curator (Women in Comics), and Joshua Starnes, Publisher of Red 5 Comics, and comics writer (The Box).
Top Cow's 30th Anniversary (12pm-1pm, Room 4). Don't miss Top Cow legends Marc Silvestri (Founder, CEO) and Matt Hawkins (President, COO), along with Zack Kaplan (Writer, Metal Society) and other surprise guests discussing their upcoming top-secret projects! Find out here first the future of Witchblade, The Darkness, Aphrodite IX and Cyber Force. The Top  Cow universe is back! All attendees will receive a Cyberforce Ashcan.
Bat in the Sun (6:30pm, Room 7AB).
Darknights and Daydreams: From Batman to Broadway (6:45pm-7:45pm, Room 6DE). How far would you go to make your dreams come true? Devastated by how Batman was portrayed as a campy joke in the 1960s television series, teenager Michael Uslan vowed to show the world the dark and serious vigilante envisioned by Bill Finger and Bob Kane. He didn't stop until he's acquired the film rights to the character and began an impressive four decades producing Batman on film – starting with Michael Keaton's Batman in 1989. Now Michael's story is on its way to Broadway! Join Batman Franchise producer Michael Uslan, Broadway producer Don Franzt(Beauty and the Beast) and Legion M's VP Development David Baxter for a lively discussion of the journey of adapting Uslan's inspirational memoir The Boy Who Loved Batman for the Broadway stage … along with a fabulous Batman Q&A and special video messages from director Lonny Price (Sunset Boulevard), screenwriter Alan Zweibel (Curb Your Enthusiasm), and producer Robert Nederlander Jr. (CEO Nederlander Entertainment) Moderated by publicist Gary Miereanu.
Fleischer Cartoons: Celebrating the Art & Inventions of Max Fleischer (3pm, Room 28DE). Hosted By 'Toon in With Me' Bill Leff, take a look at the history and work of the most innovative and celebrated studios in the world of Animation. Learn about their cartoons & inventionswith Fleischer historian and author, Ray Pointer! Max Fleischer's granddaughter, Jane Fleischer, will be there to present brand new HD restorations from Koko the Clown, Betty Boop, Popeye, Superman and more!
[NEW] The Grave of Saint Oran. A behind the scenes look at Neil Gaiman's collaborations with filmmakers and artists. Expected to Appear: Jim Batt, Cat Mihos, Paul Roman Martinez, David Mack.
Legion M: How Fans Are Disrupting Hollywood by Equity Crowdfunding (4:15pm-5:15pm, Room 6DE). Legion M is the world's first fan-owned entertainment company. Through equity crowdfunding, they've made it possible for anyone to become an entertainment investor. Get an up-close look at how Legion M has brought to the big screen films like Kevin Smith's Jay and Silent Bob: Reboot and Nicholas Cage's Mandy – and how you can be involved, too. Join Legion M executives Jeff Annison, Terri Lubaroff and David Baxter as they discuss their latest projects: Halloween thriller The Man in the White Van with director Warren Skeels (Siesta Key) with special video messages from stars Sean Astin (Goonies, The Lord of the Rings), Madison Wolfe (The Conjuring 2), and Brec Bassinger (Stargirl) along with producer Anne Marie Gillen (Fried Green Tomatoes) and Defiant: The Robert Smalls Story with producer Marvin 'Krondon' Jones (Black Lightning).
Over 30 Cosplay (11pm-12pm, Grand Room 10 & 11).
Pure Gold. Short film in which a desperate farmer is tempted with something precious. Expected to Appear: Rik Gordon.
The Science of Spider-Man and the Multiverse (11:30am-12:30pm). What is better than one Spiderman? Multiple Spiderman, of course! Join the Fleet Science Center as we explore the stories of Spiderman and the Multiverse and look at the science behind a lab accident creating a superhero and how many universes scientists think actually exist.
Unnecessary Debates (8pm-9pm).
Women & Minorities In Gaming (4pm). Expected to Appear: Bekka Prewitt.
FX's "Mayans M.C." Screening and Q&A (12pm-1pm, Hall H). Described by The Playlist as "one of the best series on TV," FX's fuel-injected drama series "Mayans M.C." returns to San Diego Comic-Con for a special screening and a LIVE not-to-be-missed conversation with Elgin James (co-creator/executive producer/director/writer) and series stars JD Pardo (EZ Reyes), Clayton Cardenas (Angel Reyes), Danny Pino (Miguel Galindo), Sarah Bolger (Emily Thomas), Emilio Rivera (Marcus Alvarez), Michael Irby (Obispo "Bishop" Losa), Raoul Max Trujillo (Che "Taza" Romero), Frankie Loyal (Hank "Tranq" Loza), Joseph Lucero (Neron "Creeper" Vargas), Vincent Vargas (Gilberto "Gilly" Lopez), Gino Vento (Nestor Oceteva), JR Bourne (Isaac Packer), Emily Tosta (Letty) and Vanessa Giselle (Hope). "Mayans M.C." follows the life of Ezekiel "EZ" Reyes (JD Pardo), a member of the Mayans M.C. charter on the Cali/Mexi border. Join us for an unforgettable panel moderated by IndieWire's Jim Hemphill.
FX's "What We Do In the Shadows" (1:15pm-2:15pm, Hall H). FX's "WHAT WE DO IN THE SHADOWS" brings the World's Greatest Vampire Nightclub to San Diego! Mix it up with the hottest vampires (and their familiar) to come out of Staten Island in hundreds and hundreds of years! Join special guests Kayvan Novak (Nandor), Matt Berry (Laszlo), Natasia Demetriou (Nadja), Harvey Guillén (Guillermo), Mark Proksch (Colin Robinson) and Kristen Schaal (The Guide) as well as Paul Simms (EP/writer), Stefani Robinson (EP/writer), Yana Gorskaya (co-EP/director/editor) and Kyle Newacheck (co-EP/director) for a spirited conversation and be among the first humans to set eyes on a brand-new episode. Do not miss this electrifying event! "What We Do in the Shadows" airs Tuesdays at 10 p.m. EDT/PDT on FX, streaming the next day on Hulu. BAAAaaaaat!
25 Years of Oni Press: Classic to Modern (11:30am-12:30pm, Room 23ABC).
Surfside Girls Graphic Novels and Radical Women: Top Shelf at 25 Years (2pm-3pm, Room 4). Expected to Appear: Kimberly Dwinell.
Injecting the Personal. Every story we tell ends up being personal. It's the nature of art and of creation. The things we value, that frighten us, that we long to see in the world, they come out in our stories. How do we honor those personal stories? Creators Cecil Castellucci, Darcie Little Badger, Sophie Yanow, Tom Batiuk, and Andrew Aydin convey how they put their stories into the world and what that means to them. Moderated by Vince Alvendia.
Directors on Directing. Expected to Appear: Tim Miller (director of Deadpool, creator of Love, Death + Robots), Andrew Stanton (director of Finding Nemo, WALL-E, and John Carter), and Chad Stahelski (director of the John Wick franchise). Moderated by: Steve Weintraub.
An Evening with Kevin Smith (Hall H). Expected to Appear: Kevin Smith.
Lumpia with a Vengeance. Screening.
The Alternate World of "For All Mankind". Creators and executive producers Ronald D. Moore, Matt Wolpert and Ben Nedivi are joined by executive producer Maril Davis and cast members Joel Kinnaman, Shantel VanSanten, Jodi Balfour, Sonya Walger, Krys Marshall, Cynthy Wu, Casey Johnson, Coral Peña and Wrenn Schmidt to discuss the propulsive third season of the critically acclaimed Apple TV+ alternate reality series.
Cartoon Network: Winner Takes All. Cartoon Network fans come on down! Be the first in line to test your knowledge on all things Cartoon Network! This multi-show panel will determine which panelists (and audience members!) are the most discerning fans as they are quizzed on their favorite series for a chance to unlock first looks, sneak peeks, and more inside scoop! Play along with the casts and crew of Craig of the Creek (Philip Solomon, voice of Craig; Najja Porter, supervising director; Dashawn Mahone, supervising director), Teen Titans Go! (Pete Michail, executive producer; Tara Strong, voice of Raven; Khary Payton, voice of Cyborg), and We Baby Bears (Calvin Wong, showrunner; Connor Andrade, voice of Grizz; Amari McCoy, voice of Panda; Max Mitchell, voice of Ice Bear). Why settle for second? Come get your first look at everything Cartoon Network!
Genndy Tartakovsky's Primal Season Two Discussion and Q&A. After winning five Emmy® Awards including Outstanding Animated Program, the second season of Genndy Tartakovksy's Primal returns to Adult Swim. Join animation legend Genndy Tartakovsky (Dexter's Laboratory, Samurai Jack, Star Wars: Clone Wars) and Art Director Scott Wills (The Ren & Stimpy Show, Samurai Jack) for a deep dive into the second season of the acclaimed animation adventure. Genndy Tartakovsky's Primal is produced by Cartoon Network Studios.
Harley Quinn Season 3 Advance Screening. The Eat. Bang! Kill Tour is rolling through San Diego for an early look at what's in store for Harlivy. Join us for a special advance screening of the first two episodes of season three of Harley Quinn at San Diego Comic-Con before its summer premiere on HBO Max. Seats will be limited and available on a first-come, first-served basis. Harley Quinn is produced by Delicious Non-Sequitur Productions and Yes, Norman Productions in association with Warner Bros. Animation.
Hollow's Bend: The Radio Play.
House of the Dragon (Hall H). Based on George R.R. Martin's Fire & Blood, the HBO Original series is set 200 years before the events of Game of Thrones and tells the story of House Targaryen. Expected to Appear: Cast members Paddy Considine, Matt Smith, Olivia Cooke, Emma D'Arcy, Steve Toussaint, Eve Best, Fabien Frankel, Graham McTavish, Milly Alcock and Emily Carey.  Also appearing on the panel will be George R.R. Martin, along with co-showrunners Ryan Condal and Miguel Sapochnik, and moderator podcast host Jason Concepcion.
Inside Severance. Executive Producer and director Ben Stiller, creator and executive producer Dan Erickson and cast members Adam Scott, Britt Lower, Tramell Tillman, Dichen Lachman and Jen Tullock share "innie" secrets from season one of the Apple TV+ critically acclaimed series.
The Origin Story You've Been Waiting For… Gremlins: Story of the Mogwai. Magic, mystery, mayhem, and Mogwai! Join the talented cast and crew of Gremlins: Secrets of the Mogwai as they answer your burning questions about the upcoming HBO Max animated prequel series. Executive producers Tze Chun and Brendan Hay join Tara Rueping (Art Director), Izaac Wang (voice of Sam), AJ LoCascio (voice of Gizmo), Gabrielle Neveah Green (voice of Elle), and more surprise guests to unveil the first clues to unlocking the secrets of the Mogwai that will leave you hungry for adventure (just don't eat after midnight!). Gremlins: Secrets of the Mogwai is produced by Amblin Television in association with Warner Bros. Animation.
The Players of "Mythic Quest". Creator and executive producer Megan Ganz, executive producer and star David Hornsby and cast members Charlotte Nicdao, Danny Pudi, Imani Hakim, Jessie Ennis and Ashly Burch take a deep dive into the critically hailed Apple TV+ workplace comedy and share an exclusive first look at the upcoming third season.
Rick and Morty: The Vindicators Screening and Q&A. Calling all Rick and Morty fans! Join Executive Producer Sarah Carbiener alongside Rick and Morty Producer Nick Rutherford for a first look at the Adult Swim digital series The Vindicators, based on breakout characters from Rick and Morty. Be the first to watch Supernova, Vance Maximus, Alan Rails, Crocubot and Noob Noob fight crime, avert genocides, and yuk it up without Rick and Morty.
Riverdale (Hall H). In a season full of super abilities, mind control and Percival Pickens, the citizens of Riverdale are facing their toughest conflict yet — the apocalypse. Riverdale returns to San Diego for its fifth and final appearance at Comic-Con, once again in Hall H, to discuss the new mysteries of season six and what fans can look forward to in the epic season six finale showdown between the characters everyone loves and the town's most dangerous villain yet. Based on the characters from Archie Comics and produced by Berlanti Productions (The Flash, Superman & Lois) in association with Warner Bros. Television, this one-hour drama is a bold, subversive take on the surreality of small-town life. Join us for a special video presentation followed by a Q&A with series stars and producers.
The Sandman (Hall H). Prepare to enter the Dreaming as the live-action adaptation of Neil's Gaiman's beloved DC comic series arrives in Hall H of San Diego Comic-Con. There is another world that awaits us when we close our eyes and sleep — a place called the Dreaming, where The Sandman, Master of Dreams (Tom Sturridge), gives shape to our deepest fears and fantasies. But when Dream is unexpectedly captured and held prisoner for a century, his absence sets off a series of events that will change both the dreaming and waking worlds forever. The Sandman is a rich, character-driven blend of myth and dark fantasy woven together over the course of 10 epic chapters following Dream's many adventures. Be among the first to find out what's in store for the groundbreaking series, as well as some Comic-Con exclusives and surprises. Join us for a special video presentation followed by a Q&A with series stars and producers. Expected to Appear: Mason Alexander Park, Jenna Coleman, Kirby Howell-Baptiste.
Sesame Street Mecha Builders. From feathered and furry friends to robo super-heroes-in-training, find out how the iconic Sesame Street Muppets got supersized into CGI animated characters for the newest series Sesame Street Mecha Builders. Join Olexa Hewryk, Frank Falcone, David Rudman, Ryan Dillon, and Leslie Carrara-Rudolph as they discuss how Cookie Monster, Elmo and Abby Cadabby were re-imagined to expand the Sesameverse. The panel will be moderated by Alan Muraoka from Sesame Street.
SMILING FRIENDS Discussion and Q&A. Join Michael Cusak and Zach Hadel, the creators behind the new Adult Swim Series SMILING FRIENDS, to find out what's in store for Pim, Charlie and the rest of the company dedicated to bringing happiness to their bizarre yet colorful world.
Storytellers of Apple TV+. Creator and executive producer Ronald D. Moore of "For All Mankind," executive producer Simon Kinberg of "Invasion," co-creator of "Mythic Quest" Megan Ganz, and executive producer and showrunner Jonathan Tropper of "See" will discuss creating the unique worlds of their series and share exclusive sneak peeks of upcoming episodes. David S. Goyer will also join from the set of "Foundation" with a special sneak peek at the upcoming second season.
That's NOT All, Folks! Looney Tunes for Everyone! Don't forget that left turn at Albuquerque on your way to the Looniest panel at San Diego Comic-Con! Take a look at all the latest from the Looney Tunes Loon-iverse, including the new season of Looney Tunes Cartoons, new series Bugs Bunny Builders, the upcoming Tiny Toons Looniversity and bonus surprises! Join Eric Bauza (voice of Bugs Bunny, Tweety, Daffy Duck and more) as he moderates an all-star panel with Alex Kirwan (Supervising Producer, Looney Tunes Cartoons), Abe Audish (Supervising Producer, Bugs Bunny Builders), Nate Cash and Erin Gibson (Co-Executive Producers of Tiny Toons Looniversity), and more surprise guests! Stick around for sneak peeks, giveaways, and looney games! Looney Tunes Cartoons and Bugs Bunny Builders are produced by Warner Bros. Animation.
Tuca & Bertie. This summer is sure to sizzle with the highly anticipated return of Tuca & Bertie on Adult Swim! Creator and Executive Producer Lisa Hanawalt will join the series cast to dive into the upcoming third season of the Adult Swim animated comedy about colorful bird girl besties who navigate the ups and downs of adulting in life, love, and everything in between.
The Age Of Miracleman. Expected to Appear: Leonard Sultana, Donny Cates.
Asian Representation in Comics and Media. Expeced to Appear: Peter Nguyen (artist), Janice Chiang (comic book letterer), Pat Loika (photographer), Amy Chu (writer). Moderated by: Dylan Carter and Justin Otero.
Building Your Own Themysira. Expected to Appear: Liana Kangas.
Charlie Brown's Career Education Program (4:30pm, Room 26AB). Expected to Appear: Nat Gertler, Benjamin L. Clark (Schulz Museum curator).
Comics Are Fun for Everyone. No matter if you are a casual fan, a YA fan, completely new to comics or a weekly warrior, comics are meant to be fun and for everyone! We'll be highlighting comics and graphic novels from across the DC Multiverse, as well as animation and more in this fun-filled panel. DC Senior Editor Katie Kubert will be joined by Daniel Warren Johnson & Juan Gedeon (Jurassic League), Kami Garcia (Constantine: Distorted Illusions), Becky Cloonan & Michael Conrad (Batgirls) and more!
Comics on Campus: Fandom at Academia. Expected to Appear: Ed Catto.
Creator's Guide to Indie Comics. Expected to Appear: David F. Walker, Barbra Dillon, Charlie Stickney, Matt Hawkins, Blake Northcott, David Booher. Moderated by: Terry Mayo.
Dark Crisis. The epic event 30 years in the making is here! Don't miss out on hearing from the key members of talent behind Dark Crisis, Dark Crisis: Young Justice, The Flash, and Worlds Without a Justice League, including Joshua Williamson, Daniel Sampere, Meghan Fitzmartin, Tom King and Jeremy Adams for exclusive details on what's to come!
Dark & Stormy. Expected to Appear: Liana Kangas.
DC and the Forging of Post-War American Society. Expected to Appear: Viola Burlew.
Dynamic Imagery. Expected to Appear: Liana Kangas.
Exploring Societal Horror with Storm King Comics. Featuring the Civilians Trade Paperback Launch. From class issues to racial disparities and more, Social Horror explores how we interact as people. While movies like Get Out and Parasite are recent hits in the genre, The Carpenter Brand is well established as an expert in this type of horror with timeless movies like They Live and In the Mouth of Madness. The most recent trade release John Carpenter's Tales of Science Fiction: Civilians is Storm King's newest exploration of this category and is premiering at SDCC 2022. Panelists include Sandy King (They Live, CEO of Storm King Comics), Duane Swierczynski (Redhead, Tales for a HalloweeNight, Deadpool) Jaime Carillo (Tales for A Halloween Night, Star Wars) Cat Stagg (Tales For A Halloween Night, Wonder Woman '77), Joe Harris (Surviving Nuclear Attack, X Files)
Golden Apple Comic & Art Foundation.
Gotham. In a town like Gotham City, it takes the bravest Super Heroes to keep the city safe from some of the worst villains in crime. Don't miss this panel that dives deep into some of the heroes, anti-heroes and super-villains that make Gotham the wildest city in all of comics! DC Executive Editor Ben Abernathy will moderate a discussion with Ram V (Detective Comics), Sean Gordon Murphy (Batman: Beyond the White Knight), Tini Howard (Catwoman), Jock (Batman: One Dark Knight) and more.
How to Support LGBTQIA+and Neurodiverse Communities Through Comic Books and Pop Culture. Expected to Appear: Chance Calloway (Writer/Producer), Robert Rice (Actor/Producer), Mark Nazal (Content Director/Writer/VFX), Natasha Lee (Artist/Dev Support Analyst), Lorran Garrison (Writer/School Psychologist), Perry Clark (Therapist/Podcast Host), Tara Avery (Cartoonist/Publisher).
Jim Lee and Friends. Join world-renowned comic book artist and DC Publisher and Chief Creative Officer Jim Lee in this can't-miss panel featuring some of his comic book colleagues to talk with them about some of the top-secret comic books coming from DC! Special guests and surprises galore!
John Carpenter's Tales of Science Fiction: Civilians.
From Mopsy to Trina: Mid-Century Fashion in Comics and Its Legacy. Expected to Appear: Sydney Heifler, Trina Robbins, Michael Dooley.
Made for Women by Women: Girl Power and Barbie Comics During the 1990s.
Remembering Brian Augustyn. Expected to Appear: Patrick Gerard, Mark Waid.
Scott Snyder's Dark Spaces & More IDW Original Series. Expected to Appear: Liana Kangas.
Tom Taylor & Tom King in Conversation. 2022 Eisner Award Nominees Tom King & Tom Taylor are kicking off San Diego Comic-Con together by discussing writing Nightwing, The Human Target, Supergirl: World of Tomorrow and Superman: Son of Kal-El, and what's in store for the future. A few surprise guests will be stopping by.
Writing Tales of Horror and Suspense with Storm King Comics. The Queen of Horror Sandy King has taken the world of comics by storm with her publishing imprint Storm King Comics, co-founded with the legendary John Carpenter. This panel of horror and sci-fi writers will discuss what it takes to craft a compelling tale of horror and suspense for the comic book medium. Panelists include: Sandy King (writer/editor: Tales for a HalloweeNight, CEO of Storm King Productions and Comics), David J Schow (Writer: The Crow, recent Storm King release HELL), Duane Swierczynski (Writer: Redhead, Tales for a HalloweeNight, Deadpool), Neo Edmund (Writer: Grimms Town Terror Tales, Red Riding Alpha Huntress Chronicles), and Sean Sobczak (Writer: Tales for a HalloweeNight, Managing Editor for Storm King Comics).
X-Men Fandom Panel. Marvel's mutants have been present for nearly 60 years and have amassed an incredible community to fans across comics, movies, television, toys, and more. This year the creators of X-Reads Podcast are excited to bring the following panel of professionals and fans of the X-Men: Actress Lenore Zann (Rogue, X-Men: The Animated Series), artist Ken Lashley (X-Men Prime, X-Men Gold), toy influencer Shartimus Prime (Russ Akin), professional costume artist roleplayer/cosplayer Alicia Marie, and fan artist Art of Lucas. Audience members will receive a collectable art print by X-Men: The Animated Series Artistic Director, Larry Houston. The panel will be moderated by Chandler Poling & Chris Riley (X-Reads: An X-Men Experience)
Alien panel. Expected to Appear: Clara Carija
Is the Answer That You Wrote On Your Card The Same As The Answer That I Wrote On My Card!
The Astonishing Origin of the Deep Fried Universe & the Uncanny LUMPIA Wrappers! Panel with creatives behind the film Lumpia with a Vengeance.
Audio Storytelling: Creating for the Imagination. Host Dana Powers is joined by Shane Salk, William Holmes, Tim McKeown + the award-winning "Solar" team, Jenny Curtis and Chris Porter
Bad Medicine in TV and Film. Johnny Kolasinski and Dr. Jackson Vane, the creators of "Hi Everybody! A Bad Medicine Podcast," (hieverybodymd.com) and a panel of physicians, including Dr. Ewa Farrelly, Dr. Courtney Nicholas, and Dr. Greg Winter, will discuss some of the most glaring mistakes – and unexpected successes – in Hollywood's depictions of medicine, injuries, and how the body works.
The Bee. Short film. Expected to Appear: Michael Karr.
Black and Queer. Expected to Appear: Victor T. Kerney
Captain Action: The Classic Collection. Expected to Appear: Ed Catto.
Concept Artists of TV & Film. Expected to Appear: Greg Hops, Raphael Phillips, Imogene Chayes.
Couples Who Cosplay. Expected to Appear: Shawn Richter, Lisa Lower, Trevor and Wendy Newton, Miguel and Lucy Capuchino. Moderator: Leana Ahmed.
Creating 3D Models for Storytelling in Blender 3D. Expected to Appear: Stephen Burns.
Dave Stephens Panel. Expected to Appear: Jewel Shepard.
[NEW] Diversity and Inclusion in Comics, TV, Film, Games: What You Can Do. Experts in comics, TV, film, and games share how they got into the industry and how they've helped increase representation in their work. Then, panelists and the audience will brainstorm ways in which fans and creators can help increase diversity and inclusion in their fandom and their work. Speakers: Nhut Le (actor, JudoMaster on Peacemaker), Silvia Olivas (co-executive producer & head writer for Disney's Elena of Avalor and Netflix's Maya and the Three), Amy Chu (writer, Wonder Woman, DOTA), Lamont Magee (writer/producer, DC/CW Black Lightning, Green Lantern), Joelle Sellner (writer, DC Super Hero Girls, Lego Friends), Cherry Davis (host, Afterbuzz), Patrick Dougall (digital creator, Marvel cosplayer), with moderator Kevin Winston (Digital LA)
Doctor Horrible's Sing-A-Long Blog. Screening and karaoke.
Enamel Pins: Creating Collectibles!
Full Time Work on a Part-Time Schedule. Expected to Appear: Topher Davila, Sean Glumace.
Funko (Hall H). Expected to Appear: Rosario Dawson, Simu Liu, and William Zabka.
Game of Thrones / House of the Dragon Fan Panel. Expected to Appear: Amin Javadi, Tara Lynne, Ashaya.
Gay Geeks And Where To Find Them. Expected to Appear: Julian Jetson.
Gays in Actual Space. Expected to Appear: Kim Macharia.
Harry Potter Fandom Panel. Discussing the Harry Potter fandom, academia, and fan creativity. Expected to Appear: Heidi Tandy, Ebony Elizabeth Thomas, Matt Cox (Puffs).
Help! I'm Lost in a Sea of Content. Expected to Appear: Ming Chen, Wendy Lee Szany, Laura Sirikul, Tony B. Kim.
How to Create A Youtube Show. Expected to Appear: Chris Sully, Dan Panosian, Kat Calamia, Leonard Sultana.
Intro to TV Writing: From First Draft to Getting Staffed. Expected to Appear: Gray Jones.
Level Up: Creating an RPG Empire.
A Look Inside the Making of the Gotham Knights Game. Step into the Knight with the Gotham Knights videogame team as they discuss the upcoming open-world action RPG. With an original story set in DC's Batman Universe, Gotham Knights showcases Batgirl, Nightwing, Red Hood and Robin, a new guard of trained DC Super Heroes who must rise up as the protectors of Gotham City in the wake of Batman's death. Get a deep dive into the game with panelists Patrick Redding (Creative Director, Warner Bros. Games Montréal), Ann Lemay (Narrative Director, Warner Bros. Games Montréal), Wilson Mui (Cinematic Director, Warner Bros. Games Montréal), along with actors America Young (Barbie) as Batgirl and Christopher Sean (You, Star Wars Resistance) as Nightwing.
Making a Mash-Up: MultiVersus. Get a behind-the-scenes look at MultiVersus, the all-new free-to-play platform fighter videogame featuring an ever-expanding cast of beloved heroes and personalities, from Batman, Superman, Wonder Woman and Harley Quinn (DC) to Shaggy (Scooby-Doo), Bugs Bunny (Looney Tunes), Arya Stark (Game of Thrones) and many others. MultiVersus introduces a team-based 2 vs. 2 format with fun-filled multiplayer bouts set against the backdrop of various reimagined environments from the characters' legendary worlds, including Batman's Batcave (DC), Jake and Finn's Tree Fort (Adventure Time), Scooby's Haunted Mansion (Scooby-Doo) and much more. See and hear new details about the game from panelists Tony Huynh, the Co-Founder of Player First Games and Game Director for MultiVersus, and Sheloman Byrd, Executive Producer, Warner Bros. Games, along with MultiVersus actors Matthew Lillard (Scooby-Doo), voice of Shaggy, and Tara Strong (My Little Pony, Teen Titans Go!), voice of Harley Quinn.
Making a Living Being Creative. Expected to Appear: Johnny Kolasinski.
The Mandalorian: Under the Helmet. The Mandalorian is a complicated character, a loner who becomes a loving caretaker, a bounty hunter who learns compassion. Host Melissa Miller (Nerdist, Star Warsologies) talks with experts about the show and the man behind the mask. Psychologist Dr. Drea Letamendi (Arkham Sessions, Mindfulness-Based Therapy Using Star Wars) shares insight into Mando's changing loyalties. Real-life bounty hunter Matt Laird shares stories from on the job. Blacksmith and materials scientist Waltteri Vakki provides insight on the creation and significance of beskar arms and armor. Aerospace engineer and former Navy jet pilot Paul Wynns talks about piloting and maintenance of the Razor Crest and Naboo starfighter. And actor Chris Bartlett (The Mandalorian, The Book of Boba Fett) ties it all together with his experience playing mercenaries, teachers, and bartenders in Star Wars. Bring your Mando questions for our experts!
Manifesters Celebrate Return from the Dead. The series Manifest was abruptly cancelled after the shocking season 3 cliffhanger. Banding together, fans campaigned and watched, driving views upward on Netflix to unprecedented numbers. Now Manifest is coming back for 20 episodes to complete the amazing story of the flight 828 passengers that creator Jeff Rake envisioned. Join other Manifesters for a victory celebration, a look back, and a peek forward! Games and fun. Moderated by Marcia Middleton(Manifest the Netflix TV Show FB). Justin Toney(Fandom Appearances.com, The Weekend Geeks YouTube). Sheila Middleton(Manifest superfan).
On the Mic Podcast. Expected to Appear: Tim Drake.
Outlandish Confabulation: An Outlander Fan Panel.
Podcasting 101.
Science of Jurassic World. In the Jurassic World movies, the dinosaurs get from the island park to our cities and wilderness. We chat with scientists who are fans of the franchise to explore the real-world science of bringing dinosaurs back to life and letting them loose. We'll ask the big questions: What do the films get right and wrong about these extinct creatures? What are the technical challenges and ethical considerations of re-creating and genetically tinkering with different species? What is the impact of introducing megafauna into different environments? Once dinos are loose, what rights do they have to survive? Does life really find a way? Our team of scientists include paleontologist Stuart Sumida (technical consultant, Jurassic World: Fallen Kingdom, Camp Cretaceous), herpetologist Earyn McGee ("Find That Lizard"), conservation biologist Sam Wynns, evolutionary development biologist Claire Meaders, paleontologist Gabe Santos, and geneticist and sci-fi author J. Dianne Dotson (Questrison Saga). Moderated by James Floyd (podcast host, Star Warsologies, regular freelance contributor, Star Wars Insider magazine).
Star Wars Samurai Universe. Expected to Appear: Doug Marcaida (weapons and Samurai expert from the History Channel "Forged in Fire"), Dude Vader, Brendan Prout, Nathan Seekerman, Beth Accomando, Leah Panos, and David Hernandez.
[NEW] Street Fighter 6.
Veterans in the Arts and Pop Culture. Come discuss unique perspectives as individuals, visual artists and pop-culture creatives. Expected to Appear: Amit Khosla.
Women on the Darkside. Not all female artists/creators are about unicorns and glittery vampires and silly pseudo-bondage. Some women create truly dark and challenging art and content, with just a touch of humor and whimsy. Whether it's comic books, novels, or art, these women are creating content that connects with our deeper, darker side.
[NEW] World of Capcom.