If you've come here to find out when Returning Registration for San Diego Comic-Con 2023 is — we'll tell you up front: We don't know yet. (But the smart money is on soon to very soon).
The first of the two badge sales for next year's event is Returning Registration, for which those who attended San Diego Comic-Con 2022 or Comic-Con Special Edition 2021 as a paid general attendee will be eligible to try for a badge.
Not sure if you're eligible? You can actually login to your Member ID now and see in the top left hand corner if you're eligible. It will look something like this: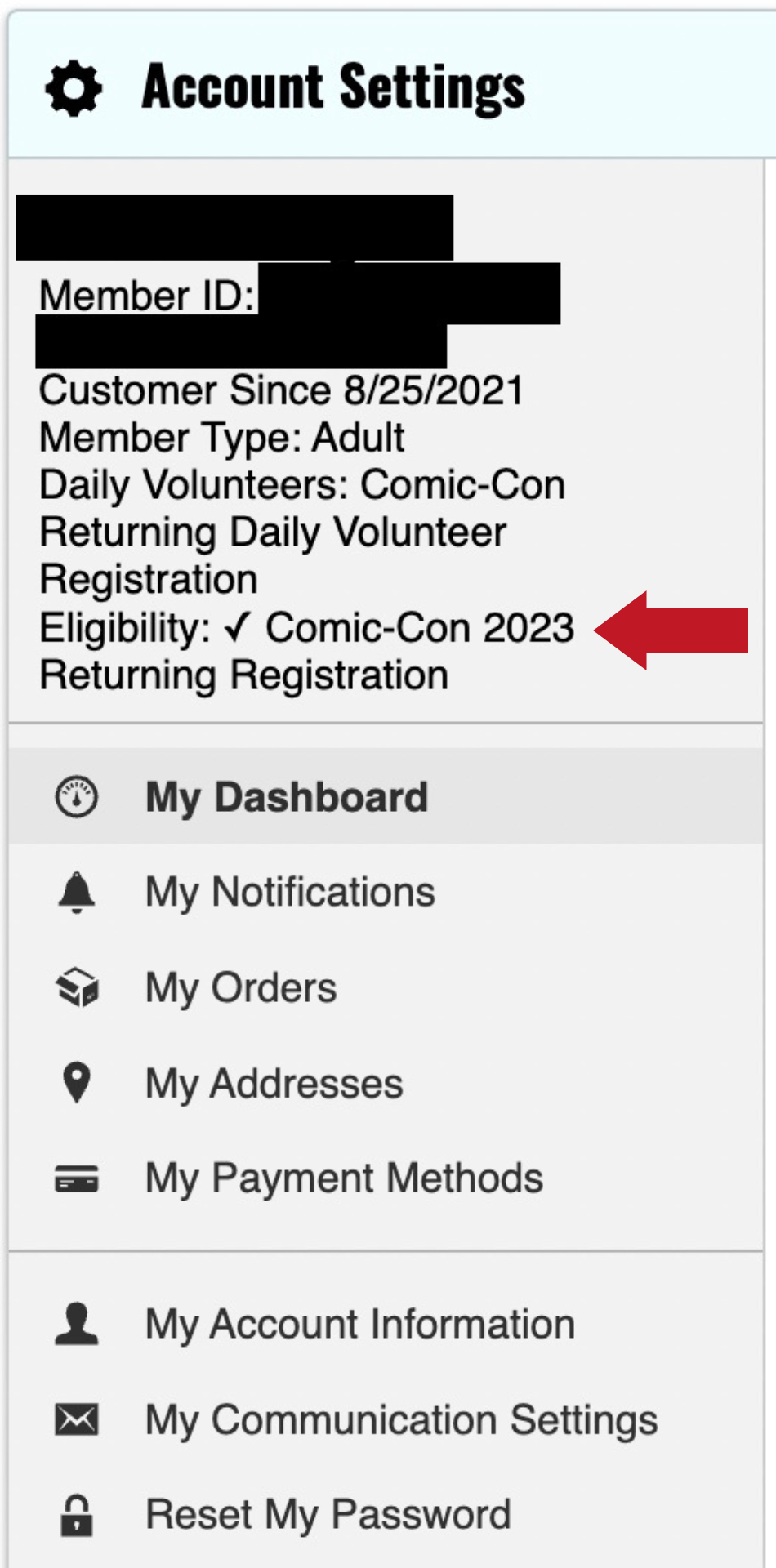 For anyone not eligible for Returning Registration, Open Registration will follow, in which anyone with a Member ID (and who didn't purchase a full Four Day with Preview Night badge during Returning Registration) will be able to participate.
New this year (for San Diego Comic-Con, at least), is that ExpoLogic appears to be a thing of the past. Instead, Returning Registration will take place in CCI's Member ID Portal. Eligible members will be able to login and enter a Queue-It virtual waiting room. This is similar to what took place for Comic-Con Special Edition 2021 and WonderCon 2022.
Queue-It has been used for years as part of the General Hotel Sale (otherwise known as Hotelpocalypse), as well as performance events around the globe, and it's great at filtering people in to purchase at a manageable level so that servers don't crash from the load.
For our take: This could be great. The main complaint about ExpoLogic for years has been that as attendees, we like to pretend we have some sort of control over the process. And in ExpoLogic's system, you truly had no idea what your line placement was, or when you might be chosen. With QueueIt, there's a small running man who shows you roughly where you are in the "race", and there's often an estimated countdown clock, even if it's imperfect — giving you at least a better idea of how close you are to the front.
On the flip side though: It might be a disaster.
The concern, at least on our part, is exactly how we'll get access to Queue-It — and CCI isn't very specific in their update. Will that direct link to Queue-It be e-mailed out or available a few days prior to the sale? Or will thousands upon thousands of attendees be expected to login to Configio's servers for the link on the morning of the sale, causing serious delays and technical issues, as happened during volunteer registration for SDCC 2022 (and to say nothing of what a disaster the exclusives and autograph lotteries were)?
Presumably at least part of the reason Comic-Con International moved to ExpoLogic in the first place was that TicketLeap and others crashed and were plagued by issues from the sheer volume of attendees. So hearing that "once logged in to your Member ID account, you'll be able to enter the Queue-it virtual waiting room" — especially as the new Member ID site has already had numerous issues — does not immediately instill confidence.
Hopefully, the link will be available early — and if so, we strongly recommend you save it somewhere, rather than relying on having to login that morning to access.
We'll have to stay tuned to find out, but to paraphrase the old adage: If it ain't broke… Maybe don't try to fix it.