Artist Nick Kremenek, also known as Dreamforger Studios, isn't just one of the nicest people in Artist Alley — he's also one of the most talented. You've probably seen some of his shiny Firefly items on our site or at the Browncoats booth before.
This year for WonderCon, he'll be taking over Booth #D-39 with all new debuts and exclusives for the con. New this year, you can pre-order many of his items online for pick-up at the convention, or if not attending the festivities, you can also have them shipped to you.
[UPDATE March 22]
If you loved Kremenek's poster design yesterday, then hold onto your hats, kids. At WonderCon, with every purchase made at the convention or for online pre-orders, you'll also receive a free 4″x6″ postcard of one of the poster panels.
There will be a different postcard for each day of the convention, with "The Good" on Friday, March 24; "The Bad" on Saturday, March 25; and "The Monstrous" on Sunday, March 26. The postcards are also available as a set for $8 for those who can't make it to the show or who just want to ensure they get the full set, but this is your chance to score them first, and for free.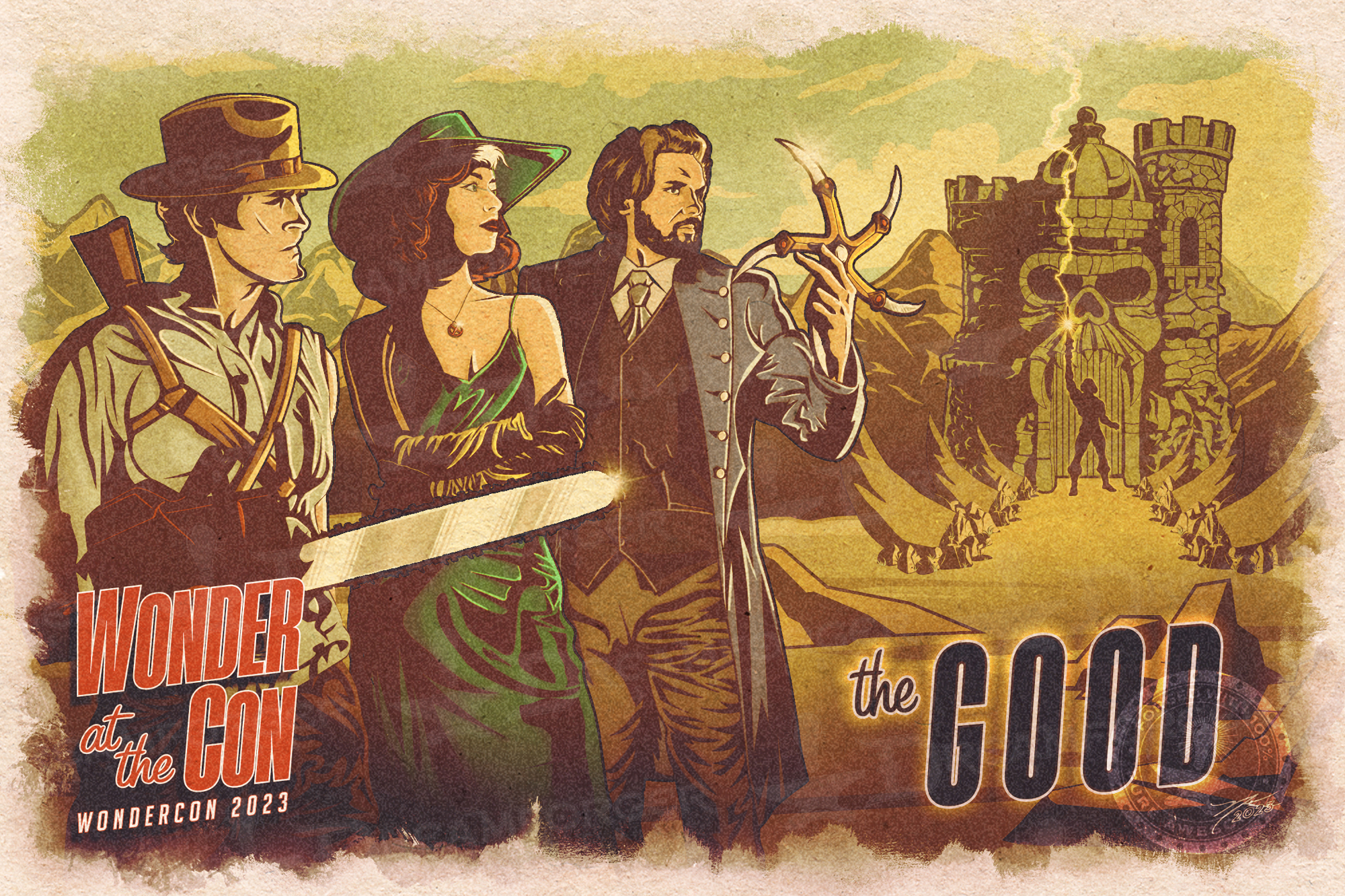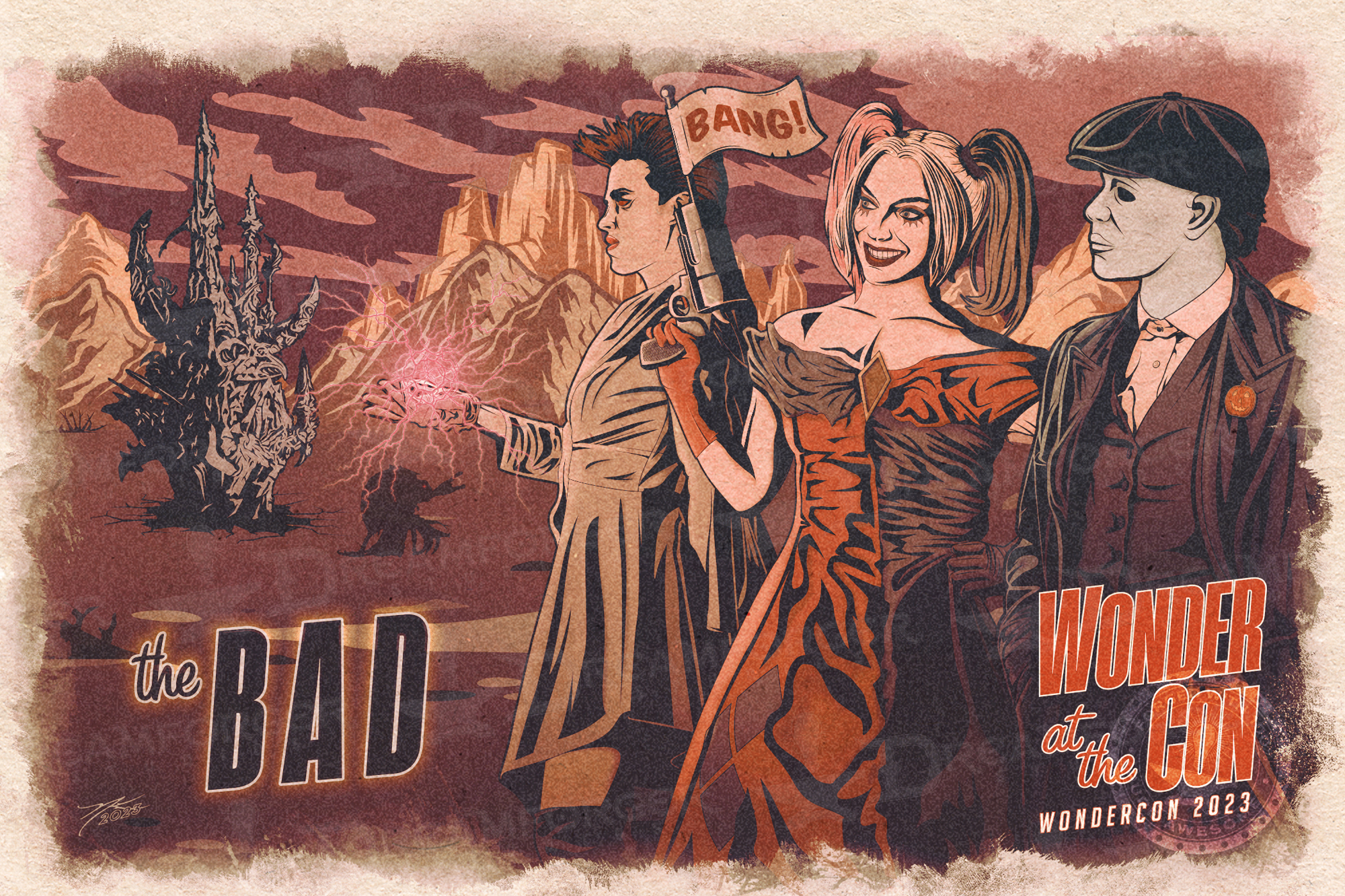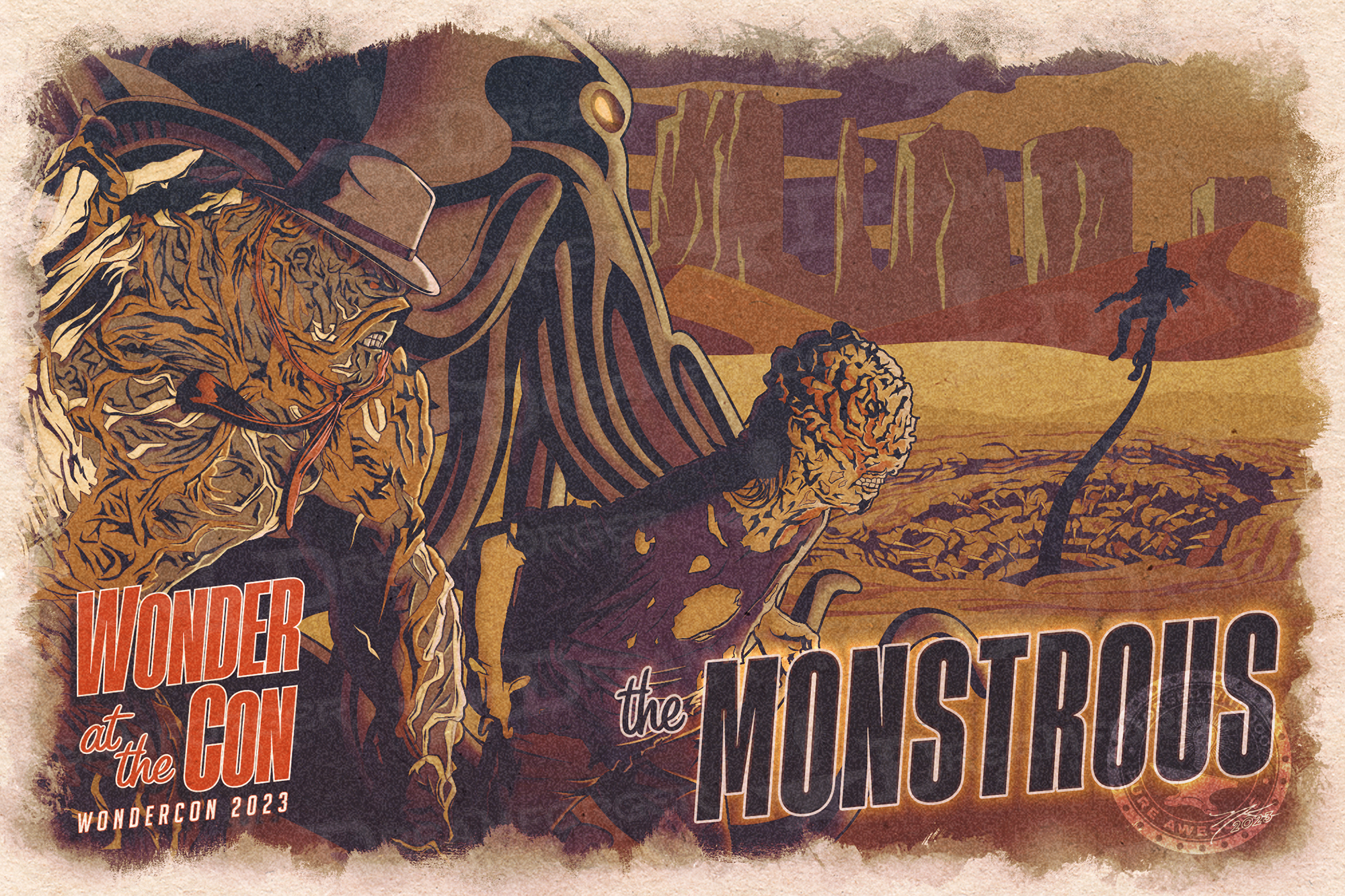 [UPDATE March 21]
If you've been following along in our WonderPosts, then you've probably seen Kremenek teasing the characters in his latest WonderCon exclusive — "The Good – The Bad – And the Monstrous!"
This limited edition 11″x17″ poster is a retro throwback to the olden days of film noir and old fashioned westerns, with a vintage stylized look and feel. It features several "good" characters — like Ash from the Evil Dead franchise, alongside "bad" characters like Harley Quinn, and "monstrous" characters like the Clicker from The Last of Us.
It's got tons of fun easter eggs as well, including some castles you can probably recognize.
The poster is limited to just 100 pieces, and is printed on light cardstock paper with a satin coating to help accentuate the look.
You can order it online now for $20, or stop by Booth #D-39 to grab it before it's long gone. Hasta la vista!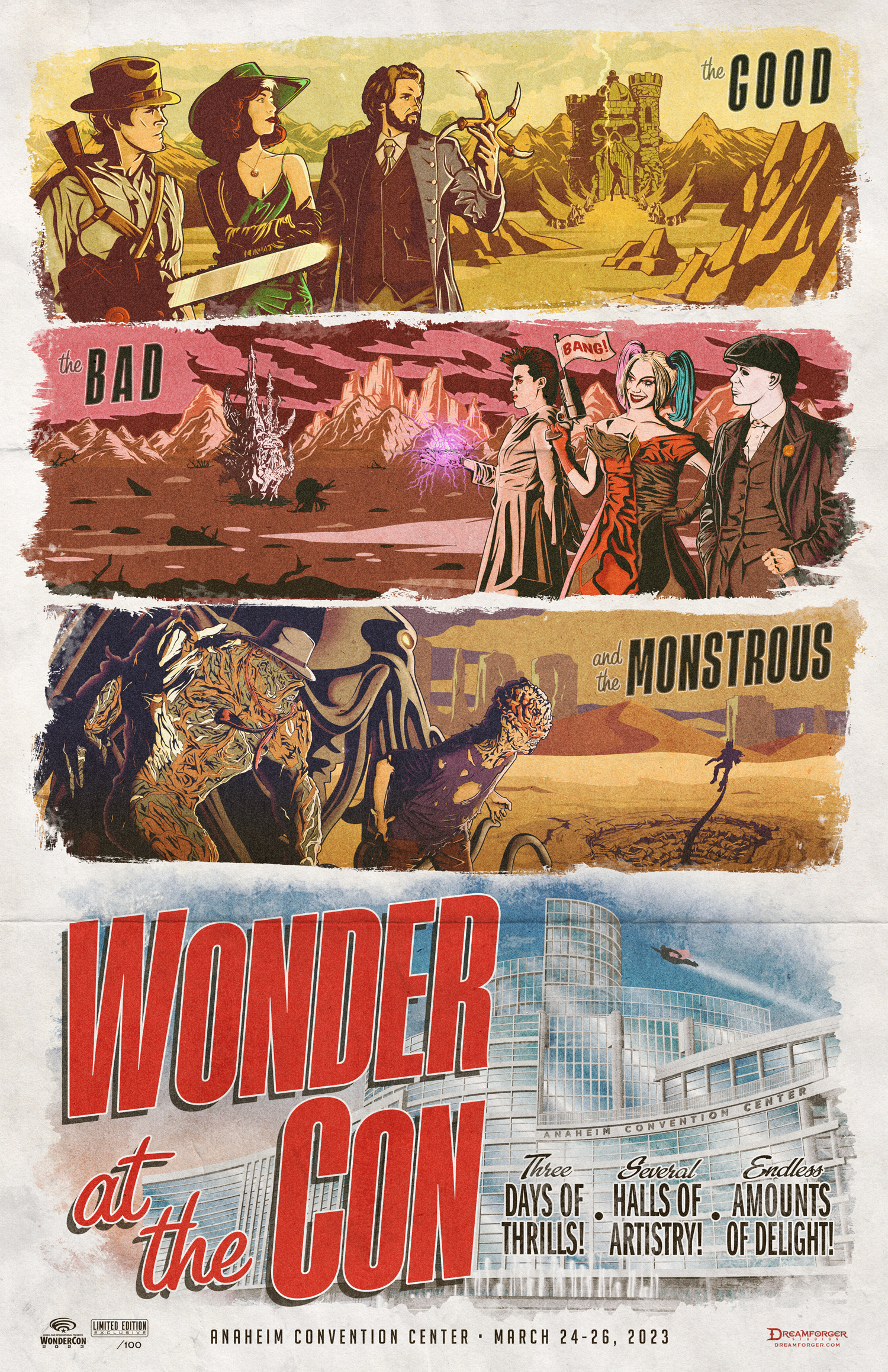 [UPDATE March 18]
If you find Kremenek's next WonderCon debut, just don't expose it to sunlight, get it wet, or ever feed it after midnight.
Kremenek has created a fun, in-universe "Missing Pet Flyer" inspired by the film Gremlins with his "Lost Mogwai" Retro Missing Pet Flyer art print. The 9″x12″ print was originally created as a December 2022 Patreon theme, and is meant to look like something Curios Store owner Mr. Wing might really put up around town and his store.
The poster depicts the "3 Rules", as well as the Chinese lettering translation for local inhabitants of New York's Chinatown.
You can get it now for $13.50 (regularly $15, but 10% off through Thursday) on his website, or grab it at Kremenek's Booth #D-39 in Artist Alley.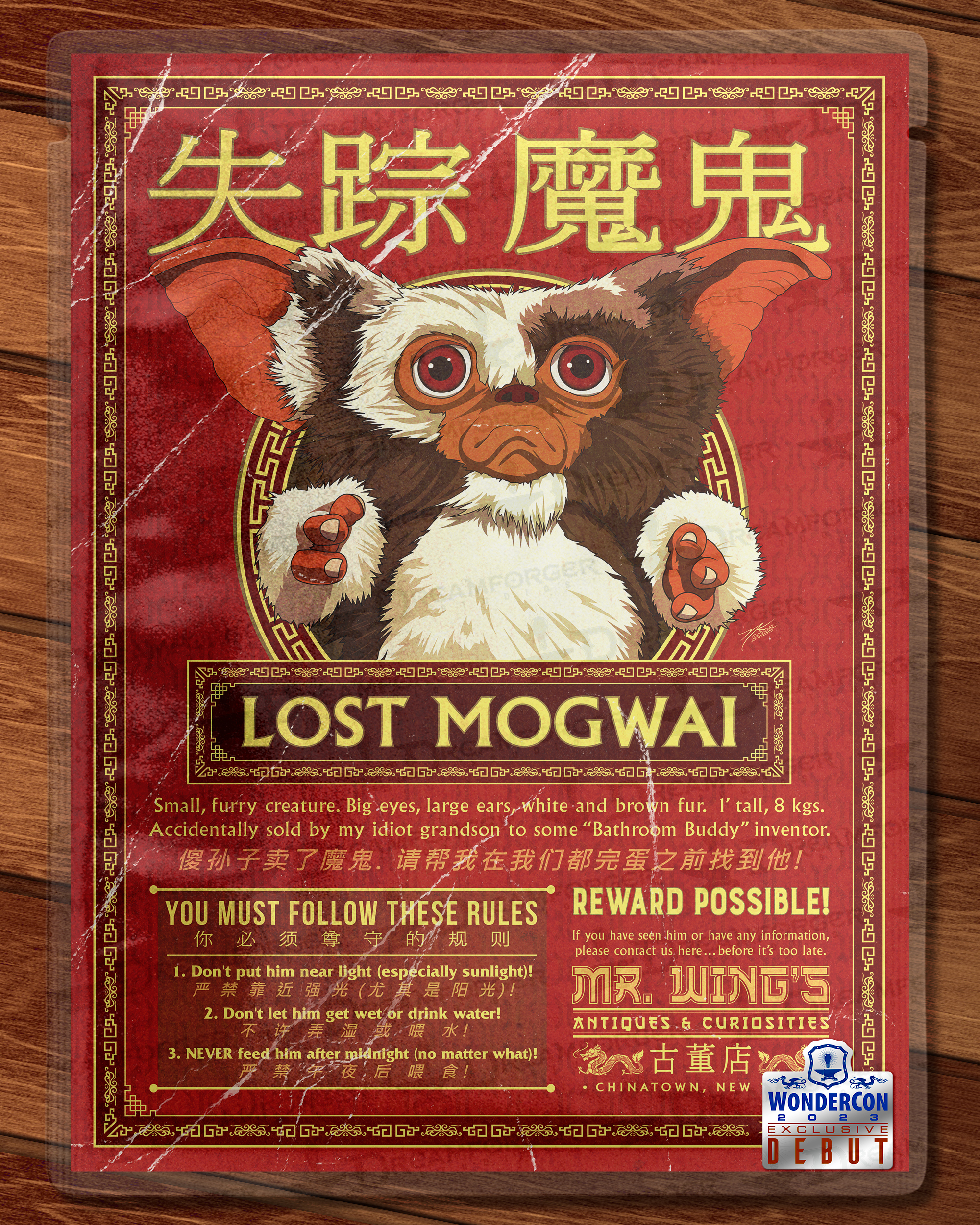 There's also a variant "Grimlinized" edition, in which the Gremlins have found the flyer and given it their "signature touch" (aka defaced it with graffiti). Grab this one as well for $13.50 through Thursday, or get the combined set for $22.50 (regularly $25).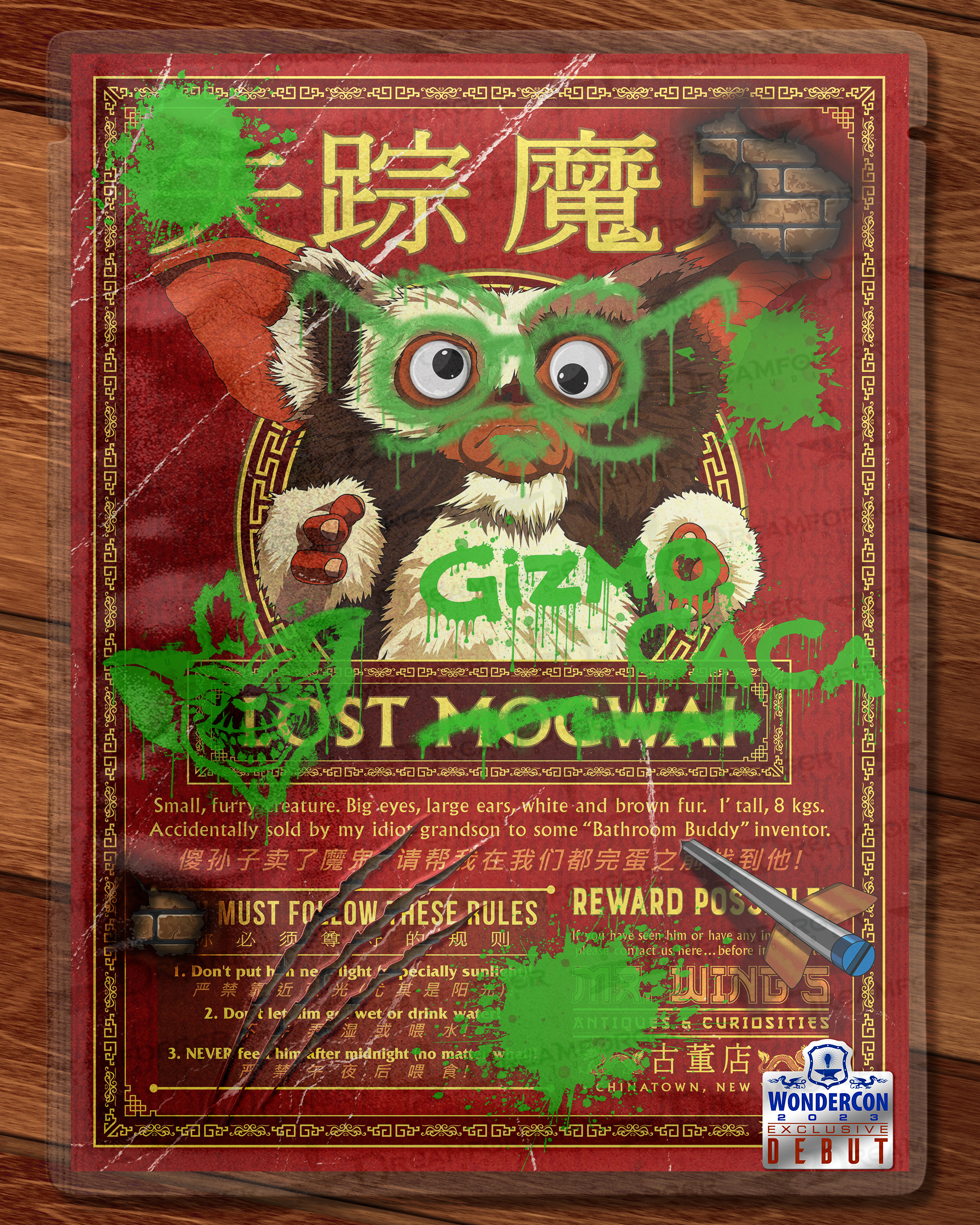 [UPDATE March 6]
Toss a coin to your Witcher… and to Kremenek, who has created a new minting of his popular coin for WonderCon. This "Toss A Coin To Your Witcher / School of the Wolf" Metal Collector Coin (3rd Minting) features an antique gold finish to give it a cool Old Medieval feel, and it even glows-in-the-dark.
If you pre-order now, you'll also receive a free 2″x3″ Witcher's Brew sticker with every purchase (while supplies last).
Just like with his other items, you can pre-order online now for either pick-up at the con or to have it shipped. Grab yours now for just $20.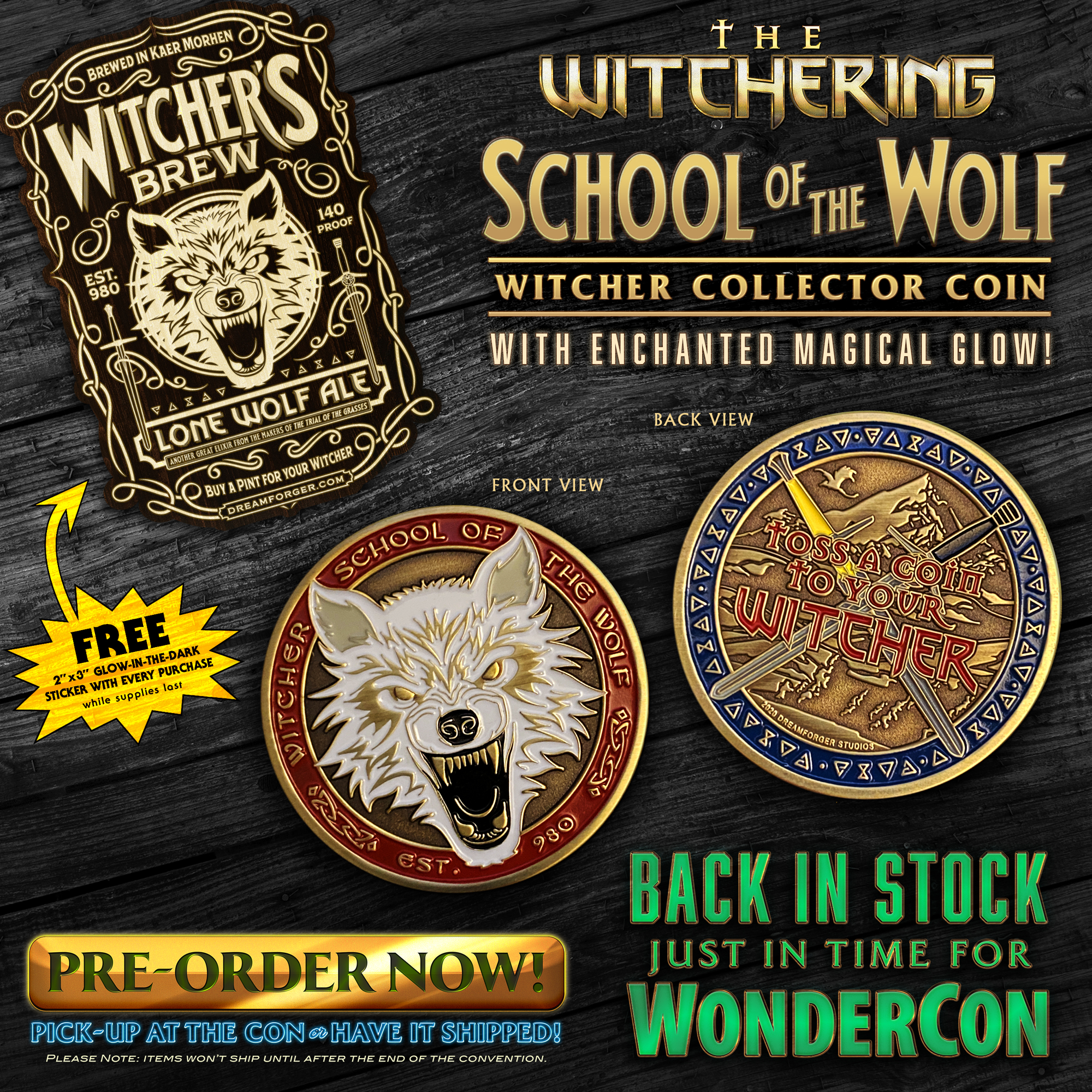 [UPDATE March 3]
Kremenek's first WonderCon exclusive is so beautiful… it belongs in a museum! Start your engines and chart a course for Booth #D-39, where you'll find plenty of treasures and artifacts, including this Fortune & Glory Lapel Pin (WonderCon 2023 Limited Edition). This 1.75″ gold plated lapel pin features a famous quote from your favorite swashbuckling archaeologist.
You can pre-order it online now for $13.50 (because it's 10% off the regular price of $15 since it's a pre-order) for either pick-up at the show or to have it shipped after.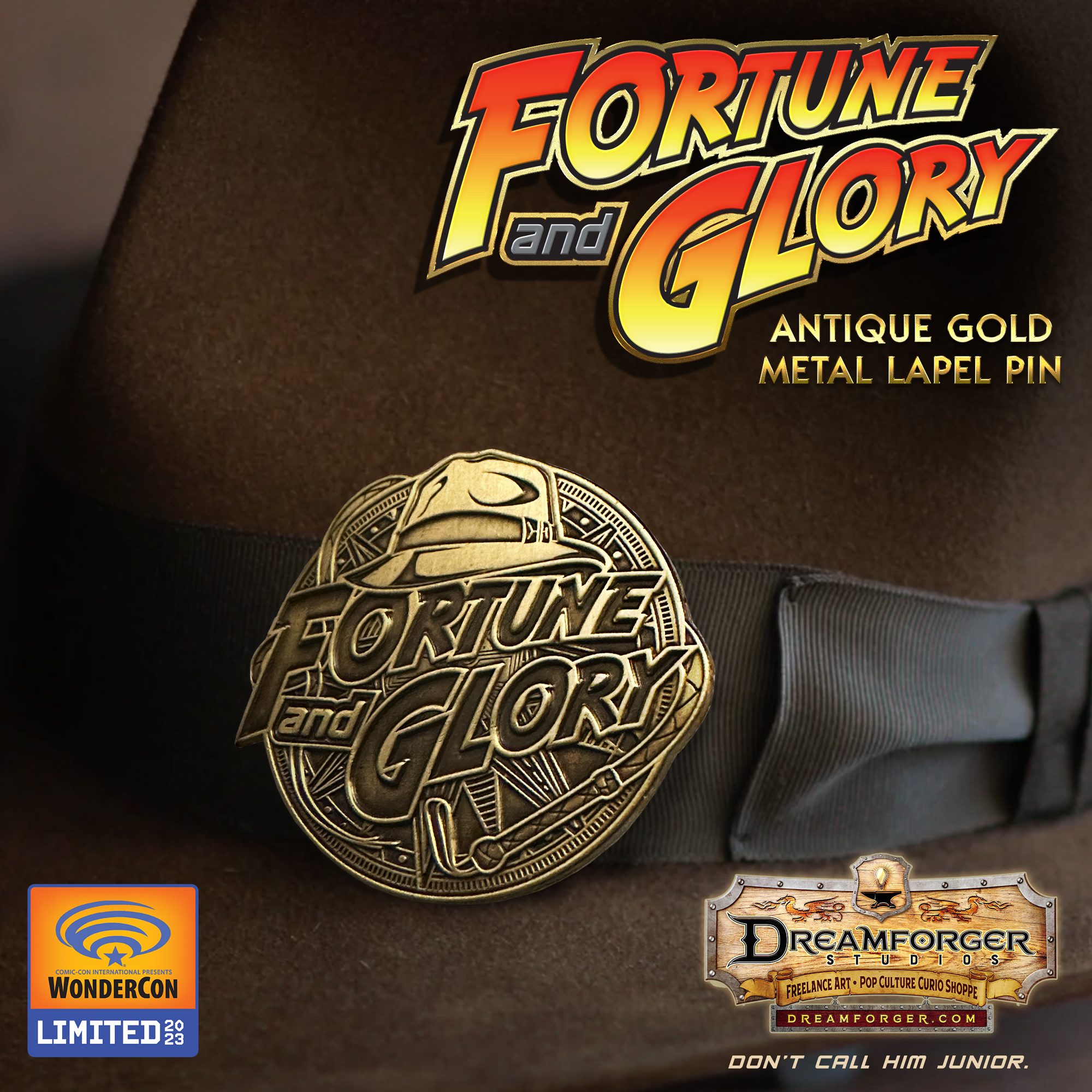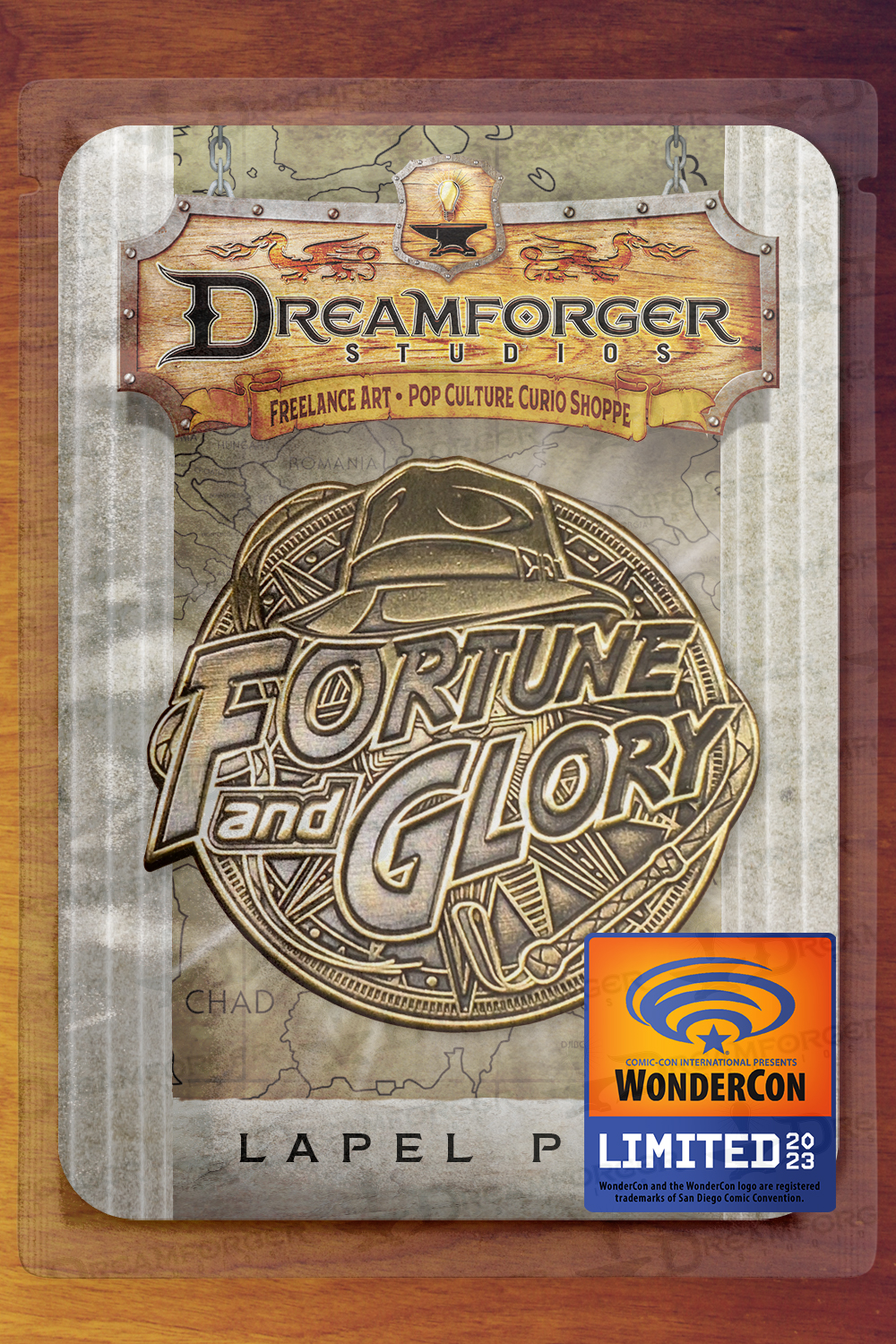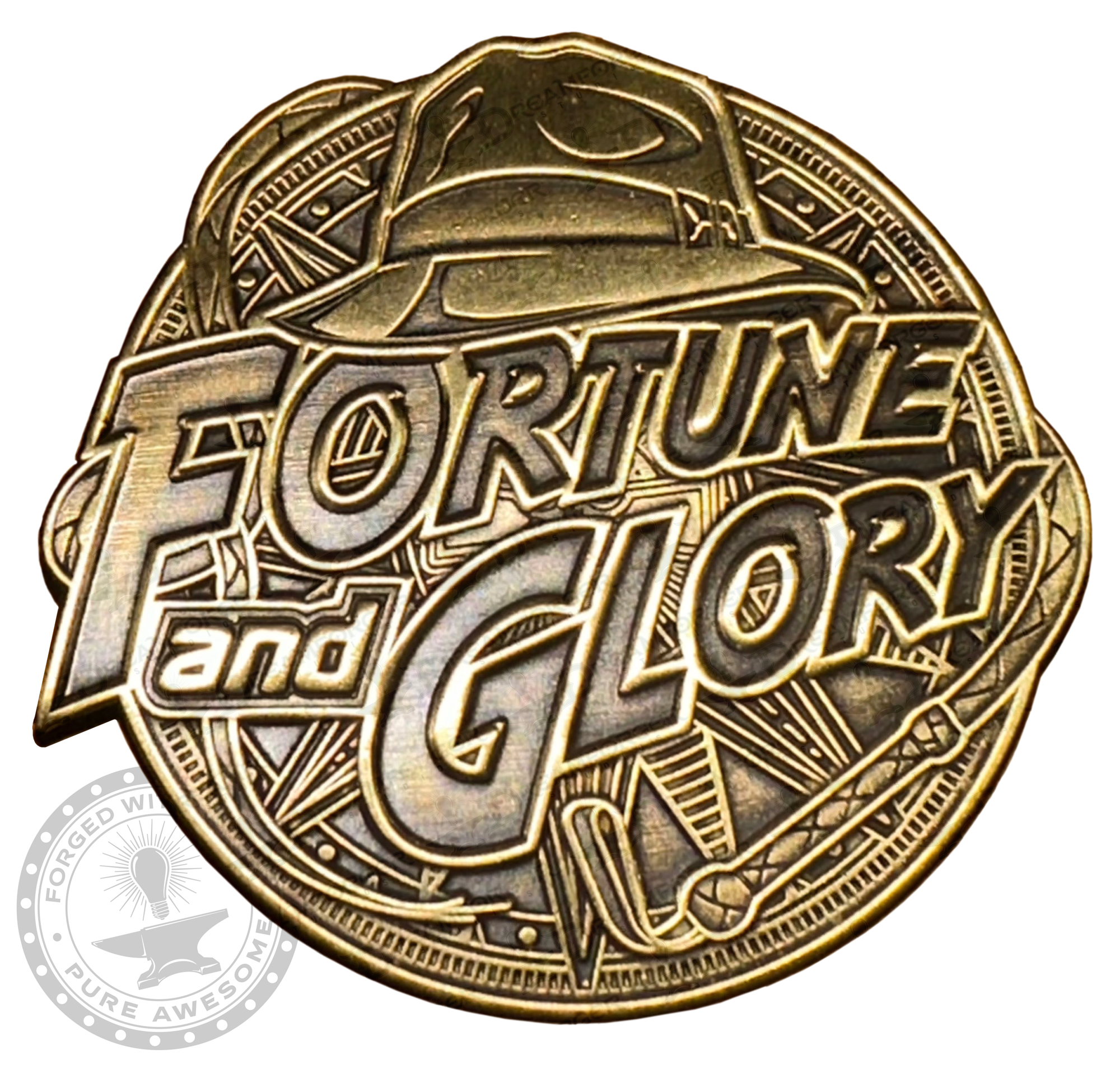 [UPDATE March 2]
Up first is a pair of new portrait mini-prints, featuring the baddest (or at least the funniest) cops this side of the pond. Kremenek has put his spin on Hot Fuzz "Sergeant Nicholas Angel" and "PC Daniel Butterman". These 6″x6″ portraits are available for purchase for either $15 each (Sergeant Nicholas Angel / PC Daniel Butterman), or save in a bundle for $25.
And for a limited time, you can get 10% off all pre-order items, which you can either pick-up at the con or have shipped to you after WonderCon.
Both prints are a limited edition of 150 each.