This year's WonderCon Anaheim 2023 Exclusives Portal is now open. This "magical" (and hopefully better functioning?!) portal is where you'll be able to submit your request for exclusives companies and autograph signings that you're interested in.
https://comic-con.configio.com/At the moment, the offerings include a Knights of the Zodiac signing on Friday, March 24 at 4:30pm, as well as various Funko timeslots for Friday-Sunday.
Just like with SDCC, it's essentially a lottery — submitting does not guarantee a timeslot, and you may be chosen for nothing. Now through Sunday, March 19 at 11:59pm PT though, you can login to your Member ID and click Exclusives Portal > WonderCon 2023 Exclusives Portal.

From here, the Exclusives Credits tab will tell you how many total points you have. You have "points" for each day, which you can allot as you see fit. Want to put all of Saturday's points towards one Funko timeslot, to give yourself more chances? You can do that. Want to split your points between a few different things? You can do that too. The only thing you CAN'T do is use one day's points towards a different day — ie, if nothing catches your interest for Sunday, you can't put those points towards something on Friday instead.
Here's a look at the points: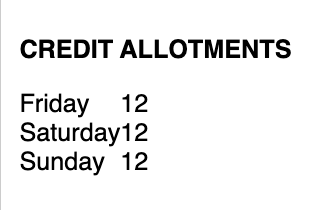 After the portal closes, you will be alerted if you won or not.