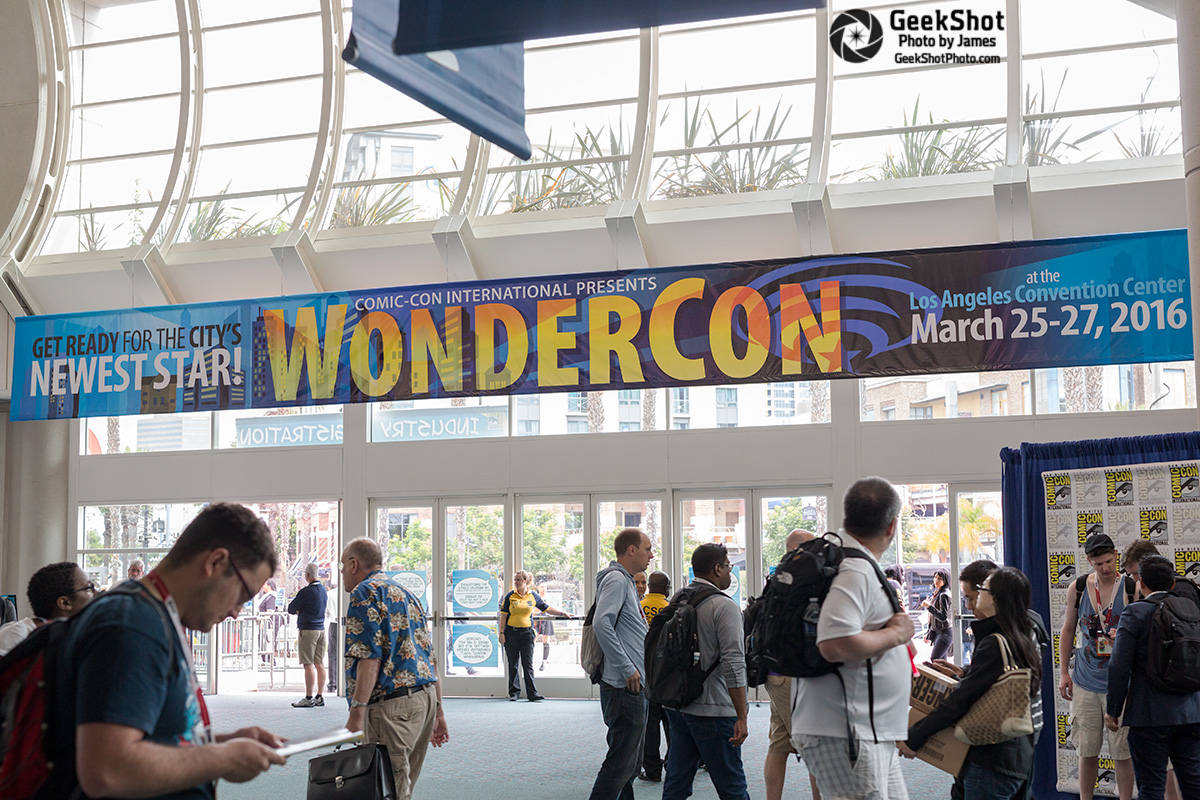 The full programming schedule for WonderCon Anaheim 2023 is here.
You can join us for a more in-depth deep dive into the programming schedule on Tuesday, March 14 at 6:30pm PT on our annual Breaking Down the WonderCon Schedule SDConcast, but for now, let's take a look at some of the highlights for each day of the con.
Friday, March 24
WonderCon is never the movie/TV mecha that San Diego Comic-Con is, but there's a nice variety of shows and movies for the con this year. On Friday, you can head to the Arena at 4:45 for Wolf Pack with series creator Jeff Davis and "cast" (dare to dream Sarah Michelle Gellar could show up?) and the world premiere of the WBD Home Entertainment animated film Batman: The Doom That Came to Gotham at 6pm. Over in North 200A, you can catch the cast of the upcoming live action film Knights of the Zodiac at 3pm; your first look at the upcoming CBS True Lies series with series stars at 4pm; get an exclusive sneak peek at HBO Max's Fired on Mars at 5pm; and enroll in HBO Max's Clone High at 6pm with a sneak peek teaser and a panel that includes Phil Lord, Chris Miller, and voice actors Nicole Sullivan and Will Forte.
On the comics side, Daniel Warren Johnson gets his own Spotlight panel at 5pm in Room 209 and promises some special surprises. Get a first look at the upcoming Dawn of DC titles at 2pm in Room 207 with some heavy-hitters, including Tom King, Mitch Gerads, Jeremy Adams, Dennis Culver, and Morgan Hampton. Evan "Doc" Shaner discusses his past works at 6pm in Room 209. Fan-favorite artist Adam Hughes also gets his own Spotlight panel at 3pm in Room 207. Five-time Eisner-winning artist/inker Steve Leialoha shares his life experiences in the 'biz at 4:30pm in Room 210.
Join JAKKS Pacific and Disguise Costumes at 5pm in Room 213CD for a look at their upcoming figures and collectibles, with plenty of Nintendo fun to be found (and special giveaways!).
Has San Diego Comic-Con changed your life? Join several key figures throughout SDCC's history for a look back at the convention and how it shaped their lives at 3pm in Room 300A. Get even more of your SDCC fix on with the Comic-Con Museum at 4pm in Room 211.
Saturday, March 25
The Arena should be fairy easy to get into on Saturday, making it the perfect place to stop by to see Legend of the White Dragon at 12:15pm where cast and crew will be discussing the life and legacy of the late Jason David Frank; back-to-back zombies with The Walking Dead: Dead City upcoming spin-off at 1:30pm and followed by Fear the Walking Dead season 8 at 2:30pm; NBC's Quantum Leap with most of the cast at 3:45pm; and finally, Funko takes over at 5pm for Pop Talk LIVE! with hosts Brian Mariotti and Mike Becker with a "special giveaway".
Over in North 200A, it's going to be a busy day, as you'll learn about the upcoming SYFY series The Ark at 10:30am; celebrate the 30th anniversary of Animaniacs with series cast and creators; enjoy a screening and Q&A for FOX's upcoming animated series HouseBroken; and see the world premiere of the WBD Home Entertainment DC animated film Justice League x RWBY: Super Heroes & Huntsmen, Part One followed by a Q&A with cast and creators. But the fun doesn't stop there, as there's a Power Rangers fandom celebration after.
SoCal locals might want to check out "Beyond Vasquez: Star Trek's Big and Little Location Filming Sites" to start charting their next road trip, at 5pm in Room 213CD. You'll also find creatives behind some of the biggest TV shows discussing how to design for TV, including creatives from The Last of Us, Ms. Marvel, and more at 12pm in Room 213CD. If you loved the costumes of Obi-Wan Kenobi, then join costumer and seamstress on the series for "The History of Sci-Costumes" at 10am in Room 207.
If you're looking for comics, prepare to have your mind blown at "IDW in Depth" at 3:30pm for a deep dive into their 2023 projects; hear Tom King discuss his extensive career at his Spotlight at 1pm in Room 207; and join a stacked panel of Daniel Warren Johnson, Adam Hughes, Phil Jiminez, Jae Lee, and Alice "NerfAlice" Matthews  for "Drawing Super" at 4:30pm in Room 213AB. Mark Evanier will be hosting the annual Jack Kirby Tribute Panel at 12pm in Room 207.
Mingjue Helen Chen, who designed this year's gorgeous WonderCon program book cover, gets her own Spotlight at 3:30pm in Room 208.
Love retro toys? Then come learn about Nacelle Company's (the company behind The Toys That Made Us and more) toy division that's currently reviving Sectaurs, Robo Force, Power Lords, and more at 6pm in Room 207.
For the young (and young at heart), head to Room 213AB at 6:30pm for "The VFX of Dr. Who: You Can Do This!" where real life special effects luminaries will show a clip from a classic episode of the series and help you re-create it.
Prefer your fandom on the high seas? Then set sail for Room 300C at 5:30pm for the "Our Flag Means Death: 'ships on Ships" fan-run panel. If you'd prefer to walk the runway than the plank, Her Universe will be providing an update on their annual SDCC Fashion Show at 2:30pm in Room 300C.
There's also the annual classic, "Cartoon Voices" at 4pm in Room 207, as a motley crew of voice actors are captained by Mark Evanier.
We're especially excited about "Puppet-Filled DnD One-Shot", which is exactly what it sounds like — Dungeons & Dragons, puppets, and unscripted chaos, all going down at 8pm in Room 300A.
Want to learn about the legal mysteries of Netflix's Wednesday? The Legal Geeks are at it again, with a panel of judges and lawyers, to discuss the finger legalities of the series at 7pm in Room 207.
Later that evening, you'll want to head back to North 200A for the annual WonderCon Masquerade, where you'll see the best of the best when it comes to cosplay.
Sunday, March 26
It's a much lighter day on the TV/movies front, though you can find The Dragon Prince at 12pm in North 200A; a look back at the history of Freakazoid! with writer/producer/voice actor Paul Rugg; and join X-Men: The Animated Series producer/director Larry Houston and writers at 10am in Room 207 for a look back at making the series. If you missed out on either of WBD Home Entertainment's animated DC films, you'll get a second chance to see them in the Arena.
There are still some surprises to be found though, as you'll catch actor, wrestler, musician, and author Chris Jericho on "How to Create Your Own Novel" alongside other novelists at 12pm in Room 207.
If you missed Tom King on Saturday, you can catch him again joining artist Mitch Gerads in Gerads' Spotlight at 2:30pm in Room 208.
Gary Sassaman, the former director of programming and publications for CCI, gets his first panel of his own at 1pm in Room 213CD as he looks back at the history, creators, and characters in some of his favorite comic books.
Have you ever seen a cosplay and wondered… who or what is that? You can play the guessing game live and in-person at "The Un-Masquerade" at 4pm in Room 300A.
The con (mostly) closes out again with the annual Comic-Con town hall — "Talk Back", at 3:30pm in Room 213AB. This is your chance to let the minds behind CCI know what you really think.