Two WonderPosts in ONE day? What in tarnation is going on here? Whelp folks, I tell ya, it's a sign of the END TIMES. And by "end times" I mean it's almost the end of waiting times and the start of WonderCon times.
In eight short (but weirdly getting longer, thanks Daylight Savings Time!) days the doors to the Anaheim Convention Center will be opening. There will be original part, Pops, prints, comics, games and everything in-between. What do you want to see / do/ buy?
Let's take a look at some of the newly announced items:
Top Cow Productions and Aspen Studios artist Joel Gomez will be offering a few commissions for WonderCon, as well as his two volumes of sketchbooks at their shared Artist Alley booth, #AA-16. You don't want to dawdle though, only a few of each will be available. 
WonderCon

I'll be taking a limited # of commissions for the show, message me for details.

I'll have a small # of GOMEZ Sketchbooks Vol. I & II available.

Find me at @Midimew Artists Alley table AA-16 where she will be offering her GRUMP OGN, Stickers & Pins!#wondercon2023 pic.twitter.com/TllHAu0j7q

— Joel Gomez (@J0ELG) March 16, 2023
Don't forget to check out our List of Open Artists Commissions for WonderCon 2023 for all the artists that we know of who are offering this service. And if you're an artist doing commissions, let us know dropping us a line, or tweeting us at @SD_Comic_Con.


Independent comic book publisher of the comic Immortal Era, Finish Line Comics, is encouraging WonderCon attendees to swing by their Small Press booth, #SP-29 to check out their books PLUS everyone can get a free sticker. Can I also offer a high five to Finish Line Comics for their excellent hashtag usage?!
https://twitter.com/finishlinecomi1/status/1636429450517839873?s=20
Concept and visual development artist Chris Deboda will be debuting the first of a new print series at WonderCon. These prints will feature anthropomorphic animal characters in cozy locations like small cafes and food shops. Artist Alley booth #C-52 is the place to find this.
 

 

View this post on Instagram

 
Another print you'll be able to pick up at WonderCon is the delightfully wack-a-doodle Pokémon print from artist Brian Bear, who will be set up in Artist Alley #D-06. 
Prepping for Wondercon next week, including making an updated version of my Pokémon starters print pic.twitter.com/JwuuckhXgu

— Brian Bear (@BeaPeaBear) March 16, 2023
Artist Taracosm keeps chugging out the colorful original art, and we are living for her clean, sharp lines and bold colors. This Mighty Thor Jane Foster is making me have heart eyes. 😍 We are wishing she offered some commissions but until then, we'll keep lovin' these originals.
 

 

View this post on Instagram

 
The certified (by me, of course) Nicest Guy in the Comics Business, Usagi Yojimbo creator Stan Sakai will have a booth at WonderCon and lots of signing times available all weekend, including with his Chibi Usagi co-creator, Julie Sakai. Catch them at booth #1209:

Friday 24th: ⁠
11:00am-12:00pm Stan Signing ⁠
2:00-3:00pm Julie & Stan Signing ⁠
6:00-7:00pm Julie & Stan Signing
⁠
Saturday 25th:⁠
9:30-10:30am Stan Signing ⁠
3:00-4:00pm Julie & Stan Signing ⁠
6:00-7:00pm Julie & Stan Signing ⁠
⁠
Sunday 26th:⁠
9:30-10:30am Stan Signing ⁠
1:00-2:00pm Julie & Stan Signing ⁠
4:00-5:00 Julie & Stan Signing 
 

 

View this post on Instagram

 
Writer of sci-fi fantasy action series The Last Lumenian, S.G. Blaise, will be at WonderCon where you can pick up copies of her books as well as some "freebies" at Small Press booth # SP-12.
The Last Lumenian Series is going to @WonderCon 2023!✨
Come on down and see me March 24th through 26th at WonderCon in Hall A booth SP-12 and get some fun Last Lumenian freebies! See you there!💖💐 #WritingCommunity #WonderCon pic.twitter.com/HNngyRbTPn

— S.G. Blaise Official (@SGBlaiseAuthor) March 16, 2023
"Real Love Is Forever" and we think you're really going to love (forever!) this print for The Crow by artist Jonathan Bartlett. This is just a sneak peek, but you'll be able to see (and purchase) the whole print at the Spoke Art booth, #1109.
"It can't rain all the time."

A sneak peek of artist Jonathan Bartlett's (@BartlettStudio) print for the beautiful and terribly tragic cult classic, "The Crow."

Sign up for our mailing list and SMS messages to stay informed.#JonathanBartlett #SpokeArt #TheCrow #WonderCon pic.twitter.com/EjYK71RzY8

— Spoke Art (@Spoke_Art) March 16, 2023
"You do know that I can't just will mythical beings into existence, right?" – "Not with that attitude, you can't." Don't hesitate to lock down this Loch Ness Cryptid sticker by Paolo Encarnacion, available at booth #B-46.
 

 

View this post on Instagram

 
7 Bucks a Pop, booth #281, have announced their final two signers for WonderCon and they are STELLAR! First, attendees can meet the legendary Sid Krofft, creator and puppeteer known for H.R. Pufnstuf, Land of the Lost, and Sigmund and the Sea Monsters. Second, celebrated Disney Imagineer Bob Gurr, who helped develop more than 100 designs Disney attractions in his 40 year career, will also be signing. More information regarding prices and times will be released next week.
The urge to "Catch 'Em All" is strong with this tweet. Infinity Millworks, creators of fine pop culture wood goods will have these coasters, plus a bunch of keychains at the booth, #911.
Check out these coasters I also did! Can't wait for #WonderCon booth 911. #wondercon2023 pic.twitter.com/JOZswO4scI

— Infinity Millworks (@InfinityMworks) March 16, 2023
Do you like pokémon? I'm making wooden keychains with pokémon characters on them for #WonderCon pic.twitter.com/vcmvDFEAaF

— Infinity Millworks (@InfinityMworks) March 16, 2023
WonderCon is in a week and we are excited to have 5 new Patch Exclusives for you! Beam down to booth 918 and discover what they are!#StarTrek pic.twitter.com/KpoWFL6z95

— Hero Within (@HeroWithinInc) March 16, 2023
And finally today, we see so many fandoms represented in the picture of laser engraved coasters made by SeaDragon Cove! You'll be able to pick out your own, among many other fantastic wares at booth #1464 during WonderCon.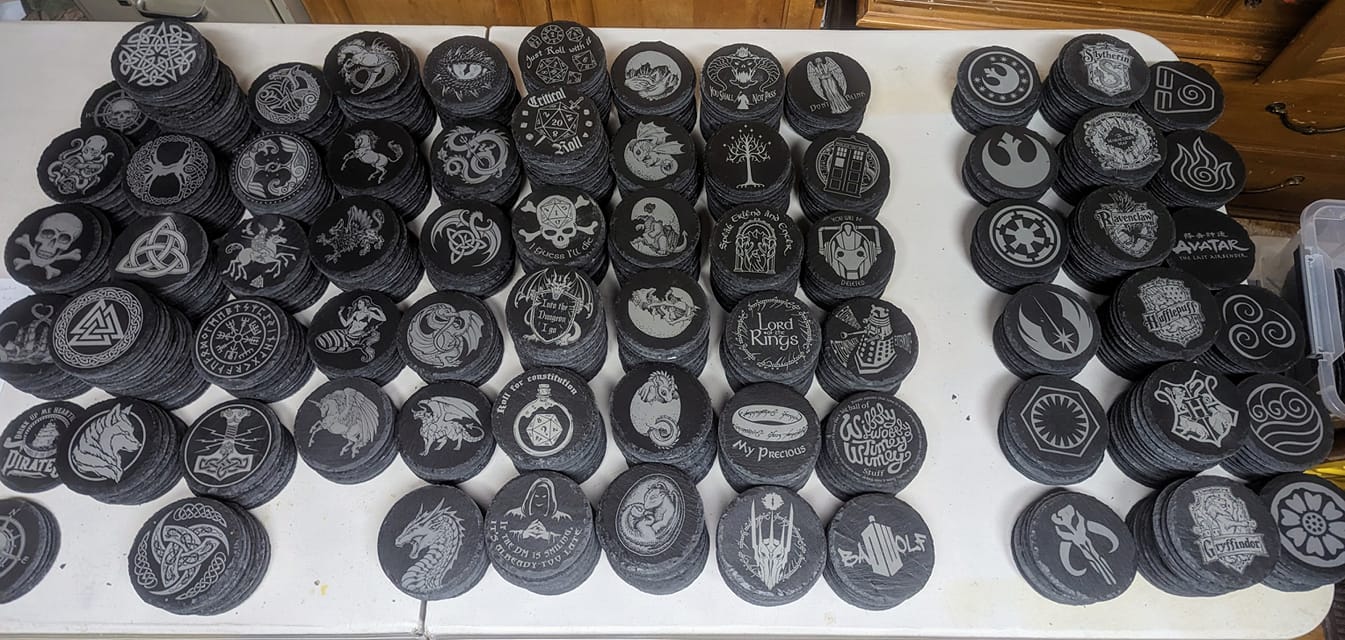 If you have yet to get tickets to WonderCon 2023, there is still time. 
Anything we missed? Let us know in the comments, drop us a line, or tweet us at @SD_Comic_Con.
And if you have missed any of our previous WonderPosts, you can find them here.