Whoo boy, it's really getting down to the wire here, isn't it. But sometimes folks save the best for last, or at least the last minute. Consider this an intricately packed carload of news, including enamel pins, lots of pretty prints, plenty of cool comics, and even a few signings.
Let's take a look at the news you might have missed:
While you wait for the southern California sun to come back out, you can keep your noggin warm with these super fresh beanies from Ollie Lai Shetler, available at their Artist Alley Booth #F-40.
 

 

View this post on Instagram

 
Artist Tom Richmond won't have his usual booth, but will still be at WonderCon and offering his usual caricatures and Mad covers at the National Cartoonists Society Booth #2000.
I'll be at Wondercon in Anaheim this weekend, but not at my own booth. You'll find me at the National Cartoonists Society booth #2000. Yes I will be doing caricatures and MAD cover commissions, plus I'll have a few prints and books, but not my usual boatload of garbage. Stop by! pic.twitter.com/BYXEvyNttE

— Tom Richmond (@art4mad) March 23, 2023
Talk about cutting it close! It was just in the nick of time that Rhode Montijo received these new enamel pins. You'll be able to snag them at WonderCon from his booth #912.
 

 

View this post on Instagram

 
A little like Gremlins, Loungefly backpacks seem to multiply. But we're not complaining because that means exhibitor Toyz N Fun will have another cool one at their booth, #1465. Giddy up on over to check out this adorable Bullseye and Woody Toy Story backpack.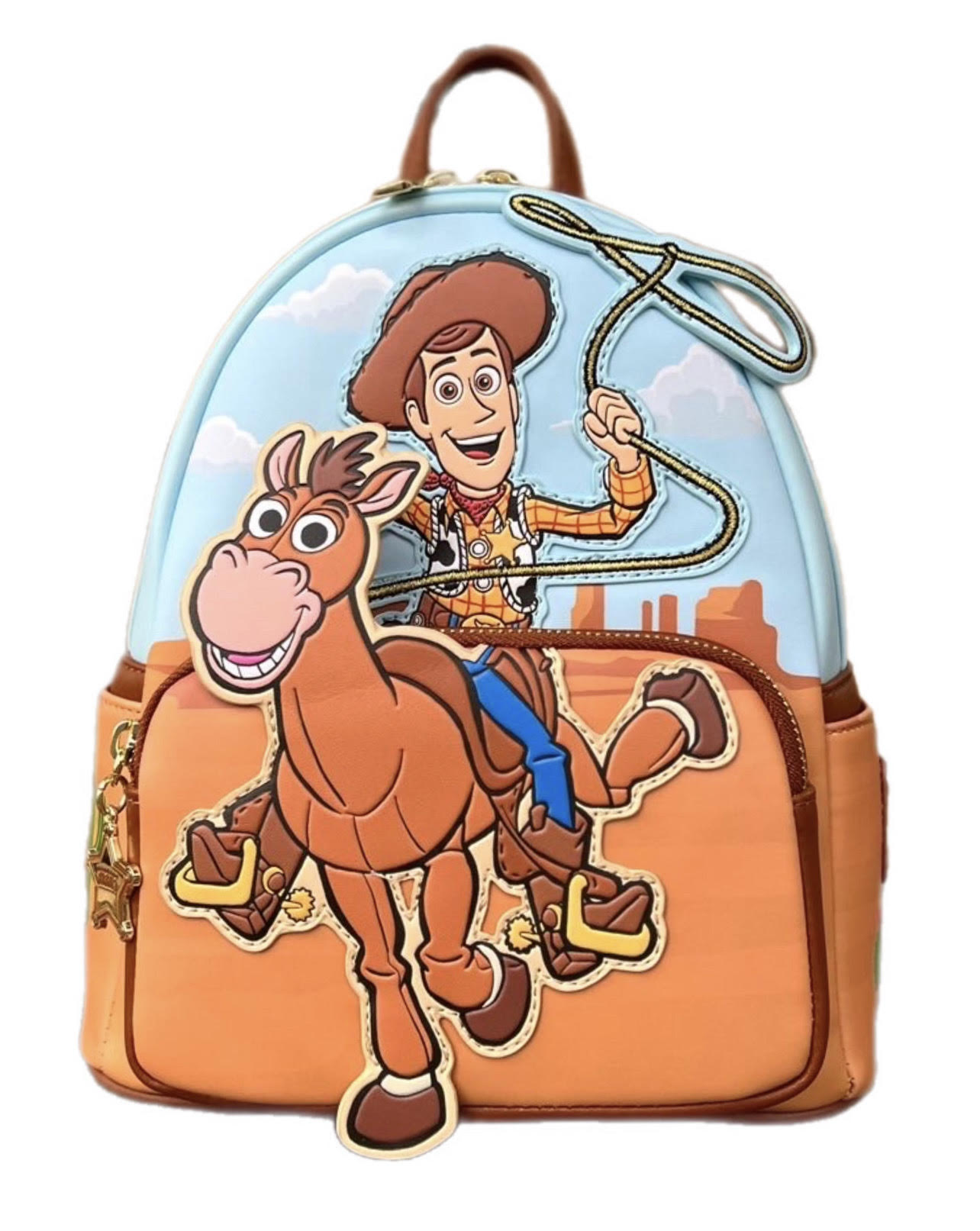 Is there such a thing as too many t-shirts? We think not. We won't blame you for wanting to add this Star Wars / Atari mash up parody shirt from Comic Book Clothing (booth #1837) to your wardrobe.
 

 

View this post on Instagram

 
This writer is a big time sucker for blind box items and Disney so this UCC debut is *right* up her alley. Which one of these Disney 100 Surprise Capsules would you want to open? They will be at booth #1536 during WonderCon.
 

 

View this post on Instagram

 
Southern Californian artist Eric Scales don't have far to go to get to WonderCon, which is good because he's bringing a lot of goodies for his Artist Alley booth, #E-32, including an amazing Seymour and Audrey II print, sketchbooks and wooden tabletop kits.
You'd be safe to assume that Austin based artist Nikki Ward's implement of choice was a magic wand. Her prints are just that delightfully magical. Find them at Artist Alley #B-55 during WonderCon. 
Prefer the spooky to the sweet? We've got you covered. For all things spooky, paranormal and creepy, check out Booth #810, home of Para Books, who specialize in tingling your spine with their dark tales.
 

 

View this post on Instagram

 
 

 

View this post on Instagram

 
Love art but don't have a lot of space? Victor Barreto will have 3 new 5″ x 7″ prints available at Booth #C-19. This size is perfect for displaying and easy to find frames for.
Debuting at WonderCon this weekend.

Mini posters!

5×7 prints of Victor's @myevilgoatee amazing art! Now you can enjoy the majesty of these beautiful tribute posters even when you don't have a ton of display space.

Pick one up at table C-19! pic.twitter.com/WNE4Lmdcmn

— Victron Printing (@VictronPrinting) March 23, 2023
The Gaming area in Exhibit Hall C is the place to trek if you are looking to playtest the The 7 Days Adventure System. This will appeal to fans of Kids on Bikes RPG, Betrayal at House on the Hill or Dead of Winter. Come try out the first procedurally-generated open world boardgames where no 2 play sessions are ever the same, all day Friday through Sunday.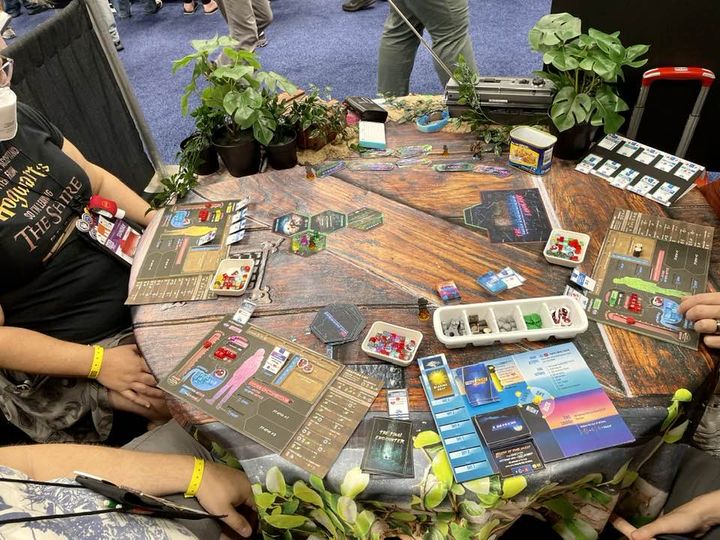 We are very excited to share that blog favorite Chrissie Zullo will be at WonderCon, in Artist Alley #C-21. She'll be offering 9″ x 12″ bust commissions, as well as having a selection of original art, prints, sketchbooks and more. 
 

 

View this post on Instagram

 
It's been 25 years since Dark Horse Comics first released Frank Miller's 300 and to celebrate, Torpedo will have 3 different variants available from super star artists Bill Sienkiewicz, Sajad Shah, and Gabrielle Dell Otto. Limited quantities of each trade dress and virgin cover will be at booth #419 during WonderCon.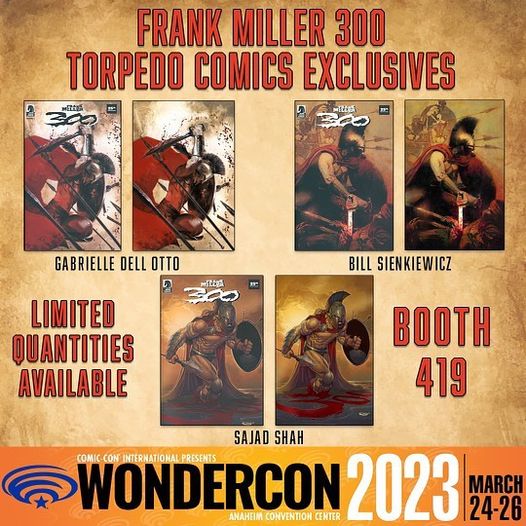 Artist and comic creator David Moreno is bringing a pile of warm-up sketches to WonderCon, as well as a new cover version of his comic The Sapphire Directive. David will be exhibiting at the CAPS booth, #2280.
 

 

View this post on Instagram

 
Independent animated series Among the Others, located in the Dealers section #DL-50, has just acquired the prints that they will have available for purchase. You'll want to hit them up there, in addition to their Friday panel which will reveal a brand new sizzle trailer, videos by cast members, and more. 
Prints acquired.😎

Your mission: pick one up at our booth. Coordinates: DL-50.

We'll be selling them @WonderCon, March 24th-26th

See ya soon!#WonderCon pic.twitter.com/BLbJ4sPwi8

— Among the Others (@atotheshow) March 23, 2023
Artist Elly Karpides had time for one last mini-original and it's PURRRR-fect. Elly will be at Artist Alley #C-44 all weekend. 
 

 

View this post on Instagram

 
These super nifty jam jar inspired cards by Fartsylee would make anyone's day a little sweeter. And it would make Fartsylee thrilled if you picked one or two up at their booth, #B-31, your choice of  cherry or grape.
 

 

View this post on Instagram

 
And finally today, author and creator of the Vale Born Series, Lorin Petrazilka is beckoning you to swing by her table, Small Press #SP-24 to check out their fantasy books and maybe even score a giveaway.
 

 

View this post on Instagram

 
If you have yet to get tickets to WonderCon 2023, there is still time. 
Anything we missed? Let us know in the comments, drop us a line, or tweet us at @SD_Comic_Con.
And if you have missed any of our previous WonderPosts, you can find them here.