What are your plans for the next 48 hours? If you're reading this, we're guessing you're in final preparations for your trip to the Anaheim Convention Center this weekend for WonderCon 2023. We have a loaded WonderPost to help with those preparations with news from Felix Comic Art, JEPROX, Jess Chrysler, and a lot more.
Here's a look at what you might have missed:
 

 

View this post on Instagram

 
 

 

View this post on Instagram

 
 

 

View this post on Instagram

 
 

 

View this post on Instagram

 
Rocketship Entertainment has some huge plans for WonderCon this year. They're building an entire Rocketship Way Station at Booth #1605 to highlight some of their amazing graphic novels, games, and a lot more. They're also bringing some heavy talent with them, including Leeanne M. Krecic (Let's Play, Everdate), Ryan Benjamin (Brothers Bond, Stan Lee's Genesis), and Tom Akel (Stan Lee's Genesis, Stan Lee's Backchannel). The folks over at FreakSugar have all the details, including Rocketship's full schedule.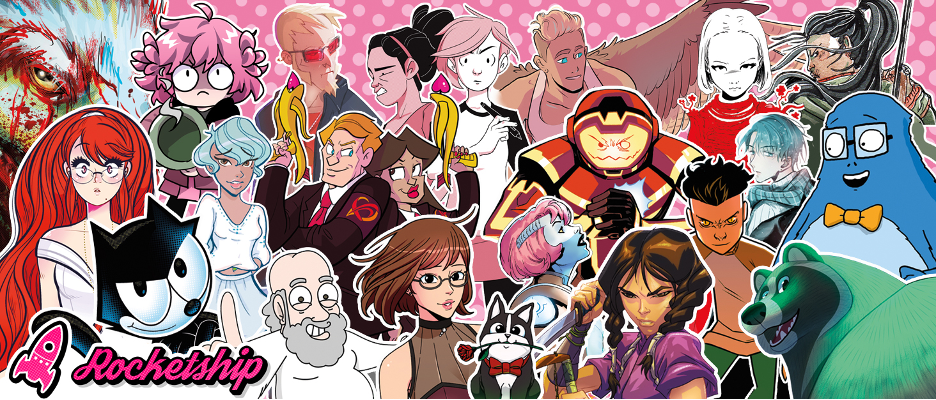 Artist Jess Chrysler is swooping into WonderCon 2023 with a brand new comic book (still has that new comic book smell) and lots of new art. Stop by Table #E-46 in Artists' Alley for all of her goodies.
 

 

View this post on Instagram

 
 

 

View this post on Instagram

 
 

 

View this post on Instagram

 
 

 

View this post on Instagram

 
Along with his new comic, Yes, Luke McGarry is bringing some very honest tote bags to Booth #1410 at WonderCon. Yeah, don't ask me about motorcycles, either.
 

 

View this post on Instagram

 
The Babylon Rouges are still probably the sickest Sonic designs (or maybe I have a bias idk lol)

Print for Wondercon this weekend!#SonicTheHedegehog #sonicriders pic.twitter.com/cfsyTtLZJ0

— 『KING KUMA』@ WONDERCON F-64 (@kumaroyale) March 22, 2023
This weekend #SDP will be sitting in with @prismcomics at @WonderCon! Come by table 1401 and get your fave #lgbtqcomics including #GhostGhost by @RichardFairgray and #1001BlackMen by @8_Rock! #indiecomics #wondercon2023 pic.twitter.com/0B4KXAMNoT

— Stacked Deck Press (@stackeddeckprss) March 22, 2023
You can bet your pretty floral bonnet the California Browncoats will have lots of new items and swag available at WonderCon Booth #889.
We have a few new things in the booth this year, including very limited numbers of magnets, stickers and patches designed by @Renmeleon of @KYBrowncoats! Come early to get yours! pic.twitter.com/GAM38Q0BRQ

— California Browncoats – WonderCon Booth 889 (@CABrowncoats) March 22, 2023
Felix Comic Art has a history of hosting some of the world's best comic artists and authors, and this year's WonderCon is no exception. One of their artists you'll find this year is Daniel Warren Johnson with a limited edition DO A POWERBOMB! print.
More awesome sketches on our limited edition @danielwarrenart DO A POWERBOMB print! Limited to 100! All figures on the far right are original art sketches! We're sold out of the b/w prints but we WILL have color prints available at #wondercon2023! SP-69! https://t.co/JxJMpgBPXm pic.twitter.com/c2JD71ssdD

— Felix Comic Art (@FelixComicArt) March 22, 2023
The folks at BB-CRE.8 are bringing their hex pin homage to Clone Task Force 99, better known as the Bad Batch, to Booth #1925.
Dropping these baddies at @WonderCon this weekend. BOOTH 1925. #wondercon2023 pic.twitter.com/383WzJhsBM

— BB-CRE.8 (@bb_cre8) March 22, 2023
DC Comics artist Jeff Martinez, also known as JEPROX, will have this stunning new 8″x10″ Mirko Lunar New Year print available at Table #B-07.
 

 

View this post on Instagram

 
Master of puns and SoCal cartoonist Nate Fakes will be flashing his best puppy dog eyes at Booth #SP-96, where he'll also have his latest dog book for you or your dog to chew on. And while you're at it, bring him some donuts.
 

 

View this post on Instagram

 
Fandom Charities will be hosting various Mighty Morphin Power Rangers cast members throughout WonderCon weekend. They've posted their respective schedules to their Instagram feed, so you'll know when to look for your favorite Power Ranger.
 

 

View this post on Instagram

 
 

 

View this post on Instagram

 
 

 

View this post on Instagram

 
 

 

View this post on Instagram

 
 

 

View this post on Instagram

 
 

 

View this post on Instagram

 
Anyone going to WonderCon, I'm gonna have free copies of ChibiBunny's Rules of Boundaries at my table. If any of my friends who can't make it but would like a copy, feel free to check it out in my Ko-fi shop. It's currently listed as "pay what you want" (:https://t.co/yVWvZDF94W pic.twitter.com/Wx3VYOMiX9

— KasutoProductions is at WonderCon E-13 🫧 (@ChubbyBunnyArt) March 23, 2023
If you have yet to get tickets to WonderCon 2023, there is still time. 
Anything we missed? Let us know in the comments, drop us a line, or tweet us at @SD_Comic_Con.
And if you have missed any of our previous WonderPosts, you can find them here.