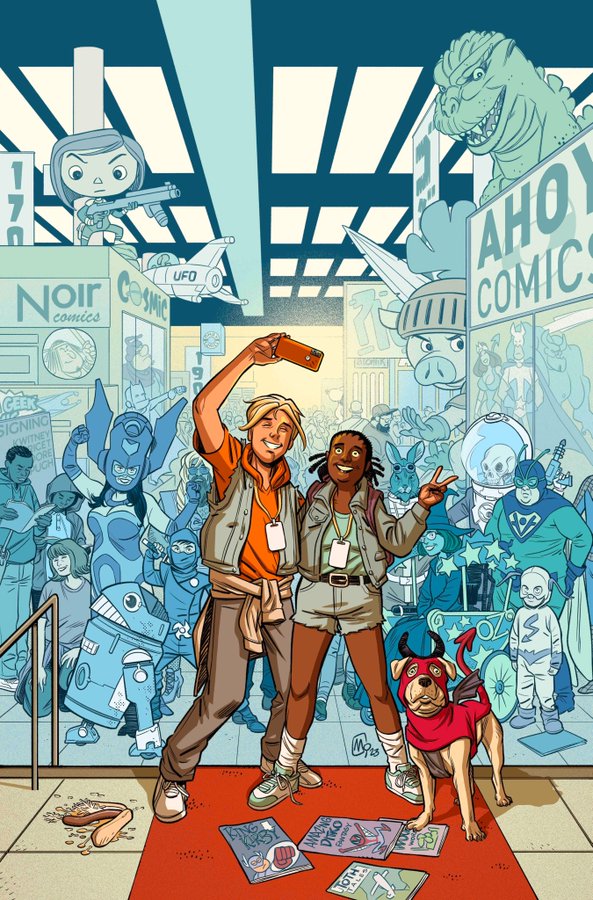 San Diego Comic-Con (and other fan conventions like it) are a place where dreams can be made — but usually not without a few bumps in the road. This July 12, Ahoy Comics' will be publishing Con and On #1, a new graphic novel from writer Paul Cornell (Doctor Who) and Marika Cresta (Doctor Who), which celebrates "the highs the lows and the silliness" of fan conventions and the comic book industry.
The series recounts several decades of a fictitious bayside convention, the Vista Al Mar Comics Festival, with an ensemble of professionals and fans each hoping to make the best of the convention, in whatever way that means to them.
"Con & On is the romance of every big convention, the bittersweet journey through time and success, the highs and the lows and the silliness," Cornell said in his blog. "It's the story of every fan and every pro and everyone who's just trying to make a buck in the midst of extremity. Through the narratives of our large cast of characters we see, in miniature, the story of the last few decades of modern comics: how some things have changed and how some things have stayed exactly the damn same."
The five-part series will span five decades, and promises to offer a "heartfelt insider comedy history of the rollercoaster that is the comics industry, with bite but also with love".
As it's out in time for the convention, Con and On #1 will be available at San Diego Comic-Con, though exact details are still to be announced. We're also hearing that the team behind it will likely be making an appearance and doing panels, though again, exact details are still set to be confirmed.
You can read more about Con and On on Cornell's site or on Broken Frontier.