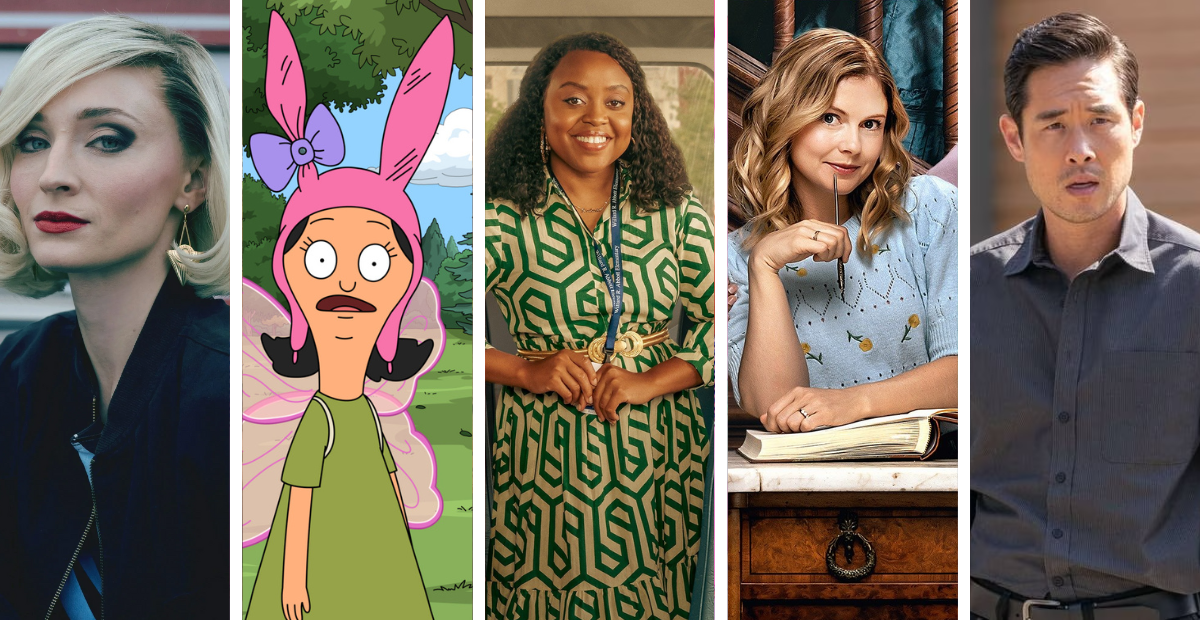 Television series comprise a huge chunk of the schedule for San Diego Comic-Con — and every year it seems like they become a larger and larger piece of the pie. The lines for Ballroom 20 sometimes rival even those of Hall H, and they won't be getting any shorter any time soon.
As the anticipation builds for the official announcements from networks and CCI as to which television shows will be on the panel schedule, we like to take time out to speculate which shows have the best chances of appearing at SDCC. We'll be breaking this into three segments, starting with the Cable & Streaming Networks, Broadcast Broadcast Networks (that's this post!), and the Family Networks (on Friday).
Just like with our movie predictions, the big question at the moment is… How will the strike(s) affect the con? And as we have yet to find a crystal ball, we don't know the answer. However, expect broadcast to be the hardest hit in terms of San Diego Comic-Con. Broadcast series film on a much tighter production schedule, whereas cable TV may have wrapped a season months before it airs (and thus months before the strike). Even if the WGA strike is resolved quickly and SAG and DGA don't start their own strikes on July 1, broadcast will be the ones struggling to "catch up" far more than anyone else. But all of that also assumes that the strike is even mostly sorted by the time mid-July rolls around, and at the moment, that's a big if.
You can read more of our thoughts on how the strike could affect SDCC over here.  But for the purposes of this article at least, we're going to pretend/hope it's a normal year, and look at the possibilities.
It's also important to note that while we've broken out the schedule by which network a series airs on, these aren't necessarily the entities that physically own the shows, and thus bring them to Comic-Con. So, for instance, Lois & Clark is actually a Warner Bros. production, that merely airs on The CW, so Warner Bros. is the one who brings it to the convention. Confusing? We know. That's why we've laid it out like this — but don't panic if your favorite shows aren't on any announcements the networks and studios make in the next two months.
So what do we think you'll be seeing at Comic-Con this summer from the broadcast networks? Let's take a look:
ABC
Last year, ABC went big on Abbott Elementary, bringing not just a panel but also an offsite. That alone should hopefully equal big things moving forward for Abbott at the con, as to our recollections at least, ABC had never brought an offsite before (or if they have, it's been a very long time). That hopefully shows they feel the series has staying power and is worth splurging on at San Diego Comic-Con. As for the panel, last year's was virtual (but it was announced originally as being so, and more on that in a moment), but if the strike is over, perhaps we could get the cast in attendance this year. If not, expect it to skip entirely on the panel front, as star Quinta Brunson is also the showrunner, and it was one of the first series to close down production when the strike was announced. But hey, maybe at the very least we'll get a panel.
They also brought The Rookie and The Rookie: Feds last year, though unlike Abbott, it was not announced early that it would be virtual — so when the announcement came out shortly before the start of the panel, many missed the news. The panels actually got booed in Ballroom 20, as fans had waited hours to see the main draw of both panels, Nathan Fillion, only to find that it was virtual. The Rookie has already been renewed, though Feds' fate still hangs in the balance. This one we think is definitely a toss-up — ABC and Disney could decide to offer a re-do, and bring Fillion at least back in person this time for an appearance. Or they could simply wash their hands of it, as even in the old days when they brought Castle, it was never a consistent performer at the con.
They've also got High Potential, which stars Kaitlin Olson as a single mom "with an exceptional mind" and a knack for solving crimes. It hails from showrunner Rob Thomas (Veronica Mars) and also stars Daniel Sunjata. It's not immediately genre fare, but it may just have enough beloved people involved, and the fact that if Olson is involved you know it's more fun than by-the-numbers, to warrant some promo.
CBS
With CBS, we think it's all about Ghosts. We would be frankly shocked if the network didn't bring its Woodstone Manor residents back for another panel (likely in Ballroom 20), and possibly another offsite. The series has a passionate fanbase and a fun premise, and Comic-Con is exactly the place to play into both.
With Evil now airing on Paramount+, there's not much else on CBS proper we think makes sense for the con. Is there a world in which CBS brings the Matlock reboot starring Kathy Bates? We weirdly wouldn't be shocked (especially since they brought Magnum P.I. in the past), but we also think it's a long shot.
The CW
Since its sale, the CW has more or less been gutted, and so many of the old standbys are now gone (or will be gone very soon). Of what remains, it's hard to say what seems likely. Both Superman & Lois and Gotham Knights will have finished their seasons shortly before the con, and they haven't been renewed yet for seasons past that.
There's Walker, which stars fan favorite Jared Padelecki, but they didn't bring the show last year, so it feels unlikely they would start this year. Nancy Drew got a panel its first year in 2019, but it didn't return in 2022 — and as the final season finishes airing a few weeks after the convention, we don't think this one will get a farewell tour at the con. And what of Riverdale, which was huge at the con (and elsewhere) for a few years? It certainly stands more of a chance of that farewell tour before its August end date, but with WB's pared-down presence of late, we bet this one skips.
If they bring anything, we think it will be Joan, a six-part series starring Sophie Turner as the notorious Joan Hannington, a mother fleeing a disastrous marriage who becomes a jewel thief to keep them afloat. Turner's Game of Thrones cred may warrant some promo at the con alone, and it sounds like the kind of fun fare that in the old days would have been a lock. These days, the best we can really say is "maybe".
There's also The Librarians: The Next Chapter, a new spinoff of the original The Librarians films and TV series that previously aired on TNT. The new series follows the adventures of the custodians of a magical repository of the world's most powerful and dangerous artifacts. Due to timing, the original always headed to NYCC instead of SDCC, and the same could be true here as well, especially as we're not certain they've actually filmed anything on this one and it's not set to air until 2024.
For a network that formerly had among the highest number of panels at the convention, we're really not even sure they'll be represented at all this year. It's a whole new world.
FOX
We expect Saturday's annual animation domination will be back this year with back-to-back panels for The Simpsons, American Dad!, and Family Guy. At this point, it's basically tradition. Unfortunately, we likely won't be getting The Orville this summer, as its fate continues to hang in the balance on a renewal.
Meanwhile, on Friday (unless it moves dates), you will likely find Bob's Burgers and The Great North, as we would be very surprised indeed if the two Loren Bouchard series don't make their triumphant return. FOX has been big on Bob's at the con in particular, and there's plenty to tease about the future, as it's already been renewed for not just its fourteenth season, but its fifteenth as well.
One show we're certain is returning in some form or another? Krapopolis, because it confirmed it had plans for the con already! The Dan Harmon series got a huge promo push at last year's con, and still has yet to debut — but it's already been renewed for three seasons! Apparently the best show no one has seen yet! So expect them to bring it back now that we are surely closer to the release date, likely with some of the voice cast, which includes Pam Murphy, Duncan Trussell, Richard Ayoade, Hannah Waddingham, and Matt Berry. Basically: Get ready to step foot into the world of Krapopolis again, likely in a big way.
There's also Grimsburg, which has "only" been renewed for two seasons ahead of its premiere, and which stars a voice cast of Jon Hamm, Rachel Dratch, Wendie Malick, and more as citizens of Grimsburg, where detective Marvin Flute may be the greatest detective, but he can't figure out his own family. This one could also get a push at the con, depending on timing.
On the live-action side, there's a small chance they bring HI Surf, which follows lifeguards in O'ahu. It sounds like 9-1-1 meets Baywatch, and we think it's not genre enough to warrant an appearance at the con, but never say never.
NBC
NBC's presence last year was very tied up in the overall NBCUniversal family umbrella, with a mish-mash of series across NBCU networks appearing together at the photo-op heavy offsite (but hey, we like photo ops!). We're willing to bet that sort of offsite is here to stay, and on the NBC proper side of things, expect Quantum Leap to be back (though whether it gets a panel or just a photo op again remains to be seen) and La Brea (same situation).
While for several years NBC pushed hard on their comedy series, the old beloved standbys have finished their run. There's a vague chance they try to bring a few new ones along, like possibly the rebooted Night Court, but we think this is a longshot.
Of their new series, neither The Irrational (a world-renowned leader in behavioral science uses his unique approach to understanding human behavior to solve crimes) or Found (a crisis management PR specialist helps find missing persons but is hiding a secret of her own) seem like Comic-Con genre fare.
TV Graveyard
We'd also like to take a moment to reflect back upon our dearly departed shows that won't be gracing the stages at San Diego Comic-Con this summer, either because they were canceled, or simply ended their run. Here are the broadcast shows that you won't be seeing at SDCC again, at least until that ten year reunion:
DC's Stargirl (The CW)
The Flash (The CW)
The Goldbergs (ABC)