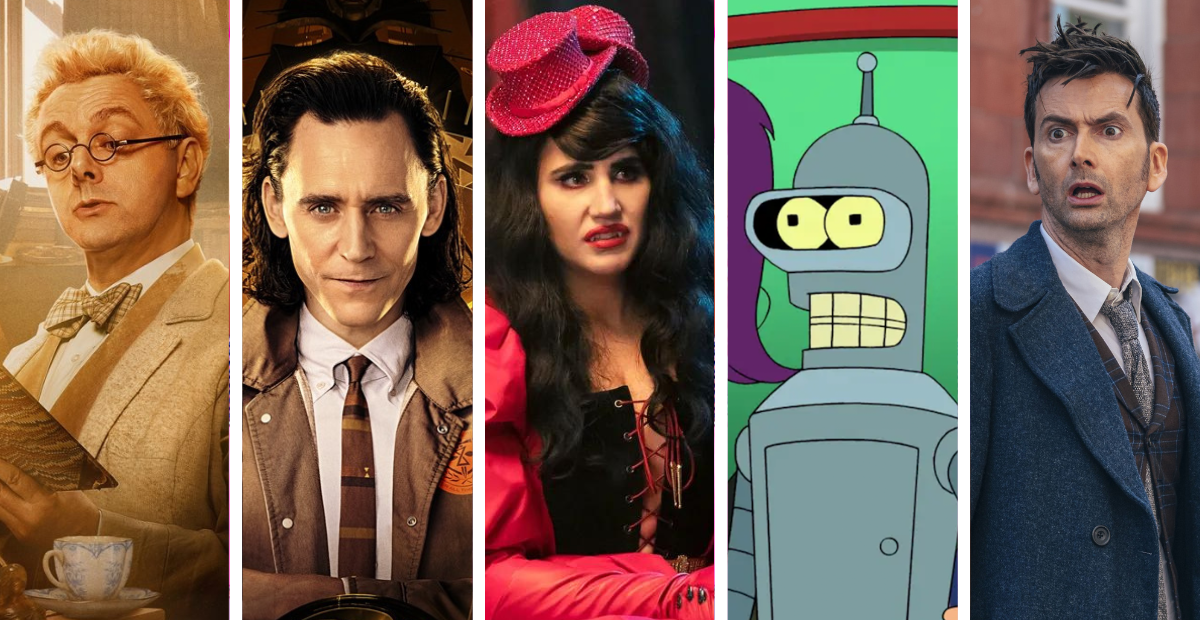 Television series comprise a huge chunk of the schedule for San Diego Comic-Con — and every year it seems like they become a larger and larger piece of the pie. The lines for Ballroom 20 sometimes rival even those of Hall H, and they won't be getting any shorter any time soon.
As the anticipation builds for the official announcements from networks and CCI as to which television shows will be on the panel schedule, we like to take time out to speculate which shows have the best chances of appearing at SDCC. We'll be breaking this into three segments, starting with the Cable & Streaming Networks (which you can read right here), Broadcast Broadcast Networks (coming Wednesday), and the Family Networks (on Friday).
Just like with our movie predictions, the big question at the moment is… How will the strike(s) affect the con? And as we have yet to find a crystal ball, we don't know the answer. Much will likely depend on how many of the guilds wind up striking (currently it's only the WGA, but both SAG and DGA's contracts end June 30 and if they don't reach an agreement before then their own strikes will start on July 1). If all three guilds are striking just before or during the con, all bets are off. If it's just the WGA, studios may still try to have a "normal" year. Television will surely be more impacted than movies — there's simply a shorter lead time between when they film and when it's released, and almost every TV show is currently shut down for production. So it's all a big question mark at the moment, and very much a moving target.
You can read more of our thoughts on how the strike could affect SDCC over here.  But for the purposes of this article at least, we're going to pretend/hope it's a normal year, and look at the possibilities.
With that said, onto the Cable and Streaming Networks — and there's a lot of them. So what do we think you'll be seeing at Comic-Con this summer? Let's take a look:
Adult Swim
Adult Swim scaled back their attendance at San Diego Comic-Con last year, foregoing their usual carnival-like offsite (Meatwad, you were missed!). But they still brought four panels to the con in 2022, and we're willing to bet they're still there in some form in 2023 as well. Trying to predict which shows they'll bring though is always a coin toss, as Adult Swim has a ton of shows, and there's not always rhyme or reason to why they bring one over another.
The most likely contender is possibly the upcoming My Adventures with Superman, a new series with voice actors Jack Quaid and Alice Lee as Clark Kent and Lois Lane. It's the most obvious Comic-Con fare on their schedule with the DC source material, and as it's set to premiere in "mid 2023", it will likely either be mid-season or before the season airs, so it could do with the extra push. Rick & Morty is typically the one series on Adult Swim's schedule you can consider a lock, but given the behind-the-scenes drama, they may be skittish on press just now. There are plenty of other contenders, including last year's other panels for Smiling Friends or Primal — or there's the old standbys such as Aqua Teen Hunger Force or Robot Chicken. Basically anything at all is possible here, including something not on this list.
Amazon Prime Video
There's already some heavenly signs that Good Omens — the series based on the Neil Gaiman and Terry Pratchett book about an angel and a demon who set out to stop the Apocalypse — is going to return to San Diego Comic-Con for 2023 [Editor's Note: And it's the #1 thing I'm hoping for this year]. And with the second season set to be released on Friday, July 28, just days after the convention ends, the timing seems all too perfect. Plus, star David Tennant could very well be on another panel at the con (more on that in a moment), which makes an appearance here even easier. Look, Prime Video, we really want it all here —  give us an offsite of the A.Z. Fell and Co. bookshop. Give us a screening of the first episode, complete with stars Tennant and Michael Sheen. Give us a panel with swag (NYCC got a poster!). WillweI settle for less? Certainly, but wouldn't it be rather ineffable if we did get a massive turnout for Good Omens at Comic-Con this year, especially after two stops at New York Comic Con? Can I hear a wahoo?
Off our soapbox, the ever-popular The Boys finished filming in April, and it typically airs sometime in the summer. The series made a splashy debut at SDCC back in 2019 with a fun offsite and a panel, and last year the timing simply didn't line up with the third season ending in June. But we think there's a real chance that it gets an opportunity to shine again this year. For one thing, they've got something really big to promote in connection with it: The upcoming spinoff series, Gen V, which currently doesn't have a release date beyond 2023, but SDCC sure seems like the place to follow in its parent series footsteps and go big. The new series follows a group of young Supes who are tested in battle royal challenges at a school run by Vought International. Expect them to definitely go big for this one — the only question in our minds is if they bring back the full blown offsite.
We also think Prime is missing an opportunity if they don't bring Invincible, which is set to air its second season at some point in late 2023. Based on the comic series by Robert Kirkman, the first season was beloved by both fans of the comic and animation fans. And since its first season premiered in 2021, the timing meant it didn't get a chance to make its SDCC debut. We think 2023 could be the perfect time to make that happen, especially as it's the 20th anniversary of the comic book.
Prime Video has plenty of other series they could bring this year, including a new season of Jack Ryan or Wheel of Time which have both been at the con before, or Upload (which has not been at SDCC before). We'd give the edge to their new crop of series though, depending on release date, which includes Wilderness (a psychological thriller based on the book, starring Jenna Coleman and Oliver Jackson-Cohen), Anansi Boys (based on the novel by Neil Gaiman of the same name about two sons of the spider-god Anansi), and Fallout (a post-apocalyptic series based on the beloved video game with an alternate history of a 1950s-esque retrofuturistic world from the showrunners of Westworld, starring Walton Goggins, Ella Purnell, and Kyle MacLachlan).
With that many series to choose from, what of the rest of Prime's series? Prime went… moderately big on The Lord of the Rings: The Rings of Power last year (yes, we're still bitter they didn't do the big offsite for it — we wanted Middle Earth!). But with filming on the second season halted due to the strike, we're not expecting season two anytime soon and we bet they skip the con this year. We also bet they skip over less Comic-Con fare like Reacher, Outer Range, or The Terminal List.
AMC
AMC's flagship The Walking Dead may be over, but the legacy certainly lives on. Although we think we probably won't see The Walking Dead: Dead City (the spinoff series following Maggie and Negan) as it airs its finale the week of the con (but never say never!), there's no shortage of other spinoffs to choose from. It's just not Comic-Con without Fear the Walking Dead, and while the first half of the season should be finished airing about a month before the con, there will be plenty to tease about the second half of season eight. Then there's The Walking Dead: Daryl Dixon, which is supposed to air later this year, and the fan favorite character and actor Norman Reedus would surely receive a warm welcome at the con. There's also the untitled series with Michonne and Rick, but as that six episode series won't begin airing until 2024, it may be too early for an appearance at SDCC. Basically: Don't worry — we don't think you'll have to suffer through a San Diego Comic-Con without your The Walking Dead fix.
AMC went big on Interview with the Vampire last year, and as the series began filming last month, they'd certainly have something to show at SDCC if they wanted. As an international shoot, it's actually expected to keep filming (though without rewrites). Still, it may not make sense to fly cast in for the weekend, especially since the series likely won't begin airing until later this year or early next. Similarly, we expect it will be too early for AMC's other Anne Rice series, Mayfair Witches, which just finished airing its first season in February.
Instead, we think the newcomer slot might go to Orphan Black: Echoes, a spinoff of the former BBC America series. The new series stars Krysten Ritter, and follows a group of women whose lives become intertwined (and it's probably a safe bet that clones are involved). Given how beloved the first series was and how popular it always was at the con, it seems like a no-brainer for a SDCC push.
Apple TV+
In our opinions, Apple TV+ had one of the splashiest first outings at San Diego Comic-Con ever. How well do they think it worked for them? The answer will likely be revealed when we see how big or how small they go this year, but we're hopeful for another strong 2023. Last year, Apple broke all the usual rules, bringing Severance basically for a victory lap after its fantastic first season (and bringing with it one of the best offsites we've ever seen at the con) — so it feels like anything is possible moving forward. But we fully expect Severance to be back, with filming almost complete, and plenty to tease about season two.
We also wouldn't be surprised to see For All Mankind back, as filming wrapped in the fall, and the stellar space drama is both one of the best things on TV and also makes total sense for SDCC. Similarly, Mythic Quest feels like an easy panel if all involved want it to happen, though there's currently no release date on season four.
Sci-fi series Foundation's second season is set to begin airing on July 14, making its run in the middle of the convention. The fact that it's genre might make it make sense for the con, but the first season didn't make much noise and might not be splashy enough for SDCC. 
We'd really love to see The Afterparty make an appearance, which will begin airing its second season in July, and still be in the middle of its run during the con. It's got plenty of Comic-Con pedigree, as it hails from Phil Lord and Chris Miller, and stars Tiffany Haddish, Sam Richardson, Zoë Chao, and more — and its "genre of the week" premise is the kind of stuff us nerdy film geeks love. Less likely, but still possible, is The Big Door Prize, a comedy in which a mysterious machine appears that is able to predict the "potential" of its small town residents. It stars Chris O'Dowd, it's a sort of light fantasy/sci-fi, and though it will have finished airing before the con, it's already been renewed for a second season, and that didn't stop other series at Apple last year from attending. At the very least, we'd love to see a Morpho machine somewhere in the Gaslamp giving out destiny cards. C'mon, Apple, it would be easy and fun!
As we mentioned, last year, Apple broke the mold and used their appearance entirely to promote series that had already aired at least one season, rather than promoting a new or untested series. Will they take a more traditional approach and use their appearance to show off some of their upcoming shows? If so, there are several options, though as Apple isn't big on announcing premiere dates too early, several of these could air before the con. The Changeling stars LaKeith Stanfield as a man who goes in search of his wife after she does something horrific in the aftermath of the birth of their first child, in a horror fantasy series written by Kelly Marcel (Venom). Lessons in Chemistry follows a female scientist in the 1960s who begins using a cooking show she's hired to host to educate housewives on scientific topics, in a series that stars Brie Larson (which alone should make it a consideration for SDCC). Alfonso Cuarón has written and directed the upcoming series Disclaimer, which follows a famed television journalist who discovers she is a prominent character in a novel that reveals a secret she has tried to keep hidden. It also stars Cate Blanchett, Kevin Kline, and Sacha Baron Cohen, and could easily make for a fun, splashy panel if Apple was interested.
Comedy Central
Comedy Central is another inconsistent Comic-Con network, often skipping years. Their last appearance in 2019 was for South Park: Bigger Longer Uncut, and it's always possible they'll return for more South Park. Their upcoming Ren & Stimpy reboot would also make sense for a push at the con, but it's been in development since 2020, and only recently shown signs of movement, so we suspect it won't be ready by con time.
For their live action fare, which has turned up at the con before though not since 2017's Broad City, there's the reboot of Everybody Hates Chris. It's planned to air on both Comedy Central and the streaming service Paramount+, which could give it twice as many opportunities to show up. Still, it's not immediate genre fare, and as we find our way in this "new normal", the studio may decide it's not worth taking a risk on bringing more mainstream comedy fare.
Disney+
At the end of last year's Marvel Hall H panel, Kevin Feige said he'd see attendees "next year" — and we're holding him to that. The good (and possibly bad) news for fans of Marvel's streaming series is that Marvel's series have been included in Marvel's big Hall H presentations, which means we fully expect several of them to be in attendance. The bad news is that, well, it's Marvel's Hall H panel and you'll surely have to put in the time commitment if you want to see them. Star Alaqua Cox of Echo, which releases in November, all but confirmed she'd be in attendance already.
That should certainly pave the way for several other Marvel TV series, chief among them Loki, which premieres its second season on October 6 (so before Echo). Expect it to get a big push. We suspect we'll also see some combination of What If…? (the animated series, whose second season has been in production for some time now), Ironheart (which wrapped filming in early November and currently doesn't have a release date), Agatha: Coven of Chaos (filming just wrapped), and Daredevil: Born Again (has filmed some). With Marvel slowing down production and the amount of releases in a given year, it should definitely make for plenty of teases about these series at the con.
On the Star Wars side of things, it's been several years now since Disney has brought any of their Star Wars films or TV series to the con, and we don't think that's a trend that's going to change any time soon. So sorry, fans hoping for Star Wars: Ahsoka, Star Wars Skeleton Crew, Star Wars: The Acolyte, or Star Wars: Andor season two. We don't think they'll find those panels at the con this year.
What we do have high hopes for though, is Doctor Who. Although the series has always been brought by BBC America in the past, the Doctor has found his new US home in Disney+. This year marks the big 60th anniversary of the classic series, with three specials set for this November, that already have a lot going for them: It's the return of fan favorites David Tennant (who we maintain could still pull double duty with Good Omens!) and Catherine Tate, as well as showrunner Russell T Davies, and the introduction of the Fifteenth Doctor with Ncuti Gatwa. With the specials set for November, and so much fanfare around the 60th anniversary, we would be frankly shocked if Disney+ didn't go big at San Diego Comic-Con as they make themselves the new home for all things Who here in the US. And there have already been some signs that it may very well be appearing at the con this year. The series already has a long history with the con, and Disney+ surely will feel like they need to make it very clear they're the new destination for Doctor Who. Plus, it's a non-WGA production, which means even if everything else is sidelined this year… there's some hope for Who!
For Disney+'s other fare, there's the Percy Jackson and the Olympians series, based on the novels by Rick Riordan, about a 12-year-old accused by the Greek god Zeus of stealing his thunderbolt. It's not slated until 2024 though, which may simply be too far out.
FX/FXX
FX has always had a large presence at San Diego Comic-Con, with their wraps on the Hilton Bayfront (why so many gross years of The Strain wraps though, FX?!), takeovers of the Bayfront lawn, and Sunday Hall H panels. And even with Disney now controlling the network, their strategy at SDCC hasn't shifted much in recent years, if at all. We're confident that What We Do in the Shadows will be back this year to promote its fifth season (especially with that July 12 release date), and we'd put money on it being in Hall H on Sunday again.
We feel less confident in Mayans M.C., which is set to begin airing its final season in May. It's TBD on if it wraps up airing before the con, but even if it does, FX is one of the few networks we wouldn't be surprised to see bring it out for one last round in Hall H.
After that, things get even less certain. We're fairly certain we'll still see American Horror Story on the Bayfront wrap (and likely in the offsite), because FX never met a creepy/gross wrap they didn't love, but the 13th season's theme currently hasn't been revealed, and it's been several years since they brought any cast out for a panel. Another "we don't think they'll have a panel, but something at the offsite is possible" option is The Bear, the surprise breakout hit of last summer, which follows Jeremy Allen White as a chef trying to keep his brother's Chicago sandwich shop alive. The second season is set for June, and while it didn't get any love at the con last year, a recreation of the restaurant in the offsite doesn't feel out of the question.
We also wouldn't be surprised to see a presence for some of their upcoming series, though nothing is as obvious genre-fare as it has been in some years. There's Retreat, which follows an amateur detective who tries to solve a murder that takes place at a retreat in a remote location, alongside other guests invited by a billionaire to participate in trying to solve. It stars Emma Corrin, Brit Marling, and Clive Owen — and if nothing else, it sounds like a fun theme that FX could really do something with for the offsite. They've also got Justified: City Primeval, which continues the story of Justified and Deputy U.S. Marshal Raylan Givens. It's set for July 18, the week of the convention, but the original series never made it to the con, so we think this is the biggest longshot. There's also the upcoming Alien-verse TV series from Noah Hawley, though it's only in pre-production, so we think it's just too far off to warrant being at the con.
Over on the FXX side of things, Archer is typically a perennial panel, and with the next season being announced as the final (with an August 30 start date), we think they'll let them have their SDCC farewell tour.
There's one more possibility though, and it's maybe not the underdog it first appears to be. Welcome to Wrexham, the documentary series about actors Ryan Reynolds and Rob McElhenney buying the Welsh football club Wrexham A.F.C., has been renewed for a second season and it's in the works. The team is playing Man United in San Diego on Tuesday, July 25 — just two days after FX's normal Hall H presentation. Why couldn't Reynolds and McElhenney just come to town a little early to promote the second season of the documentary, pump up the game, and just talk some football? We would definitely not count this theory out.
And if McElhenney is at the con, either for Wrexham or Apple TV+'s Mythic Quest, could we also get a It's Always Sunny in Philadelphia panel? It's been several years, but at Comic-Con, anything is possible.
HBO/HBO Max
HBO went all in last year on House of the Dragon, but 2023 is possibly going to be a different story. The network had two breakout hits over the last year, with both Dragon and The Last of Us. But with House of the Dragon not having gotten very far in filming its second season before the strike and the release date likely still pretty far off, and The Last of Us not having filmed anything for its own second season, will HBO bring either to the con this year? It's entirely possible they could do a victory lap on either series' first season or a very early tease for season two, but with few exceptions, that hasn't been their norm in recent years. We wouldn't be surprised at all if the network doesn't bring either to the con.
Instead, we think HBO will focus on their HBO Max streaming series, and go big with The Penguin, the upcoming series which continues the universe of Matt Reeves' The Batman and follows Colin Farrell's iteration of the iconic villain. It's not set for a release until 2024, but c'mon. They'd have to be crazy not to bring this one.
Another likely contender is the return of the animated Harley Quinn, which HBO Max's sizzle reel confirmed will air in 2023. We also think HBO/HBO Max would be frankly insane not to bring Our Flag Means Death, a romantic comedy which stars Rhys Darby and Taika Waititi as famed pirates Stede Bonnet and Blackbeard. The series has a huge fan following (and already had a fan-run meet-up last year), and with a 2023 release date and Waititi's own Comic-Con pedigree, we'll be scratching our heads if HBO omits it from their schedule this year.
The new season of Peacemaker isn't expected until after Superman: Legacy, which is set for July 2025 — so don't expect an update on that series until likely San Diego Comic-Con 2025. There's also Tokyo Vice's second season, but as it didn't attend the con previously, we wouldn't count on this one.
Of their other series, The Gilded Age is the biggest, most lavish, and star Nathan Lane recently mentioned that it would probably be coming back in September — but the historical drama likely isn't genre enough to warrant a trip to the con.
Hulu
Hulu typically has a presence at the convention, though what they bring often shifts each year. For 2023, we think they'll focus on their animated fare, with the crown jewel likely being Futurama, which has returned from the dead yet again ("after a brief ten-year hiatus") for a brand new season that drops the Monday after San Diego Comic-Con. The original cast is all back, which includes John DiMaggio, Billy West, Katey Sagal, Tress MacNeille, Maurice LaMarche, Lauren Tom, Phil LaMarr, and David Herman. Expect Hulu and Disney to go big for this one. Our only question is whether or not they get the coveted Omni wrap, as that is typically reserved for FOX animated series — but do they make an exception here?
Hulu's other animated line-up includes Solar Opposites, which has been renewed for both a fourth and a fifth season. Just like with Adult Swim's Rick & Morty, there is the obvious behind the scenes drama with voice actor and co-creator Justin Roiland, which is the only thing that may push this series off the schedule. Roiland's other series, Koala Man, hasn't been renewed yet, so you can likely cross that one off the list entirely.
Sci-fi live-action series The Orville is also still in limbo, with news of a fourth season still pending — so we don't expect to see it charting a course for SDCC this summer.
Everything else is a bit more of a question mark. The animated Marvel's Hit-Monkey was renewed for a second season earlier this year, but it's likely too far off to have much to show off. Shōgun, based on the 1975 novel, follows an English sailer who winds up shipwrecked in Japan, in a sweeping epic tale of samurai, politics, and history. It's not really Hulu's typical SDCC genre series, but the samurai angle could give it an edge. And while we'd love to see Only Murders in the Building, the network has never brought it before (and it may technically be Disney bringing it, as they co-produce it).
Netflix
Netflix has had at least some presence at the con for a few years now, so is it too soon to call them a permanent fixture? We're hoping not, especially as they have lots of things they could potentially bring this year. We think the most likely contender is One Piece, a live action series based on the Japanese manga. Both the manga and anime series already have a huge following, and so long as it doesn't air before the convention, Comic-Con seems like the perfect place to give it a push. They've also got the upcoming live-action Avatar: The Last Airbender, which stars Daniel Dae Kim, Amber Midthunder, and Ken Leung — and again, depending on timing, could make sense.
There's also a retelling of Ripley, based on the crime novel The Talented Mr. Ripley, starring Andrew Scott — but it may not be genre enough for Netflix. 
They've also got the new season of The Witcher airing sometime this year, but with it being star Henry Cavill's final season, it's unclear how involved he'll be in promo, which could lead to some awkward press they'd rather just avoid. Plus, three years for a Netflix show is practically ancient, and it may be deemed too close to the end of the show's run to bother promoting it at the con. The Umbrella Academy is also likely too close to its end to bring it for the first time to promote its final season, and there's also currently no release date. The same with Vikings: Valhalla, whose third season isn't set to land until 2024. The second season of The Sandman hasn't started filming yet, so don't expect that to return this summer either.
One thing we would put money on? The Dragon Prince. It's been a consistent performer at the con, and as its fifth season is slated for July 2023, it's surely landing a panel at the con.
Netflix produces so much content that it's entirely possible something else not on this list could turn up, or that they may choose not to bring anything this year.
Paramount+
Paramount+ is home to the various Star Trek series, and they know exactly what they mean to San Diego Comic-Con attendees. With Star Trek: Discovery's fifth season being announced as its final one, even though it won't air until 2024, we would bet that they'll bring at least some of the cast out for a final farewell. The new season of Strange New Worlds premieres June 15, which should mean the season is airing in the middle of Comic-Con — and means there would be plenty to tease about the rest of the season. Animated series Lower Decks and Prodigy both have a new season airing later this year, and we'd be very surprised if they didn't get some love at the con. Picard just ended its run, so it presumably won't be at the con.
Last year, the Fandom party was co-sponsored by Paramount+, who used that space to promote Halo (and thank you for the open bar, Halo). The second season started filming in the fall, so perhaps they'll want to show off something at the con? There's also a new season of Evil likely coming sometime this year, and it's attended the con before.
Last year, Paramount+ went big on Beavis & Butt Head, but the new season began airing in April, and will likely finish well ahead of the con. Likewise, we think even if it gets renewed before the con, Wolf Pack with Sarah Michelle Gellar just won't make sense with the timing.
Peacock
We've already had at least one sign of a Peacock series possibly attending the convention, with John Wick: Chapter 4 producer Erica Lee recently telling Collider that she would love for prequel series The Continental to be at San Diego Comic-Con. Whether that's more than just wishful thinking remains to be seen, but John Wick is one of NBCU's biggest franchises, and this first mini series — which tells the story of how Winston Scott came to his position as proprietor of The Continental hotel in the 1970s and how it became a safe haven for assassins — sure seems like a no brainer for the con. Plus, it's literally about a hotel, so theming an offsite or doing some theming in one of the nearby hotels seems like an easy win.
A new prequel series for Ted, about the sentient teddy bear voiced by Seth McFarlane, is set to air at some point this year, and also seems like an easy choice to bring to the con. As does the upcoming post-apocalytpic action comedy Twisted Metal, which stars Anthony Mackie, Stephanie Beatriz, and Thomas Haden Church in a series based on the video game of the same name, that follows a talkative milkman with amnesia on a mission to deliver a cryptic package in order to stay alive.
We know this is the TV post, but we're going to slip in that we do think it's possible for the Community movie to make an appearance. It won't start filming until June, but they'll have at least some footage by then. The series has such a long history with the convention, that it feels like a mistake not to finally give fans their "and a movie" panel they've been waiting for all this time.
Poker Face finished its first season earlier this year, and while it's been renewed for a second season, it's unclear if they'll have started filming by July. But it at least feels like Peacock's biggest breakout hit, so we wouldn't be shocked to see something for it at the convention, even if it's only at Baja Rick's (the Venue Formerly Known As Tin Fish). Similarly, the upcoming Crystal Lake series, a Friday the 13th prequel written and executive produced by Bryan Fuller, hasn't yet started filming that we're aware of. So it may be too early, but it makes such perfect sense for the con (and Fuller is a fan of SDCC) that Peacock may still decide to do something early with it.
The real question to us is whether or not they bring back their more immersive offsite that focuses on one show, or if they keep with last year's trend of offering a walk-through photo-op type experience, which allowed for more series to be showcased and more attendees to filter through, even if the excitement factor was less. But we love Peacock, and we're excited for whatever they want to bring this year.
Showtime
As much as would love to see Yellowjackets at the con (and oh, we would LOVE to see Yellowjackets), the series will have finished airing its second season long before July, and we just don't think it's likely. Still, if Showtime wants to bring the series for a look back at two stellar seasons or to tease the third for which it has already been renewed, we can promise that fans will be buzzing.
We think it's probably too early for both the spy drama The Department and Dexter: Origins, but both feel like possibilities for the future depending on timing. 
Starz
Starz has been an inconsistent performer at San Diego Comic-Con at best, but with Outlander's final season airing over the next year, we'd love to see it get one last turn at the con for fans to be able to say farewell. The first half of the season may be airing in the middle of the convention or have just finished, but the second half isn't slated to begin airing until 2024. But it's far from a lock given how many years the series has skipped in between, so all we can do is sing you a song of a lass that is gone and hope for the best.
They've also got Minx, which isn't immediate Comic-Con fare — but Starz rescued the series from an early grave at HBO Max, and may be looking to give it a little extra promo. The new season starts on July 21, right smack dab in the middle of Comic-Con, so maybe Minx will come bare it all at the con.
Syfy
In our new normal, Syfy's presence at the convention the last few years has definitely been scaled back (we miss the Hard Rock Mary Jane's takeover years). But we'd be shocked if they weren't there at least in some form, possibly in conjunction with NBCU's other properties (like the Peacock series) at Baja Rick's, much like they were last year. 
Resident Alien wrapped production on its third season earlier this month, and it feels likely to make a re-appearance at the con. Possibly less likely is Chucky, which will still be in production during July, but could have something to show for fans if they wanted to make up for cancelling last year's appearance. While Reginald the Vampire was renewed for a second season, it's unclear if they've started production yet, so that one may be a miss this year. There's also SurrealEstate (with Wynonna Earp's Tim Rozon, about a real estate brokerage specializing in haunted houses), whose first season premiered in 2021 and hasn't yet been to the con — but with season two starting this summer, it could make an appearance. However, it's also a Canadian production, which could mean its too far removed from Syfy to bring.
TV Graveyard
Carnival Row (The CW)
His Dark Materials (HBO)
MODOK (Hulu)
Motherland: Fort Salem (Freeform)
Paper Girls (Prime Video)
Pennyworth: The Origin of Batman's Butler (HBO Max)
Snowpiercer (TNT)
Titans (HBO Max)
Tuca & Bertie (Adult Swim)
Vampire Academy (Peacock)
The Walking Dead (AMC)
Westworld (HBO)
Woke (Hulu)