Greetings! Hopefully you found some time during the weekend to make it out to your local comic shop (or shops, if you're feeling frisky) for this year's Free Comic Book Day. However, whether you did or not, there's never a bad day to show some support, love, and appreciation to your neighborhood stores the rest of the year.
Meanwhile, San Diego Comic-Con news season rolls on like a boulder going downhill. A friendly reminder the first SDConCast for the 2023 season is coming on Tuesday, May 9, you have until May 12 to verify and update your badge shipping address, and the ACE parking lottery is now open until June 4.
Here's a look at the news you may have missed recently:
Special Guest Rachel Smythe, the bestselling author and award-winning creator of the 2022 Eisner Award winner for Best Webcomic, Lore Olympus, announced she will be doing more in addition to her Spotlight panel. Details are forthcoming on her exact schedule, which will include further panel appearances and signings.
Hi everyone!

I'm a guest at SDCC this year. Stay tuned for details on panels and signing schedules. Can't wait to see you! pic.twitter.com/mDfk4t2eEF

— Rachel @ Lore Olympus (@used_bandaid) May 3, 2023
Patrick Ballesteros' initial commission list filled up pretty darn quickly when it opened last month, and he recently shared a peek at three works in progress as requested by some lucky SDCC attendees. He also teased his latest exclusive print, which we are sure to share with you when it's complete. Check out his other reveals so far here.
Trying to stay on schedule with commissions. #SDCC2023 pic.twitter.com/eIonV8tRBD

— Patrick Ballesteros SDCC DD-08 (@PatrickBallest) May 4, 2023
Pardon the mess, exclusive in progress.#SDCC2023 pic.twitter.com/zRQFWJocsQ

— Patrick Ballesteros SDCC DD-08 (@PatrickBallest) May 5, 2023
BAD IDEA has launched a Kickstarter for MEGALITH, a Matt Kindt, Lewis LaRosa, Laura Martin, and Taylor Esposito partnership which has spent five years in production. The Kickstarter boasts not just one, two, or three, but a whopping 20 support tiers, all the way up to $10,000. Become a backer at Tier 18 for a mere $3,500 and you'll get on the guest list for a "SDCC Tiki party". And while the deadline has currently passed, those who backed on day one will also receive a First Backer Pin — which last year was redeemable for entry into the party as well. Will the same hold true for 2023?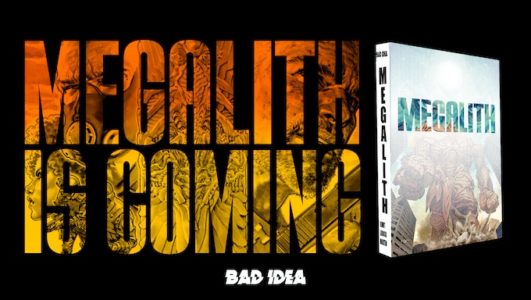 While we've been doing #AdventuresOfPrizeMule for several years, we are not the only ones conducting prize drops during San Diego Comic-Con. One of our favorite traditions comes from Geeky Hooker, whose #critterdrop of adorable crocheted figures is returning in full force this July. "Kicking off" the 2023 lineup? None other than Ted Lasso's Dani Rojas.
NEW CRITTER ALERT: Dani Rojas and his luxurious hair are here to kick off (pun ABSOLUTELY intended) SDCC2023's #critterdrop lineup! Let the man see a goddamn tulip!

Find little Dani at SDCC2023 and he's yours to keep! See my blog for details! https://t.co/D0s1aerfYQ pic.twitter.com/axkO6LyI67

— Geeky Hooker (@GeekyHooker) May 5, 2023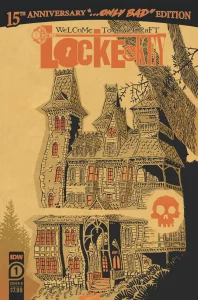 Video game concept artist Claire Hummel revealed another print run for her variant A Goofy Movie map screen print poster at Cyclops Prints. She followed up with a reply mentioning Gallery Nucleus will have some copies available at their SDCC booth.
Excited to announce that the 90's Powerline variant of my Goofy Movie Map is available NOW over at @CyclopsPrints! 🚗🎣🏕🏜🍳🥓https://t.co/1lVcroSq3X

– 20×30" 8 color screen print
– ltd ed of 250 (1 per household)
– plus a couple extra details that weren't in the first run: pic.twitter.com/gcWcvGpVEi

— Claire Hummel (@shoomlah) May 5, 2023
This is the second run so I can't promise there'll be more! I know Gallery Nucleus will have some for sale at SDCC, and I'll have some artist proofs on hand in the future

— Claire Hummel (@shoomlah) May 5, 2023
Last year's fan-run Our Flag Means Death "Meat" Up was a huge hit for SDCC attendees and fans of the HBO Max series. it should come as little surprise it's coming back this year for what is now a 2nd annual "Meat" Up. The exact date and location is still up in the air, but there's a Facebook event page, and something being "Facebook official" is good enough for us.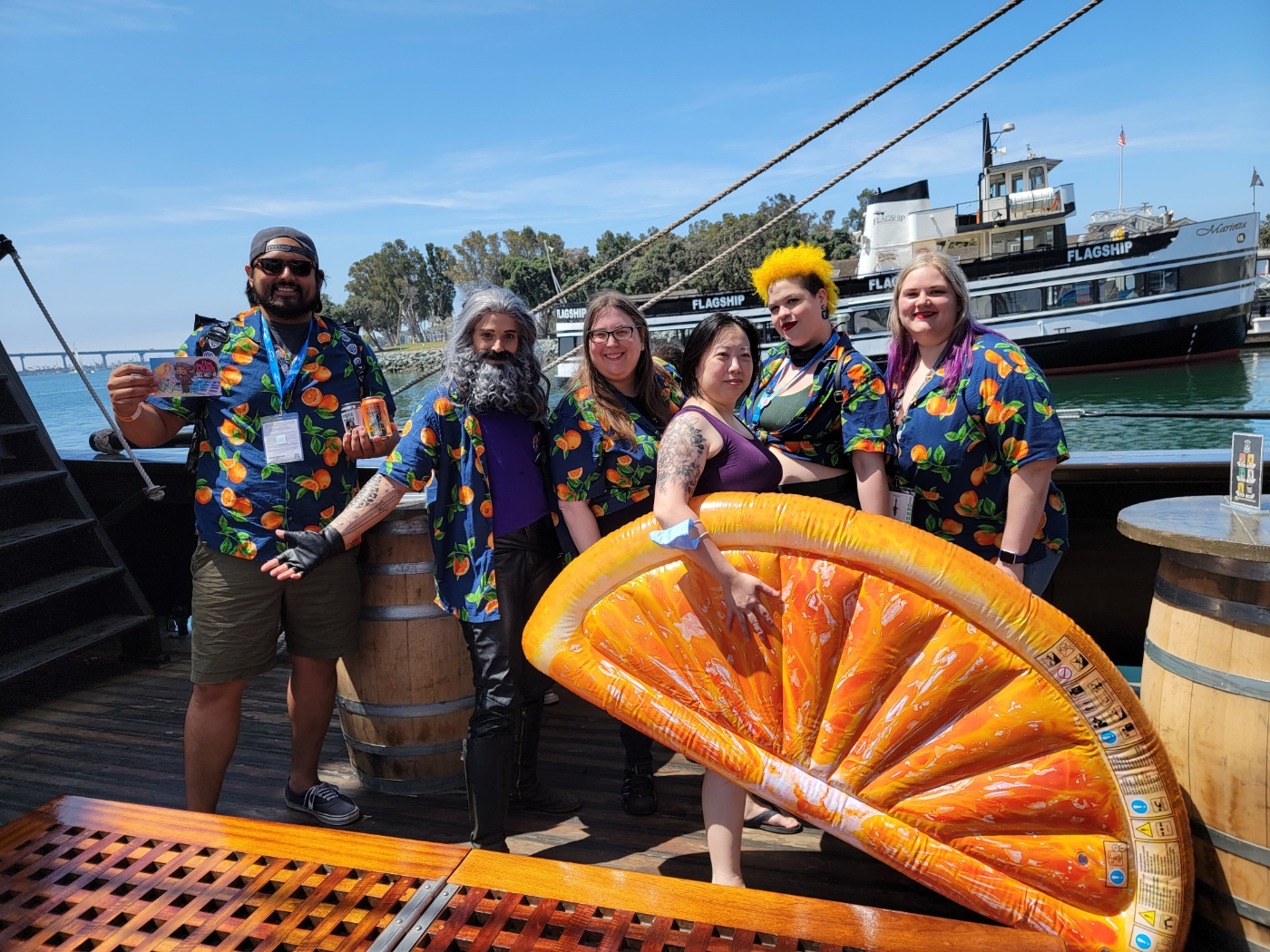 Senpai Squad announced a Play Anime party taking place on Saturday, July 22 at the Music Box in downtown San Diego. The EDM concert will start at 9pm (doors open at 8pm) and feature Matt Steffanina, Sriracha Man, and FindTheRabbit. Tickets are available on Eventbrite starting at $25. We've also added it to our Events Calendar (which you should totally check out on a regular basis as we keep adding things happening during SDCC week!)
 

 

View this post on Instagram

 
Creators and purveyors of fine and adorable sculptures Bling Squared Cute Glass will be bringing their wares to Comic-Con and amplifying the Exhibit Hall's cuteness factor.
 

 

View this post on Instagram

 
While SDCC's spotlight tends to shine on the familiar properties we know and love, there's always new things to discover and become fans of. To that end, Herdvana, a forthcoming card game, has been invited to demo at SDCC this year. You'll more than likely find them in the Convention Center's Mezzanine level where the Games rooms are traditionally located.
 

 

View this post on Instagram

 
Ashfall is a third-person, open-world game currently in development from Liithos, a new video game studio. Leading into the release of the game will be a comic book series, of which the first three issues are expected to be available at SDCC. Liithos founder and CEO Michael Mumbauer shared an image from the completed second issue as part of this reveal.
John Garvin's Ashfall issue #2 is done!

Working on our plans for San Diego Comic-Con '23. Looks like we'll have issues 1-3 available by the time of the show! Exciting times ahead with @John_Garvin @LiithosEnt @NateCMurray pic.twitter.com/t94FTpgf6Y

— Michael Mumbauer (@MichaelMumbauer) May 5, 2023
Bad news for fans of long-time SDCC mainstay and past Special Guest Seanan McGuire: her decades-long streak of attending San Diego Comic-Con is coming to an end this year. We certainly hope she starts a new one in 2024!
I'm missing SDCC this year for the first time since I was sixteen. I plan to defeat my FOMO by spending the whole weekend lurking in the swamp like a horrifying cryptid and scaring the crap out of feral homeschool kids.

— Seanan McGuire (@seananmcguire) May 7, 2023
Anything we missed? Let us know in the comments, drop us a line, or tweet us at @SD_Comic_Con.
Catch up on any of our previous Under the Tents posts here.