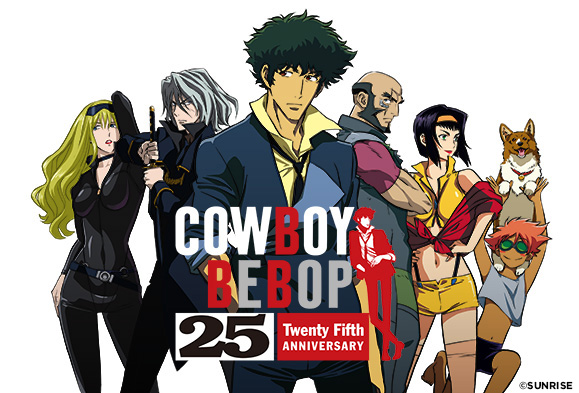 The Comic-Con Museum will be hoppin' at San Diego Comic-Con this year, as in addition to the previously announced exhibit for Stan Lee ("Excelsior! The Life and Legacy of Stan Lee"), the Museum has also partnered with Crunchyroll and Mondo for a "Cowboy Bebop 25th Anniversary Art Exhibition", as well as a My Hero Academia installation, and more, opening on Tuesday, July 18 at 10am PT.
Together, Mondo, Crunchyroll, and the Comic-Con Museum are celebrating the 25th anniversary of the anime classic Cowboy Bebop with a gallery of commissioned art from artists including JJ Harrison, tomaru, La Boca, Tom Whalen, Murugiah, Sachin Teng, and more.
Crunchyroll has also partnered with the Museum for My Hero Academia installation, which will feature a statue of the "Historical Battle of Kamino" from the series, featuring the epic fight between All Might and All For One from season three episode 48. 
Fans can also look forward to an expanded exhibition for the Comic-Con Masquerade exhibit, which will double in size and feature new and former winners and entrants' costumes from the annual competition. You'll also find costumes from costume designer Allan Lavigne on display.
Guests at the museum can also explore other exhibits, including "The Animation Academy – from Pencils to Pixels", "Cover Story: Five Decades of Comic-Con" which showcases 50 years of Souvenir Book cover art, "Rick Geary and the Comic-Con Toucan" which focuses on Rick Geary's creation of the famous Comic-Con mascot, and "PAC-Man Arcade".
The following events, happening at the Museum during Comic-Con, are free to Museum guests:
IF/THEN STEAM® Fair, Friday, July 21 through Sunday, July 23 from 10:30 a.m. to 1:30 p.m., is a family-friendly event featuring American Association for the Advancement of Science IF/THEN® Ambassadors, women leaders in science, engineering, technology, and math (STEM) leading engaging experiments and activities, splash talks about their career journeys, and pop-up tables from other members of the coalition. Careers represent everything from earthquake geology and molecular biology to robotics, neuroscience, and conservation ecology.
Cardboard Superheroes workshop, led by founders and brothers Connor and Bauer Lee, on Thursday, July 20, invites guests to drop in throughout the day and create cardboard model superheroes, characters, and signature accessories. Participation is free with admission, as space allows. 
You can purchase tickets through the Comic-Con Museum's website, with the new exhibits launching Tuesday, July 18.