This is our third Under the Tents this week and that is a sure sign that we are getting closer. Also, a sure sign; the calendar. Less than six very short weeks separate us from the event. May I suggest you start breaking in any new shoes you want to wear? Maybe make sure your suitcase and backpack are in tip-top shape and replace chargers, sunscreen or water bottles? You don't want to be scrambling the weekend before the convention to find the perfect fanny pack… I'm speaking from experience here, friends.
In any case, it's also the perfect time to check in on some of our favorite creators and see what they are working on and how they are preparing for the show. We've got Scott C. sketching away, Patrick Ballesteros racking up the originals, panelists brushing up on their respective topics, plus so much more.
Let's take a news that you might have missed:
The Questing Gentlemen are excited to bring their new game, Pocket Samurai, to gamers during San Diego Comic-Con. Developed over the course of a decade, Pocket Samurai is a 2 player game that takes 5 to 10 minutes. Samurais battle to overpower, outmaneuver and outwit their enemy. Launching on Kickstarter this summer, Pocket Samurai will be demonstrated in the Mezzanine Room at table #15AB and at the Marriott's Pacific Ballroom 21 during the convention.
Stjepan Sejic is one of Comic-Con's Special Guests and will likely have his own panel this year, but he's also let slip that he'll be available for signing books. Due to some physical limitations, he will not be taking on any commissions this year but feel free to packs your Sunstone trades for signing.
i'm doing sdcc and nycc this year so bring books for signing.

atm i have no commission plans as i'm still only at about 70% as far as my shoulder and arm goes so i plan on being careful with that.

— stjepan sejic/ nebezial/ shiniez (@stjepansejic) June 7, 2023
Ok! I've been assured I can share one of my two #SDCC panels, just not the details yet because those are subject to change. To that end, I'll be on a #StarWars #Andor panel! #ComicCon @starwars @andorofficial @Comic_Con pic.twitter.com/kSeqymgei5

— J. Dianne Dotson (@jdiannedotson) June 6, 2023
Little by little, Patrick Ballesteros is working on his little originals. We think this Demon Slayer Rengoku and Blue Beetle will make fans very happy.
Plugging away to get more of these done in time.#minioriginals #SDCC pic.twitter.com/oVgvCqPKBM

— Patrick Ballesteros SDCC DD-08 (@PatrickBallest) June 7, 2023
If you're a regular viewer of Watch What Happens Live with Andy Cohen you may have caught a tiny bit of *potential* SDCC news on the June 6th show. Cohen mentioned that Rebecca Romijn, having played Mystique in the X-Men franchise and also been on Star Trek, could certainly go to Comic-Con. Romijn replied "I don't do a lot of them. I'm going to one in late July." Could she be referring to San Diego Comic-Con and another year of Star Trek panels? We have every reason to hope so.


It's been more than ten long years since Blambot creator and lettering legend Nate Piekos has attended San Diego Comic-Con. In addition to being nominated for an Eisner Award, Nate is hoping to do a few signings while he's there.
For the first time in over a decade, I will be at San Diego Comic Con this year. I'll be there Friday, July 21st, and Saturday, July 22nd. Hopefully I'll be able to do a signing or two. I'm almost never on the west coast, so stop by and say hi! More info to come. pic.twitter.com/D3OT7LKqzn

— Nate Piekos of Blambot (@blambot) June 7, 2023
Reverend Brian of Your Mythic Life will be looking to shine a spotlight on the more otherworldly aspects of media with his panel, "Spirituality in Pop-Culture (Comics, TV, Film, etc.)"
 

 

View this post on Instagram

 
With just a few simple lines Scott C. is capable of telling an entire story. These sketches are just the start of what we're sure will be a heartbreakingly good print for HBO's The Last of Us, which Scott says will be for SDCC.
Andrei Molotiu and John McCoy will be bringing underground comics to the forefront during San Diego Comic-Con with their panel "Raw, Weirdo, and Beyond: American Alternative Comics 1980-2000." The panel will include a walkthrough of the now closed McMullen Museum of Art at Boston College exhibit of the same name.
 

 

View this post on Instagram

 
Renowned illustrator and cover artist Terry Dodson has announced on his website that he will be attending San Diego Comic-Con, at booth #5019. He promises to post sketch information soon.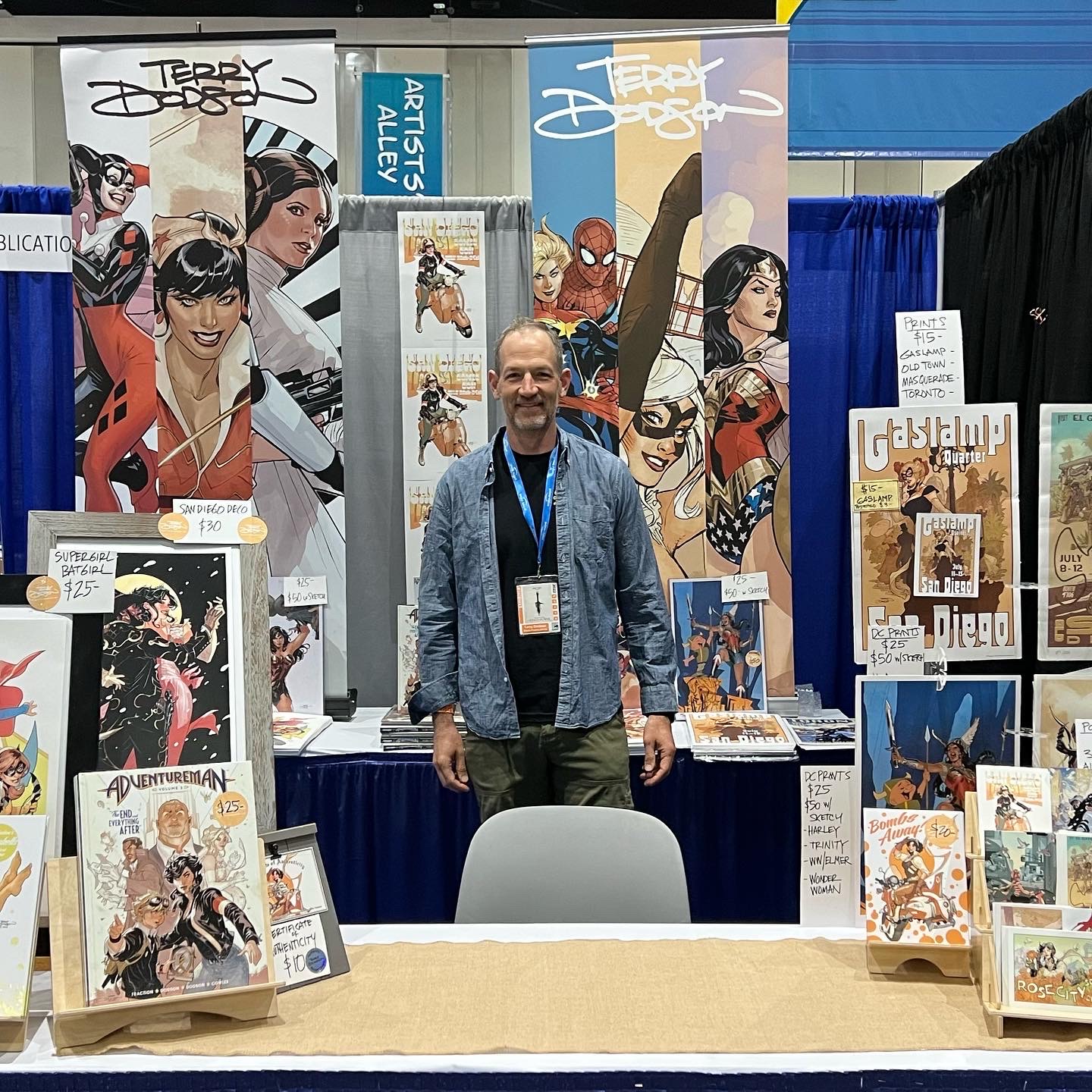 Taco Boy Designs showed off a Spider-Man 2099 watercolor done in his own "Hollow Eyes" style. He'll be working on more characters in this style for SDCC.
Josh Figueroa of Fig Studios will have two exclusive prints for sale at Comic-Con, These 12″ x 18″ prints are both on holographic paper and available in limited amounts. Each print depicts art from Figueroa's creator-owned children's book, Quetzal: Messenger of the Gods. You can find Fig Studios at table #EE-04 where you will also be able to find a softcover version of the book.
The New Mutants are the subject of a work in progress bound for SDCC by DC and Marvel interior artist Peter V Nguyen. They look to be taking their summer vacation very seriously. Can you blame them? Also, what San Diego hotel's rooftop pool are you imagining this scene taking place?
Summer is here . You know the new mutants use the pool more than the og team . Color sketch phase 1 #newmutants for #sdcc! pic.twitter.com/2KHjQcU4VB

— Peter v n san diego comic con (@petervnguyen) June 7, 2023
Creators of the new deck building co-op game, Party Wanted will be at Comic-Con. They will have new prototypes of the game to show off, as well as a "one of a kind" card to hand out.
 

 

View this post on Instagram

 
Whether she wants to admit it or not, Emma Mieko Cando is indeed on a "book tour," and that tour includes a stop at San Diego Comic-Con. Her new book, The Archive Undying, the first in The Downworld Sequence series, will be released on June 27. 
At some point folks started calling this a "book tour" which meant I also had to start calling it a "book tour" — which was terrifying! But I guess true! Come see me! Come hang!

(OR! COME SEE ME AT #SDCC!)

(Yes, this is the email I panic-closed. SCHEDULE FORTHCOMING!) pic.twitter.com/GTjSAQwYW5

— Emma Mieko Candon – THE ARCHIVE UNDYING – June 27 (@EmmaCandon) June 7, 2023
Who said you can't mix learning with Comic-Conning? Well, that person clearly had not hear about this panel, "The Science of Avatar: The Way of Water," which intends to cover topics ranging from space travel to human-whale interactions and more. Panelists include a fellow of the Explorers Club & Royal Geographical Society as well as a biology professor. Sounds like we should be getting college credits for this one, kids!
Catch the science behind #Avatar at #SDCC! Our panel: 'The Science of Avatar: The Way of Water' will explore human-whale interaction, space travel, & the physiology of the sea-dwelling Sama tribe. Featuring Kirk Krack, @GaelinGOExplore, & @nathanlents. https://t.co/HK8QDgIQ8M

— Dent (@Dent) June 8, 2023
We can't wait to see more of what artist Chris Maze has in store for San Diego Comic-Con this year, especially after he's already kicked things off with a gorgeous new SDCC-inspired pin. He offered an interesting tease on Twitter, which is that he has what sounds like a silly take on a "majestic" character.
NGL, the latest print for #SDCC that I just finished cracks me up. I see others who have illustrated the same character and theirs are all majestic and awesome. Then…there's mine. Excited to share it with you all very soon!

— Chris Maze @ SDCC Booth 2103 (@MAZEhimself) June 8, 2023
You don't need to perform a Jedi mind trick for BB-CRE.8's latest San Diego Comic-Con, a Sebulba podracer pin. Simply head to Booth #1334, though you'll have to wait a bit longer for the full reveal.
Here's another sneak peak of the line work I did for our new #SDCC exclusive pin of our Sebulba podracer. I just love all the details on it! I can't wait to show you the final product! #SDCC2023 BOOTH 1334 pic.twitter.com/vdQ3j2OX8K

— BB-CRE.8 🔜@SDCC BOOTH 1334 (@bb_cre8) June 8, 2023
And finally today, artist JYK All Day has been busy working on his Mighty Morphin' Power Rangers pieces, including a more-finished version of all of the Rangers. It's morphin' time! 
A little bit of what I have going on for #SDCC, which is a little over a month away! Lots of #MMPR stuff and a few other things in the works. More to come! @SD_Comic_Con pic.twitter.com/SJJD8ZhOyd

— JYK All Day SDCC CC-08 (@JYK_AllDay) June 8, 2023
Anything we missed? Let us know by dropping us a line, or tweet us at @SD_Comic_Con.
If you missed our previous Under the Tents 2023 posts, you can find them HERE