Hold onto your butts, because we've got some dino-mite news for you (we'll stop now — maybe). It's been 30 years since Jurassic Park came roaring onto movie screens, and this year, Universal Products and Experiences have big plans for this summer, in what they're dubbing "Jurassic June", but the reveals for which have already started.
Jurassic Outpost shared details on the expansive plans, which will include new broadcast, digital, and game content, new exclusives, celebration events, and the original film returning to theatres.
[UPDATE July 17]
Universal Products & Experiences and Amblin Entertainment revealed more details about the experience today, which will be Friday, July 21 – Saturday, July 22 at Luce Cielo. Tickets have sold out, but a standby line will be available.
Visitors at the experience will be able to stop by "The Visitor's Center" to purchase toys, apparel, and more from the Amazon Jurassic Park store, including the Loungefly Jurassic Park 30th Anniversary mini-backpack, wallet, and pin set, as well as the Transformers Dilophocon x Autobot JP action figure from Hasbro. Shopping will be available via QR codes, and it sounds like items will ship directly from Amazon with free Prime access.
Fans will also find dino-themed chicken nuggets and "additional Jurassic-themed bits" from John Soules, shaped like iconic dinosaurs from the movie, and available at designated dining areas within the event. These all-white chicken nuggets will also have special dipping sauces also available. Boxed Water will also be providing sustainable hydration throughout the event.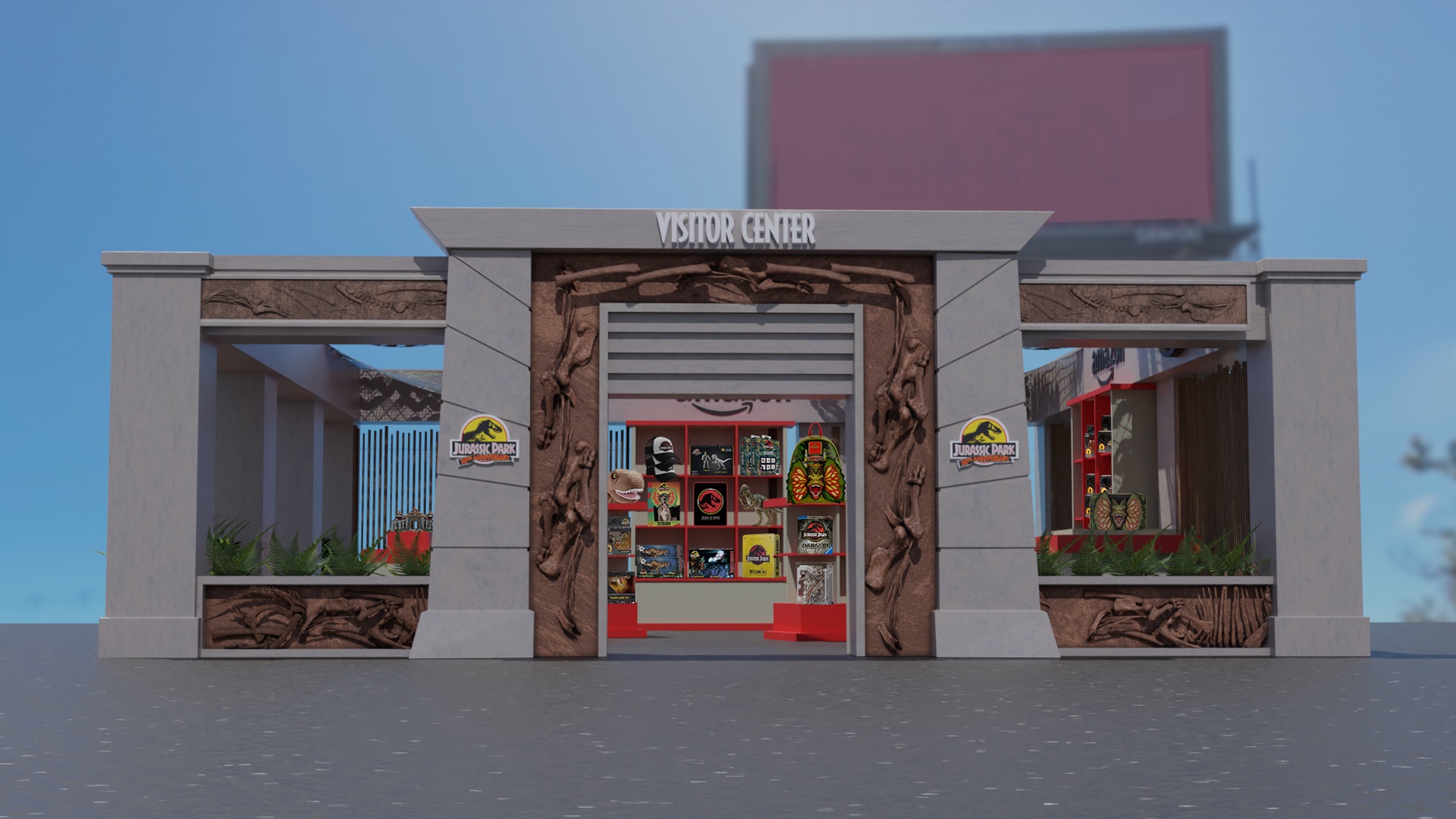 [UPDATE June 27]
Entertainment Weekly revealed additional details about the Jurassic Park presence at San Diego Comic-Con today, which will be called "Step Into Jurassic Park". Fans will be transported into the world with a free, timed-event that will let you encounter some of your favorite dinosaurs and moments from the original 1993 film.
Starting Thursday, June 29 at 9am PT, you'll be able to make reservations on the official Jurassic Park website for the activation, which will recreate the Dilophausaurs attack on Wayne Knight's Dennis Nedry, as well as the infamous toilet scene (you know the one). There will also be giveaways, Jurassic-themed food offerings, and more.
Fans will also be able to stop by the Visitor's Center for shoppable product displays, featuring 30th anniversary-inspired toys, collectibles, apparel, accessories and more.
The event will only be open for two days, on Friday, July 21-Saturday, July 22 from 10am-8pm daily at LUCE CIELO (315 15th St, San Diego, CA) — about a 20 minute walk from the convention center.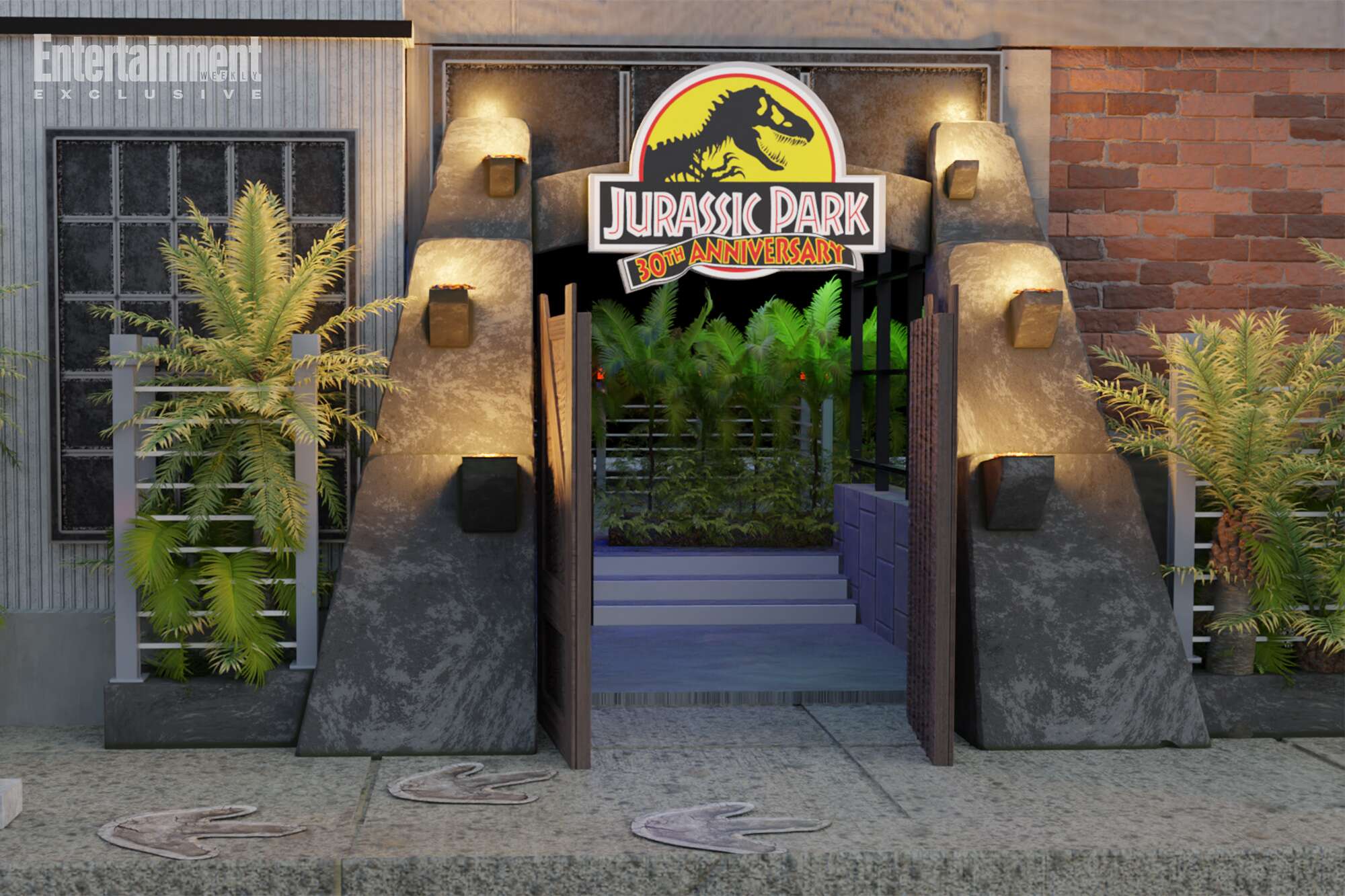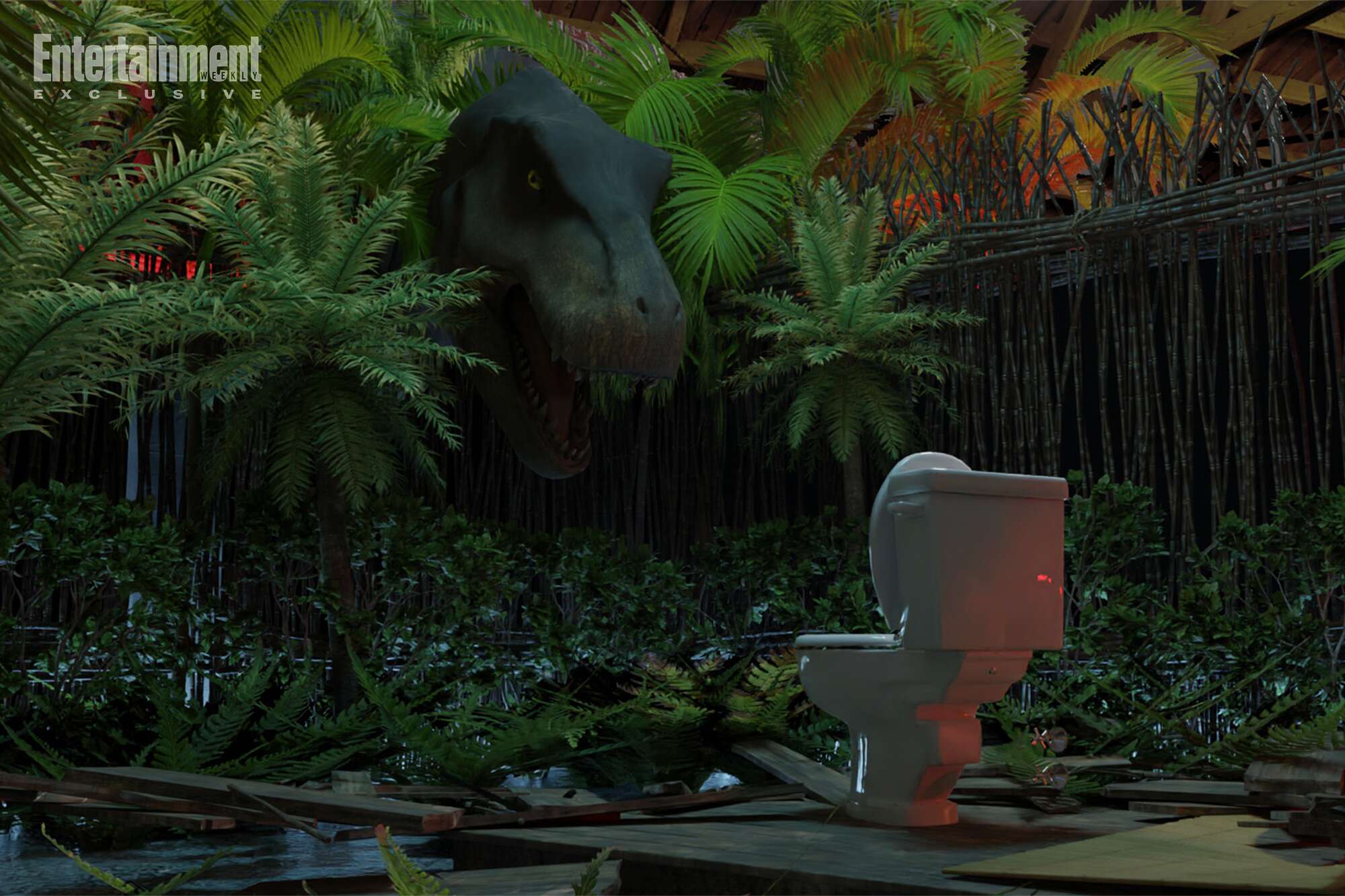 [PREVIOUS]
Part of those plans include "Jurassic Park gates and dinosaurs coming to a fan convention near you" — including San Diego Comic-Con, Supvernova Comic Con in Australia, London Comic Con, and Comic Con Experience (CCXP) in Brazil. They promise "more details coming soon", but at Supernova Comic Con in Australia this last week, fans were treated to an interactive augmented reality experience with a T-Rex, where they could snap their photo in a fun photo op, and also win collector prize packs. It remains to be seen if San Diego Comic-Con will be similar (perhaps with a different dinosaur?).
It's also worth mentioning that actor Jeff Goldblum is already in town on Thursday, July 20 to perform with his band, The Mildred Snitzer Orchestra — and there's surely room on his schedule for a bigger appearance at the con in some fashion.
In addition, globally, there will be theme park celebrations, a Jurassic Park in concert with live orchestra in select cities around the world (is it too much to hope for a stop in San Diego?), and plenty of new merch to come including a Jurassic Park x Tamagotchi Nano Dinosaur Egg, Funko Pop! figures, Loungefly Dino Moon bags and wallets, an expanded line of Crocs Jurassic Park inspired footwear, and much more. We wouldn't be surprised at all to see some of those items make their way to San Diego Comic-Con. You can find the full list of merch on Jurassic Outpost's site.
A new Limited Run Games 'The Jurassic Park 30th Anniversary Retro Collection', which include the classic SNES games, was also revealed today.
"The legacy of Jurassic Park is felt across the world," said Melissa Rodriguez, vice president of franchise strategy for Universal Products & Experiences. "The film has stayed entrenched in the hearts and minds of viewers since its initial release 30 years ago, while also delighting new fans every year. We're looking forward to celebrating the footprint this film has left on fans globally through special events, unique merchandise, games and more!"
We'll update as we learn more.
Hold on to your butts! The Jurassic Park 30th Anniversary Retro Collection is planned for later this year!

🦖Stay tuned for even more news at LRG3 this June! pic.twitter.com/gnNUIdRXCF

— Limited Run Games (@LimitedRunGames) April 25, 2023